Everyone is always looking for a new chicken dinner that truly is a winner. Guess what? Here it is.

This dish just works on so many levels. First and foremost, it's incredibly tasty, juicy, and always a family favorite. Almost just as wonderful is how simple it is to prepare. From start to finish, this chicken dinner is on the table in about 45 minutes (with very little prep work).


NOTE: If you liked this video, please subscribe to our YouTube channel. Remember to click the 'bell' icon so you'll never miss a new video!
How To Make Baked Honey Mustard Chicken
This recipe is extremely adaptable to whatever ingredients you have on hand.
The sauce can even be made hours in advance so all you have to do is pour it over the chicken, cover, and bake.
Depending on the size of your chicken breasts, you can let them marinate for up to 12 hours (or overnight). Smaller pieces should marinate no longer than 6 hours (it's okay to pour the sauce directly over the chicken and then bake immediately).
The Best Way To Cook Chicken Breasts
There are multiple methods for cooking chicken breasts. Here are some of our favorites:
Oven-Baked: This method is simple and we honestly feel produces the most consistently juicy meat. Start by covering the dish with foil, bake for 20 to 30 minutes (depending on the size of the breasts) at 400°F, uncover, and finish off uncovered for another 10 to 15 minutes.
Grilling: This is another favorite method of ours. Super simple and you'll get that lovely smokey taste from the grill. Simply heat your grill to medium-high heat and place the breasts over direct heat. Grill, turning about every 5 minutes, until nicely charred and fully cooked (165°F). We don't think the chicken is as juicy as oven-baked, but you get added flavor from the smokey grill.
Air Fry: Another fast and simple way to prepare chicken breasts. Brush the glaze all over the chicken breasts and then place in an oiled basked and cook at 350°F for 20 minutes. We feel this produces the least juicy chicken, but the ease of cooking in the air-fry is very tempting.
EXPERT TIP: This step is not 100% necessary, but we find searing the breasts first locks in flavor and juiciness. Simply brush a little olive oil all over the breasts, liberally salt and pepper all over, and then sear until lightly browned on both sides. If you're crunched for time, skip this step.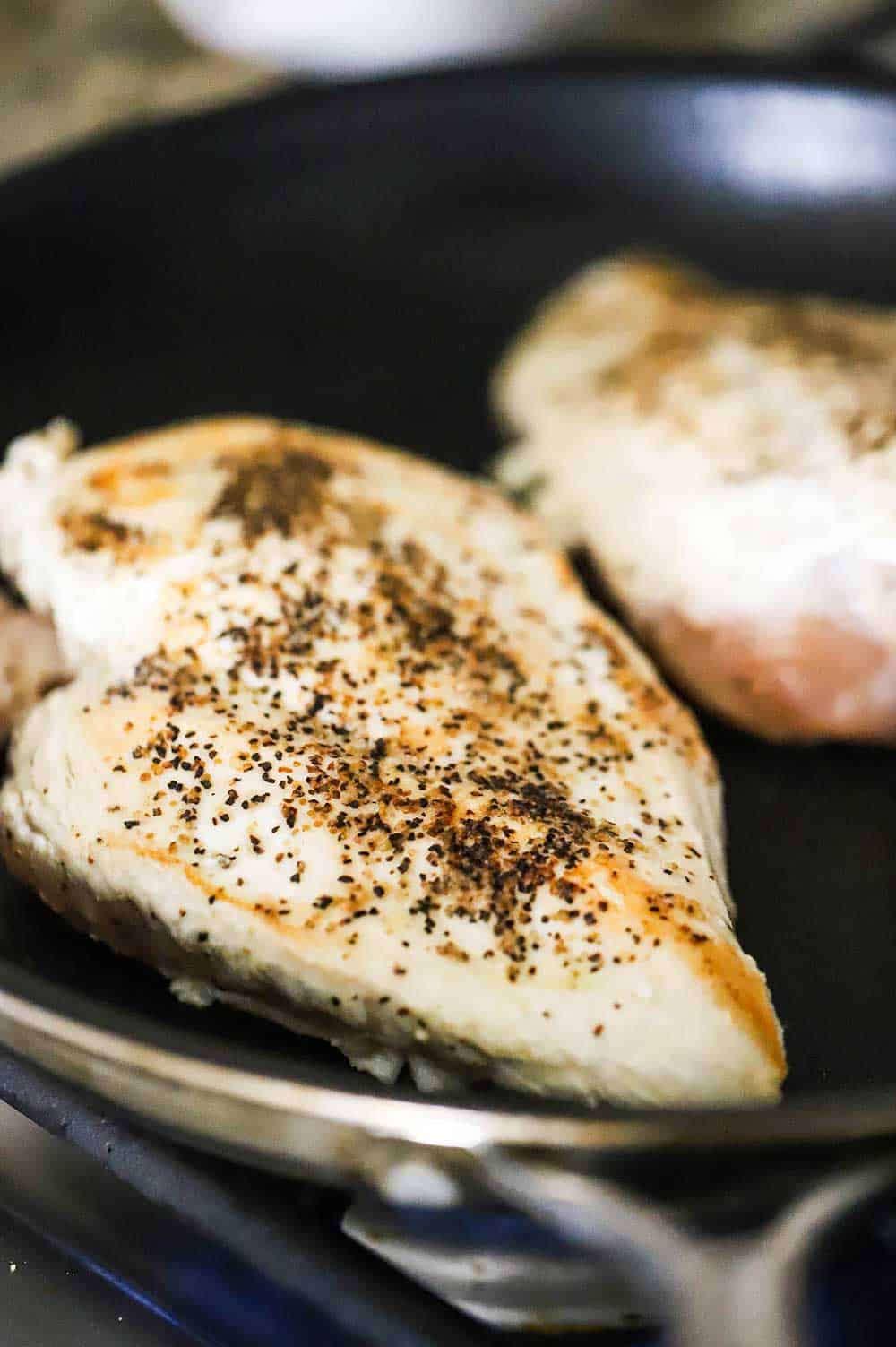 The Ingredients You Will Need
In addition to the chicken breasts that we season with salt, pepper, and brush with olive oil, you'll need some variation of the following ingredients to make the most amazing honey mustard glaze.
Stone Ground Mustard
Yellow Mustard
Honey
Garlic Powder
Dried Oregano
You can really go with any type of mustard, and there are plenty to choose from. Learn more about all types of mustards here.
We find the stone ground lends an extra punch of flavor, but not too much. It combined with the more yellow mustard produces the most amazing taste and texture. Of course, you could also go with Dijon, spicy brown, Creole, or any combination of your favorite mustards!
EXPERT TIP: The addition of Italian dressing gives this glaze a depth of flavor that is just spectacular. Of course, our homemade Italian dressing is wonderful, but you can certainly go with good-quality store-bought dressing and have stellar results.
We use a 9″x13″ baking dish to prepare our Baked Honey Mustard Chicken.
Lightly grease the dish with cooking spray, and then place the seared and seasoned chicken breasts in a flat row. Try not to have them overlap too much.
Pour the sauce directly over them, bake them covered at 400°F for 25 to 30 minutes, and then uncover for another 10 to 15 minutes.
EXPERT TIP: You'll want the chicken to reach an internal temperature of 160°F. The chicken will rise another 5 degrees after you remove it from the oven. An instant-read thermometer ensures you've cooked your chicken perfectly.
How To Serve Baked Honey Mustard Chicken
This really is the ultimate weeknight dinner, however, it is so juicy and delicious, it perfect for serving to guests, too.
Our favorite sides include:
Maple Glazed Carrots
Roasted Broccoli with a Kick
Yellow Squash Casserole
Sautéed Mushrooms
Roasted Potatoes in Foil
EXPERT TIP: Three large chicken breasts (totaling 1½ to 2½ lbs) will easily feed a family of four. We slice the breasts into strips and drizzle that amazing sauce over the top. Leave some of the sauce for passing at the table.
Everyone is looking for a fabulous new chicken recipe, right?
Well, folks, we can safely say this is one of the best we've ever tried and served.
You'll love how easy it is to prepare, and your loved ones will love how juicy and delicious it is!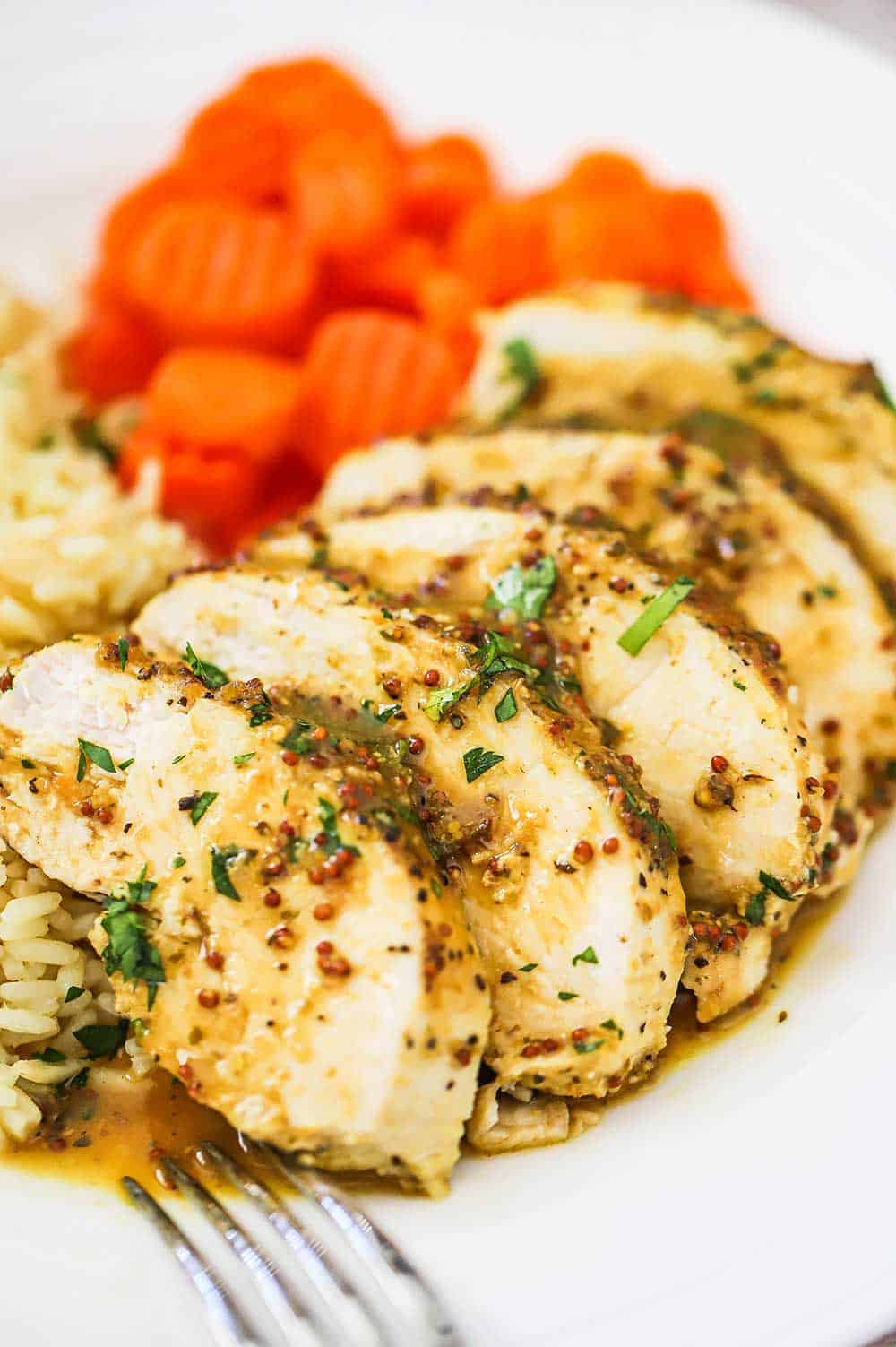 Ready to make a chicken dinner that everyone will be requesting time and time again? Go for it!
And when you do, be sure to take a photo of it, post it on Instagram, and tag @HowToFeedaLoon and hashtag #HowToFeedaLoon!
Baked Honey Mustard Chicken
Baked Honey Mustard Chicken is one of the best weeknight dinners of all time. Go with boneless skinless chicken breasts and you and your family won't believe how juicy and deeply flavorful the dish is. And it's ready in under an hour!
Print
Pin
Rate
Servings: 4
Calories: 426kcal
Ingredients
2 lbs chicken breasts boneless, skinless
2 tbs olive oil divided
Salt and pepper
Cooking spray
For the Honey Mustard Glaze/Sauce
¼ cup yellow mustard
¼ cup stone-ground mustard
¼ cup honey
2 tbsp Italian dressing
1 tsp garlic powder
1 tsp oregano dried
parsley fresh, chopped, for garnish
Instructions
Preheat oven to 400°F.

Brush about 1 tbsp of olive oil all over the chicken breasts. Liberally salt and pepper the chicken all over.

Heat the remaining tbsp of oil in a large skillet (preferably non-stick) or medium-high heat. Add the chicken breasts (working in batches, if necessary), and cook until lightly browned on both sides. The chicken will not be cooked through at this point.

Lightly spray the baking dish with cooking spray or a small amount of oil.

Place the chicken breasts in the bottom of the dish. It's okay they overlap slightly.

In a separate bowl, mix together the honey mustard sauce ingredients until fully combined. Pour the sauce all over the top of the chicken. Cover with foil and bake in the oven for 25 minutes (if using extra large chicken breasts, let them bake for 30 minutes). Uncover and continue baking until an internal temperature reaches 160 to 165°F.

Remove the chicken and let rest for about 5 to 10 minutes. The chicken temperature will rise another 5 degrees. Either slice and serve, or serve each breast whole. If desired, drizzle sauce over the chicken and pass extra at the table.
Notes
See the video near the top of the blog post for visual guidance. If you liked the video, please subscribe to our YouTube channel.
Three 8 to 10-ounce chicken breasts will easily feed a family of four. We slice them into medallions for easy serving. Or, serve each breast whole. Be sure to pass the sauce when serving.
Boneless, skinless chicken thighs can be substituted in place of the breasts. They will only take about a total of 20 to 25 minutes. If serving bone-in, you'll need to increase the baking time by another 15 to 20 minutes. An instant-read thermometer is critical in ensuring you've reached an internal temperature of 160 to 165°F.
Any leftover chicken will keep covered in the fridge for up to 5 to 6 days and can be frozen for up to 2 months.
Nutrition
Calories: 426kcal | Carbohydrates: 21g | Protein: 50g | Fat: 11g | Saturated Fat: 2g | Polyunsaturated Fat: 1g | Monounsaturated Fat: 8g | Trans Fat: 1g | Cholesterol: 145mg | Sodium: 687mg | Potassium: 914mg | Fiber: 1g | Sugar: 18g | Vitamin A: 101IU | Vitamin C: 3mg | Calcium: 40mg | Iron: 2mg