Homemade Italian Dressing comes together in a matter of minutes, and yet is so incredibly delicious, you'll never buy the bottled stuff again.
The classic flavors come alive in this incredible dressing.
Perfect for green leaf salads, or as a marinade, or even with pasta…it just can't be beat!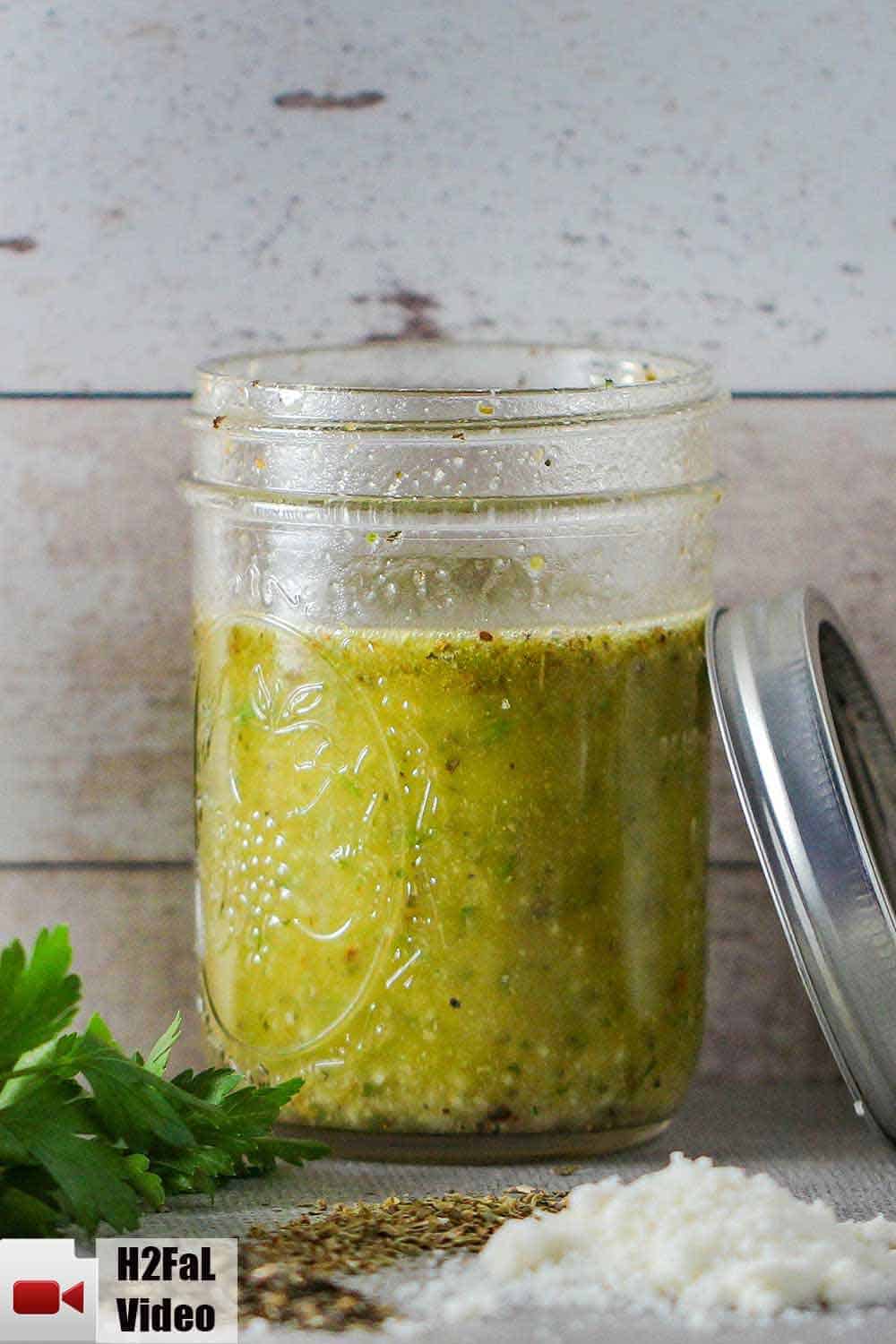 HOMEMADE ITALIAN DRESSING IS EASY TO MAKE
You just can't believe how simple it is to make this iconic dressing at home.
Grab the simple ingredients and a jar with a tight fitting lid, and you're in business!
Watch us show you how easy it is to make Homemade Italian Dressing!
INGREDIENTS YOU WILL NEED
The great thing about making Italian Dressing at home is that you probably have most of the ingredients in your pantry.
You'll need:
Fresh parsley
Fresh garlic
Lemon juice
Honey
Dried Oregano and Basil
Onion Powder
Parmesan Cheese
Red Pepper Flakes
White Wine Vinegar
Extra-Virgin Olive Oil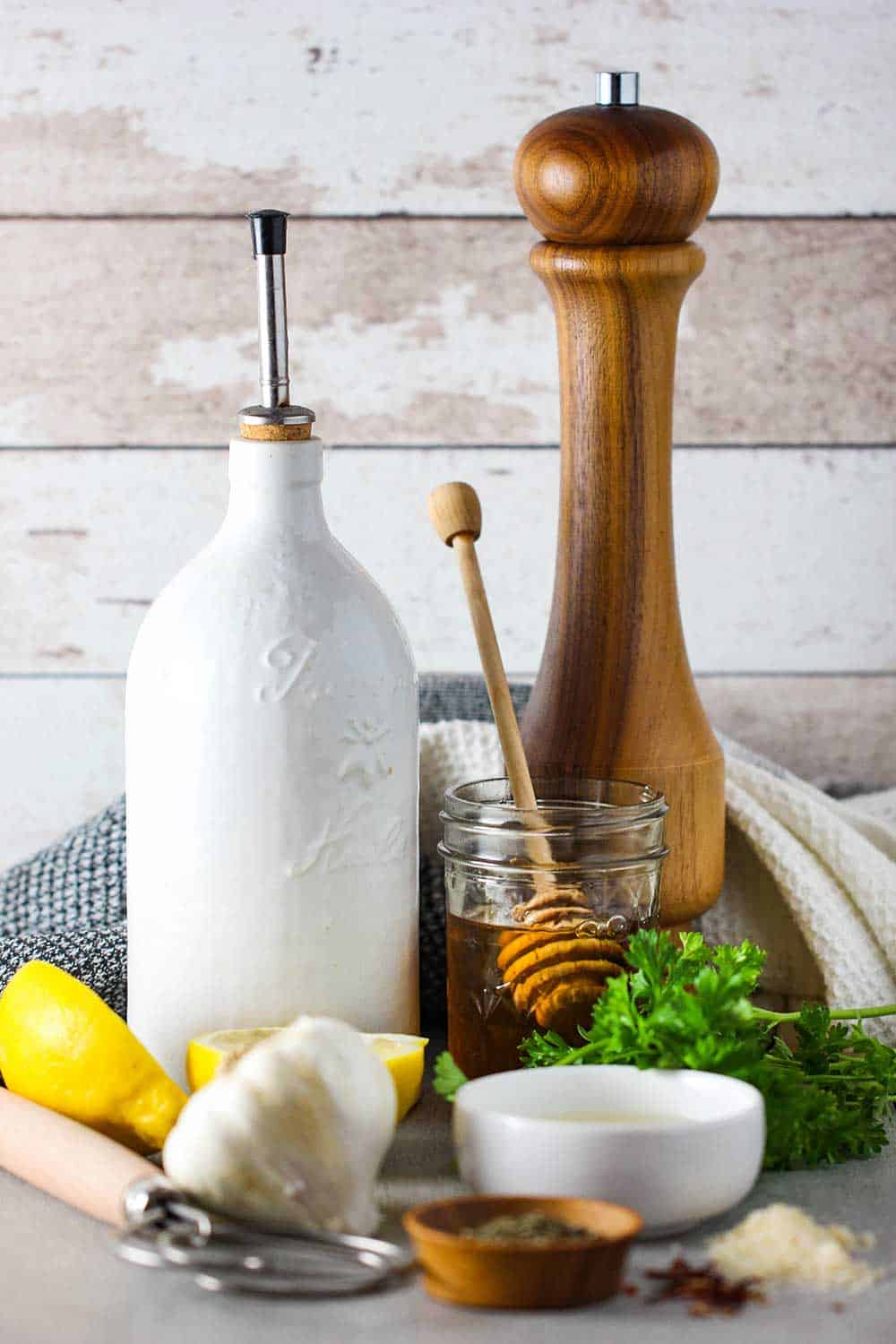 Since the ingredients are pretty simple and straight-forward in this recipe, we feel using top-notch extra-virgin olive oil is key to great taste.
A good quality oil makes a big difference, especially in a salad dressing such as homemade Italian dressing.
Make sure to use a good-quality white vinegar, too. But if you go the extra distance on any of the ingredients, we'd go with quality EVOO.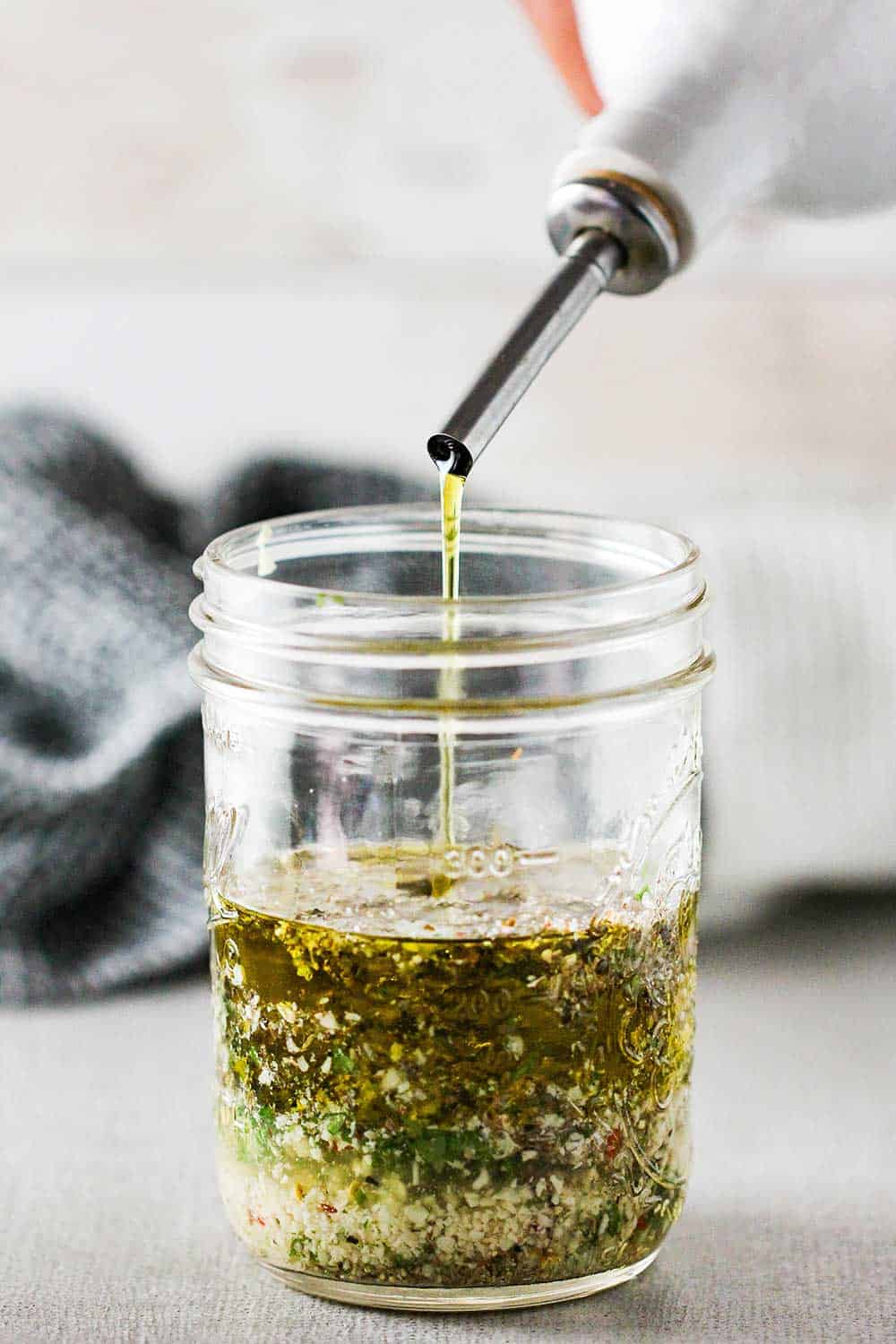 Oil and vinegar naturally separate when added together.
For a delicious Italian dressing, you'll want to bring the two together.
This can be achieved by adding all the ingredients into a jar and then sealing it with a tight fitting lid and then shaking the dressing vigorously for at least one minute. You can also use a blender, food processor, or a whisk and a lot of elbow grease! This process is called emulsifying. After the dressing sits for a while, you'll need to shake again to re-emulsify.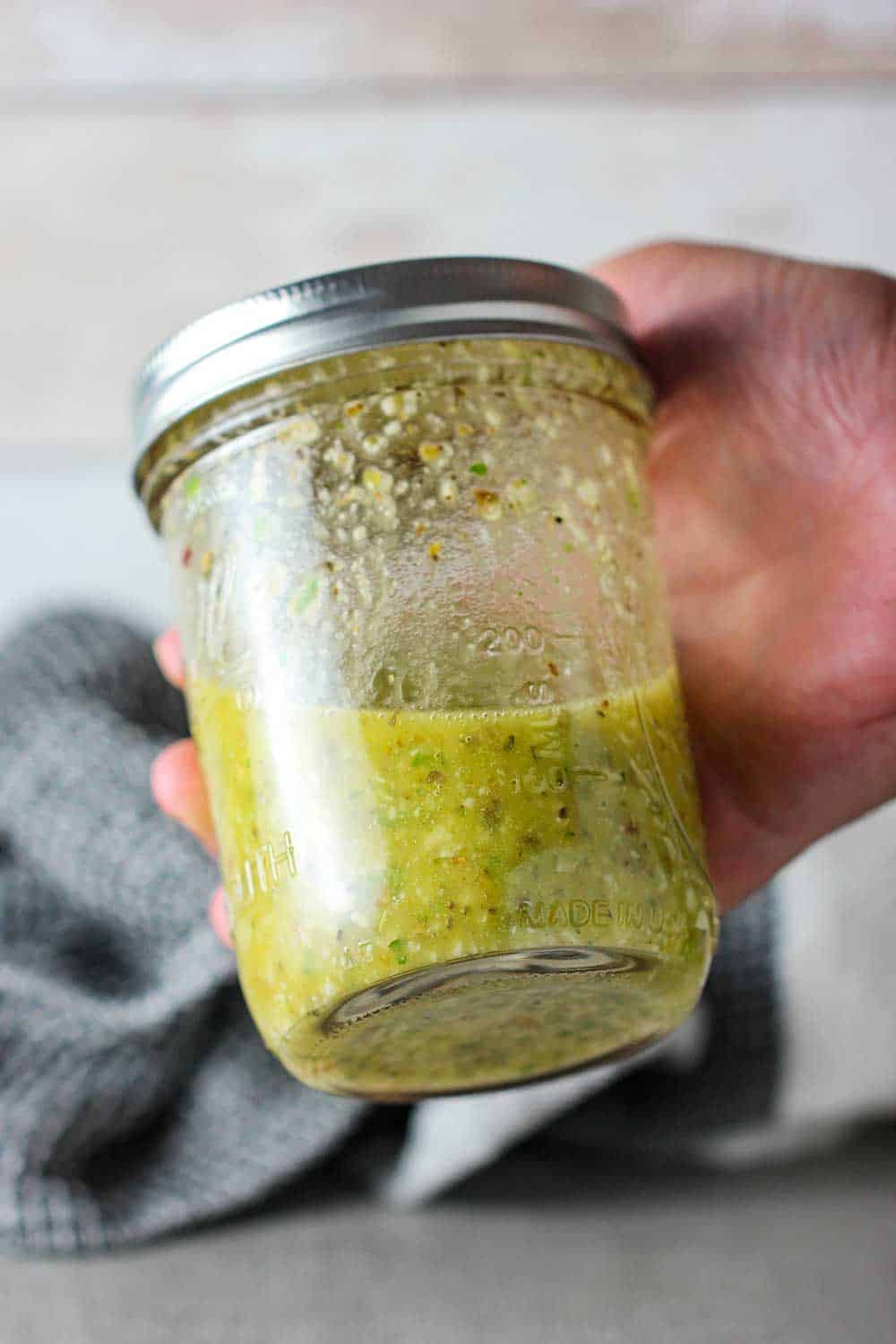 HOMEMADE DRESSINGS ARE EASY AND DELICIOUS
Once you make a salad dressing at home, you'll seriously never want to buy the bottled variety again.
Some of our other favorite dressing to make are:
In the meantime, go ahead and make this amazing Homemade Italian Dressing!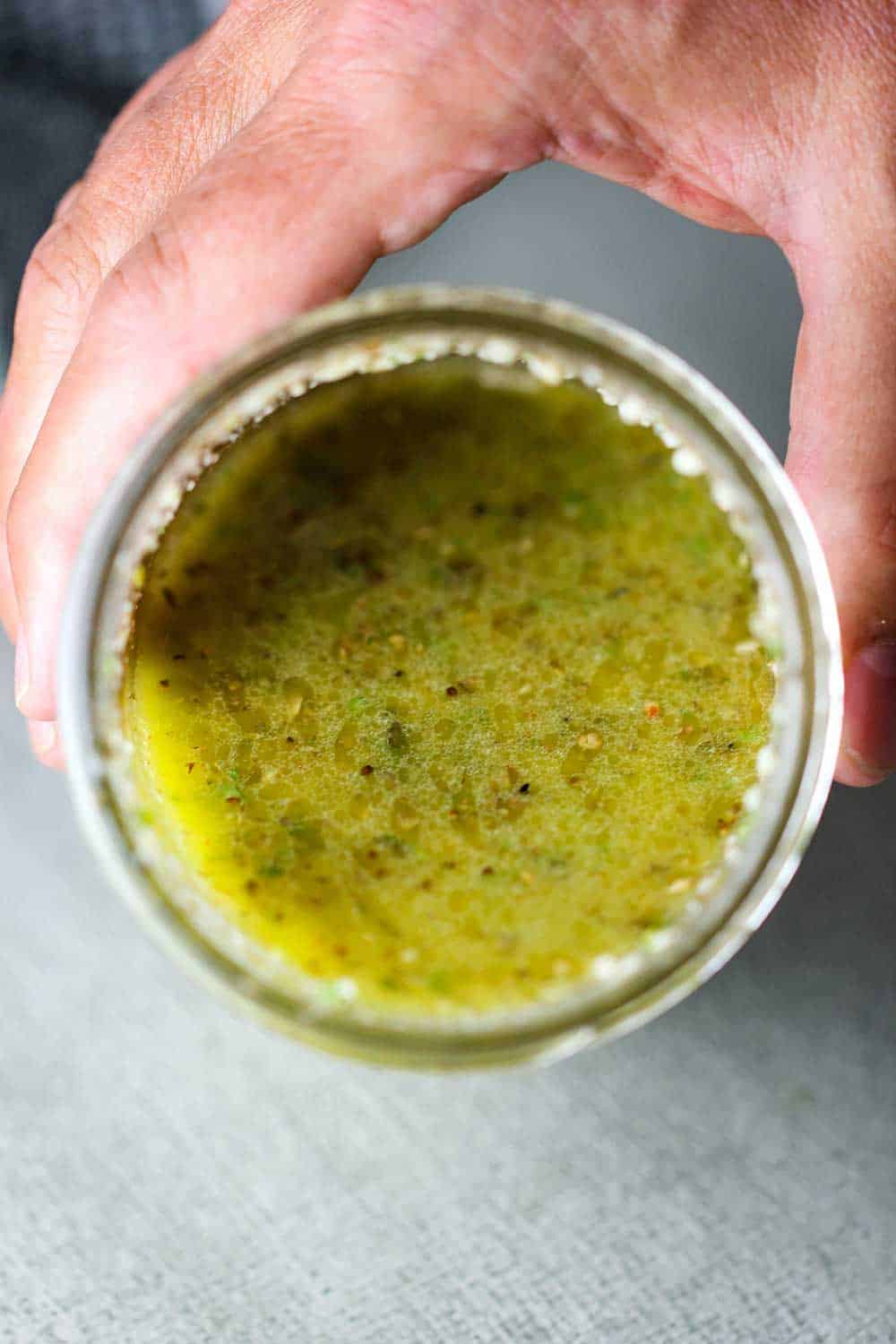 HOW TO USE AND STORE HOMEMADE ITALIAN DRESSING
Of course, this dressing is a knock-out on a beautiful green leaf salad.
But we also use it as a marinade for grilling and baking. It's great on chicken, pork and even shrimp!
TIP: Keep the dressing in a jar with a tight lid in the refrigerator for up to 1 week. The dressing can also be frozen for up to 2 months.
Another great use for this dressing is in a pasta salad. It truly brightens the pasta salad so much and it makes for such an easy preparation!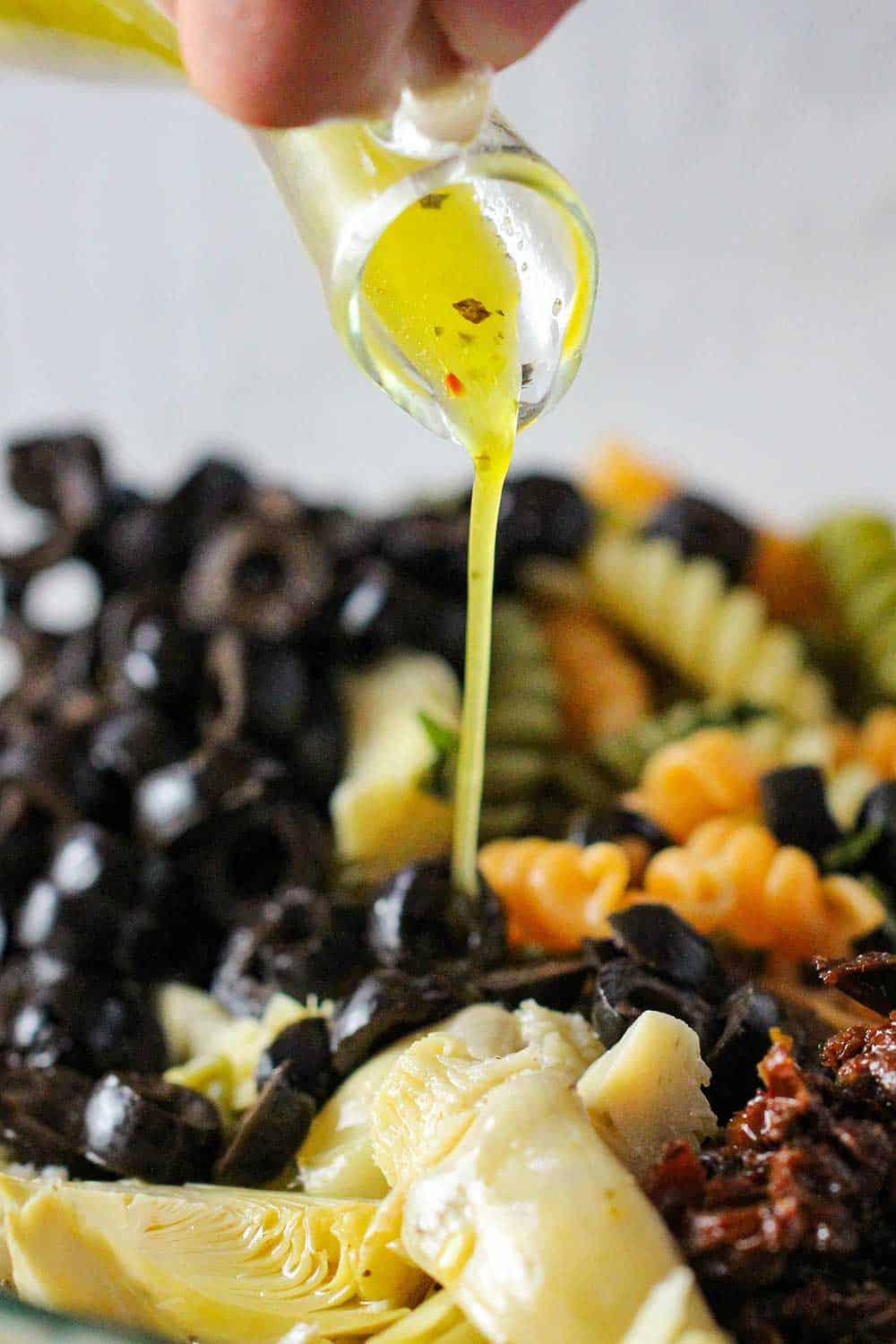 Okay folks…the time is here for you to make the best Homemade Italian Dressing in the world! So easy…and so delicious!
And once you make this, take a picture and post for Instagram and tag us @howtofeedaloon and #howtofeedaloon!
Homemade Italian Dressing
Once you make this Homemade Italian Dressing you will never want to buy the bottle variety again. And you seriously won't believe how simple it is to prepare. And what's so great is that almost all of the ingredients you probably already have in your pantry! So fresh and so delicious. One batch keeps for up 1 week in the fridge. Just give it a good shake before using.
Print
Pin
Rate
Servings: 10 people
Calories: 141kcal
Equipment
Jar with tight fitting lid, or blender
Ingredients
2 tbsp fresh parsley finely chopped
2 cloves garlic minced
Juice from 1 lemon
1 tbsp honey
1/3 cup white wine vinegar
1 tsp dried oregano
1 tsp dried basil
1 tsp onion powder
2 tbsp Parmesan cheese grated
1/4 tsp red pepper flakes
1/2 tsp Kosher salt
1/4 tsp freshly ground black pepper
2/3 cup extra-virgin olive oil
Instructions
Add all the ingredients into a large jar with a tight fitting lid.

Fasten the lid into place and shake the jar vigorously for 1 to 2 minutes in order to emulsify (or blend) the oil with the vinegar.

Chill for at least one hour. Shake the jar again when ready to serve.
Notes
You can also emulsify the dressing by using a blender or food processor. Or, by slowly pouring the EVOO into the other ingredients and whisking vigorously until fully blended. A top-notch extra-virgin olive oil is recommended for best taste. The vigorous shaking may cause the parsley to give the dressing a slightly green hue. This is no problem and just illustrates how fresh the dressing is. We prefer dried oregano and basil over fresh for this recipe. We've tested both versions, and feel the dried delivers the best flavor. This dressing can be used for a salad dressing, marinade, and dipping sauce.
Nutrition
Calories: 141kcal | Carbohydrates: 2g | Protein: 1g | Fat: 15g | Saturated Fat: 2g | Cholesterol: 1mg | Sodium: 135mg | Potassium: 4mg | Fiber: 1g | Sugar: 2g | Vitamin A: 87IU | Vitamin C: 1mg | Calcium: 16mg | Iron: 1mg