Honey Mustard Chicken Sandwiches are one of our all-time favorite meals in the world to eat.
The flavors come together in this sandwich to create a truly amazing taste sensation. And it only takes about 40 minutes from start to finish!
Homemade honey mustard, grilled chicken, perfectly cooked bacon…all on a toasted bun. Sandwich perfection.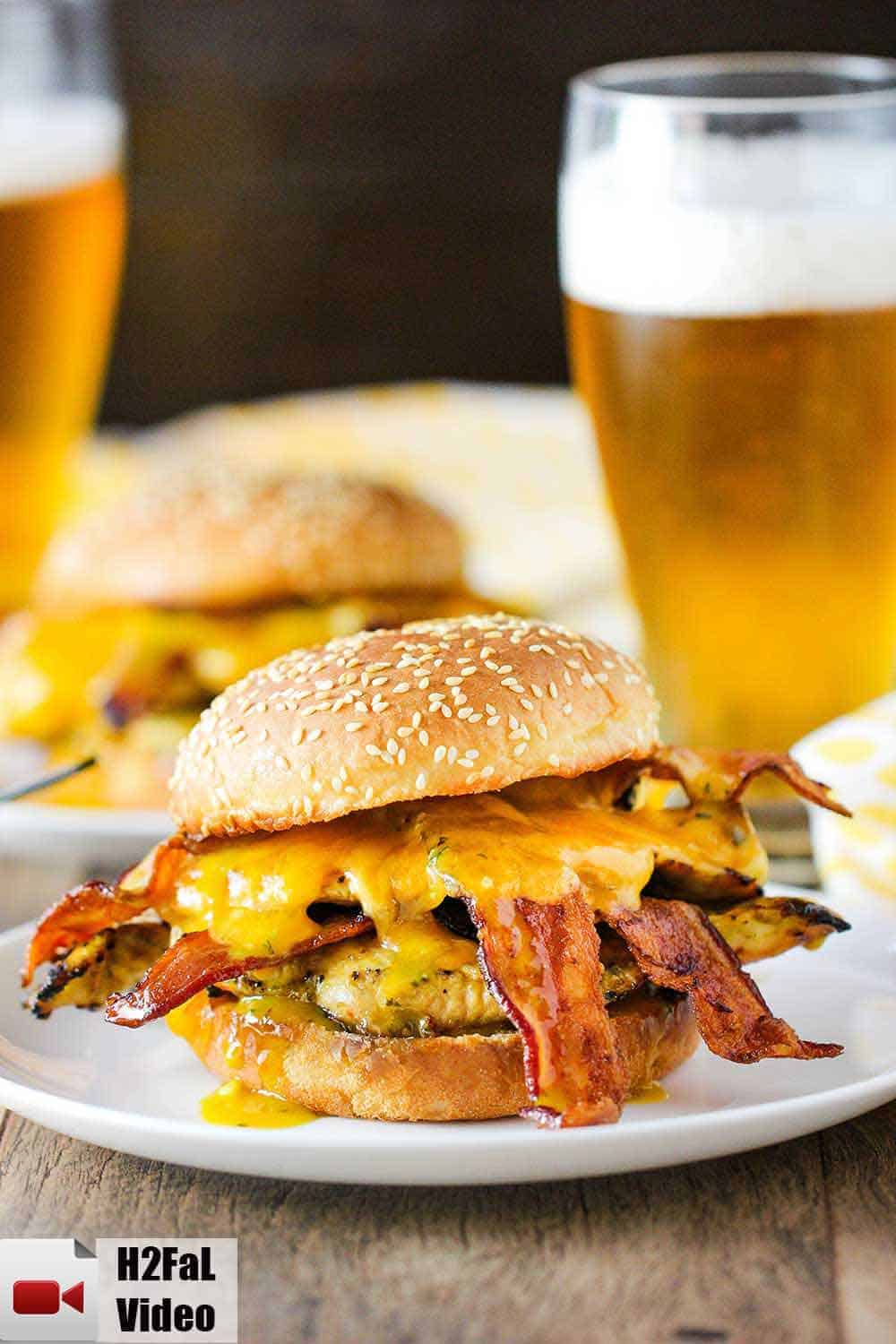 HONEY MUSTARD CHICKEN SANDWICHES ARE EASY TO MAKE
EXPERT TIP: Try and find thin skinless and boneless chicken breasts from the supermarket or your butcher. Don't get chicken tenders because they contain a tendon that is tough and not pleasant. If you can't find thin chicken breasts, purchase the larger cutlets, place them (one at a time) in a large freezer bag, and then use the side of a mallet and pound the meat until about a 1/4″ thick.
Remember to put at least half of a cup of the dressing/marinade to the side before marinating the chicken. You'll want to slather it on the toasty buns.
Watch us show you how easy it is to make Ultimate Honey Mustard Chicken Sandwiches at home!
OTHER EPIC SANDWICHES TO TRY
THE SECRET TO HONEY MUSTARD CHICKEN SANDWICHES
The secret to these incredible honey mustard sandwiches is the dressing/marinade.
Go with good-quality honey and a solid yellow mustard. You can use Dijon in place of yellow, but we find yellow is just perfect.
And trust us when we tell you the addition of homemade Italian dressing is what puts these sandwiches over the top.
Whisk together the honey, mustard and dressing, and get ready for pure deliciousness.
THE BEST CHICKEN FOR THE SANDWICHES
Thin, boneless, skinless chicken cutlets are the way to go for these honey mustard chicken sandwiches. (See Expert Tip above for more on this).
Make sure to fully coat the cutlets in the marinade before grilling.
You can leave them in the marinade for several hours, or, you can coat them and then grill them immediately. Either way will produce delicious grilled cutlets.
CRISPY BACON IS A MUST
Crisp, delicious bacon is another reason that these honey mustard sandwiches are the ultimate.
Go with your favorite type of bacon, but we love nice thick center-cut, smoked slices. Black pepper bacon would be a nice choice, too.
And make it easy on yourself and pre-heat your oven to 400°F. Lay out the bacon slices on a baking sheet (or 2) and bake until beautifully crisped. About 8 to 10 minutes, flipping halfway through.
Now, get your grill nice and hot and then grill the cutlets directly over the heat.
Lightly salt and pepper the cutlets on each side as they are cooking.
And brush on more of the marinade until the cutlets are golden brown, and the sauce has started to caramelize. The internal temperature of the cooked chicken should be 165°F. Now is a good time to butter the buns and toss them on the grill until nicely toasted.
HOW TO ASSEMBLE THE HONEY MUSTARD SANDWICHES
Folks, we're almost ready!
We use two grilled cutlets per sandwich. We take a baking sheet and place the bottom cutlet down first. Then criss-cross two pieces of bacon over it, then repeat with the remaining cutlets and bacon.
Next, we get good-quality sliced cheddar cheese and place it over the top. Then, place under the broiler just until the cheese has melted.
We have been making these Ultimate Honey Mustard Chicken Sandwiches since our early years together in the West Village in New York City.
Back then, we used an indoor electric grill and they came out perfect every time.
These sandwiches are always a showstopper when we serve them to guests. One bite…and you'll understand why.
Ready to make the best chicken sandwich you will ever have in your entire life?
Go for it! And be sure to take a picture and tag us @howtofeedaloon and #howtofeedaloon!
Grilled Honey Mustard Chicken Sandwiches
Grilled honey mustard chicken sandwiches are awesome! So delicious!
Print
Pin
Rate
Servings: 4
Calories: 846kcal
Ingredients
FOR THE MARINADE/DRESSING
FOR THE SANDWICHES
16 slices bacon
8 thin chicken breasts skinless and boneless
salt and pepper
4 to 6 slices sliced cheddar cheese
4 hamburger buns
1 tbsp unsalted butter for the hamburger buns
1/2 cup mayonnaise optional, for garnish
Instructions
In a medium-sized bowl or dish, whisk together the honey, mustard and Italian dressing. Reserve about a half a cup of the dressing for slathering on the toasted buns when ready to serve.

Place the chicken into the marinade are turn until all cutlets are well coated.

Pre-heat oven to 400°F. Place the bacon on 1 (or 2) baking sheets and bake until crisp, about 8 to 10 minutes (time will vary depending on how thick the bacon is). Flipping half way through the baking. Set aside.

Meanwhile, turn your grill to medium-high heat.

Grill the marinated chicken until nicely browned. Sprinkle salt and pepper over the cutlets on each side as they cook. Brush more of the marinade over the cutlets until they are golden brown and the glaze has slightly caramlized. Remove from the gril.

Grill the buns until nicely browned.

On a baking sheet, place 4 chicken cutlets, then criss-cross two slices of cooked bacon, and repeat this. Place cheese slices on top. Turn your broiler on high and then cook just until the cheese has melted, about 1 to 3 minutes. Keep and eye on this...don't let them burn!

Slather a good layer of the reserved honey mustard dressing on the toasted buns. Add mayonnaise, too, if desired. Place the prepared chicken/bacon/cheese on the buns and serve at once.
Notes
Be sure to use thin, boneless and skinless chicken breasts. Don't purchase the chicken tenders from the supermarket. If you can't find thinly sliced breasts, go with the larger cutlets, and pound them until about 1/4" in thickness. You may need to cut the cutlets in half if they are too large. You can substitute Dijon, or spicy brown mustard for the yellow, if you prefer. We think yellow works best, but that's up to you! You can also cook the bacon in a skillet, rather than the oven, if you prefer. Drain on a plate lined with paper towels. Be sure to save at least a half a cup of the dressing BEFORE placing the uncooked cutlets in the marinade. Discard the marinade after basting the chicken once on the grill. Use the reserved dressing for slathering on the toasted buns!
Nutrition
Calories: 846kcal | Carbohydrates: 63g | Protein: 17g | Fat: 36g | Saturated Fat: 6g | Cholesterol: 77mg | Sodium: 1622mg | Potassium: 319mg | Fiber: 2g | Sugar: 41g | Vitamin A: 162IU | Vitamin C: 1mg | Calcium: 103mg | Iron: 3mg