This Fantastic Fried Fish Sandwich is such a classic sandwich. Simply bread some cod with lightly seasoned Panko bread crumbs, and you won't believe the results.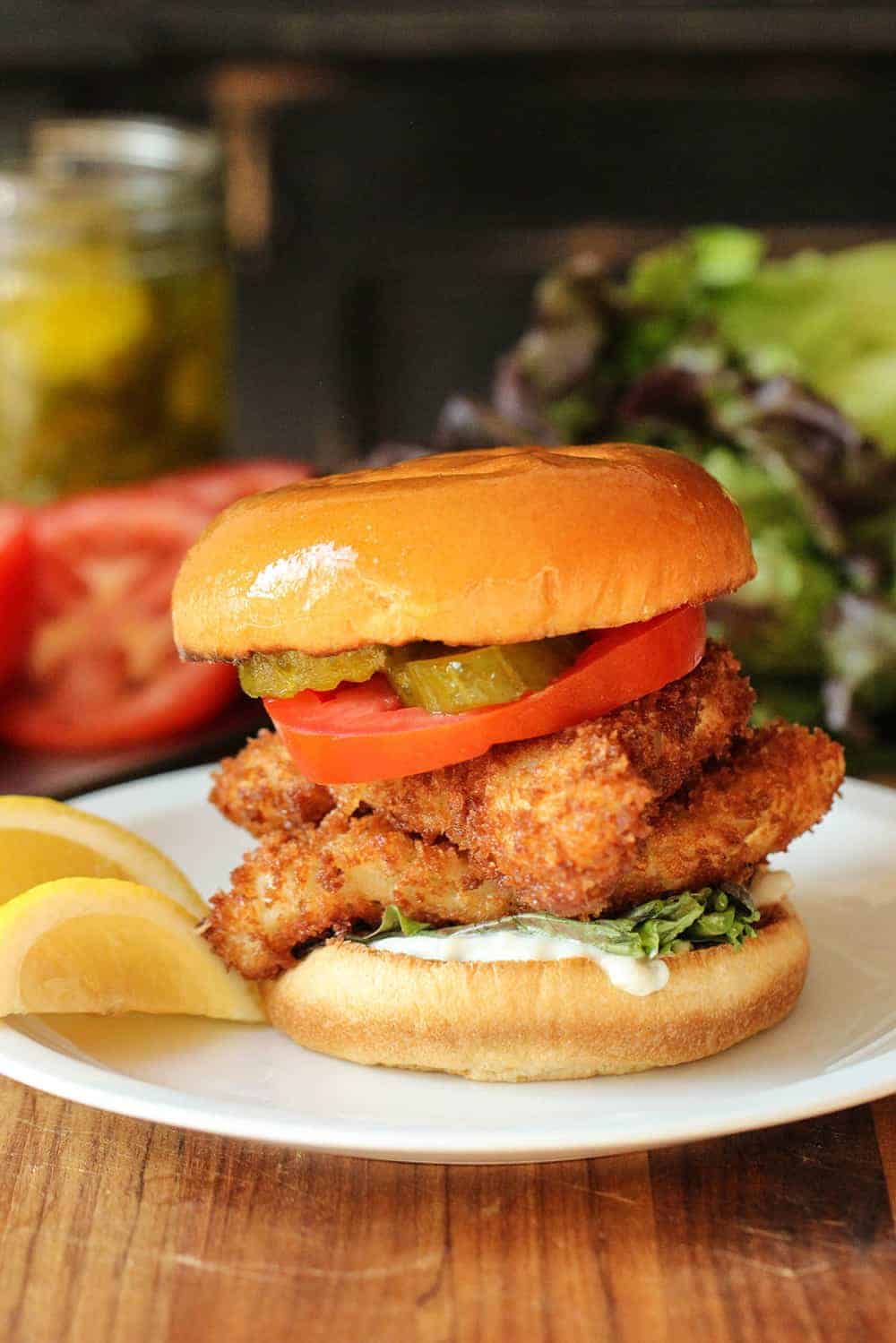 You can bake these in the oven until nice and crisp, but if you want to go the traditional gastro pub route, then heat up some oil (vegetable, canola or peanut works just fine) to 365°F and then drop the breaded fish in for literally only a couple minutes, tops. Drain on a paper-towel lined plate, and you've got a golden fried fish filet that is crunchy on the outside, and tender and flaky on the inside. Perfection!
Of course, we recommend that you make your tartar sauce from scratch. It's really easy, and make all the difference in the world. And the great thing about this recipe is its perfectly fine to tweak to your own taste. We LOVE dill, so we add a little extra dill, if you not so much…then pull back on the dill. Really, it's no big dill!!
Then go with a nice brioche bun and lightly toast it to add to the flavor and texture profile. A little shredded green lettuce, sliced tomato and pickles are just the perfect additions.
It doesn't get much better than a fantastic Fried Fish Sandwich!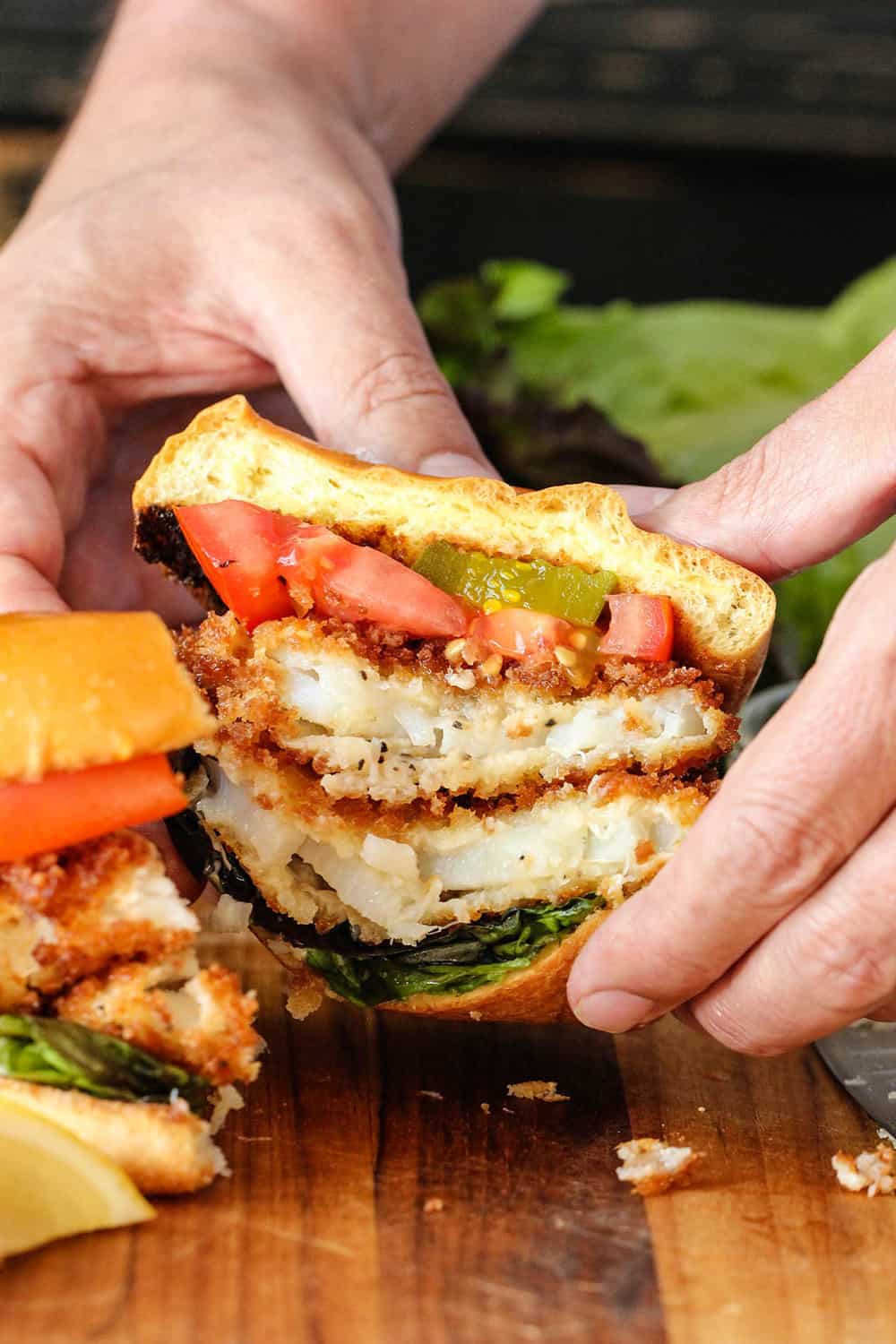 Talk about delicious!!
Fantastic Fried Fish Sandwich
These Fantastic Fried Fish Sandwich is one of the tastiest sammies on the planet. And literally only takes about 20 minutes to make. Flash fry the fish in some oil, and it doesn't come out greasy at all. We love using Panko bread crumbs, and double coating for extra crunch. Amazing!
Print
Pin
Rate
Servings: 4 people
Calories: 465kcal
Ingredients
8 oz cod go with the thinner sections, cut into 3" x 3" squares
Kosher salt and freshly ground black pepper
Vegetable oil for frying
1 cup all-purpose flour
1/2 cup water
2 eggs lightly beaten
2 cups Panko breadcrumbs Japanese bread crumbs*
2 brioche buns or hamburger buns
Tartar sauce click for recipe, or use store-bought
Tomato sliced
Green lettuce shredded
Bread and butter pickles
Instructions
Heat the oil to 365° F in a large sturdy skillet or pot

Lightly season the fish fillets with salt and pepper

Mix the egg and water together.

Place the flour on a plate, the egg mixture in a medium bowl, and the panko in a medium bowl.

Dredge each fillet, starting with the flour, shaking off excess.

Submerge fillet into egg mixture and then shake off excess.

Dredge the fillet into the Panko crumbs, helping the crumbs adhere with your fingers.

For extra crunchy, repeat this entire dredging process.

Place the fillets on a rack until ready to fry (can be kept in the refrigerator for up to 2 hours).

Carefully place the fillets in the hot oil, and fry until golden, about 2 to 3 minutes.

Remove fillets with metal tongs and place on paper towel-lined plate.

Split the buns and lightly toast.

Spread the tartar sauce on the bottom bun, then add the lettuce, two fillets, and top with tomato, pickles and top bun.
Nutrition
Calories: 465kcal