We know it's a bold statement to say anything is the best. But wait until you make this incredible sandwich.
If you love the classic fish and chips as much as we do, you will flip for this sandwich. It's simple to prepare, but the combination of flavors is epic, in our humble opinion. The homemade tartar sauce puts it over the top!
How To Make the Best Fried Fish Sandwich
This truly has become one of our favorite sandwiches of all time.
And you will love how easy it is to make in the comfort of your own kitchen!
NOTE: If you liked this video, please subscribe to our YouTube channel. Remember to click the little 'bell' icon so you'll never miss a new video! Thank you!
The Ingredients You Will Need
You grocery list won't be extensive when you make these wonderful sandwiches, but be sure to good top-notch ingredients!
Here's What You'll Need to Have on Hand
Fresh cod – Seek out a good fish market and be sure to select the freshest cod possible
Seasoning – Salt and pepper is all you need
Flour – All-purpose
Eggs – Lightly beaten
Breadcrumbs – Panko provides a wonderful crunchy exterior, but regular breadcrumbs work, too
Buns – Brioche is a great choice for this sandwich's flavor profile
Tomato – Sliced and topped with a little salt and pepper
Lettuce – Green leaf or romaine are great choices
Pickles – Trust us, bread and butter are so good
Tartar sauce – Homemade is easy and puts this sandwich in a class all of its own
EXPERT TIP: Set out three baking tins or pans to create an easy 1-2-3 dredge station. Be sure to gently shake off excess flour, egg and, breadcrumbs. For an extra crispy sandwich, you can do a double dredge, but we think one dredge is just perfect.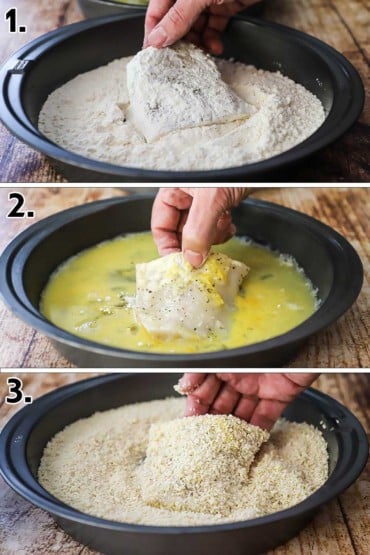 Tips for a Perfect Fried Fish Sandwich
Select the right filet of fish – Choose a firm, white fish like cod, haddock, or halibut that can hold up to frying without falling apart. Cod is definitely best, and is also most not costly.
Season each component – We recommend adding a pinch of salt with the breadcrumbs, but also sprinkling the fish all over with salt, and even a little pinch on the tomato.
Toast the bun – For the classic taste, we go with a nice soft bun, such as Brioche, and then toast it either in hot skillet, or on a griddle or grill.
Make the tartar sauce – We can't stress this enough. The homemade tartar sauce is the perfect match to the other components in this sandwich. It will keep in the fridge for up to 1 week.
How To Serve
This sandwich is definitely best served when the fried filet is fresh out of the oil.
However, we've reheated leftover fish filets in a 350°F oven the next day, and the sandwich was still delicious.
Be sure to have plenty of the condiments ready for the sandwich. They really all come together to create the classic taste.
Crosshatch sweet potato chips, pasta salad, or potato salad, all make for classic sides to the sandwich. An ice cold beer or iced tea are ideal beverages.
Other Amazing Sandwiches to Make at Home
Everyone loves a good sandwich, right? Well, here are some of our favorite sandwich recipes that you would probably love, as well.
Chicken Fried Steak Sandwich
Marinated Steak Sandwich
Grilled Honey Mustard Chicken Sandwich with Bacon
Crispy Fried Chicken Sandwich
Buffalo Chicken Sandwich with Ranch
Epic Sausage and Peppers Hero
Best-Ever Lobster Roll
Classic Tuna Melt
Fried Catfish Po-Boy
Wagyu Pastrami Sandwich
New Orleans-Style Muffuletta
Classic BLT with Garlic Basil Aioli
These are some of the best sandwiches in the world. But, in the meantime, isn't this incredible sandwich calling your name?
If we had to choose our favorite sandwich on the blog that we have ever prepared, eaten, and served, this very well could be in the #1 spot.
And to make it even better, it comes together in a matter of minutes.
Give yourself a little extra time to make the tartar sauce from scratch. It's easy to make but gets better as it chills in the refrigerator for at least an hour, or even better, overnight.
Every single bite of the incredible is a true taste sensation!
Ready to make the best sandwich this side of any boardwalk anywhere? Go for it!
And when you do, be sure to take a photo of it, post it on Instagram, and tag @HowToFeedaLoon and hashtag #HowToFeedaLoon!
Best Fried Fish Sandwich
This Fried Fish Sandwich is one of the tastiest sammies on the planet. And it only takes about 30 minutes to make. Flash fry the fish in some oil, and it doesn't come out greasy at all. We love using Panko bread crumbs for extra crispy and crunchy. The homemade tartar sauce puts it over the top!
Print
Pin
Rate
Servings: 4 people
Calories: 717kcal
Ingredients
Prepare the Sandwiches
Vegetable oil for frying
1 lb cod cut into 3" x 3" squares
Kosher salt and freshly ground black pepper
1 cup all-purpose flour
½ cup water
2 eggs lightly beaten
2 cups Panko breadcrumbs Japanese bread crumbs*
4 brioche buns or hamburger buns
Tomato sliced
Green lettuce shredded, or torn into pieces
Bread and butter pickles drained
Instructions
Prepare the Tartar Sauce
Put together the tartar sauce at least 1 hour before preparing the sandwiches and up to 3 to 4 days in advance. (Keep in a jar, covered, in the fridge)

Tartar sauce
Prepare the Sandwiches
Pour enough oil into a sturdy skillet about 1 inch up the side. Heat the oil to 350°F or until a small piece of bread tossed into the oil sizzles, and browns within about 15 seconds.

Vegetable oil

Lightly season the fish fillets with salt and pepper.

1 lb cod, Kosher salt and freshly ground black pepper

Place the flour in a pan or on a plate, mix the eggs with the water in a pan or medium bowl, and mix together the Panko with 1 tsp of salt. in a medium bowl.

1 cup all-purpose flour, ½ cup water, 2 eggs, 2 cups Panko breadcrumbs

Dredge each fillet, starting with the flour, shaking off the excess.

Submerge the filet into the egg mixture and then shake off the excess.

Dredge the filet into the Panko crumbs, helping the crumbs adhere with your fingers.

Place the filets on a rack until ready to fry (can be kept in the refrigerator for up to 2 hours).

Carefully place the filets in the hot oil, and fry until golden, about 2 to 3 minutes. Do this in batches, if necessary (don't overcrowd the filets in the hot oil).

Remove fillets with metal tongs and place them on a paper towel-lined plate.

Split the buns and lightly toast them on a hot skillet, griddle, or grill.

4 brioche buns

Spread the tartar sauce on each of the bottom buns, then add the lettuce, a filet, and top with tomato, pickles, and top bun. Sprinkle a little more salt and pepper on the tomato slices, if desired. Serve at once.

Tomato, Green lettuce, Bread and butter pickles
Notes
See the video near the top of the blog post for visual guidance. If you liked the video, please subscribe to our YouTube channel.
Cod can be found in the seafood section of most well-stocked supermarkets. If using frozen, be sure to let it thaw completely before dredging and frying. You could also substitute haddock, grouper, or catfish.
To prepare this in the oven, preheat oven to 350°F. Brush 2 tbsp melted butter in a baking pan and bake the filets for 10 to 12 minutes. Brush 2 more tbsps of melted butter in the pan, flip the filets, and bake for another 10 to 12 minutes, until lightly browned and crispy.
Leftover fried filets will keep covered in the fridge for up to 3 or 4 days. Reheat in a 350°F oven for about 15 to 20 minutes, until heated through and the breading is sizzling a little.
Nutrition
Calories: 717kcal | Carbohydrates: 84g | Protein: 40g | Fat: 18g | Saturated Fat: 10g | Polyunsaturated Fat: 1g | Monounsaturated Fat: 1g | Trans Fat: 0.01g | Cholesterol: 274mg | Sodium: 698mg | Potassium: 591mg | Fiber: 2g | Sugar: 2g | Vitamin A: 884IU | Vitamin C: 1mg | Calcium: 139mg | Iron: 5mg
POST UPDATE: This recipe was originally published in July 2017, but was updated with improved tweaks to the recipe with new tips and photography and a fabulous new video in June 2023.