This sauce takes your favorite seafood dishes to the next level.
If you are going to make Fish n Chips, Fried Shrimp, Catfish Po-Boy, or Fried Fish Sandwich, then you've got to have this iconic condiment. The taste is incredible and it comes together in minutes!
How To Make Homemade Tarata Sauce
We use our food processor for this recipe, but if you don't have one, just make sure you chop your onions, pickles, capers, and herbs finely, and you'll be in good shape.
Although you can serve the tartar sauce immediately, we find the consistency and flavor improves after at least 1 hour in the refrigerator.
The Ingredients You Will Need
Here's what you'll need to make this fantastic traditional tartar sauce recipe at home:
Onion, finely chopped
Cornichon (dill pickles), finely chopped
Capers, drained
Mayonnaise
Lemon juice
Dijon mustard
White vinegar
Worcestershire sauce
Parsley, chopped
Salt and pepper
Homemade tartar sauce is absolutely perfect for dipping your fried fish into!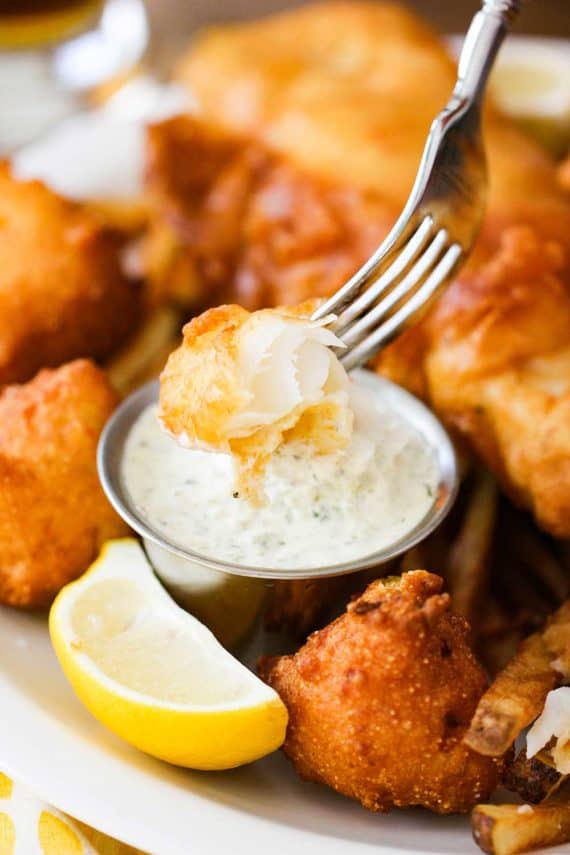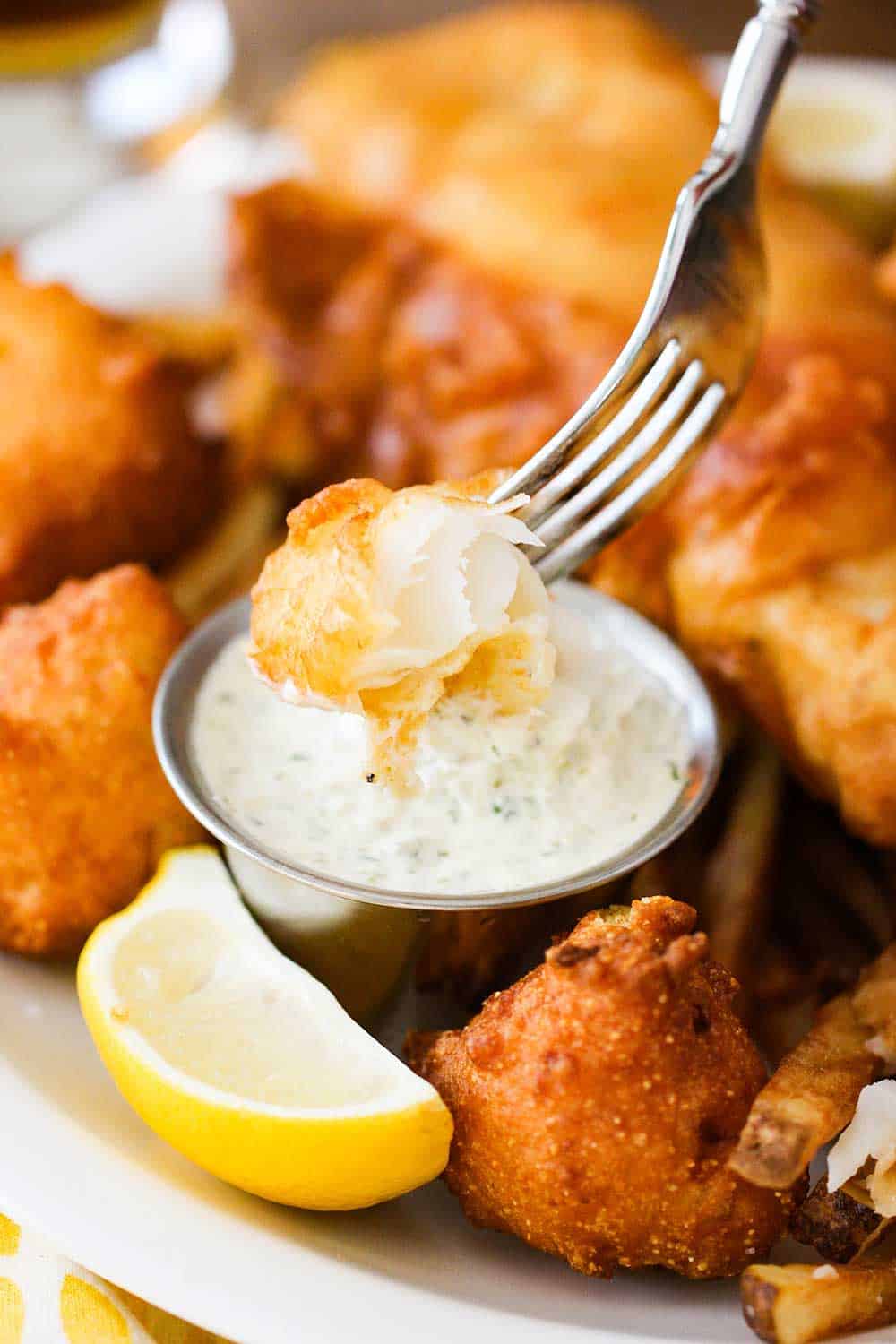 Homemade Tartar Sauce FAQs
Where do I find cornichons? Cornichons are small, extra-tart dill pickles. The are called 'gherkins' in the United Kingdom. They are readily available in the pickles section of most supermarkets. This is usually where you'll find capers, too.
What if I don't have a food processor? No problem! Just make sure you chop the onions, pickles and capers very finely with a sharp knife. Then simply blend them into the remaining ingredients. Stirring until completely mixed.
Can the sauce be served immediately? Of course! However, we find the consistency and flavor only improve after at least an hour in the fridge.
How long will it keep? Homemade tartar sauce will keep in the refrigerator for up to 1 week. You can freeze it for up to 2 months, but we feel fresh is always best.
Did we mention how delicious Southern Hush Puppies are when dipped into this amazing sauce?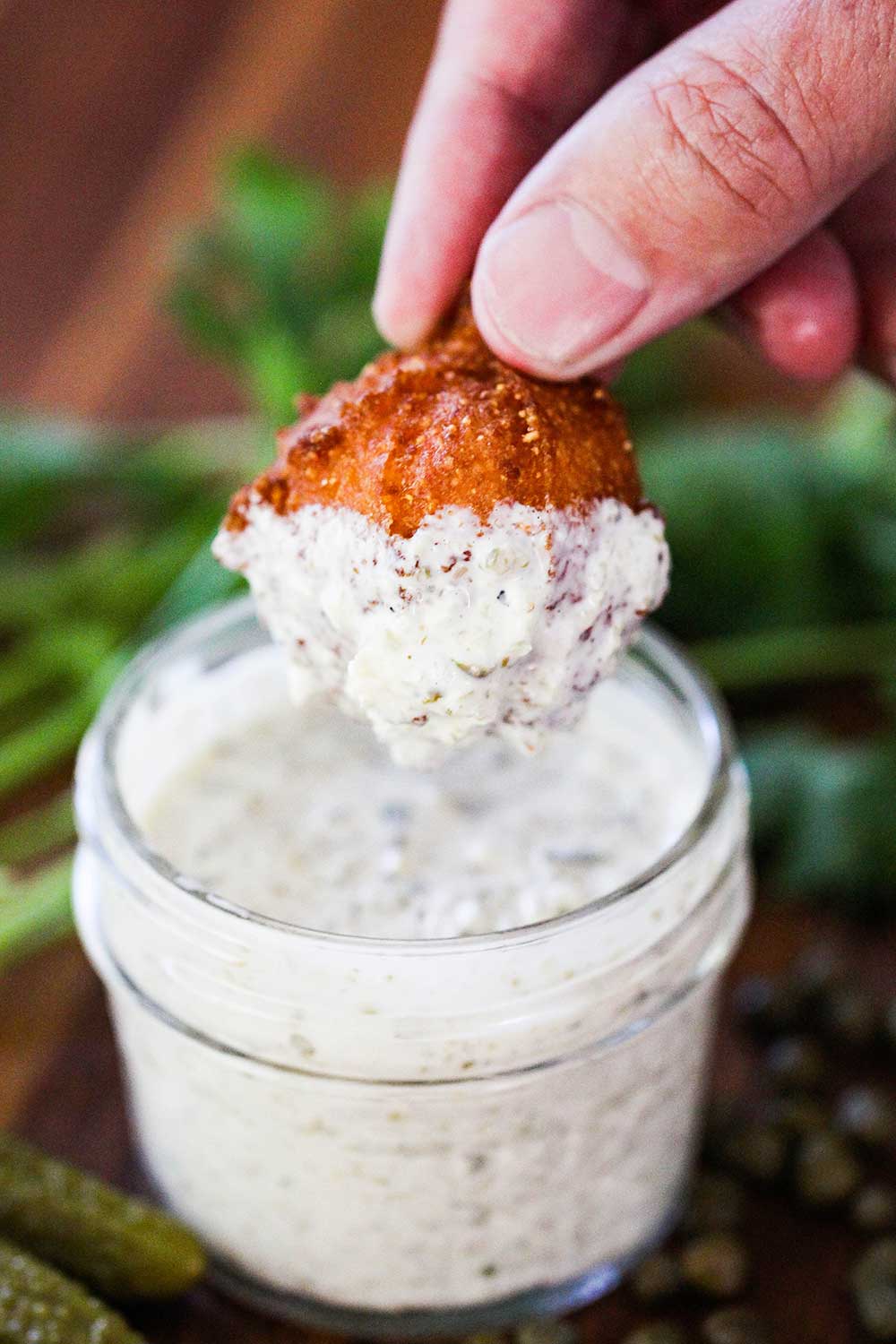 We absolutely love making homemade tartar sauce. Whenever we serve any kind of fish, especially fried fish, it's a must. It's also wonderful served along with our Homemade Cocktail Sauce.
Once you make this from scratch, you'll never even consider buying the bottled stuff again!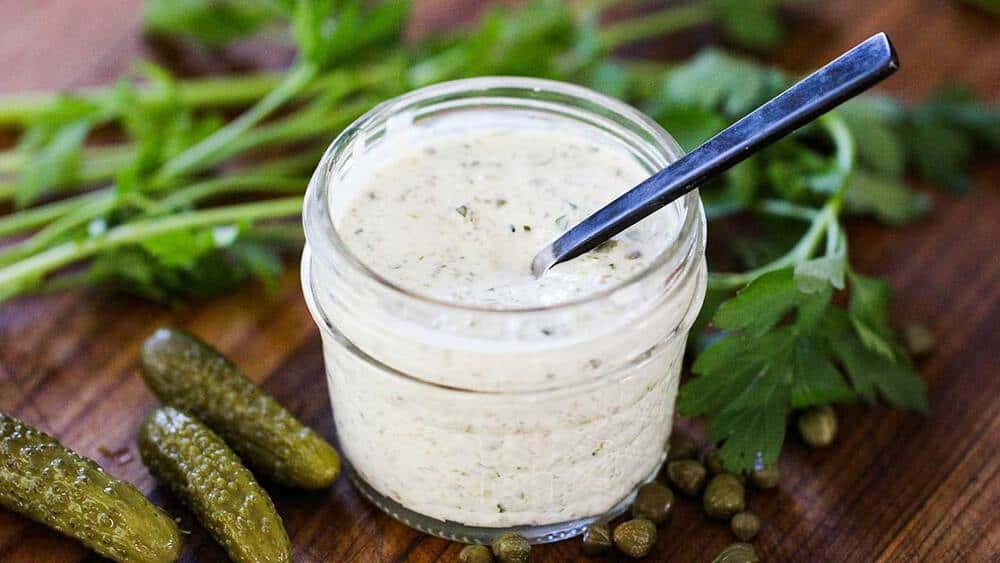 We borrowed this recipe from one of the greatest fishmongers and seafood chefs we have ever met, Joe Gurrera, owner of the world-famous Citarella Seafood and Gourmet Market based in New York City!
Don't forget, when you make this amazing tartar sauce, take a photo, post it on Instagram, and tag @howtofeedaloon and #howtofeedaloon!
Homemade Tartar Sauce
Homemade tartar sauce really makes a huge difference when used on your favorite seafood dishes and it comes together in a matter of minutes. Perfect addition to all of your favorite seafood dishes!
Print
Pin
Rate
Servings: 8 people
Calories: 99kcal
Equipment
Food processor, or a large sharp knife
Ingredients
3 tbsp onion coarsley chopped
3 tbsp cornichons coarsely chopped
1 tbsp capers drained
¾ cup mayonnaise
2 tsp lemon juice about the juice of 1 lemon
1 tsp Dijon mustard
1 tsp distilled white vinegar
½ tsp Worcestershire sauce
½ tsp Cornichon juice
black pepper freshly ground, to taste
1 tbsp flat-leaf parsley chopped
Instructions
Place the onion, cornichon, and capers in a food processor and pulse a few times until finely minced. Scrape down the sides of the bowl, and pulse again.

Add the mayonnaise, lemon juice, Dijon, vinegar, Worcestershire sauce, cornichon juice, and pepper, to taste and pulse again until well combined.

Transfer the sauce into a small bowl and stir in the parsley. Cover with plastic wrap and refrigerate for at least one hour.
Notes
If you don't have a food processor, simply chop the onion, cornichons, and capers very finely with a knife before mixing together with the remaining ingredients. Baby dill pickles can be substituted for the cornichons. Cornichons can be found in most supermarkets in the pickle section. Keep the tartar sauce in the refrigerator in an air-tight container for up to 1 week and can be frozen for up to 3 months.
Nutrition
Calories: 99kcal | Carbohydrates: 1g | Protein: 1g | Fat: 6g | Saturated Fat: 2g | Cholesterol: 6mg | Sodium: 197mg | Potassium: 5mg | Fiber: 1g | Sugar: 1g | Vitamin A: 60IU | Vitamin C: 1mg | Iron: 1mg
POST UPDATE: This recipe was originally published April 2014, but was updated with improved tweaks to the recipe with new tips and photography and a fabulous new video in June 2023.