These crunchy-on-the-outside and fluffy-on-the-inside balls of yumminess are truly magical and delicious.
If you are looking for the perfect addition to your favorite seafood meal, such as Fish n Chips, Southern Fried Shrimp, or Fantastic Fried Fish Sandwich, you've come to the right place. And they come together in about 20 minutes!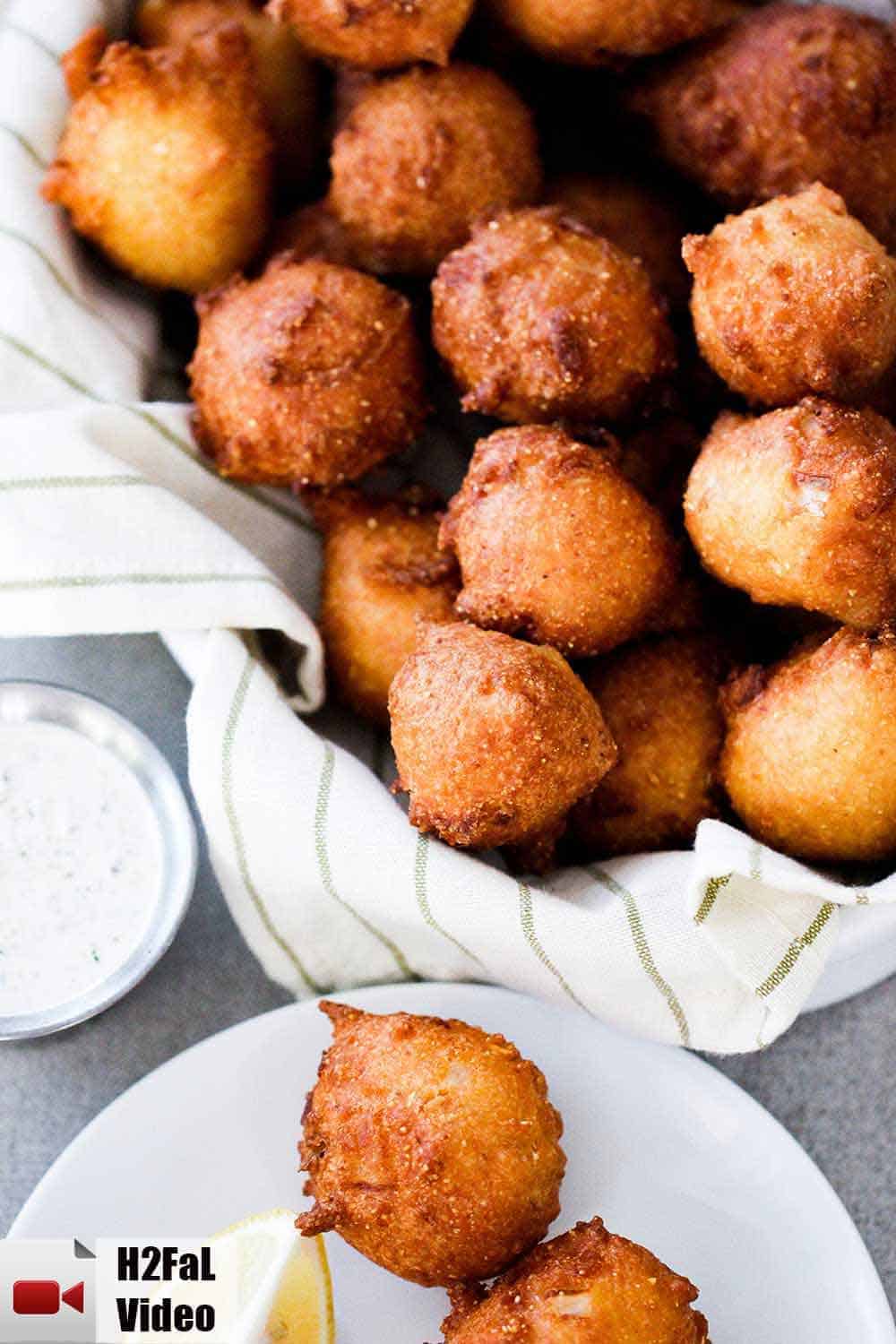 How to Make Hush Puppies
This hush puppies recipe with cornmeal is the real deal.
Homemade hush puppies are easier than you might think to make in your very own kitchen!
Watch us show you how to make them!
What are Hush Puppies Made Of?
We love using coarse (medium ground) yellow cornmeal in our version. This provides the amazing corn taste with a wonderful texture.
Granulated sugar provides just enough sweetness to make you keep going back form more of these little balls of deliciousness. For the wet ingredients, you can never go wrong with buttermilk, an egg, and a few dashes of hot sauce.
And the addition of finely chopped onions is key to authentic taste.
Tips for Creating the Batter
Once you've got the dry mixture and the wet mixture ready, it's time to form the batter.
Pour the wet into the dry, and gently mix. Next is the beer (see below).
EXPERT TIP: Don't over mix the batter! Don't worry if the batter is a little lumpy. This is good! It will make the texture of the Southern Hush Puppies exactly the way you want them! Fluffy and moist on the inside!
We absolutely love the addition of beer into the batter.
The alcohol cooks out, but the beer deepens the taste and makes the hush puppies extra crunchy on the exterior.
You'll only need about a quarter cup of your favorite beer. We think you'll know what to do with the leftover beer.
How To Achieve the Perfect Texture
We like to use our deep fryer when making Southern Hush Puppies, but you can certainly use a large, sturdy pot (i.e., Dutch oven) with enough oil to reach about 3 inches in depth.
If heating oil on the stove-top, we strongly encourage the use of a candy thermometer to maintain the correct temperature for frying, which for these babies is 350°F.
EXPERT TIP: Peanut oil is excellent for deep-frying because it can easily handle high heat. However, you can also use vegetable oil or shortening. Do NOT use olive oil.
Use a spoon to simply (and carefully) drop a small mound of batter into the hot oil. Cook the puppies in batches until golden brown, about 7 to 8 minutes, flipping in the oil occasionally.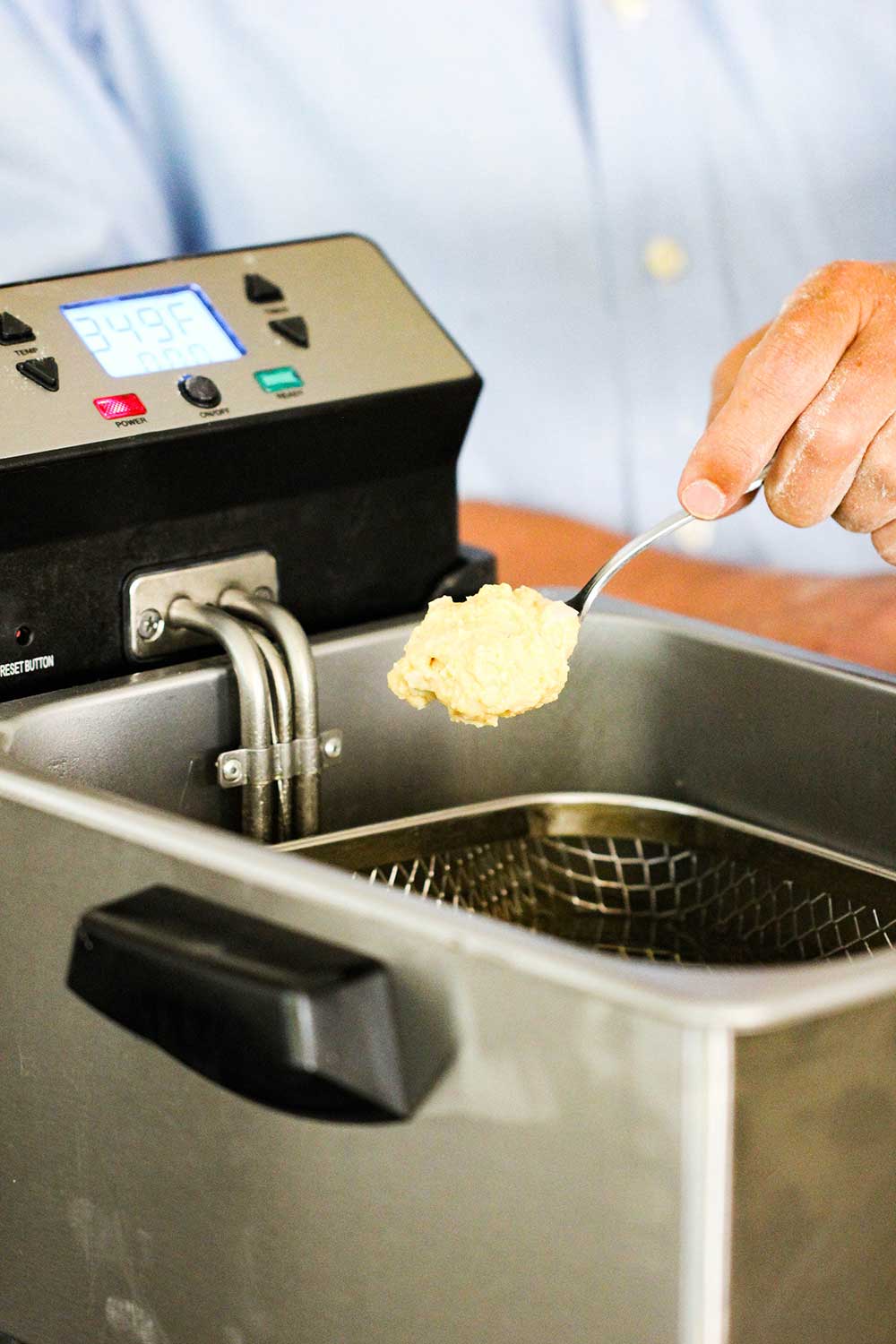 What would a down-home fish-fry be without the incredible gems?
And of course, if you're going to make this easy hush puppy recipe, then you've got to have Homemade Tartar Sauce.
The two were made for each other!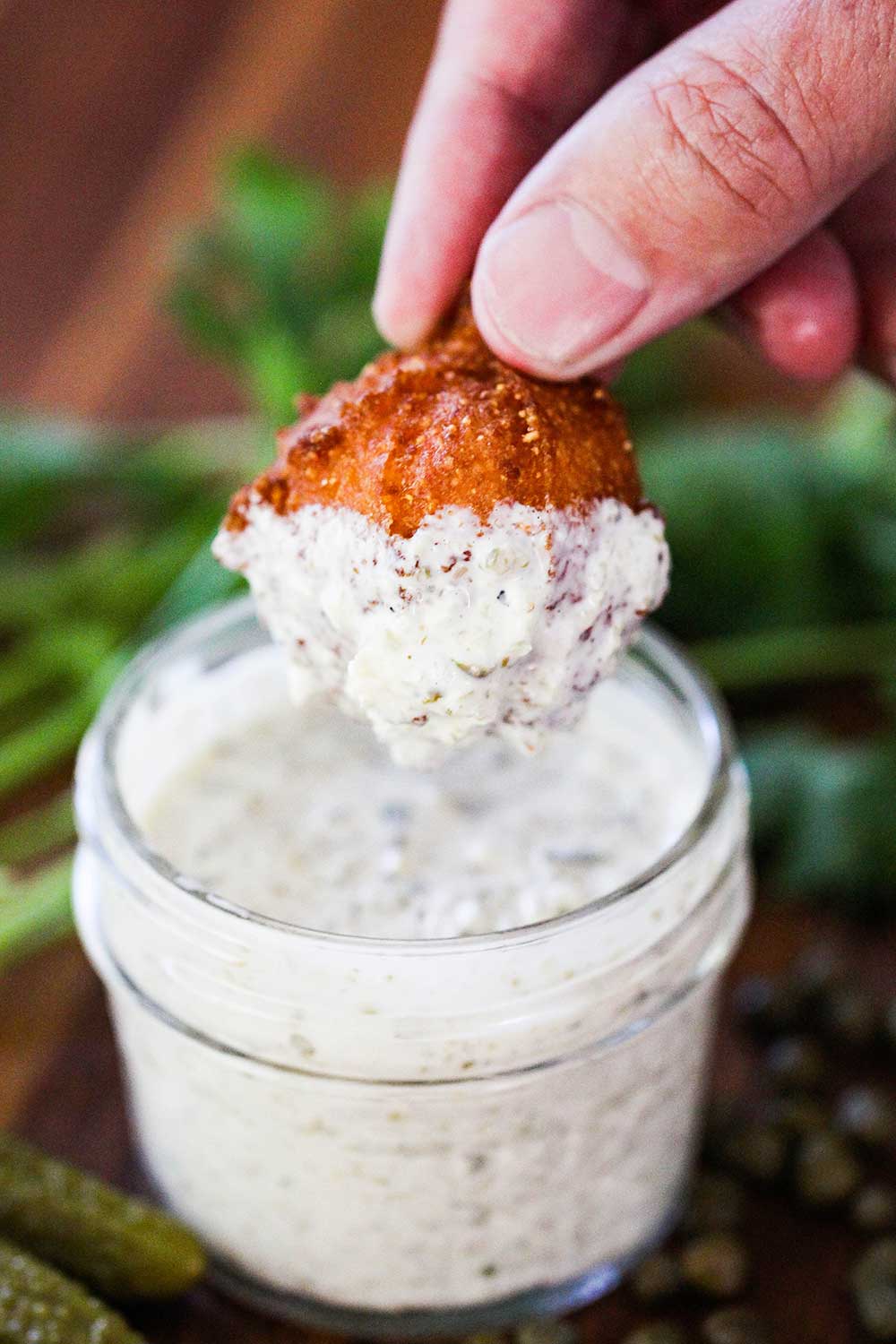 Frequently Asked Questions:
Can these be baked instead of fried? Absolutely! They will be more like cornbread, but still very delicious. Simply spray a mini muffin pan with cooking spray, and then fill the cups about 2/3-full and bake at 400°F for 20 minutes, until inserted toothpick comes out clean.
What is the best cornmeal to use? We find a yellow coarse (medium) that produces the best texture and taste.
What kind of oil is best for frying? Peanut oil is great. Vegetable oil or shortening will work. Canola will work, too. We do not recommend any fragrant oils, such as olive oil.
How long will they stay fresh? They are best when served soon after cooking. You can keep them warm in an oven, but the longer they sit, the less crunchy they will be on the outside and less fluffy on the inside.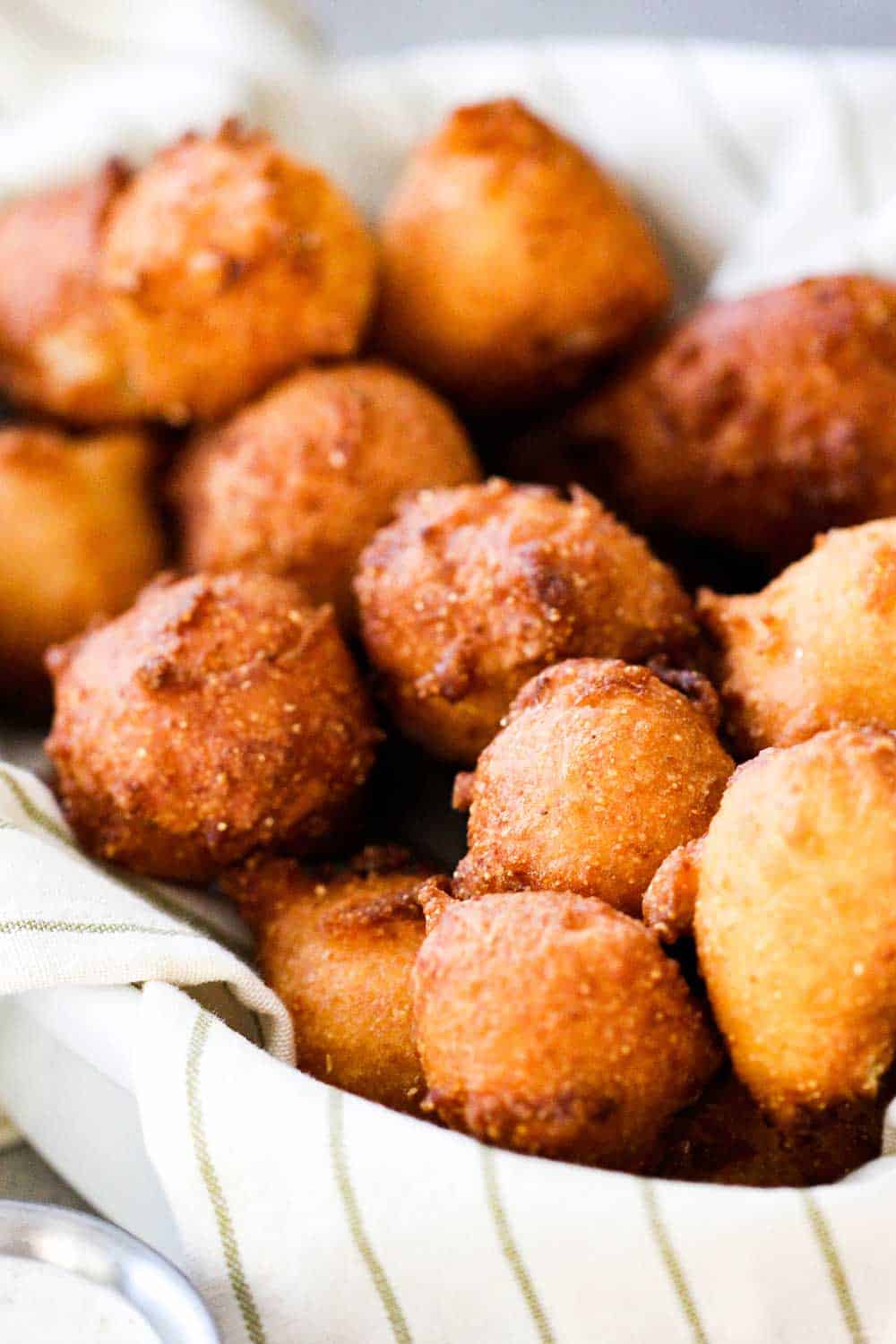 Now, you may be wondering why are hushpuppies called hush puppies? Well, the story has it that is does have something to do with everyone's favorite 4-legged furry friend. Read more about it here.
Just look at these! Splitting one open while they are still warm is sublime.
Are you craving them yet?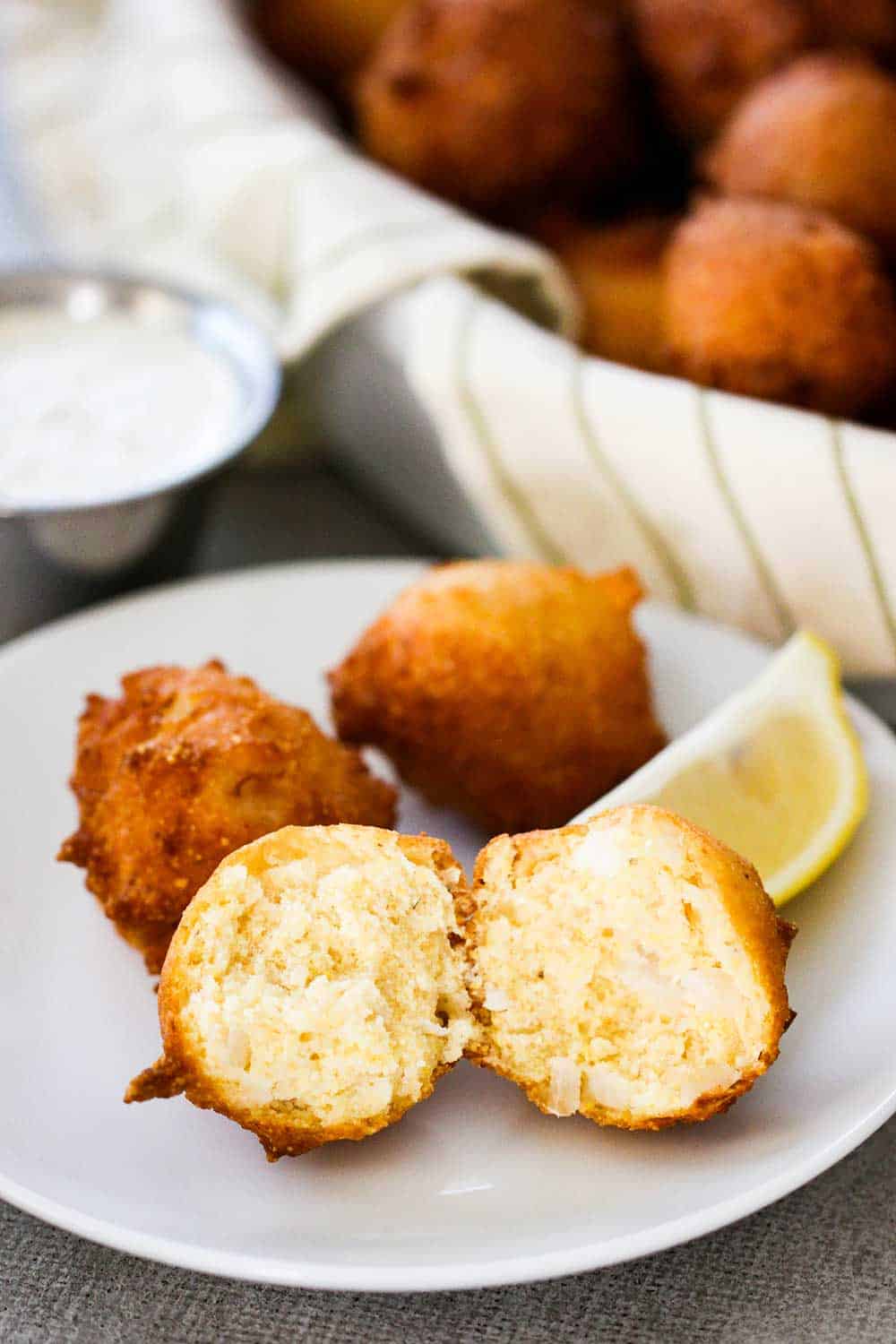 Ready to make the best seafood accompaniment in the world? Go for it!!
And when you make them, be sure to take a picture, post on Instagram, and tag @howtofeedaloon and #howtofeedaloon!
Southern Hush Puppies
These hush puppies are a Southern classic. Serve them with classic fish and chips with homemade tartar sauce, and maybe a few good dashes of malt vinegar...and are the super tasty!
Print
Pin
Rate
Servings: 8 people
Calories: 253kcal
Equipment
Deep fryer, or large sturdy pot (i.e., Dutch oven)
Ingredients
1 ½ cup self-rising flour
1 ½ cup corn meal yellow ground, medium-coarse
1/4 cup sugar
½ tsp baking powder
½ tsp Kosher salt
½ onion finely chopped
1 cup buttermilk
¼ beer
1 egg lightly beaten
3 dashes hot sauce
Peanut oil or vegetable, for frying
Tartar sauce for dipping
lemon wedges for garnish
Instructions
Heat the oil to 350°F.

Mix the flour, corn meal, sugar, baking powder and salt in a medium bowl.

Mix in the onions.

In a separate bowl, combine the buttermilk, egg and hot sauce.

Add the dry ingredients with the wet, and mix with a large wooden spoon. Don't over mix! Its okay for there still to be some lumps.

Mix enough beer until batter just comes together, about 1/4 cup.

Use a spoon to scoop a small mound of batter, just large enough to cover the spoon.

Drop the dough into the hot oil. Continue with more, but don't overcrowd. You will most likely fry in batch.

Fry until golden brown on the outside…about 7 to 8 minutes (varies depending on the size of the puppies!). Use a metal slotted spoon, or spider, to remove the hush puppies to a plate lined with paper towels.

Repeat process with remaining batter.
Notes
Coarse (medium ground) yellow cornmeal is best, however, fine ground will work, too. A deep fryer helps keep the oil temperature constant (350°F), but a large sturdy pot (i.e., Dutch oven) will work, too, with a candy thermometer. You will need to adjust the heat on the stove once the batter goes into the oil, and then before the next batch goes in. Peanut oil works best, but vegetable oil or shortening will work, too. Do NOT use olive oil. Hush puppies are best served soon after frying. You can bake these instead of frying (see FAQs), but they will be more similar to baked cornbread.
Nutrition
Calories: 253kcal | Carbohydrates: 47g | Protein: 7g | Fat: 4g | Saturated Fat: 1g | Cholesterol: 24mg | Sodium: 188mg | Potassium: 209mg | Fiber: 3g | Sugar: 9g | Vitamin A: 79IU | Vitamin C: 1mg | Calcium: 58mg | Iron: 1mg
POST UPDATE: The recipe was originally published in April 2014, but was updated with improvements to the recipe, new photography and fabulous new video in September 2019.