Chicken Fried Steak…3 words that make my Texan heart swoon.
Folks, if you've never heard of chicken fried steak, or if you have it every other meal…get ready for one of the best (if not the best) chicken fried steak recipes in all of the Lone Star State and beyond!
And heck, we've gotta add some Black Pepper Cream Gravy, right? Let's do this!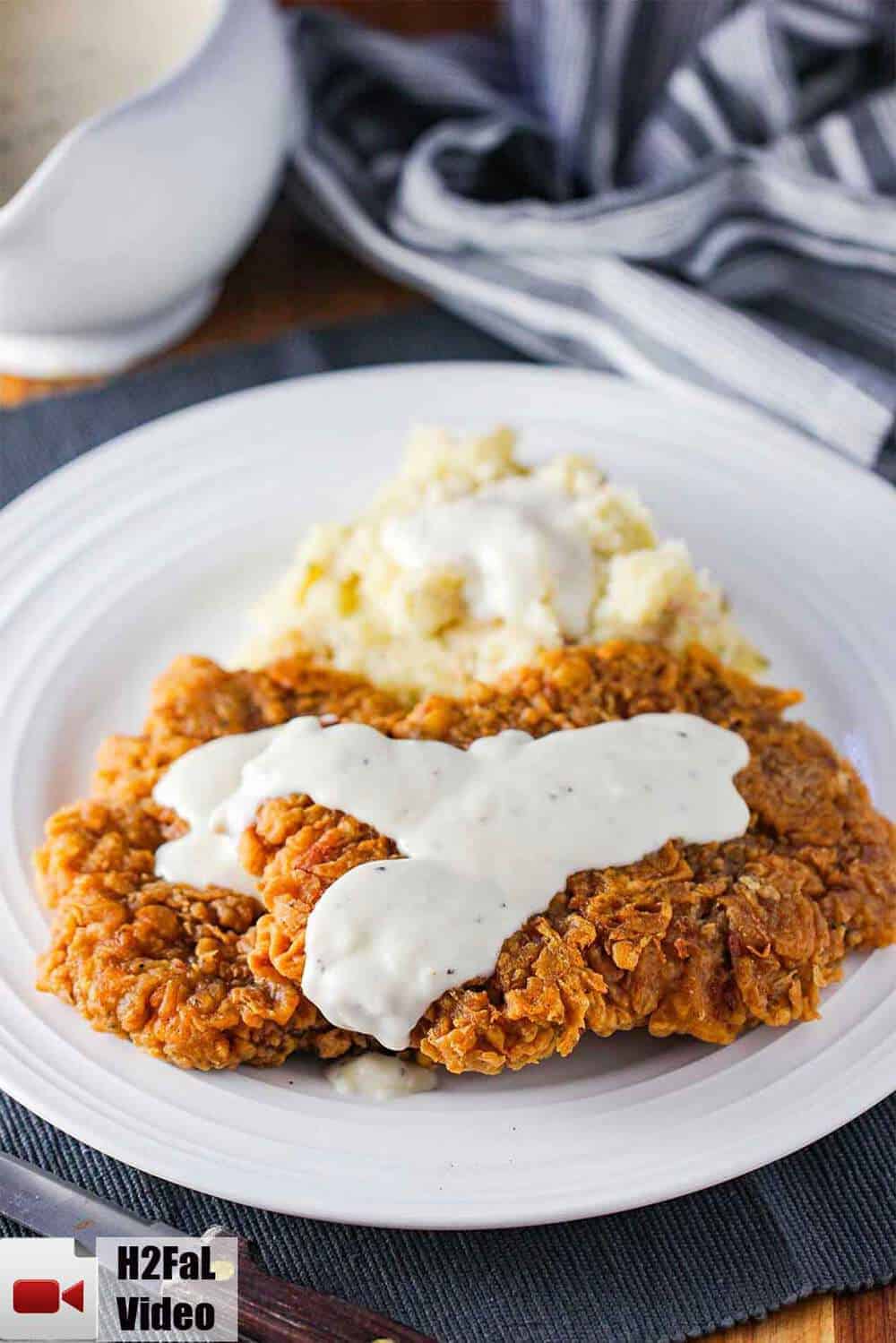 CHICKEN FRIED STEAK IS EASY TO MAKE AT HOME
There are many, many different recipes for preparing classic Southern Chicken Fried Steak.
We've tested most of them. And we've come up with our own version that we think will rival even the best of the West.
Watch us show you how to make incredible Chicken Fried Steak!
TENDERIZED CUBED STEAK WORKS WELL
I (Kris) recently had the privilege of competing on Food Network's "Guy's Grocery Games." And guess what? The first dish I made was my classic Chicken Fried Steak! And the judges LOVED it! Read more about this amazing experience from a wonderful writer, Sarah Blaskovich from the Dallas Morning News: Adventures in Feeding.
To impress the judges, I went with a more expensive cut of meat, a beautifully marbled ribeye. Though the result was luxurious in taste and texture, you can absolutely achieve chicken fried steak perfection with an inexpensive cut of meat, such as cubed, or round steak. Just ask your butcher to tenderize the steaks for you. Or, you can do it yourself carefully with a meat mallet.
Here is a shot of me (Kris) looking like a goofball talking about my Southern Chicken Fried Steak on Guy's Grocery Games on the Food Network.
SET UP A DREDGING STATION
Creating a crunchy and extremely flavorful crust around the steak requires a 3-step approach.
Corn starch is commonly used in Asian/Chinese cooking. It helps to create a crunchy exterior. So why not use it on our chicken fried steak? Let's do it!
Followed up by an amazing batter of flour, beef broth, milk, chili powder, smoked paprika, onion salt and black pepper.
A final dredge through season flour will provide the extra crunchy exterior we all want.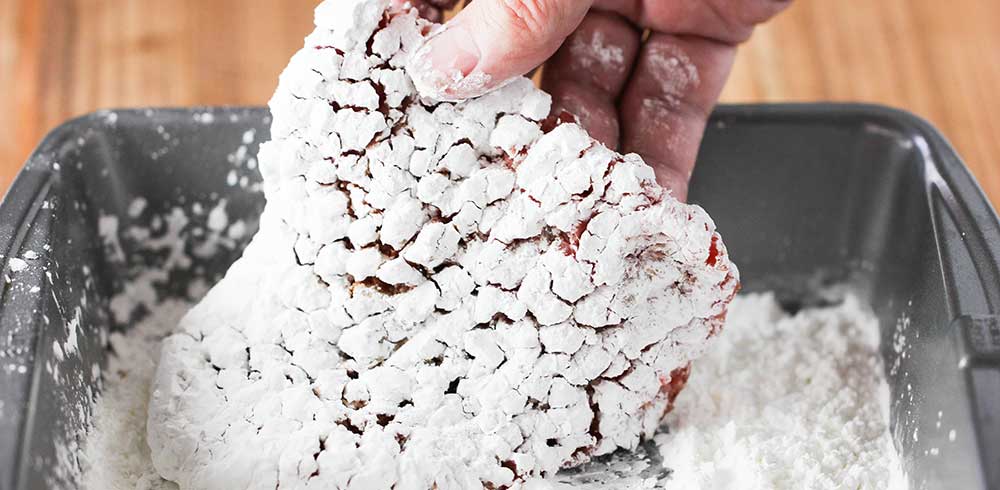 Take a large sturdy skillet and add just enough oil so only about half the steak is submerged.
You want the weight of the steak to hold down the cutlet as it cooks, this helps to ensure the batter will adhere to the meat.
Once golden brown (about 4 minutes), flip over and cook until golden on both sides (about a total of 8 to 10 minutes). Drain on a plate lined with paper towels.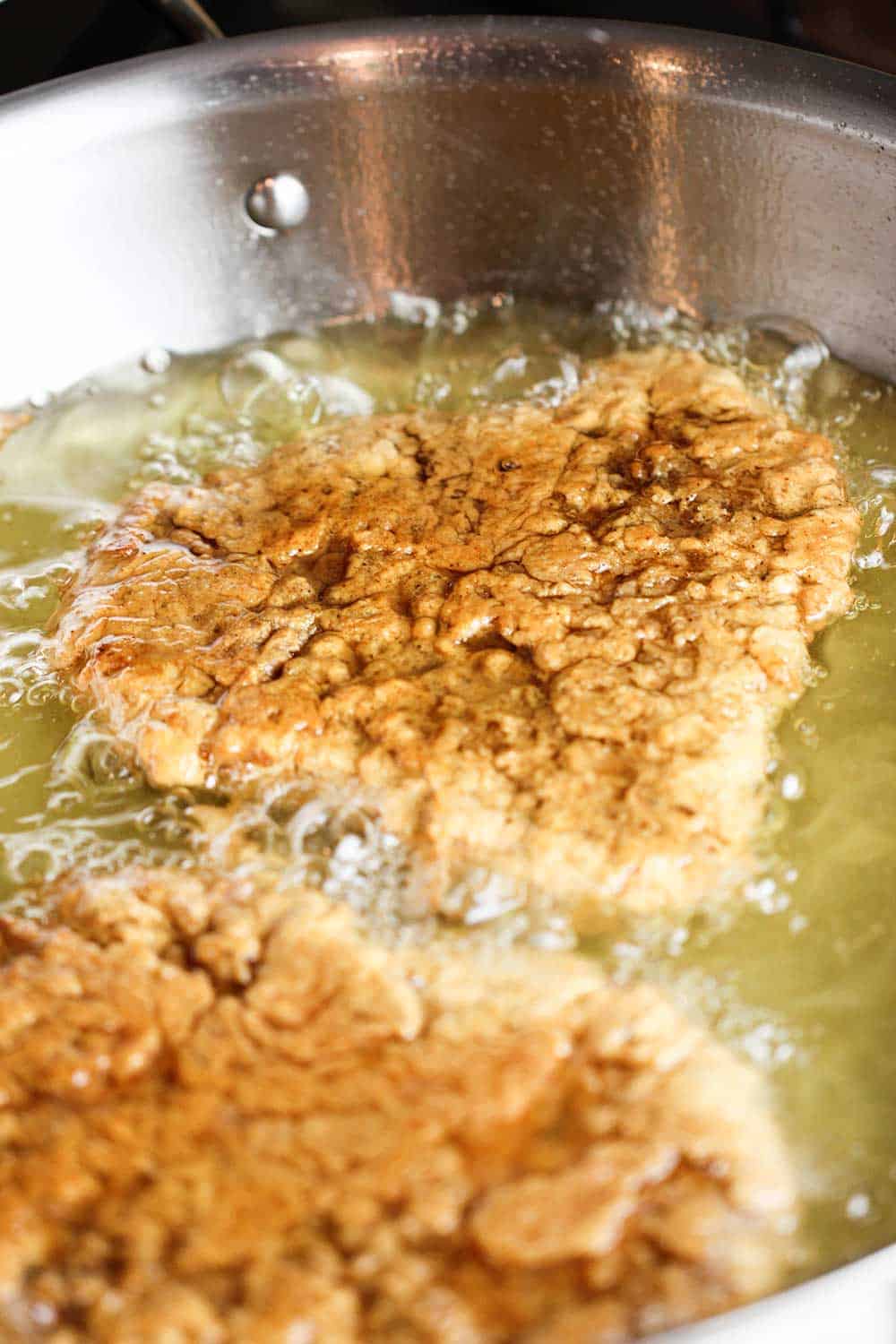 WARM COOKED STEAKS IN THE OVEN
If you are feeding a crowd of hungry folks (like we usually are), you can make the steaks an hour or so before serving.
As each chicken fried steak is cooked to perfection, just place it on a baking sheet with a rack, and keep warm in a low-temp oven (200°F).
The steaks will stay nice and crispy until ready to serve.
And trust us when we tell you that if you're doing chicken fried steak, you gotta make some cream gravy.
HOW TO MAKE CREAM GRAVY
Heat 2 tbsp grease in a skillet
Add an equal amount of flour to create a roux.
Add milk and cream and whisk to remove lumps.
Season with salt and lots of black pepper.
Stir until thickened.
Chicken Fried Steak is a classic dish in Texas and the Southern U.S.
The meat is tender and flavorful and the crunchy batter is absolutely delicious.
Serve this with mashed potatoes and fried okra, and you will be in yummy heaven.
A CLASSIC SOUTHERN DISH
Well, you can take the boy out of Texas, but you can't take Texas out of the boy. Which really isn't an issue anymore, since the Loon and I moved back to Texas.
Once you dig in and take your first bite, you'll understand why we get so excited about this dish.
Come on…you know you want it…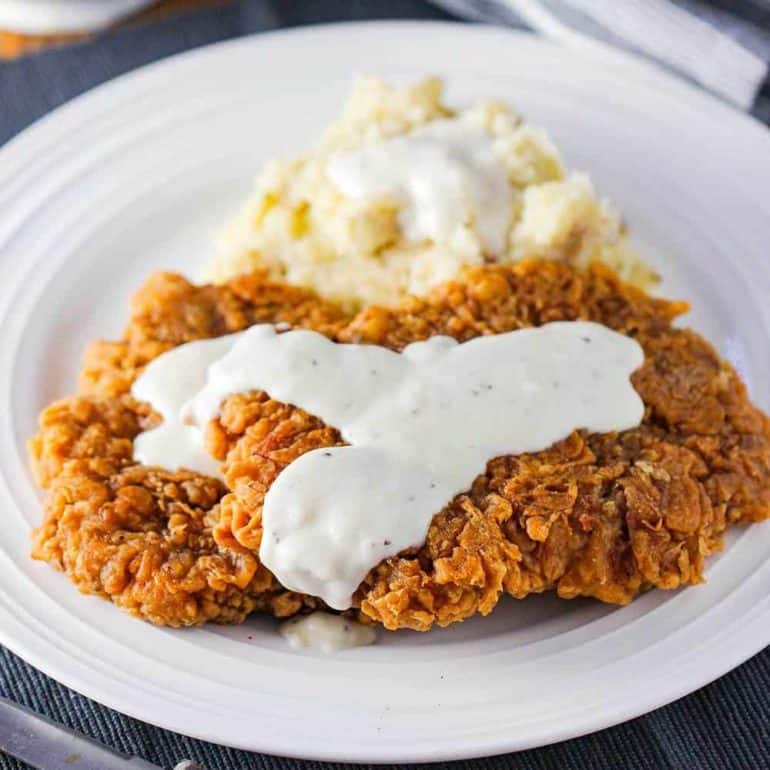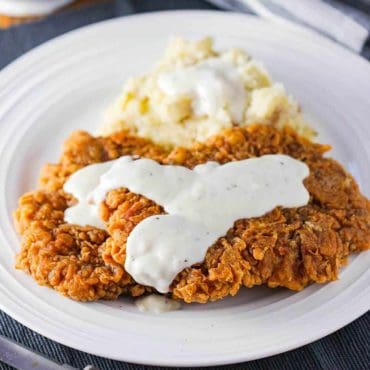 Southern Chicken Fried Steak
Southern Chicken Fried Steak is a staple down South. I developed this recipe about 15 years ago, and think it will rival any Chicken Fried Steak you'll ever try. Yummy yum yum!
Print
Pin
Rate
Servings: 8 people
Calories: 628kcal
Ingredients
6 8 oz round sirloin steaks, or cubed steaks tenderized
2 tbsp Worcestershire sauce
2 tbsp Louisiana hot sauce
2 tbsp seasoned salt, such as Adobo divided
Fresh cracked black pepper to taste
1 cup corn starch
3 cups all-purpose flour divided
1/2 cup beef stock
1 cup milk might need more if batter too thick
1 egg
1 tbsp chili powder
1 tsp onion salt
1 tsp smoked paprika
1/2 tsp black pepper
Oil for frying
FOR THE GRAVY
2 tbsp bacon grease or butter
2 to 3 tbsp flour
2 cups milk
1 cup heavy cream
salt and pepper to taste
Instructions
In a large skillet, add just enough of the oil so it reaches about 1/4 inch up the side. Heat to 350° F, or until a pinch of bread tossed in sizzles and turns a nice golden brown in a couple of minutes.

Season one side of the steaks with Worcestershire sauce, Adobo, and pepper.

Season the other side with hot sauce, Adobo, and pepper

On a platter or plate, spread the cornstarch

In a medium-size bowl, make a wet batter by mixing 1 1/2 cups flour with the stock, milk, egg, chili powder, salt, paprika, and pepper. (If too thick, add more milk...the consistency should be like a thin/runny milk shake)

On a separate platter, add remaining flour plus 1 tbsp of the Adobo seasoning, mix well.

Dredge the prepared steaks in the corn starch.

Add the steaks to the wet batter. Let excess drip off.

Add to the flour mixture.

Working in batches, carefully place the steaks in the hot oil.

Cook for about 8 minutes, or until golden brown. Approx. 4 minutes per side

Drain for a couple minutes on plate lined with paper towels. (Keep cooked steaks in low-temp oven (200°F) until ready to serve.)
MAKE THE GRAVY
Heat the bacon grease (or butter) over medium heat.

Add the flour, and stir to incorporate. Add more flour if too wet (should resemble wet sand). Cook for 3 to 5 minutes, stirring frequently.

Gradually add the milk and cream, whisking vigorously until lumps are gone. Continue to stir with a wooden spoon until thickened.

Add salt (and seasoned salt, if using) and pepper, to taste.

Pour gravy over cooked steaks.
Nutrition
Calories: 628kcal