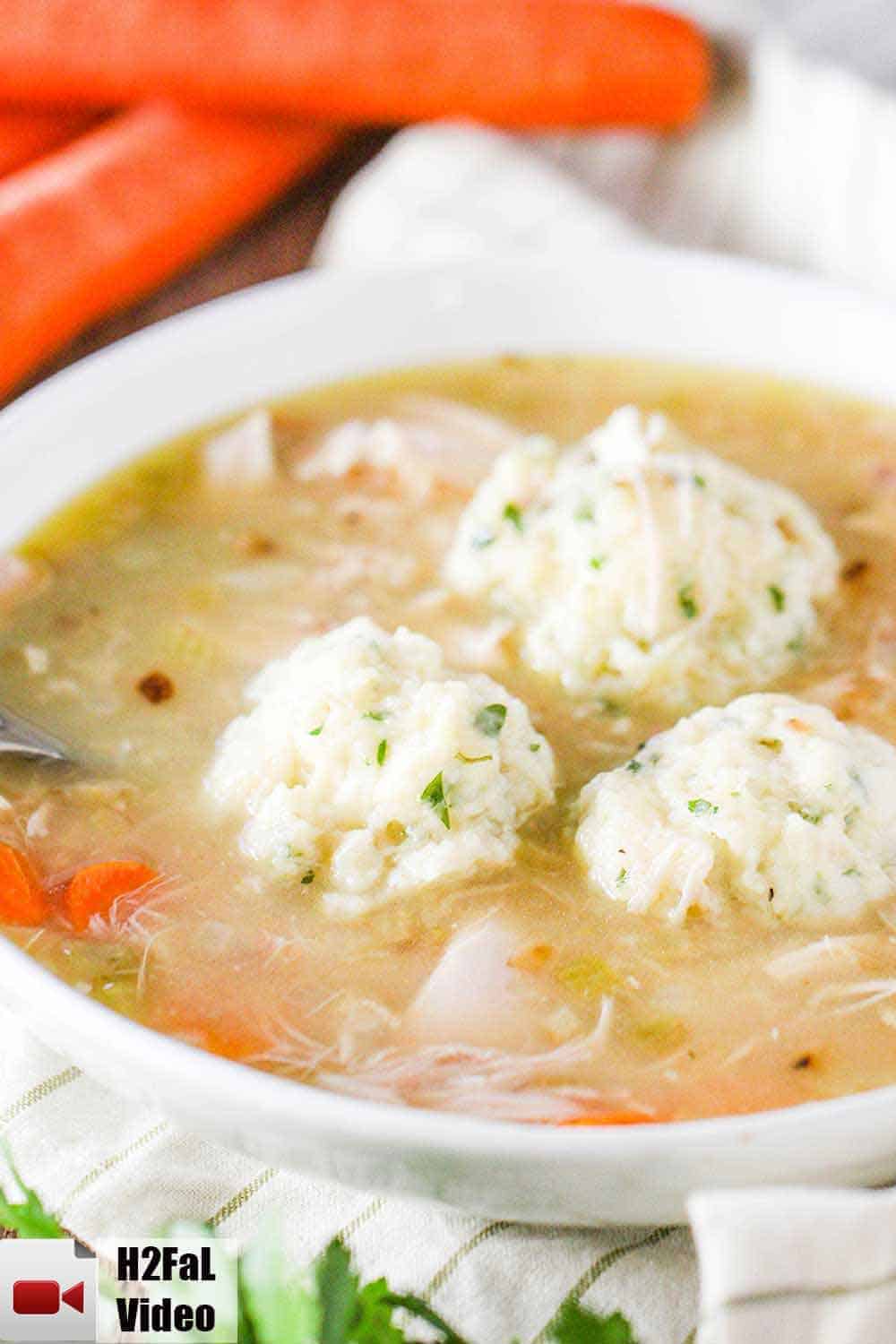 Please give this a recipe a go, serve it to someone you really love.   And be happy.   This really may be the answer to world peace.   Chicken and Dumplings, made from scratch.  It will just will make you feel so good.  Do you get that we love homemade chicken and dumplings?  Oh yes.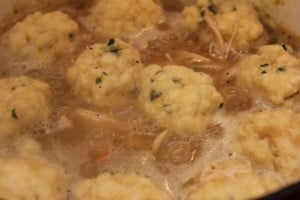 Homemade Chicken and Dumplings - The Ultimate in Comfort
This homemade chicken and dumplings is about is comforting as you will ever find. You can you pre-made chicken stock, or easily make your own batch with this recipe. Wow oh wow...this is good. Homemade Chicken and Dumplings!
Author: Kris Longwell
Recipe type: American
Cuisine: American
Serves: 8
Ingredients
1 chicken, about 3½ to 4 lbs
4 carrots, cut into 1-inch pieces
2 yellow onions, 1 quartered, and 1 diced
4 ribs of celery, diced
1 bay leaf
4 tablespoons of unsalted butter
¼ cup of all-purpose flour
¾ teaspoon of salt
½ teaspoon of ground black pepper
For the dumplings:
1½ cups of all-purpose flour
3 teaspoons of baking powder
2 tablespoons of flat-leaf parsley, chopped
½ teaspoon of salt
2 tablespoons of unsalted butter, cut into small pieces and chilled
½ cup of milk
1 egg
Instructions
Place the chicken in a large Dutch oven, or heavy duty pot.
Pour enough cold water to cover by 1 ince.
Add ½ of the chopped carrots, the diced onion, ½ of the chopped celery, and the bay leaf.
Bring to a boil over high heat.
Reduce the heat to medium, partially cover, and simmer until the chicken is super tender, and almost falling of the bone....about 2 hours.
Remove the post and set aside to cool.
When the chicken is cool enough to handle, remove the skin, and then the meat - shred the meat into large bite-size pieces.
Strain the broth into a large saucepan and wipe the Dutch oven (or large pot) clean.
Bring the broth to a boil.
Reduced the heat to medium and cook until reduced to about 6 cups...about 10 minutes.
In the Dutch oven over medium-high heat, melt the butter.
Add the remaining carrots, onion and celery. Cook until tender, about 6 minutes.
Add the flour and whisk until smooth.
Constantly stir the roux for about another 6 minutes.
Add the heated chicken broth.
Season with salt and pepper...(taste to your liking)
To make the dumplings:
In a large bowl, stir together the flour, baking powder, parsley and ½ teaspoon of salt.
Add the cubed butter, and, using your fingers or a pastry cutter, work the butter into the dry ingredients until the mixture has the texture of mall peas.
Gently stir in the mile and egg to form a batter.
Drop heaping spoonfuls of the dough into the simmering sauce and chicken.
Reduce the heat to low, cover, and cook until the dumplings are fluffy...about 15 minutes.
Serve in bowls and enjoy the comfort of this dish.