If you want to make homemade soup be the best it can possibly be, then you need to start here.
We use this recipe whenever we make Italian Wedding Soup, Asparagus Risotto, Chicken Noodle Soup, and pan gravy for dinner. It's really easy to make, you just need to allow about 24 hours before it's ready for use.
How To Make Homemade Chicken Broth
You may be wondering is chicken stock the same as chicken broth? They are very, very similar, and are used in many of the same types of recipes.
Typically, stock is slow-simmered with bones (usually that have been roasted) with a little meat on them. And then also a mirepoix (onion, celery, carrots) and aromatics are added to water with the bones and slow simmered. This soup recipe would also be great with our Roasted Chicken Stock.
A broth is cooked with meat pieces (i.e., bone-in, skin-on chicken breasts) and also a mirepoix and aromatics. Broths are usually seasoned with salt, whereas stocks usually are not.
EXPERT TIP: We recommend making the broth a least one day in advance of preparing the soup. Let the broth cool for 24 hours in the refrigerator. The rendered fat will rise to the top of the broth and then congeal, making it easy to skim off with a spoon the next day.
The Ingredients You Will Need
What is Chicken Broth? It's simple and straightforward, but so deep in heartwarming broth flavor.
We start with 4 lbs of bone-in, skin-on chicken pieces. Chicken breasts and legs are work well for us.
Simmered with a mirepoix (carrot, onion, and celery) and aromatics is all that is takes to make authentic homemade chicken broth.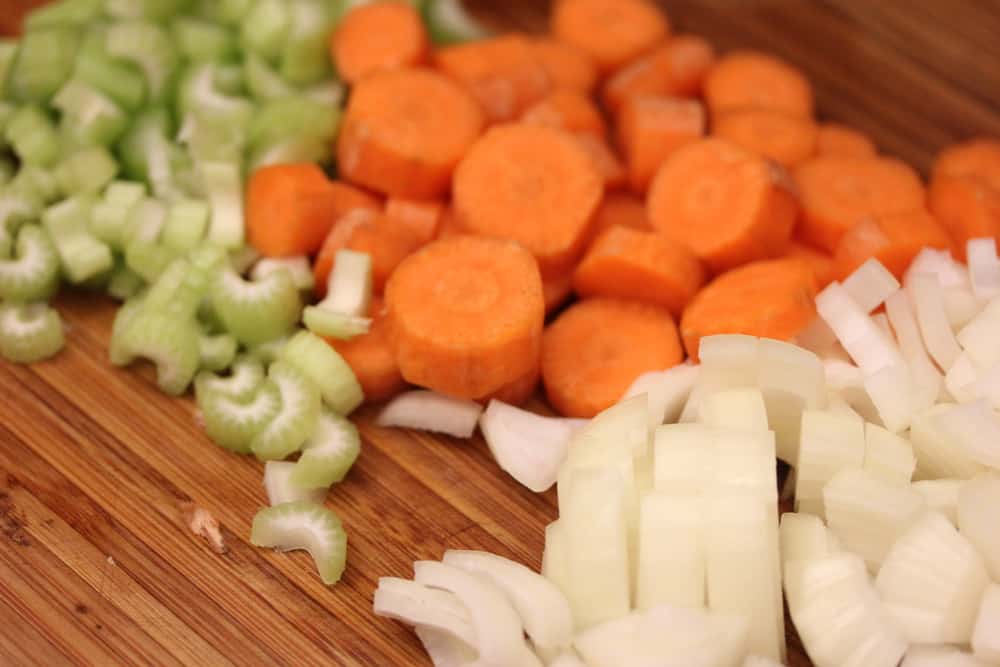 How Long Does Homemade Chicken Broth Last?
We love to make a large batch of this broth.
We use one batch for whatever we're cooking up that day (Italian Wedding Soup!), and then we freeze the rest.
The homemade chicken broth will freeze beautifully for up to 2 or 3 months.
And it's amazing in soups like Italian Wedding Soup!
Ready to make the best soup base in the world? Go for it!
And when you do, be sure to take a photo of it, post it on Instagram, and tag @HowToFeedaLoon and hashtag #HowToFeedaLoon!
Homemade Chicken Broth
Homemade Chicken Broth is really very easy to make in your own kitchen, and the difference it makes in bringing a good soup to an off-the-charts delicious soup is incredible. Allow at 24 hours for the broth to cool so you can easily remove the congealed fat that will form on the surface of the liquid.
Print
Pin
Rate
Servings: 10
Calories: 213kcal
Equipment
10 to 12 quart stock pan, plus another large pot for straining into
Ingredients
4 lbs chicken pieces, skin-on, bone-in
1 gallon water
3 bay leaves fresh, (if dried, use 2)
2 tsp Kosher salt
1 tsp black pepper optional
For the Mirepoix
3 medium onions peeled and quartered
3 large carrots peeled and roughly chopped
4 stalks celery roughly chopped
For the Bouquet Garni
2 sprigs rosemary fresh
2 sprigs thyme fresh
2 sprigs parsley fresh
Instructions
Add the chicken to a large stock pan and fill with water until chicken is covered by about 1 inch (usually about 1 gallon of water).

Bring water to a simmer over medium-high heat and cook for 30 minutes, skimming any impurities that float to the top.

Make the boquet garni by placing the herbs on a square piece of cheesecloth and fold up the edges to form a pouch. Tie together with string, allowing enough string to easily pull the bouquet garni from the pan when needed.

Carefully add the mirepoix, bay leaves, and bouquet garni into the pot. Simmer for an additional 2 hours, skimming impurities that rise to the surface.

Use a pair of tongs to remove the large pieces of chicken from the broth into a large bowl (the chicken can be pulled from the bones and saved for another use). Carefully strain the broth through a colander into a separate pot. Season with salt.

Place in the refrigerator for at least 24 hours. Remove from the fridge and use a spoon to skim off the congealed fat that has formed on the surface. The broth is now ready to use.
Notes
We use bone-in, skin-on chicken pieces to make this stock. Pull the meat from the bones once the broth is finished simmering. The meat is a little stringy, but still great for soups and casseroles. If you don't have cheesecloth, you can make a pouch with a coffee filter. Or, just tie the herbs together by the stems with a long piece of string and submerge directly into the simmering broth. For the bouqet garni, you can use a combination of any of the following: fresh thyme, rosemary, marjoram, parsley, celery leaves. Be sure to taste as you salt. We find almost a tablespoon of salt is enough, but start with less than that, and then add until it's just simply seasoned. The broth freezes beautifully for up to 2 to 3 months.
Nutrition
Calories: 213kcal | Carbohydrates: 6g | Protein: 17g | Fat: 6g | Saturated Fat: 2g | Cholesterol: 65mg | Sodium: 574mg | Potassium: 324mg | Fiber: 2g | Sugar: 3g | Vitamin A: 3829IU | Vitamin C: 6mg | Calcium: 42mg | Iron: 1mg