If you want to take your Caribbean dishes to the next level, you've got to make this curry powder.
Getting your hands on the ingredients for this homemade spice is not hard to achieve at all. Once you've got them all in place, the powder comes together in a matter of minutes and keeps for months. It honestly puts dishes, such as Shrimp Curry and Caribbean Stew Chicken (recipe to come) over the top. Subtle yet deeply flavorful. And it's just so much fun to make homemade curry power – Jamaican style!
How to Make Jamaican Curry Powder
You may think making Jamaican curry powder from scratch is difficult.
Trust us. It's not.
And the difference between homemade and purchased is night and day.
What Is In Jamaican Curry Powder?
You may be wondering "is Jamaican curry powder different from Indian curry powder?"
The answer is yes. They are somewhat similar in taste and appearance, but there are differences.
EXPERT TIP: Jamaican curry powder typically carries less heat than Madras curry powder. The heat in Caribbean dishes, such as Curry Shrimp, comes from the addition of fresh hot peppers, such as scotch bonnet, habanero, or jalapeno. Learn more about Jamaican vs. Indian Curry here.
We start off with 4 dried spices. Turmeric is common in both Jamaican and Indian curry but is usually more prevalent in Jamaican. Here are the ground spices you'll need:
Turmeric – available in the spice section of most well-stocked markets.
Ginger – available in the spice section of most well-stocked markets.
Nutmeg – available in the spice section of most well-stocked markets, however, we love to use West Indies Ground Nutmeg
Cinnamon – available in the spice section of most well-stocked markets.
The Seeds You Will Need
Toasting and grinding the various seeds is what really elevates this powder and makes it so flavorful.
Here are the seeds (most with links to purchase) you'll need:
Mustard Seeds – Often found in the spice section of well-stocked markets.
Black Peppercorns – available in the spice section of most well-stocked markets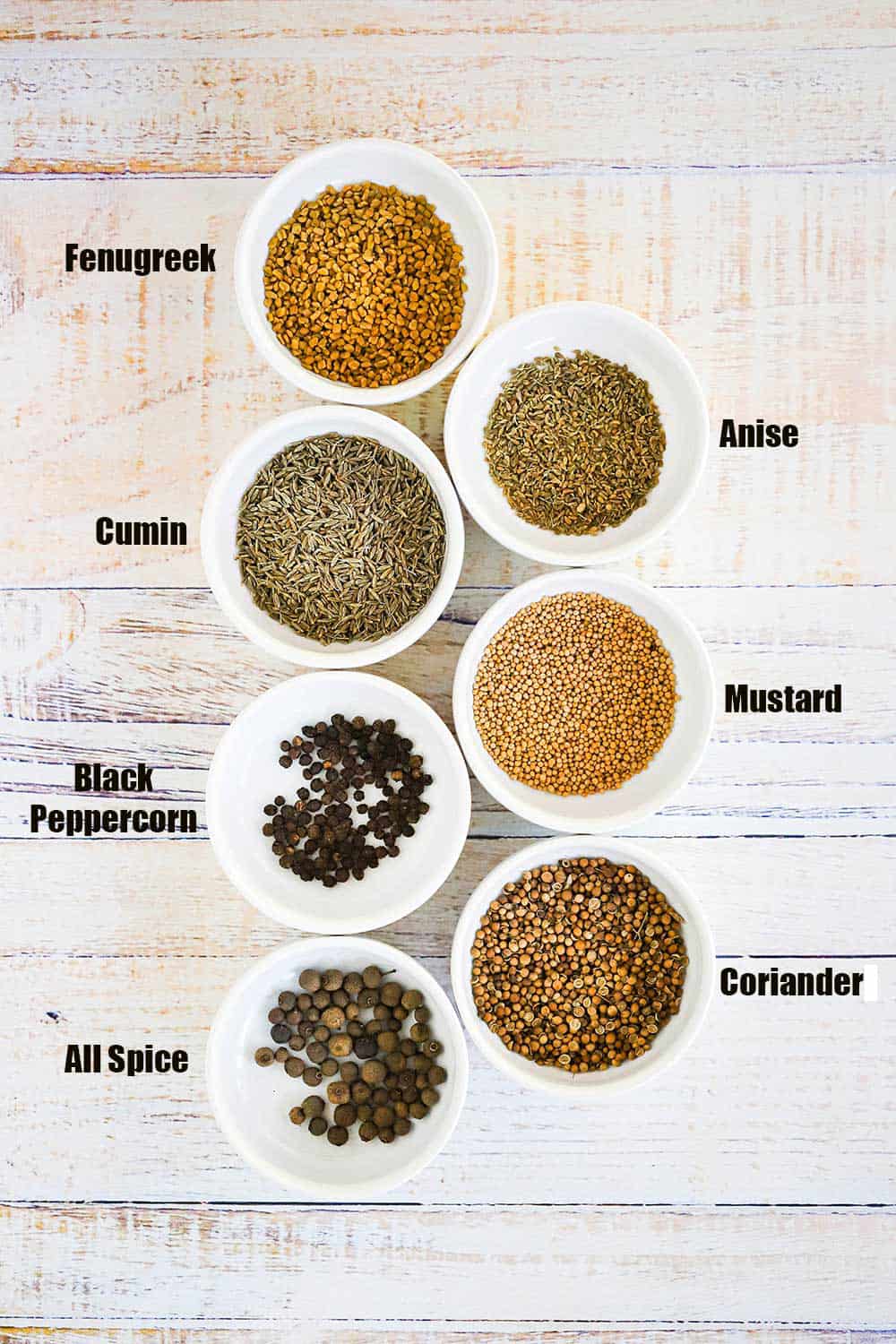 Toasting the seeds in a large skillet over medium heats brings out their oils and aromatics even more.
Just toast for about 3 minutes and then let cool.
EXPERT TIP: Be sure not to burn any of the seeds while toasting them. Some of the smaller seeds may pop and crackle a little. This is normal. You will probably see a little smoke, too. This also is normal. If any of the seeds start to darken too much, quickly remove them from the heat. If the seeds burn, you'll need to discard them and start again.
Best Jamaican Curry Powder Tips
Toast the Seeds – This deepens the flavor tremendously and shouldn't be overlooked for the most authentic taste.
Grind the Seeds – An old coffee grinder works perfectly for pulverizing the seeds. A pestle and mortar (with some elbow grease) will get the job done, too.
Let the Seeds Cool – After you've ground the seeds, you'll want them to cool somewhat before adding to the other spices, usually about 10 minutes.
After the ground spices have cooled a bit, it's time to transfer them to the other spices.
Before doing this, be sure to mix together the turmeric, ginger, nutmeg, and cinnamon until fully combined.
Carefully transfer the ground seeds into the other combined spices.
Storing and Cooking
After all the ground spices have been fully mixed together, you can cook with the powder immediately, or store it in a jar with a tight-fitting lid.
The curry powder has a shelf life of 6 to 12 months, but remember that over time, the flavor profile will diminish somewhat.
We love using this spice in Shrimp Curry, Caribbean stewed chicken, Jamaican curry chicken wings, turkey burgers, and more (all recipes coming soon!).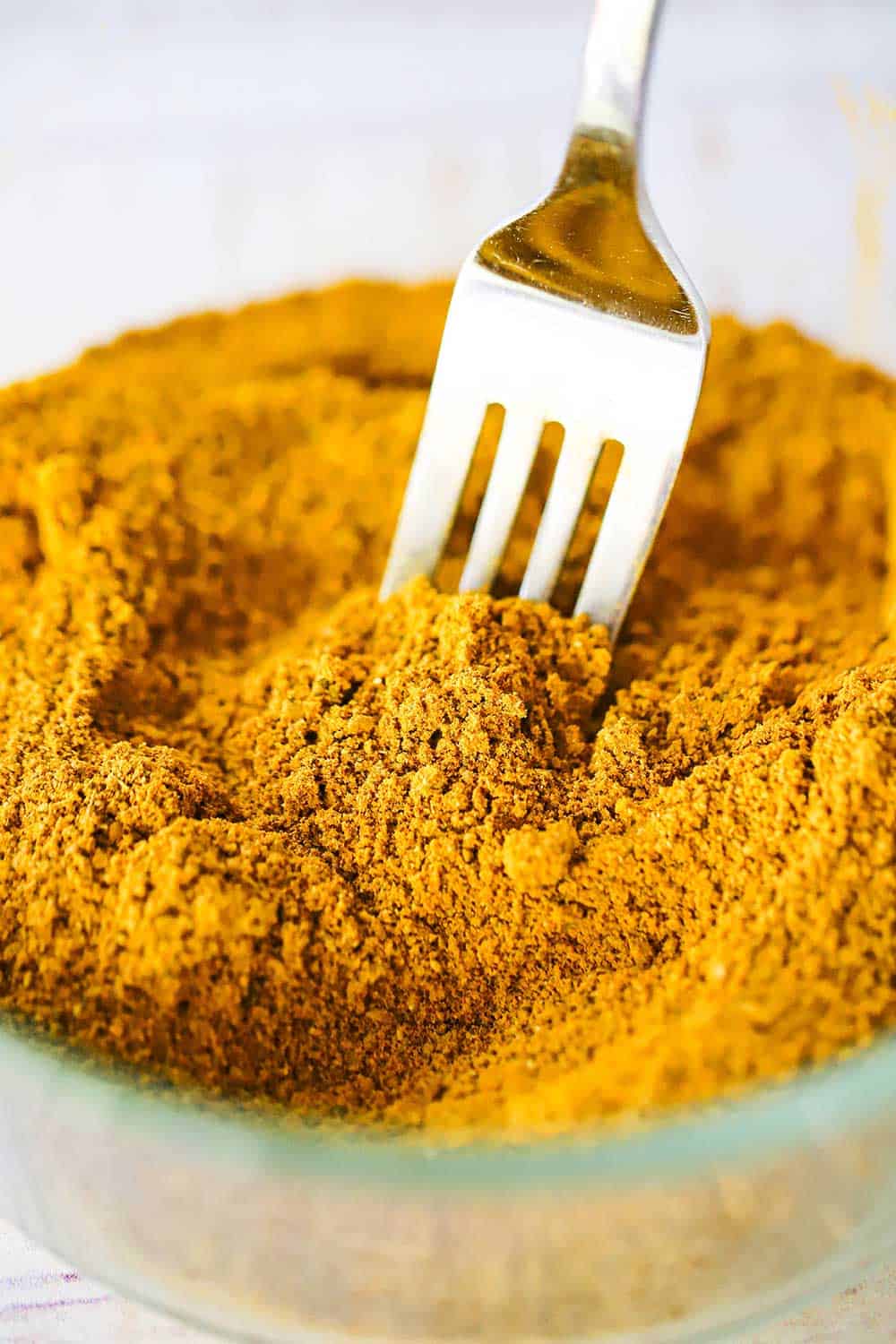 Ready to make the best flavor-enhancer this side of the Caribbean? Go for it!
And when you do, be sure to take a photo of it, post it on Instagram, and tag @HowToFeedaLoon and hashtag #HowToFeedaLoon!
Jamaican Curry Powder
Jamaican Curry Powder is similar to Indian curry powder but with a little less heat. It's ideal for Caribbean dishes such as curry shrimp, Caribbean stewed chicken, and jerk wings! See blog post for links to any ingredient that you can't find at your local market!
Print
Pin
Rate
Servings: 12
Calories: 25kcal
Equipment
Medium to large skillet

Coffee grinder or spice grinder, or pestle and mortar
Ingredients
3 tbsp turmeric ground
1 tbsp ginger ground
1 tsp nutmeg ground, preferably West Indies
¼ tsp cinnamon ground
2 tbsp cumin seeds
2 tbsp coriander seeds
1 tbsp mustard seeds
2 tsp all-spice whole
2 tsp anise seeds
2 tsp fenugreek seeds
1 tsp black peppercorns
Instructions
In a medium-sized bowl, add the turmeric, ginger, nutmeg, and cinnamon. Stir with a fork or whisk until completely combined.

Place all of the other remaining ingredients in a large skillet/saucepan and heat over medium-high heat. Cook, stirring frequently, until aromatic and slightly smoking, about 3 minutes. Be careful to not let anything burn! Set aside to let cool for about 10 minutes.

Add the cooled seeds to a spice (or coffee) grinder and grind until fully pulverized. Alternatively, ground them with a pestle and mortar.

Transfer the ground seeds to the turmeric mixture. Use a fork or whisk to mix and fully combine. Use immediately or transfer to a jar with a lid. Keep unrefrigerated for 6 to 12 months.
Notes
See the blog post for links to some of the ingredients that you can't find at a local market. Most can be delivered with a 24 hour period via Amazon Prime. The powder is great in Caribbean recipes (we will be adding more and more to the blog), but it's also amazing sprinkled on scrambled eggs, popcorn, and burgers before grilling.
Nutrition
Calories: 25kcal | Carbohydrates: 4g | Protein: 1g | Fat: 1g | Saturated Fat: 1g | Sodium: 4mg | Potassium: 106mg | Fiber: 1g | Sugar: 1g | Vitamin A: 21IU | Vitamin C: 1mg | Calcium: 32mg | Iron: 2mg