We absolutely love Caribbean cuisine and this dish is about as classic as they come.
To make this dish truly authentic, we use homemade Jamaican Curry Powder. It's easy to make and all the spices can be found in gourmet markets or easily ordered online (links below). The shrimp is tender and simmers gently in the coconut milk and curry vegetables. And it comes together in less than 30 minutes!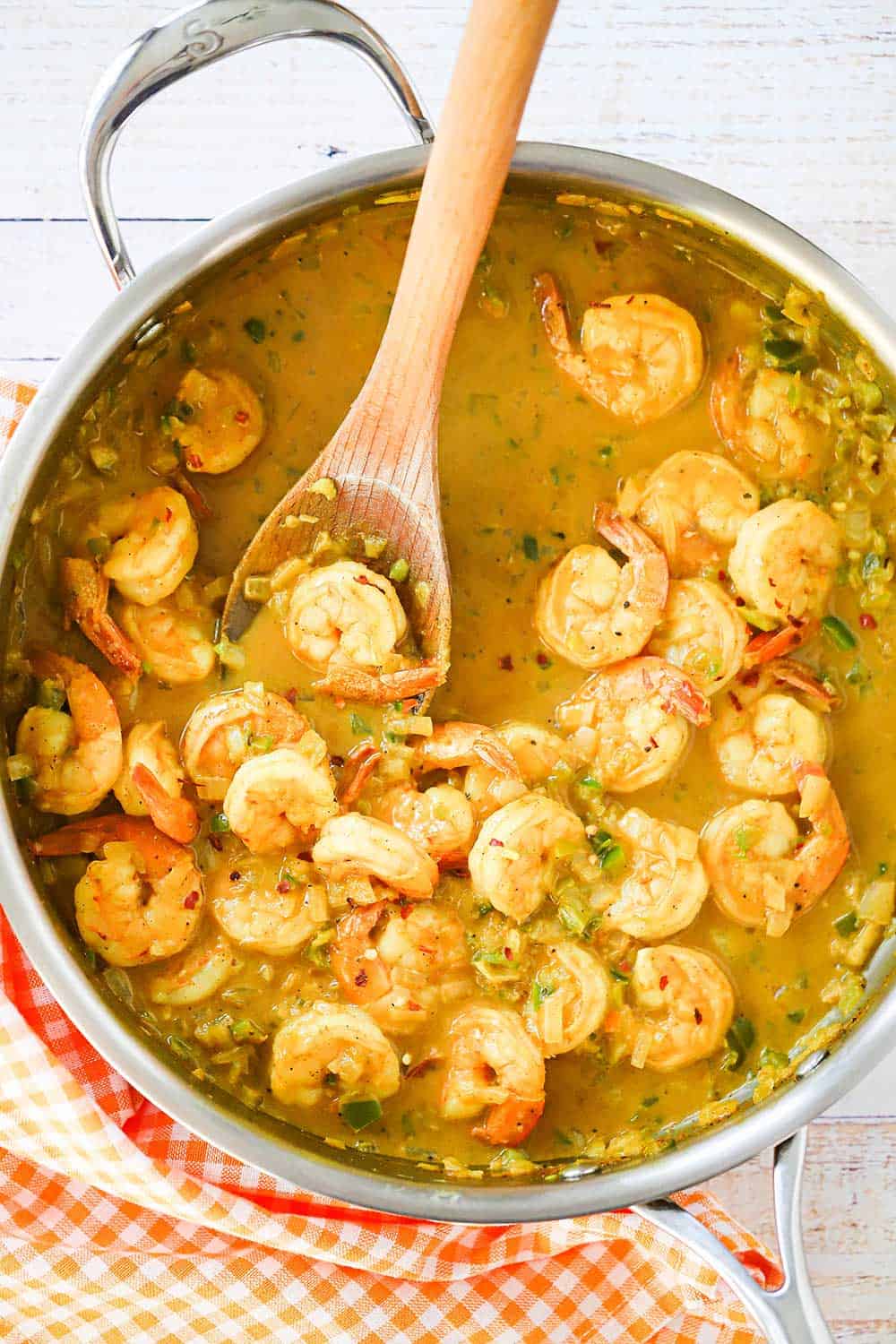 How To Make Shrimp Curry
As mentioned, once you have all the ingredients in place, this dish comes together very quickly.
It's amazing served over pasta or over perfectly steamed rice.
The depth of flavor in this dish is nothing short of amazing!
There are differences between East Indian Curry Powder and Jamaican Curry. Jamaican has less heat but has gorgeous notes of all-spice and turmeric throughout. Learn more about the difference between these two iconic spices here.
If you just don't want to make the curry powder at home (even though you really should!), you can order it online. NOTE: Most purchased curry powders contain salt. Homemade does not. Taste and season accordingly.
EXPERT TIP: Although the taste won't be exact, you can substitute Madras curry powder for Jamaican. Madras has more heat, so you might want to cut back on the fresh hot pepper in the dish. To make it closer to Jamaican, add 1 tsp of ground allspice with the 1 tbsp of the curry powder.
Melt the butter, and then add the curry powder and get ready to awaken your senses!
The Ingredients You Will Need
In addition to the curry powder, you'll need the following ingredients:
Chopped onion and green bell pepper – Finely chopped
Garlic – Minced
A hot pepper – Scotch bonnet is traditional, but habanero or jalapeno work well, too. Remove the seeds and ribs and chop very finely. Wear gloves or wash your hands after handling!
Tomato paste
Unsweetened coconut milk – Often found in the Asian section of your food market
Seafood stock – Can also use chicken stock/broth
Shrimp – Extra large is nice – peeled and deveined with tails on or off, your choice
Salt and pepper
Cornstarch slurry – If you prefer a slightly thicker sauce
Simmer the veggies, garlic, and pepper in the curry butter until just getting soft, only a few minutes.
A little tomato paste adds a slight tomato base and a beautiful pinkish hue to the sauce.
Equal parts of the coconut milk and seafood stock round out the sauce.
EXPERT TIP: When you open a can of unsweetened coconut milk, you will notice it is thick in texture. This is normal as coconut milk and coconut oil harden once cool. Use a butter knife to gently plunge into the can and stir. There will be liquid underneath the upper hardened portion. Continue stirring until it's all mixed and an even liquid (thick) consistency.
Tips for Perfect Shrimp Curry
Simmer – Before adding in the shrimp, allow the sauce to simmer on low for about 10 minutes. This will allow the curry and vegetables to infuse deeper flavor into the sauce.
Choosing the Best Shrimp – We love extra-large shrimp for our curry shrimp recipe. We peel, devein, and leave the tails on for a beautiful presentation, but you can also remove the tails, too.
Spice Level – As mentioned, Jamaican curry powder doesn't carry a lot of heat. The hot pepper added in with the vegetables will add moderate heat, but not intense at all. If you prefer less heat, go with a small dash of red pepper flakes instead of the pepper, if you prefer more heat, double the peppers, and if desired, add a pinch of red pepper flakes.
There is something truly magical about this dish.
It warms you to the bone, but not in a 'burn your mouth' way at all.
This dish takes us back to the beautiful Islands of the West Indies in the Caribbean every single time.
How To Serve and Store Leftovers
This dish is wonderful served over steamed rice or cooked pasta.
In the unlikely event that you have any of the dish left, we mix the sauce with the extra rice and then place in an air-tight container and place in the fridge for up to 1 week. You can also store the shrimp/sauce mixture separate from the rice, if you prefer.
EXPERT TIP: Because this coconut curry shrimp recipe comes together so quickly, we highly recommend making the rice, or the pasta, just before you get started. Keep the lid on the pan of rice, which will keep it warm. Or, start your pasta at the same time you're starting the curry shrimp. It should all time out perfectly.
We love all things curry, including our Curry Chicken, and this dish ranks right up there at the top as one of our favorites.
Be sure to not overcook the shrimp, otherwise, they'll be tough and rubbery.
This is one bite you'll be wanting to re-create time and time again.
Ready to make the best Caribbean dish this side of Jamaica, St. Maartin, St. Croix, or anywhere else in that gorgeous clear blue water? Go for it!
And when you do, be sure to take a photo of it, post it on Instagram, and tag @HowToFeedaLoon and hashtag #HowToFeedaLoon!
Shrimp Curry
Shrimp Curry is a Caribbean classic dish that is so deep in flavor it is just transcendent. Get yourself the spices needed to make the Jamaican curry powder from scratch, and you won't believe how good this dish is!
Print
Pin
Rate
Servings: 4
Calories: 264kcal
Ingredients
2 tbsp unsalted butter
1 tbsp Jamaican curry powder click link for recipe
1 medium onion finely chopped
½ green bell pepper seeded, cored, and finely chopped
1 clove garlic
1 scotch bonnet or any hot pepper, seeded, and finely chopped
1 tbsp tomato paste
⅔ cup coconut milk unsweetened, stirred
⅔ cup seafood stock or chicken
1 lb shrimp extra-large, peeled and deveined
½ tsp Kosher salt See NOTES
¼ tsp black pepper freshly ground
corn starch slurry optional, see NOTES
Instructions
Melt the butter in a large saucepan over medium-high heat. Add the curry powder, stir to incorporate, and cook for 1 minute.

Add the onion, bell pepper, garlic, and hot pepper, and sauté for 2 to 3 minutes, stirring frequently.

Stir in the tomato paste. Add the coconut milk, stock, salt, and pepper. Simmer for 10 minutes.

Add the shrimp and cook for 3 to 5 minutes until pink and cooked through (don't overcook).

Taste and add more salt, if desired.

If you prefer a thicker sauce, make a slurry by mixing together 1 tbsp of cornstarch and enough cool water to just create a slurry, usually 1 tsp of water. Add a little of the slurry into the sauce and it will thicken slightly. Add more to reach your desired consistency.

Serve at once over steamed rice or cooked pasta.
Notes
If using purchased Jamaican curry powder, or even any other kind of curry powder, check the label, some varieties contain salt. Homemade curry powder will have no salt. So season carefully. Taste before adding more salt. You can substitute Madras curry powder for the Jamaican. Madras carries more heat than Jamaican, so you may want to consider omitting the hot pepper. Also, the addition of 1 tsp of ground allspice will make it taste closer to Jamaican-style. Shrimp curry is traditionally not a really thick sauce, however, if you prefer it a bit thicker, then add the cornstarch slurry. Add a little at a time, as it will thicken the sauce quickly. Store any leftovers in an air-tight container in the fridge for 5 to 7 days. It will freeze for up to 2 months.
Nutrition
Calories: 264kcal | Carbohydrates: 6g | Protein: 25g | Fat: 12g | Saturated Fat: 8g | Trans Fat: 1g | Cholesterol: 301mg | Sodium: 1340mg | Potassium: 330mg | Fiber: 1g | Sugar: 2g | Vitamin A: 318IU | Vitamin C: 24mg | Calcium: 197mg | Iron: 4mg