If you're like us, you're always on the hunt for a new delicious chicken recipe. Well, you are in luck with this one.
Caprese Salad is one of our all-time favorite salads in the world. The flavors work so beautifully together. The stuffed chicken is seared and then baked in a balsamic sauce and is heavenly. And it is incredibly easy to prepare and the results truly deliver the 'Wow!" factor.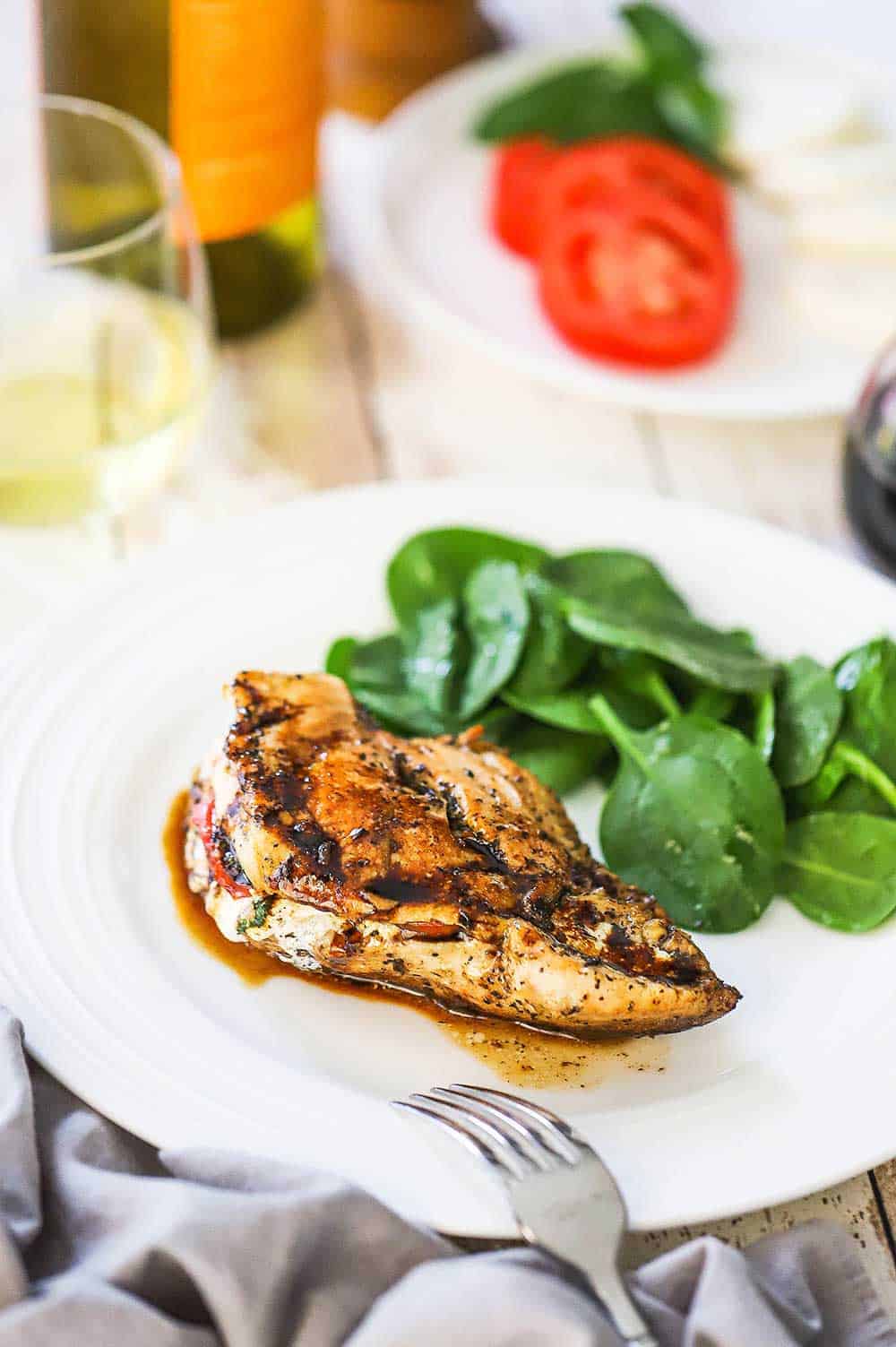 How To Make Caprese-Stuffed Chicken
Cooking with boneless, skinless chicken breasts is economical and easy to work with.
The trick is to keep the chicken moist. Searing the breasts first, and then baking them ensures juicy chicken.
NOTE: If you liked this video, please subscribe to our YouTube channel. Remember to click the little 'bell' icon so you'll never miss a new video!
The Ingredients You Will Need
Chicken Breasts – Around 8 to 10 ounces
Salt and Pepper – Season the chicken on the outside and inside the pocket
Dried Herbs – We love oregano and basil
Garlic – Fresh garlic in the pocket adds a depth of flavor
Olive Oil – For brushing and searing the chicken
Sliced Tomatoes – Roma tomatoes are the ideal size
Mozzarella – Fresh slices are delicious, you may need to cut them again
Basil – A couple of fresh leaves per chicken
Balsamic Vinegar – Aged is excellent
Chicken Stock – You can substitute water, if necessary
Brown Sugar – This will help to thicken the sauce
EXPERT TIP: You'll also need some toothpicks to secure the chicken when you sear and bake.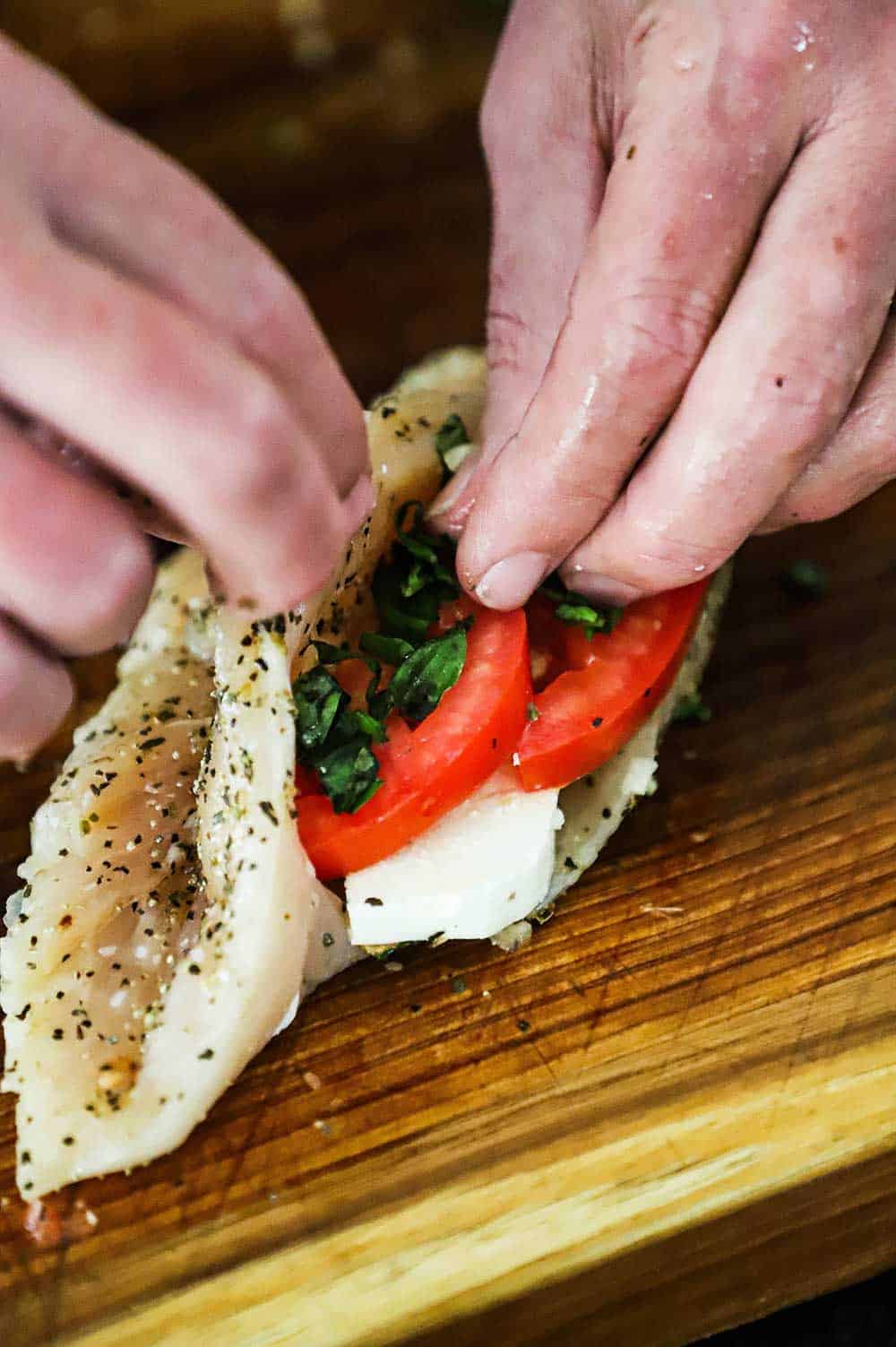 Tips for Making Caprese-Stuffed Chicken
How To Create the Pouch in the Chicken – Start with a small, sharp knife. Working slowly and steadily, begin cutting a pouch in the largest part of the chicken breast. Cut a little, and then cut a little more. Try your best to not cut through the top or bottom of the breast or the other side. But if you do, don't worry, you'll still be okay.
Stuffing the Cavity – You may need to cut the tomato and cheese slices in half. It helps to get another pair of hands to help you squeeze the edges together while your helper inserts the toothpicks on a diagonal. You'll use about 4 to 5 toothpicks per chicken breast.
What to do if 4 Breasts Won't Fit in Your Skillet – There are a couple of ways to approach this. Sear three, set them aside, and then sear the fourth. Usually, they will have shrunk enough that you can stuff all 4 into a large cast-iron skillet. If not, you can bake the extra breast(s) in a separate dish.
How To Ensure Properly Cooked Chicken – We strongly recommend using an instant-read thermometer for cooking the chicken. Insert in the meat and wait until the internal temperature reaches 165°F.
EXPERT TIP: Mix the glaze ingredients in a jar and then pour over the chicken while you are searing them. As they cook and then bake, the sauce will thicken to a slightly thin glaze.
How To Serve
We love to serve this chicken dish with a nice green leaf salad. Our Spinach Salad with Warm Bacon Vinaigrette pairs perfectly.
Transfer the extra sauce into a gravy boat for serving at the table.
The sauce is amazing when drizzled over Perfect Mashed Potatoes.
Other Amazing Chicken Dishes to Try
Chicken is such a versatile protein and always family-friendly. Here are some of our most popular chicken recipes for you to try:
Baked Honey Mustard Chicken
Pesto-Stuffed Chicken with Tomato Reslish
Chicken Fricassee
Classic Chicken Cacciatore
Whole Roasted Chicken
Chicken Florentine
Chicken Piccata
Amazing Chicken Francese
Best-Ever Chicken Quesadilla
In the meantime, does this catch your eye? Wait until you sink your teeth into it!
Folks, we are not lying when we see this truly is a spectacular winner-winner chicken dinner!
It's easy and approachable, so it's perfect for a busy weeknight meal.
But it's so flavorful and so gorgeous in presentation, that it is perfect for serving at a dinner party.
Amazing!
Ready to make the best chicken dinner on the block? Go for it!
And when you do, be sure to take a photo of it, post it on Instagram, and tag @HowToFeedaLoon and hashtag #HowToFeedaLoon!
Caprese Stuffed Chicken with Balsamic Glaze
Caprese Stuffed Chicken is incredibly flavorful and surprisingly easy to prepare. Use toothpicks to seal the chicken breasts. It's okay if a little of the cheese oozes out during the cooking process.
Print
Pin
Rate
Servings: 4
Calories: 240kcal
Equipment
Large (12") cast-iron skillet Or skillet with an oven proof dish

12 Toothpicks
Ingredients
4 7 oz. chicken breasts skinless, boneless
Olive oil for brushing and searing
Kosher salt for seasoning the chicken
black pepper for seasoning the chicken
1 tbsp oregano dried
1 tbsp basil dried
3 cloves garlic minced
8 slices mozzarella thinly sliced
4 Roma tomatoes thinly sliced
8 basil leaves roughly chopped
½ cup balsamic vinegar
2 tbsp brown sugar dark
1 tbsp chicken broth
Instructions
Preheat the oven to 350°F.

Use a small sharp knife to cut a pouch or cavity in the thickest part of each chicken breast. Set aside.

Brush olive oil all over the chicken breast, including the cavity. Sprinkle the chicken all over (including inside the cavity) with salt, pepper, oregano, and basil. Sprinkle the minced garlic in the cavity of each breast.

Sprinkle a little salt and pepper on the tomato slices. Fill each cavity with a couple of tomato slices, mozzarella slices, and a couple of chopped basil leaves. You may need to cut the slices in half in order for it all to fit.

Use your fingers to squeeze the cavity closed and then use 4 to 5 toothpicks the close up the chicken breast.

Heat 1 tbsp olive oil in a large cast-iron skillet or Dutch oven over medium-high heat. Carefully transfer the stuffed breasts to the skillet. Sear one side for about 4 minutes, until browned on the bottom. Again, carefully flip the breasts over and sear for another 4 minutes.

In a small jar, mix together the balsamic, brown sugar, and chicken broth. Pour the balsamic mixture all over the chicken. Use a spoon to coat the tops of the chicken with the sauce.

Place the skillet in the oven for 15 to 20 minutes, or until an internal temperature reaches 165°F. Serve at once with sauce poured over the tops of the chicken and extra sauce at the table.
Notes
See the video near the top of the blog post for visual guidance. If you liked the video, please subscribe to our YouTube channel.
If you can't fit all four breasts in your skillet, sear three and set them aside. Sear the remaining breast. During the searing process, they will have reduced somewhat in size. Nestle them into the skillet. If they are still too big, then you'll need to grab another oven-proof dish and place the additional breast (with balsamic sauce) in it.
Take care not to slice through the top or bottom of the chicken when creating the cavity. But if you do, don't worry. You may get a little cheese leakage, but it won't be bad.
When layering the filling, let the cheese sit on top of the tomatoes. This will reduce any spillage of the melted cheese from cuts in the top of the chicken breast.
Leftovers can be reheated on HIGH in the microwave in 30-second intervals, or in a 350°F oven for about 15 to 25 minutes, until heated through.
Nutrition
Calories: 240kcal | Carbohydrates: 17g | Protein: 14g | Fat: 13g | Saturated Fat: 7g | Polyunsaturated Fat: 1g | Monounsaturated Fat: 4g | Cholesterol: 45mg | Sodium: 383mg | Potassium: 267mg | Fiber: 1g | Sugar: 13g | Vitamin A: 990IU | Vitamin C: 9mg | Calcium: 332mg | Iron: 1mg