Wow, oh wow is this Fantastic Chicken Florentine recipe really FANTASTIC!
This has been a mainstay on our top 10 most popular dishes for a long time, and for good reason. It's super delicious! And…it's all made in one pot!
The finished dish is wonderful over pasta (we love it over egg noodles), or over steamed rice, or served in individual bowl with a nice loaf of crusty bread to soak up that amazing sauce. No matter how you serve this dish, you won't be disappointed!
Love it!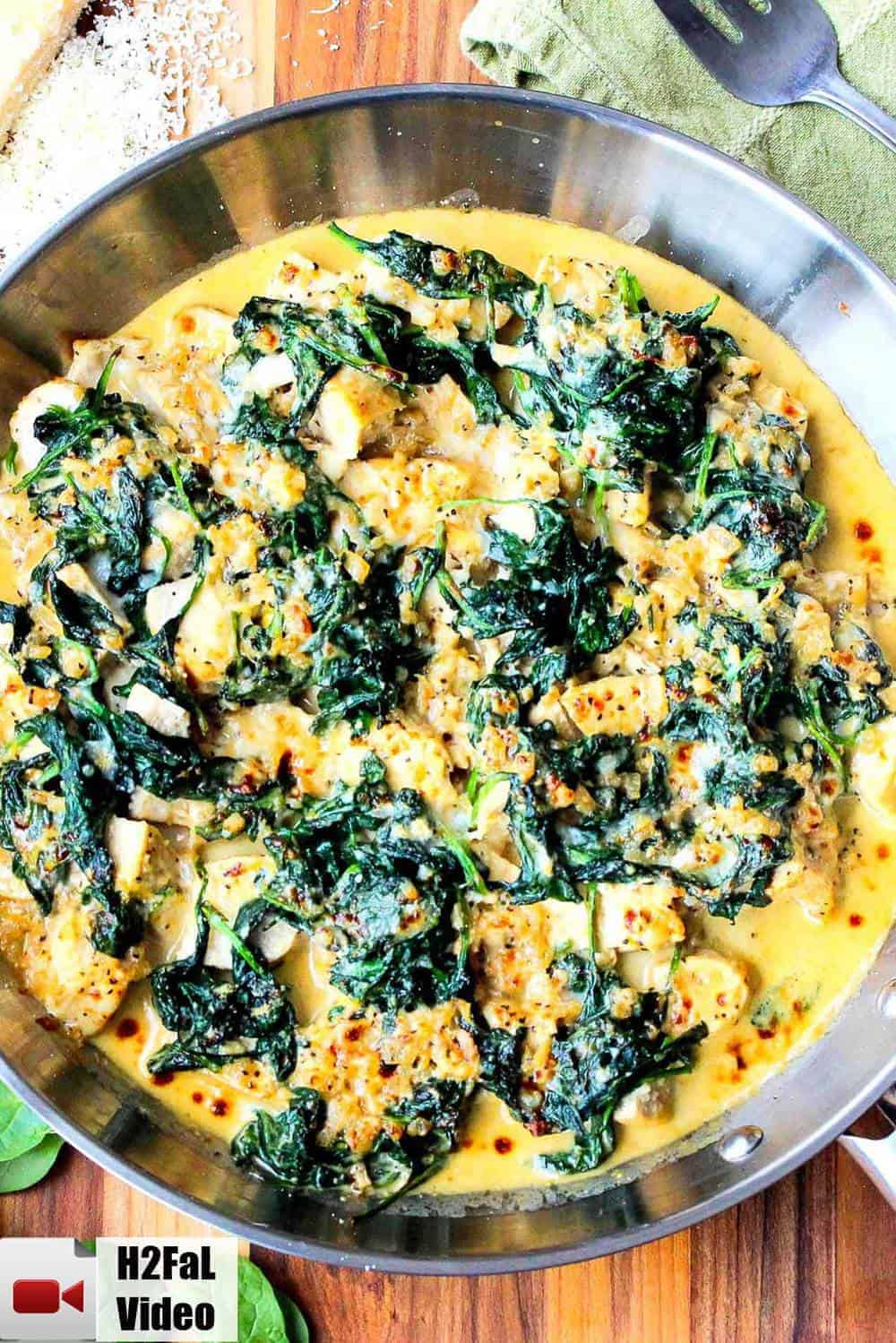 Now, watch us show you how easy it is to make this superstar dish.
It's a lot of fun to make, too. Watch!
Cooking down the fresh spinach is easy and gets this dish going!
Watch as the spinach wilts before your very eyes, making the perfect addition to this tantalizing dish!
Mmmmm…spinach!
Next, it's time to sauté the chicken breasts. Just remove the spinach, press the water out…then get started on the chicken.
Now, we're getting close to show time!
Hello chicken!
Oh, and one of the best things about this incredible dish is the sauce.
This reduces down to pure velvety deliciousness. Shallots, garlic, chicken stock and lemon.
Yes!
And, of course, other than spinach and chicken…another star of this dish is fresh, top-notch Parmesan cheese. It adds such depth of flavor.
Oh, yes.
Parmesan, how we love you!
Well, we could go on all day about how much we love this incredible Chicken Florentine. How can you go wrong with sautéed chicken and spinach, in an incredible sauce of herbs, chicken, Parmesan, lemon…and cream.
Oh, this really is FANTASTIC!
Just look at this one pot wonder!
Well, we're pretty sure the time has come. You need to go and make this Fantastic Chicken Florentine recipe!
You're going to love it, we're certain of that!

Fantastic Chicken Florentine
This Fantastic Chicken Florentine is so incredibly delicious. Don't you just love sauteed spinach, and Parmesan cheese. Mixed in with good
chicken stock
, lemon zest, and a touch of cream. Oh, yes. It's fantastic served over pasta, steamed rice, or simply served in bowls with a large loaf of crusty bread! You can't go wrong with this dish!
Author: Kris Longwell
Recipe type: Entree
Cuisine: French
Serves: 4
Ingredients
2 tablespoon of olive oil
12 ounces of baby spinach
4 boneless, skinless chicken breasts, trimmed
Kosher salt and freshly ground black pepper
1 shallot, finely chopped
2 garlic cloves, minced
3 cups chicken stock
1 cup of heavy cream
6 tablespoons of good-quality grated Parmesan cheese
1 teaspoon of grated lemon zest
1 teaspoon fresh lemon juice
Instructions
Heat 1 tablespoon oil in a 12-inch skillet over medium-high heat until shimmering.
Add spinach and cook, stirring occasionally, until wilted, about 2 minutes.
Transfer spinach to a colander and press with a large spoon to release excess liquid.
Wipe out skillet with paper towel.
Pat chicken breasts dry with paper towels and then season with salt and pepper.
Heat remaining 1 tablespoon of oil in skillet over medium-high heat.
Add chicken and cook until golden, about 4 minutes per side.
Transfer chicken to a clean plate.
Add shallot and garlic to skillet and cook for about 1 minute, or until soft.
Stir in stock and cream, scraping up any browned bits, and bring to a boil, then reduce heat to medium-low.
Return chicken to the skillet and simmer over medium-high heat for 10 minutes.
Transfer chicken to a cutting board and cut into bite-sized pieces. Add back into the sauce.
Increase heat to high and simmer sauce until reduced to 1 cup, about 15 minutes.
Off heat, stir in ¼ cup of Parmesan, lemon zest and cooked spinach.
Adjust oven rack to upper-middle position and heat broiler to high.
Sprinkle with remaining 2 tablespoons of Parmesan.
Broil until golden brown, about 3 - 5 minutes, or less (keep a close eye, broilers vary!)
Serve and enjoy!