Sometimes a little heat just feels so good. And this dish is the ultimate feel-good chicken dinner.
Chipotle peppers pack some heat, without a doubt. But it's the kind of heat that you feel at the end of each bite. Just a warming reminder that this dish is layered in flavor. In our books, it just doesn't get better than that. And it's a snap to prepare!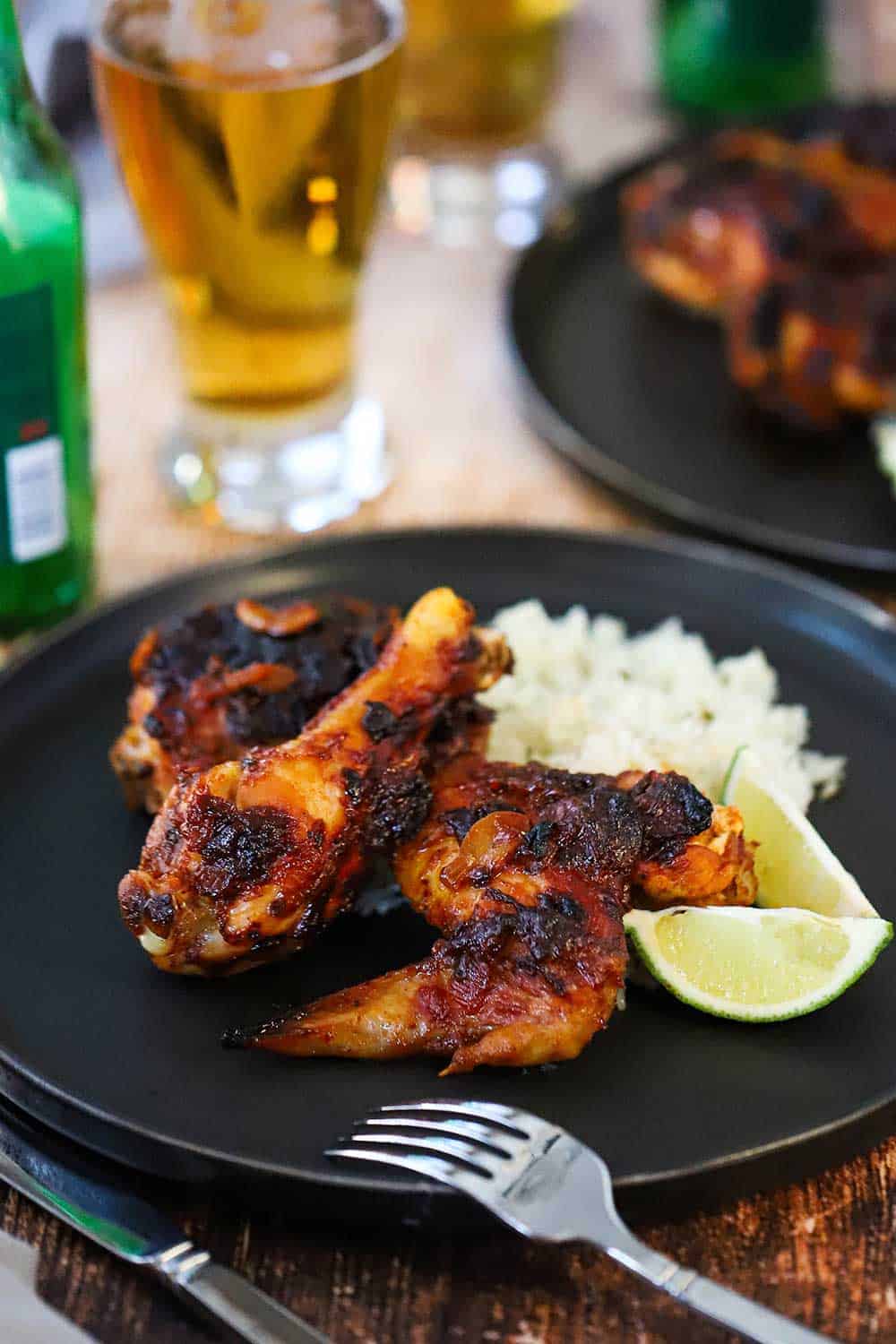 How To Make Roasted Chipotle Chicken
As mentioned, this roasted chicken is classic Mexican cuisine.
It's kind of like a Mexican BBQ dish. Deep in flavor and it honestly keeps you coming back for more. And it's simple to prepare!
This dish has a beautiful garlic note to it.
We start off with 8 garlic cloves that have been cut into thin slices.
EXPERT TIP: You'll need to simmer the garlic in a large skillet with extra-virgin olive oil until crisp and slightly golden. This mellows the garlic flavor but deepens the taste of the sauce. It's okay if the garlic turns a dark brown, but avoid burning the garlic to the point that it's charred. If burned, the garlic becomes extremely acrid tasting and not pleasing at all. Keep an eye on the heat, and if any do burn, discard them, and you may need to sauté more garlic slivers.
Once golden brown, remove the garlic from the pan with a slotted spoon onto a plate lined with paper towels.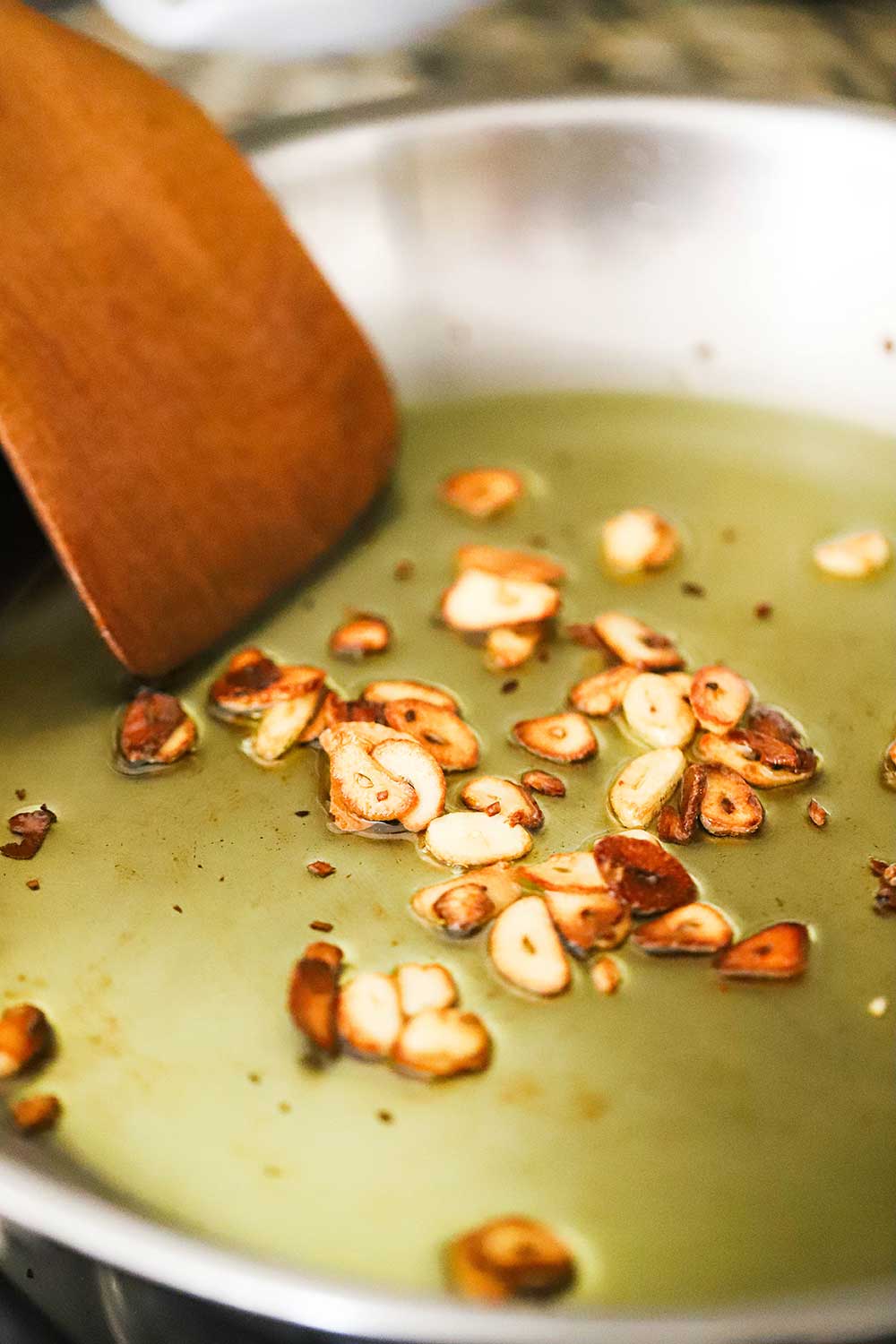 The Ingredients You Will Need
Now, it's time to simmer the sauce that will coat the chicken for roasting. Here's what you'll need:
Chopped onion (yellow or white)
Ketchup
Chili sauce (see Expert Tip)
Dijon mustard
Chipotle peppers in adobo sauce (see Expert Tip)
Worcestershire sauce
Apple cider vinegar
Salt and pepper
After sautéing the onion in the oil in the same pan, it's time to add everything else (except the chicken) in the skillet, including the sautéd garlic. Simmer until slightly reduced, about 15 minutes.
EXPERT TIP: Chili sauce carries mild heat and can be found in the condiment section of most well-stocked supermarkets. Or, can be ordered online. Canned chipotle peppers in adobo sauce can be found in the Mexican/Hispanic section of many supermarkets or at a Latin food market, or online. To reduce the amount of heat, when chopping, try and remove some of the seeds from the inside of the pepper. For more heat, leave them all in.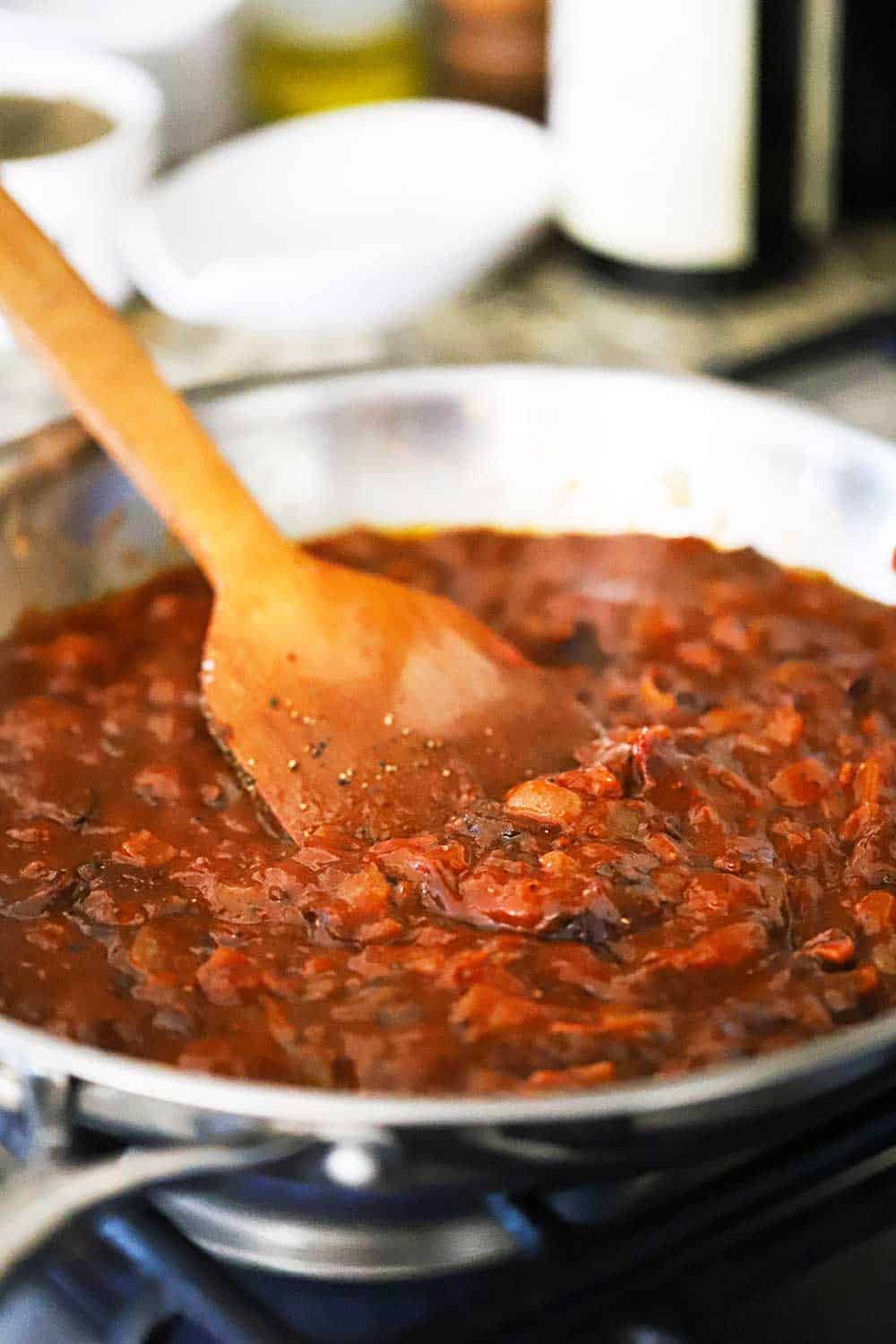 Selecting the Best Chicken
We definitely recommend going with skin-on, bone-in chicken pieces for roasted chipotle chicken. The skin crispy yet is melt-in-your-mouth good, while the bone imparts flavor to the juicy meat.
As far as what pieces to go with, that's up to you. You can use an entire cut-up whole chicken, or go with your favorite chicken parts. We often use a combination of legs, thighs, and wings.
EXPERT TIP: You can use boneless, skinless chicken breasts and thighs for the recipe, but the flavor won't be as deep, but still flavorful. If going with boneless, cut the roasting time to a total of 30 minutes. But, bone-in, skin-on is amazing. Place the chicken pieces in a large bowl and add half of the prepared sauce. Toss with a couple of large spoons until well coated.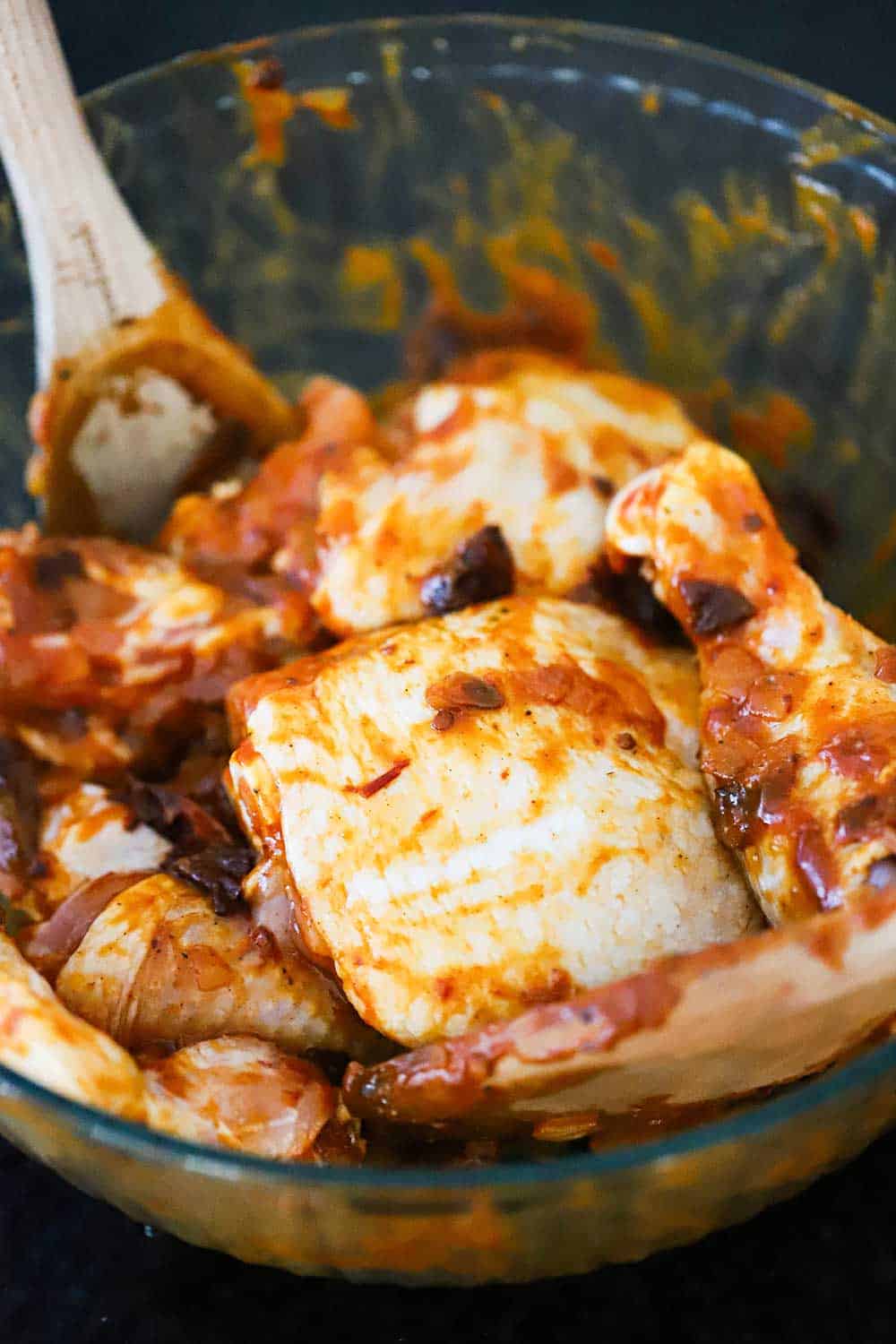 Transfer the coated chicken, skin-side up, to a baking dish (9″x13″ works well) or a rimmed baking sheet.
Place in a hot oven preheated to 450°F for 20 minutes and then spread the remaining half of the sauce over the tops of the chicken and then continuing roasting for another 20 minutes. The chicken will turn darkish brown in a few spots on the skin, which is what you want!
EXPERT TIP: All chicken pieces should reach an internal temperature of at least 165°F. If you are using larger chicken pieces, such as bone-in chicken breasts, it may take longer than a total of 40 minutes for the chicken to reach 165°F. An instant-read thermometer will help to ensure all chicken pieces are fully cooked. You may need to remove some of the smaller pieces if they are fully cooked before the larger pieces are done.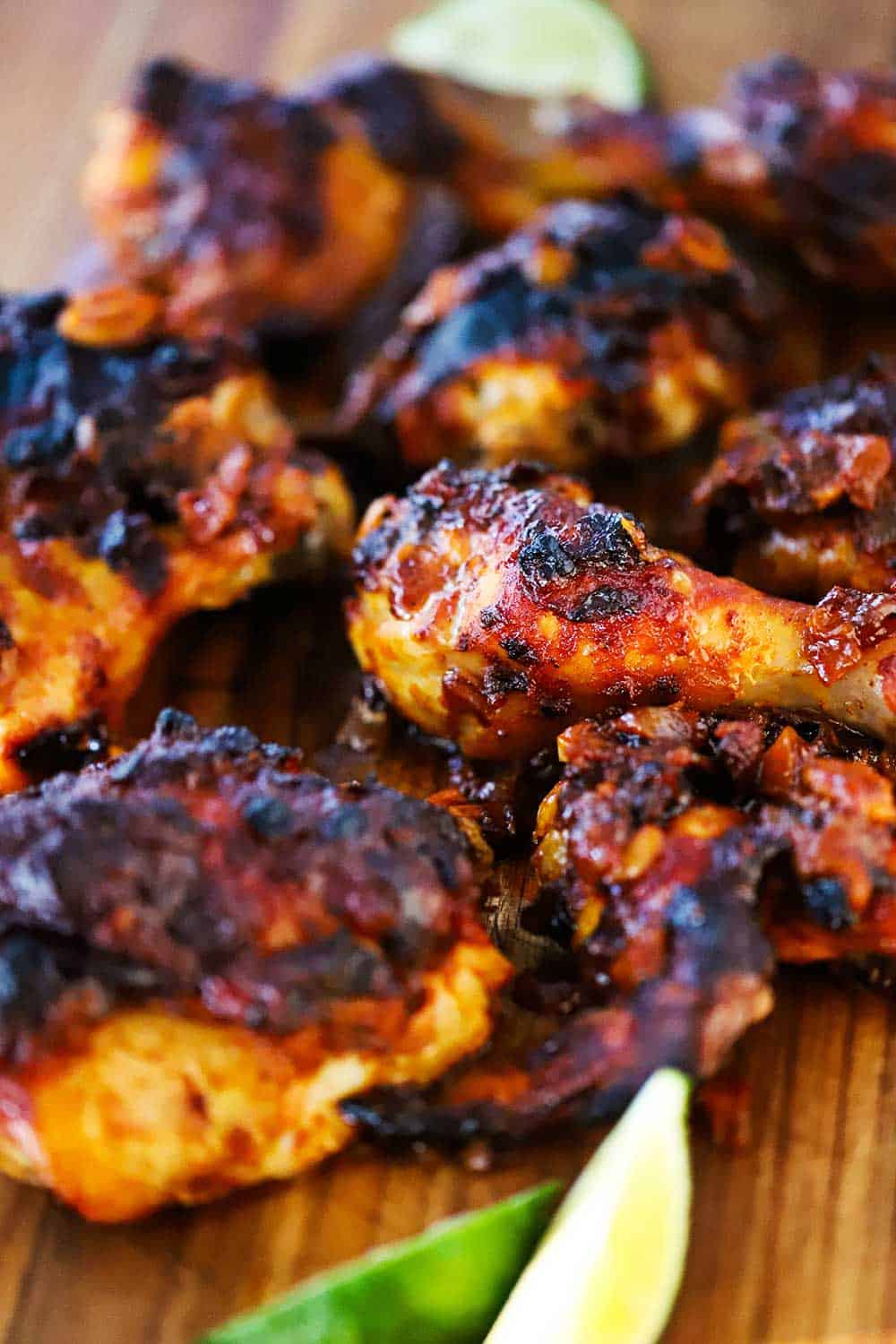 What to Serve with Roasted Chipotle Chicken
This chicken is incredibly juicy and deeply flavorful. And yes, depending on how many chipotle peppers you go with, there is a bit of heat with each bite.
We love serving this with our Cilantro Lime Rice to counter the slightly spicy chicken. Sliced avocado, or Homemade Guacamole, is a wonderful addition, too.
Of course, swallowing it all down with an ice-cold Mexican beer is pretty amazing, too. Such an amazing Mexican meal.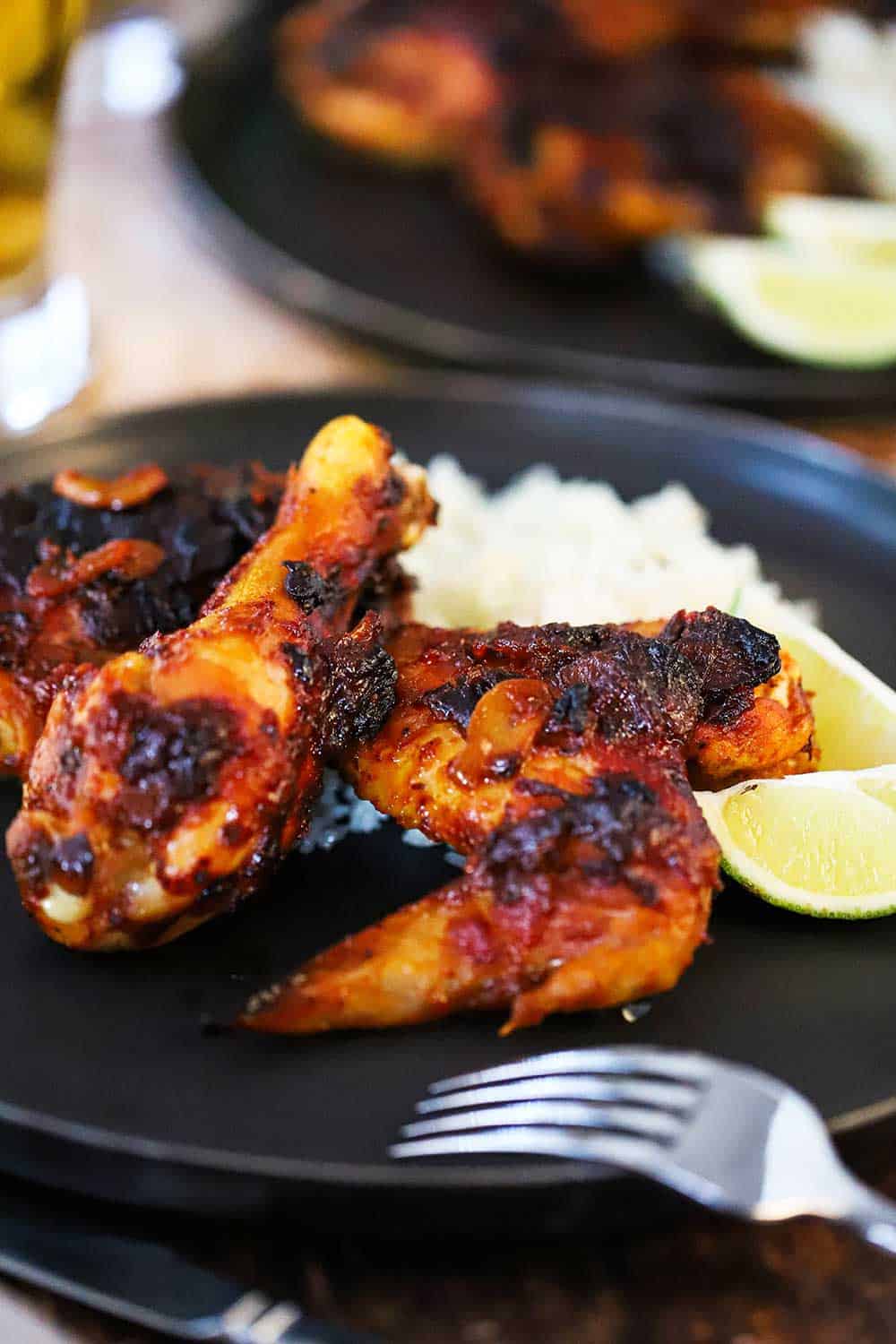 You hear us say this a lot, but this is truly one of the best chicken dishes we have ever made in the H2FaL kitchen.
The sauce, roasted at a super high temperature, forms almost a crust around the chicken and makes the meat unbelievably tender.
Your fingers may get a little messy, but folks, this is one Mexican dish you will gladly pull out the extra napkins for. It's really that good.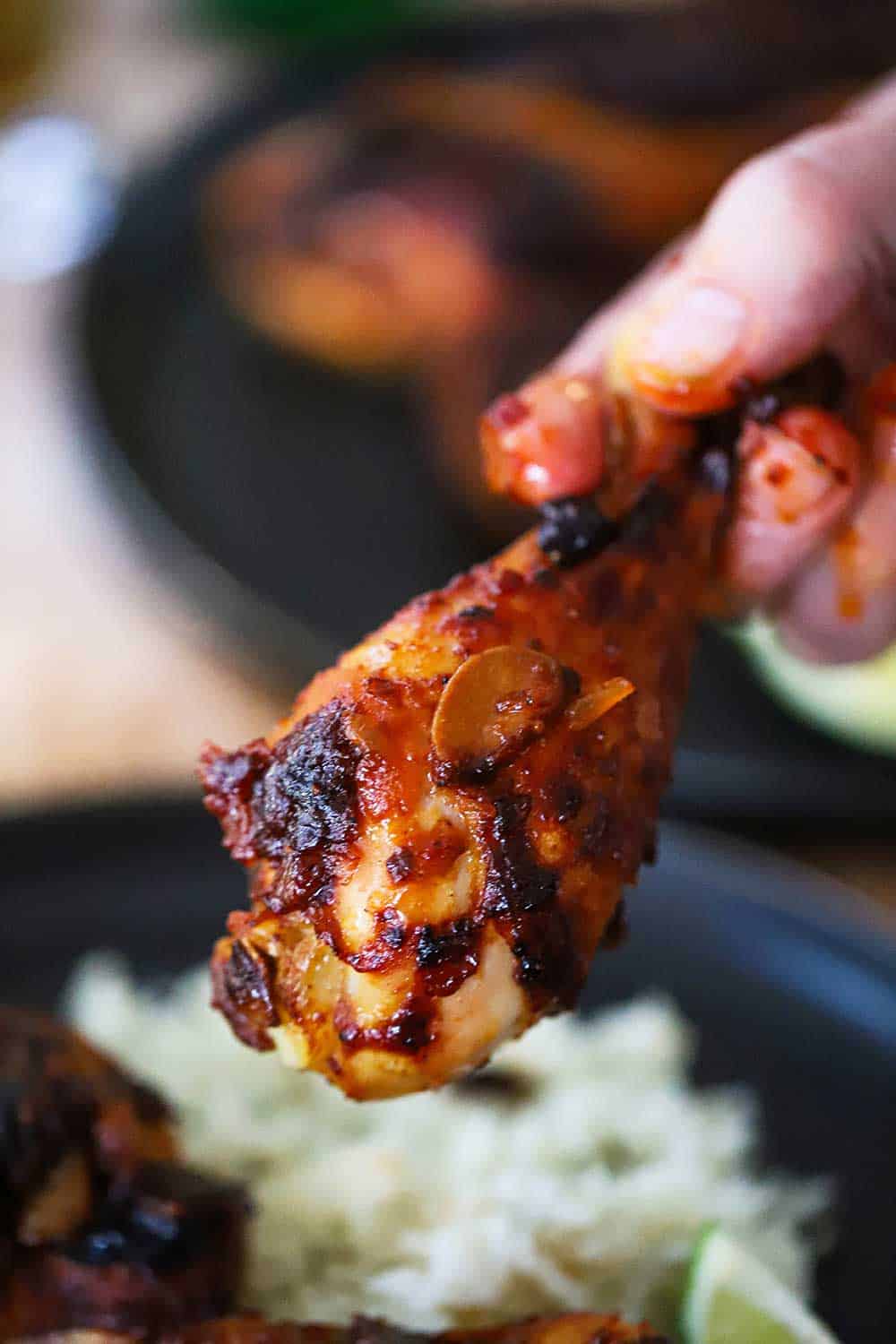 Ready to make the best Mexican chicken dish this side of Monterrey? Go for it!
And when you do, be sure to tag @howtofeedaloon and hashtag #howtofeedaloon!
Roasted Chipotle Chicken
This Roasted Chipotle Chicken has just enough heat to make it good. Not too much! Just a little hint after each bite. Perfect in so many ways. The sauce can be made a day ahead and kept in the fridge. We love serving this with our Cilantro-Lime Rice!
Print
Pin
Rate
Servings: 6 people
Calories: 650kcal
Equipment
9"x13" baking dish or rimmed baking sheet
Ingredients
¼ cup extra-virgin olive oil
8 cloves garlic thinly sliced
2 cups onions chopped
½ cup ketchup
½ cup chili sauce Heinz is good
2 tbsp Dijon mustard
2 tbsp brown sugar dark
¼ cup chipotle chiles in adobo sauce, chopped
1 tbsp Worcestershire sauce
2 tbsp apple cider vinegar
½ tsp cinnamon
1 tsp Kosher salt
½ tsp black pepper freshly ground
4 lbs chicken parts legs, thighs, wings, breasts
Instructions
Heat the oil in a large skillet over medium-high heat.

Cook the garlic, stirring frequently, until golden, about 5 minutes. Transfer with a slotted spoon to a paper-towel-lined plate.

Reduce heat to medium and cook onions, stirring occasionally, until soft and slightly browned, about 12 to 15 minutes.

Add garlic and remaining ingredients, except chicken, to the same skillet, stirring occasionally, until sauce is slightly thickened, about 15 minutes.

Meanwhile, preheat the oven to 450°F with a rack in the middle.

Place the chicken pieces in a large bowl and add half of the sauce. Toss with a couple of large spoons to fully coat the chicken. Place the pieces in a baking dish, or baking pan, skin-side up. Place in the oven and roast for 20 minutes.

Remove from oven and brush with remaining sauce, then continue roasting until chicken is cooked through and well browned in spots, usually 20 minutes more, or until the internal temperature of the largest piece reaches 165°F. (You may need to remove the smaller pieces first, and then roast the large pieces for a little longer). Serve at once.
Notes
Canned chipotles in adobo sauce can be found in the Hispanic section of most well-stocked supermarkets, or at a Mexican food market. They can also be ordered online (see the body of the post for a link).
Chili sauce can be found in the condiments section of most supermarkets. Heinz has a chili sauce that is not too spicy, but very delicious. Sriracha can be used, but it will add more intense heat. You can also use all ketchup (1 cup total) if you can't find the chili sauce, or want even less spice.
When chopping the chipotle peppers, use your knife to remove the seeds. You won't be able to get them all, but this will reduce the amount of spice. If you want the dish extra spicy, then don't remove the seeds, and increase the number of chipotle peppers.
We use a combination of chicken parts, including legs, wings, and thighs. If going with bone-in breasts, you may need to cook them a little longer. The internal temperature of the chicken should be at least 165°F.
The sauce can be made up to 1 day in advance and store in an air-tight container in the fridge. You can also freeze it for up to 2 months.
We love serving this chicken with our Cilantro-Lime Rice. It's the perfect cool side dish.
Nutrition
Calories: 650kcal | Carbohydrates: 28g | Protein: 41g | Fat: 28g | Saturated Fat: 7g | Cholesterol: 154mg | Sodium: 1115mg | Potassium: 659mg | Fiber: 6g | Sugar: 17g | Vitamin A: 545IU | Vitamin C: 13mg | Calcium: 59mg | Iron: 3mg
POST UPDATE: This post was originally published in April 2016 but was updated with improved tweaks to the recipe, new tips and photography, and a fabulous new video in January 2021.
It is adapted from Gourmet by Paul Grimes.