Chicken dishes are so wonderful, and when you give them a Mexican-style treatment, we think they're even better.
Chipotle peppers pack some heat, without a doubt. If you want very little heat to your chicken dish, then you might prefer our Verde Chicken Enchiladas. But if you are the mood to spice things up just a little, you're going to love this dish!
HOW TO MAKE ROASTED CHIPOTLE CHICKEN
This dish has a beautiful garlic note to it.
We start off with 8 garlic cloves that have been cut into thin slices.
Simmer them in a nice skillet with olive oil until crisp and slightly golden. This mellows the garlic flavor but deepens the taste of the sauce.
EXPERT TIP: Keep an eye on the garlic as it simmers. You want it to become golden, but don't let it burn. Burned garlic is very acrid tasting and should be discarded if burned. Start over and keep a close eye!
Now, it's time to build the sauce for our Roasted Chipotle Chicken!
You can find canned chipotle peppers in adobo sauce in the Latin section of most well-stocked supermarkets, or purchase online.
The adobo sauce is smokey and packs a little heat. Remove the seeds from the peppers to reduce the heat level.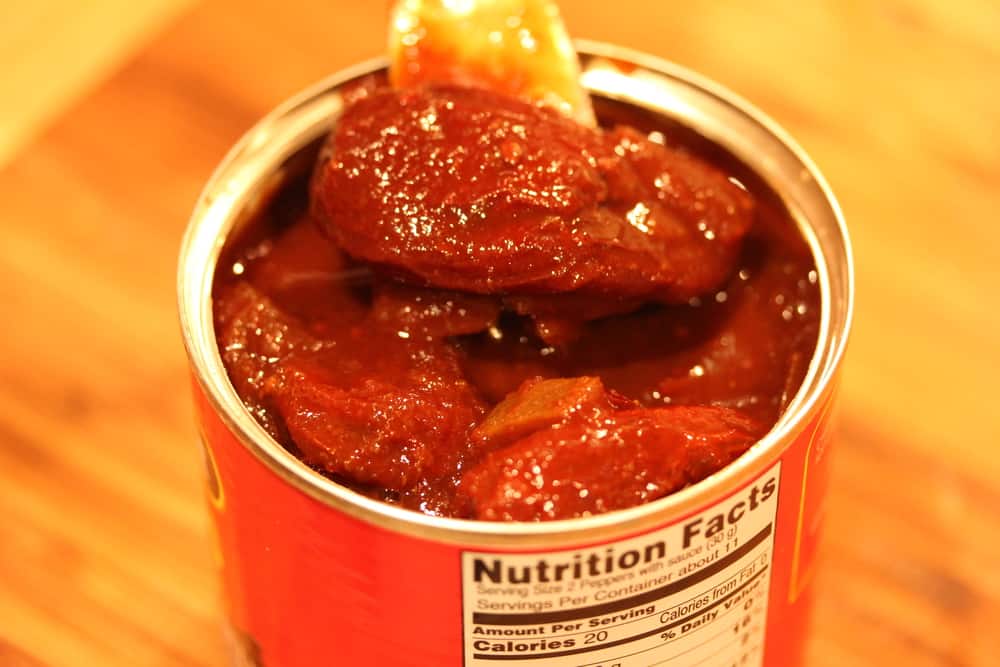 Cook all the sauce ingredients together until a thick sauce is formed.
Taste and adjust the seasonings, if desired.
And the smell is amazing.
FINISHING THE ROASTED CHIPOTLE CHICKEN
Coat the seasoned chicken all over with the sauce.
Slather it on!
Now, it's time to bake until the internal temperature of the chicken reaches 165°F, about a total of 50 minutes.
Ready to make the best Mexican chicken dish this side of Monterrey? Go for it!
And when you do, be sure to tag @howtofeedaloon and hashtag #howtofeedaloon!
Roasted Chipotle Chicken
This Roasted Chipotle Chicken has just enough heat to make it good. Not too much! Just a little hint after each bite. Perfect in so many ways. Sauce can be made a day ahead and kept in the fridge.
Print
Pin
Rate
Servings: 8 people
Calories: 481kcal
Ingredients
¼ cup extra-virgin olive oil
8 cloves garlic thinly sliced
2 medium onions chopped
1 cup ketchup or, chili sauce for more heat
2 tbsp Dijon mustard
2 tbsp brown sugar dark
¼ cup chipotle chiles in adobo sauce, from 7 oz can, chopped
1 tbsp Worcestershire sauce
2 tbsp apple cider vinegar
½ tsp cinnamon
Kosher salt & fresh ground black pepper
4 lbs chicken parts legs, thighs, wings, breasts
Instructions
Heat the oil in a large skillet over medium-high heat.

Cook garlic, stirring frequently, until golden, about 5 minutes. Transfer with a slotted spoon to a paper-towel-lined plate.

Reduce heat to medium and cook onions, stirring occasionally, until golden brown, about 15 minutes.

Add garlic and remaining ingredients, except chicken, to a skillet with 1 teaspoon salt and ½ teaspoon pepper and simmer, stirring occasionally, until sauce is slightly thickened, about 25 minutes.

Pre-heat oven to 450°F with rack in the middle.

Coast chicken with half of sauce, then roast, skin side up, in a large baking dish or pan for 25 minutes.

Remove from oven and brush with remaining sauce, then continue roasting until chicken is cooked through and well browned in spots, 25 minutes more, or until the internal temperature of the largest piece reaches 165°F. (You may need to remove the smaller pieces first, and then roast the large pieces for a little longer).
Nutrition
Calories: 481kcal | Carbohydrates: 20g | Protein: 30g | Fat: 21g | Saturated Fat: 6g | Cholesterol: 116mg | Sodium: 453mg | Potassium: 460mg | Fiber: 3g | Sugar: 14g | Vitamin A: 370IU | Vitamin C: 7mg | Calcium: 42mg | Iron: 2mg