Chipitole® is a fast-food chain in North America that specializes in Mexican cuisine. This is very similar to their signature rice dish.
If you're looking for the perfect side dish for Taco Tuesday, or your next Mexican-themed dinner party, or just a healthy dish to snack on, this is it! You will be amazed at how simple this incredible side is to prepare at home. And it comes together in a snap!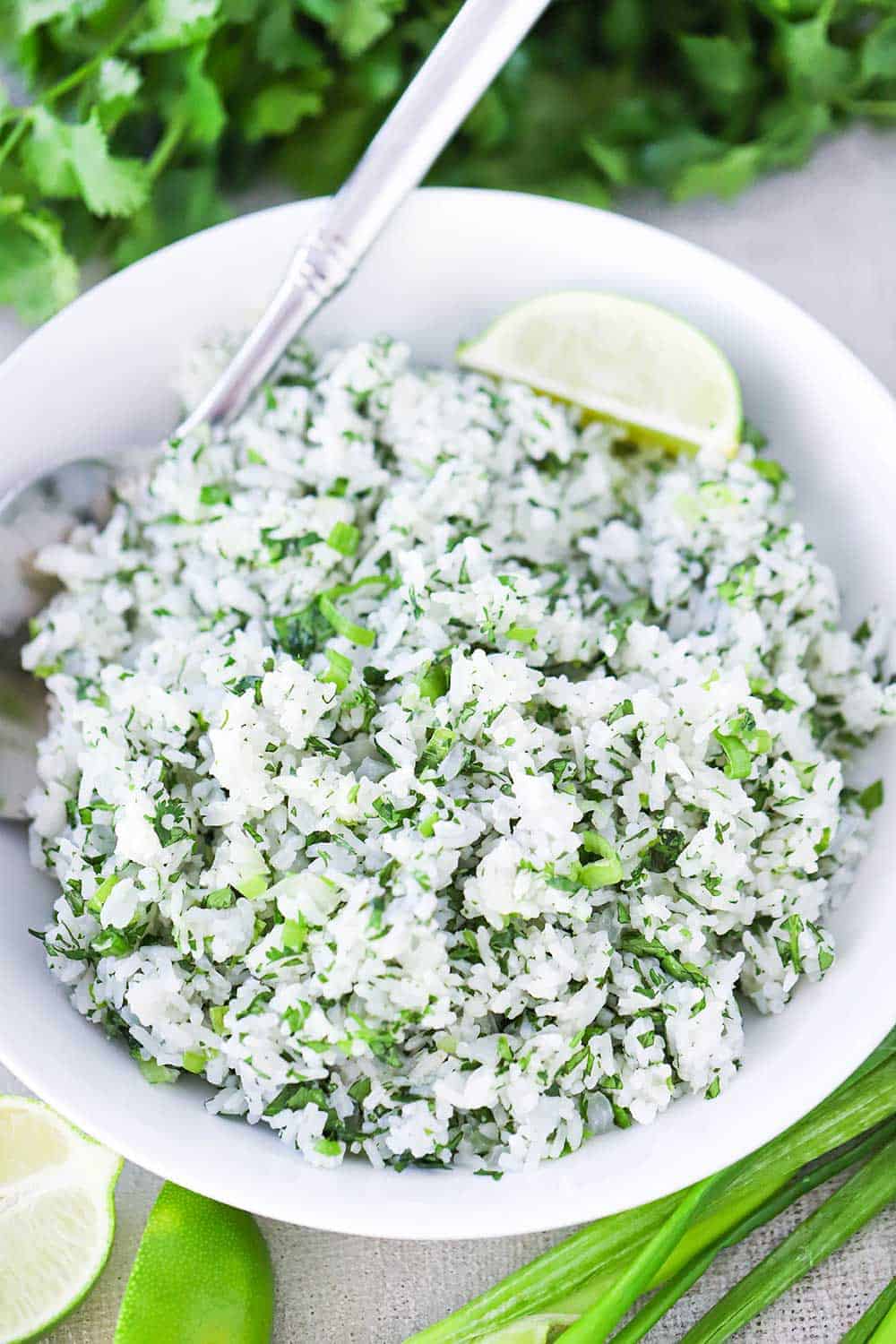 HOW TO MAKE CILANTRO LIME RICE
If you're looking for a Chipotle Copy Cat Cilantro Lime recipe, we can only say…here it is! But, we actually think it's even better!
This recipe really is foolproof and can be made in advance and just reheated before serving time!
And the rice is actually a lot of fun to prepare.
HOW TO MAKE PERFECTLY STEAMED RICE
Obviously, to make this dish be the best it can be, you need to prepare the rice perfectly.
There are many grains of rice, but we love going with Jasmine rice for this dish.
It's slightly sticky and has a mild fragrance to it that is matched beautifully against the lime and cilantro. Basmati rice and even long-grain white rice will work well, too.
EXPERT TIP: We follow the 3 rinse process for preparing our rice. Simply add 1 cup of rice to a bowl and cover it with water. Swirl the rice around for a minute or so. This helps to remove starch. Use one hand to hold back the rice and use your other hand to pour the water out of the bowl and repeat this process two more times. The last time, allow the rice to sit in the water for 10 to 30 minutes, and then completely drain. Your rice is ready to start cooking!
Next, it's time to cook the rice over medium heat in olive oil and half a cup of chopped onions.
This will dry the rice out and cook the onions down all at once.
Sauté for just about 5 minutes.
THE PERFECT TEXTURE
Preparing the rice in this manner will result in fluffy, yet slightly sticky rice.
We add the water (1½ cups) with a couple of bay leaves and bring it to a boil.
EXPERT TIP: Once the water has come to a boil, it's important to lower the heat to very low and cover the pan with a tight-fitting lid. Let the rice steam for 18 minutes and then check the rice. It should be fully cooked by this point, but if not, place the lid back on and let it steam for another couple of minutes. Resist opening the lid too soon, as this will impede the steaming process. Once finished, simply remove the bay leaves and fluff with a fork.
Transfer the cooked rice to a large bowl.
Add the chopped cilantro, chopped scallions (green onions), fresh lime juice, and salt.
Mix until fully combined. Taste and add more salt or lime, as desired.
WHAT GOES WITH CILANTRO LIME RICE?
This is such an amazing side dish because it goes with so many of our favorite Mexican or Tex-Mex entrees!
We love serving it alongside:
Tex-Mex Beef Tacos
Stuffed Chili Rellenos
Grilled Salmon with Poblano Compound Butter
Ancho Chile Cheese Enchiladas
Mahi-Mahi Tacos
Mama's Classic Margaritas
CILANTRO LIME RICE FAQs
What is the best type of rice to use? We love going with Jasmine or Basmati rice, but you could also use a plain white long grain rice. Follow the same instructions and you'll have good results. Jasmine and Basmati can be found in the rice section of most well-stocked supermarkets or online.
Can I use dried cilantro? Normally, we'd say dried herbs or okay to substitute for fresh. In some dishes, they even work better than fresh. But for this dish, we strongly suggest using fresh.
Do the scallions make the rice have a strong onion taste? No. Not at all. We only chop the white and green parts of two scallions. It deepens the flavor but isn't overwhelming at all.
Can the dish be made in advance? Absolutely! The rice can be made up to 1 day in advance. Simply transfer the rice to a baking dish and cover with foil and then place in the oven preheated to 350°F for about 30 minutes.
Just before serving, we love to give another squirt of fresh lime over the top of the rice.
We think this rice is such the perfect side dish to your favorite Mexican and Tex-Mex dishes.
However, if you're looking for traditional Mexican rice, our recipe is the real deal.
But in the meantime, you've just got to try out this Cilantro Lime Rice! It's so refreshingly delicious!
Ready to make the best rice side dish in town? Go for it!
And when you do, be sure to take a photo, post it on Instagram, and tag @howtofeedaloon and hashtag #howtofeedaloon!
Cilantro Lime Rice
If you love Cilantro Lime Rice at your favorite Mexican restaurant, then you're are going to really love this recipe! It's so fresh and simple to prepare!
Print
Pin
Rate
Servings: 4
Calories: 243kcal
Equipment
Medium saucepan with a tight-fitting lid
Ingredients
1 cup rice Jasmine, basmati, or long-grain white
2 tbsp olive oil divided
½ cup onion chopped
1½ cups water
2 bay leaves
½ cup cilantro fresh, chopped
2 scallions aka green onions, chopped
2 tbsp lime juice fresh, plus additional limes for garnish
¾ tsp Kosher salt
Instructions
Add the rice to a bowl and cover with tap water. Swirl the rice around with clean hands until the water is a murky white color. Use one hand to hold the rice back and carefully discard the water in the sink or another bowl. Repeat this process two more times, but the 3rd time, allow the rice to sit in the water 10 to 30 minutes. Drain rice through a fine-mesh sieve.

In a medium saucepan (with lid), heat 1 tbsp of the oil over medium heat. Add the onion and soaked rice and cook for 5 minutes, stirring frequently.

Add the 1½ cups of water and bay leaves and bring to a boil. Cover and lower the heat to low. Allow rice to steam for 18 minutes.

Remove the bay leaves and fluff the rice with a fork. Transfer to a serving bowl.

Add the cilantro, scallions (green onions), lime juice, and salt. Mix together with two large spoons. Serve at once!
Notes
We love using Jasmine rice for this dish, but long-grain white rice works well, too. Jasmine and basmati rice can be found in the rice section of most well-stocked supermarkets or online. Be sure to stir the rice frequently when cooking with the onion as it will want to stick to the bottom of the pan. Resist peeking at the rice while it is steaming. If after 18 minutes the rice isn't quite cooked, add 1 more tbsp of water, cover, and cook for another 2 to 3 minutes. The amount of cilantro and lime is a matter of taste. Once everything is mixed together, take a taste test, and add more cilantro, lime, or salt, if desired. Reheating is simple. Just add the rice to a baking dish, cover with foil, and bake in an oven preheated to 350°F for 30 minutes. Can also keep warm in a low temp oven (200°F). The rice will keep in the fridge for up to 1 week and can be frozen for up to 1 month.
Nutrition
Calories: 243kcal | Carbohydrates: 40g | Protein: 4g | Fat: 6g | Saturated Fat: 1g | Sodium: 591mg | Potassium: 109mg | Fiber: 1g | Sugar: 1g | Vitamin A: 195IU | Vitamin C: 5mg | Calcium: 25mg | Iron: 1mg