Tex-Mex is one of the most popular cuisines in the world, and now you make restaurant-quality enchiladas at home!
Growing up and living in Texas, we lived on Tex-Mex. We hardly ever met a taco or enchilada we didn't like. Making a dish like this at home may seem intimidating, but if you start with the basics, namely a solid sauce, you won't believe the results you will achieve. And it's so much easier than you might think!
Of course, it's all about the sauce.
And the cheese and tortillas. And some onion. It all adds up to classic Tex-Mex.
NOTE: If you liked this video, please subscribe to our YouTube channel. Remember to click the little 'bell' icon so you'll never miss a new video. Thank you!
The Ingredients You Will Need
Once you've made the ancho sauce (which can be made days in advance), the ingredient list is short and simple.
Here's What You'll Need to Have on Hand
Ancho sauce – This is critical to making authentic enchiladas. It can be prepared up to a week in advance and can be frozen for a couple of months.
Corn tortillas – Store-bought is fine, but see if you have a Hispanic market nearby. They will most likely have homemade corn tortillas that are fresh and a little more sturdy.
Oil – Vegetable, for softening the tortillas.
Cheese – Get good quality cheese. We recommend a couple of blocks of cheddar and a block of Monterrey Jack. Shred them both. Pre-shredded is fine, but freshly shredded is even better.
Onions – Finely chopped. These are optional, but they are traditional for Tex-Mex cheese enchiladas.
Fixins' – Chopped lettuce, pico de gallo, sour cream, and salsa are all great choices.
EXPERT TIP: To soften the tortillas, you'll need to pass them quickly through hot oil. Don't let them stay in the oil for more than about 3 seconds per side (a total of about 6 seconds). Drain them on paper towels and then coat them with the ancho sauce, allowing excess to drip off.
Tips For Perfect Tex-Mex Cheese Enchiladas
Make the Ancho Sauce – We just can't emphasize this enough. Store-bought enchilada sauce is fine, but it will never give you that true Tex-Mex restaurant taste and texture that we all love so much. Seek out the ancho chiles and make the sauce. It makes all the difference.
Get Good Cheese – You'll want to get a good melting cheese to make these enchiladas. For filling the enchiladas we use half cheddar and half Monterrey Jack and then we top the enchiladas with more cheddar. Pick up a couple of blocks of cheese and then shred them. Pre-shredded will work in a pinch, but you'll get better results with freshly shredded.
Bake Seam-Side Down – As the cheese inside the enchiladas melts, they will flatten somewhat. This is normal. To make transferring from the dish to a plate a little easier, place them seam-side down. Using two spatulas helps in plating, as well. But don't worry if they get a little jumbled when plating. The taste is what really matters.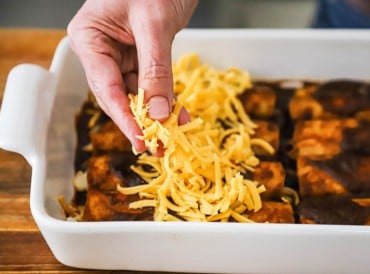 How To Serve
As mentioned, transferring the baked enchiladas from the baking dish to the plate can be challenging. We recommend using a long spatula and carefully nestling it under a couple of enchiladas lengthwise. Then use another spatula to gently push the enchiladas off of the spatula onto the plate.
You could also use individual mini baking platters to heat the enchiladas. If your dinnerware is oven safe, you can form the enchiladas on the plate and then bake them until the cheese has melted, but be sure to warn your guests that the plates are hot (just like you are advised at most Tex-Mex restaurants!).
You'll definitely want to include all the great toppings for enchiladas, including chopped green leaf lettuce, chopped tomatoes (or pico de gallo), sour cream, salsa, and if desired, homemade guacamole.
Other Classic Tex-Mex Recipes to Try
These enchiladas are about as classic Tex-Mex as you'll get. But, while you're at it, why not try some of these other classic dishes.
Tex-Mex Beef Tacos
Chicken Quesadillas
Chicken Tinga Tacos
Chicken Enchiladas with Verde Sauce
Classic Chili Rellenos with Cheese
Best-Ever Beef Tostada
Chicken Flautas
Shrimp Tacos Durados
Carnitas Tacos
Smothered Beef Burritos
But, in the meantime, aren't these incredible cheese enchiladas calling your name?
If you love Tex-Mex as much as we do, then you are absolutely going to love these enchiladas.
The homemade ancho sauce gives a depth of flavor that is authentic and unforgettable.
This has been a staple in our house for many years and after one bite, we think you and your family will begin the enchilada tradition, too!
Serve it with homemade Mexican rice and refried beans and you'll have the best Tex-Mex platter in town!
Ready to make the best enchiladas this side of San Antonio? Go for it!
And when you do, be sure to take a photo of them, post it on Instagram, and tag @HowToFeedaLoon and hashtag #HowToFeedaLoon!
Tex-Mex Cheese Enchiladas
These enchiladas are the real deal. Make the ancho chili sauce days in advance and go with quality freshly shredded cheese and you won't believe how wonderful of an enchilada you will be able to create.
Print
Pin
Rate
Servings: 8 people
Calories: 177kcal
Ingredients
3 cups Ancho Chile Sauce
¼ cup vegetable oil
10 yellow corn tortillas
3 cups cheddar cheese shredded
2 cups Monterrey Jack cheese shredded
½ cup onion finely diced
green leaf lettuce chopped, for garnish
pico de gallo for garnish
Instructions
3 cups Ancho Chile Sauce

Preheat oven to 400°F.

Heat ancho sauce in sauce pan, or in microwave-safe bowl. Remove from heat and set aside.

Spread about 1 cup of the ancho sauce across the bottom of the 9"13" dish.

Heat oil in a medium-sized, non-stick skillet. Place one tortilla into the oil for 3 seconds, quickly flip over for another 3 seconds, and then remove from the skillet and place on a plate lined with paper towels.

¼ cup vegetable oil, 10 yellow corn tortillas

Dip the softened tortilla in the ancho sauce and turn to fully coat. Lift the tortilla up and let excess drip off. Place in the baking dish and add ¼ cup of the cheddar and ¼ cup of the Monterrey Jack cheese in the middle of the tortilla.

3 cups cheddar cheese, 2 cups Monterrey Jack cheese

Fold tortillas, so the edges cross on top. Turn the enchilada over in the dish so it is seam-side down. Continue with the remaining tortillas.

Add a layer of cheddar cheese across the top of the enchiladas. Sprinkle the chopped onions over the cheese.

½ cup onion

Bake for about 12 minutes until cheese is melted and bubbly.

Remove from oven and serve at once, garnishing with chopped lettuce and pico de gallo, if desired.

green leaf lettuce, pico de gallo
Notes
See the video near the top of the blog post for visual guidance. If you liked the video, please subscribe to our YouTube channel.
Then ancho sauce can be made up to 5 days in advance. It can also be frozen for up to 2 months.
You can also soften the tortillas by wrapping them in paper towels and damping them with a little tap water and then place them in the microwave on HIGH for about 1 minute.
Leftovers will keep covered in the fridge for several days. Reheat until bubbly in a 350°F oven or in the microwave.
Nutrition
Calories: 177kcal | Carbohydrates: 2g | Protein: 10g | Fat: 14g | Saturated Fat: 8g | Polyunsaturated Fat: 1g | Monounsaturated Fat: 3g | Cholesterol: 42mg | Sodium: 278mg | Potassium: 47mg | Fiber: 0.2g | Sugar: 1g | Vitamin A: 425IU | Vitamin C: 1mg | Calcium: 302mg | Iron: 0.1mg
POST UPDATE: This recipe was originally published in January 2014, but was updated with improved tweaks to the recipe with new tips and photography and a fabulous new video in April 2023!