Mexican and Tex-Mex food is one of the most popular cuisines in the world. Making an authentic sauce allows you to bring the flavors into your very own kitchen.
This sauce is very versatile, but our favorite way to use it is for an incredible enchilada sauce. Our cheese enchiladas would be nothing to write home about if it weren't for this sauce. We make the full batch, and then freeze half of it for future use. It's easy and so authentic in taste.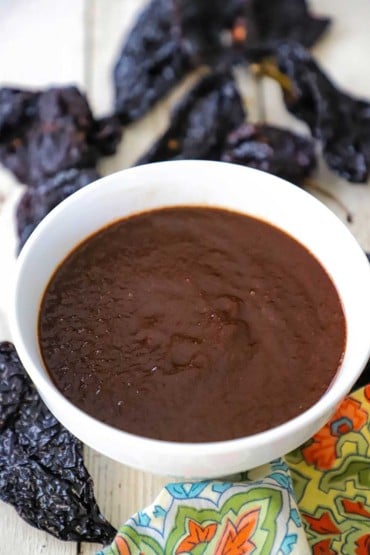 How To Make Ancho Chili Sauce
Obviously, the star of the classic sauce is the ancho chili, which is a dried poblano pepper. You could certainly use a combination of dried peppers, just know some carry more heat than others. Anchos are mild and not overly spicy at all.
This recipe makes about 6 cups of sauce. You can easily cut the recipe in half, or do what we do, freeze half of it!
NOTE: If you liked this video, please subscribe to our YouTube channel. Remember to click the little 'bell' icon so you'll never miss a new video. Thank you!
The Ingredients You Will Need
The list of ingredients for the sauce isn't terribly lengthy, or complicated, but they all blend together to make one of the most flavorful sauces you'll ever make.
Here's What You'll Need to Have on Hand
Ancho chilies – Found in the Hispanic or produce section of many well-stocked supermarkets, at Hispanic food markets, or online
Whole tomatoes – Medium-sized (romas work well)
Onion – Whole and then quartered, no need to remove the skins
Garlic – Halved, lengthwise
Beef stock – Homemade or store-bought
Tomato sauce – Canned is perfectly fine
Dried oregano – Mexican is great, but regular works just fine
Cumin – Dried
Salt – The sauce needs plenty of salt (see NOTES), we use Kosher
EXPERT TIP: Pull out your largest skillet and place it over medium-high heat. Toss in the prepared anchos (seeded), onions and garlic and cook, stirring often, until nicely charred and aromatic. This brings out the oils in the chiles and deepens the flavor profile of the onion and garlic.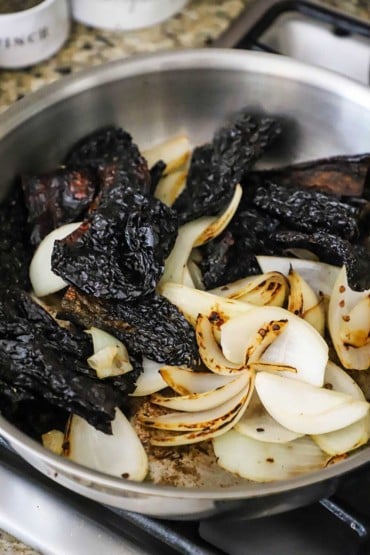 Tips for Perfect Ancho Chili Sauce
Work in Batches (if Necessary) – This is more of a cautionary tip. Even if you can get all of the liquid and vegetables into your blender, it's best to purée it in a couple of batches. If you are blending right after simmering, but extra careful as the ingredients are obviously quite hot. Be sure to cover the top of the blender with a kitchen towel and be sure to turn the blender off before pouring into the colander.
Strain the Sauce – This is probably the most important tip. Get a fine-mesh colander, or sieve, and use a wooden spatula to push the liquid through into a large, heat-proof bowl. The skins from the chilis will be left behind. If you don't do this, the sauce will be grainy and not silky at all.
Season Liberally – If you are making the full amount called for in the recipe, you'll need to season it liberally with salt. We recommend starting with 2 teaspoons, but you'll most likely need to add another ½ to 1 tsp more. Taste as you go.
How To Serve
This sauce is so versatile and is great with many Mexican or Tex-Mex dishes.
We love to make breakfast enchiladas with it. Soften corn tortillas in the microwave, and then coat them with the sauce, and fill them with scrambled eggs, crumbled bacon, and cheese. Pour the sauce over the top, add more cheese, and bake until bubbly!
You can also simmer chopped rotisserie chicken with the sauce for the most amazing chicken quesadillas!
The sauce will keep covered in the fridge for a week and freezes beautifully for up to 2 months!
EXPERT TIP: After you've puréed the first batch, simply pour it directly into a fine colander and then purée the next batch. Then, press it all through the colander with a spatula. So easy!
Classic Mexican and Tex-Mex Recipes to Try
Tex-Mex Beef Tacos
Chicken Enchiladas with Verde Sauce
Chicken Molé
Roasted Chicken Tostadas
Roasted Chipotle Chicken
Cheese-Stuffed Chile Rellenos
Seafood-Stuffed Poblanos
Best-Ever Mexican Rice
Authentic Refried Beans
And once you make this sauce, you'll find so many wonderful ways to work it into your favorite Mexican dishes!
This sauce is not difficult to make and can be made days in advance.
And the taste and texture are so authentic, you will be amazed at how much they elevate your dishes.
You will never want your enchiladas any other way! Just look at these incredible cheese enchiladas with ancho sauce!
Are you ready to make the best chili sauce this side of the Rio Grande? Go for it!
And when you do, be sure to take a photo, post it on Instagram, and tag @howtofeedaloon and hashtag #howtofeedaloon!
Ancho Chili Sauce
This sauce is perfect for Authentic TexMex enchiladas, and other amazing delicious Mexican dishes such as breakfast tacos!
Print
Pin
Rate
Servings: 8 people
Calories: 36kcal
Equipment
Large skillet

Blender

Colander or fine-mesh sieve
Ingredients
12 ancho chilies dried
1 medium onion quartered
3 cloves garlic halved
5 medium tomatoes Romas work well
2 cups beef stock
1 cup tomato sauce
1 tsp Mexican oregano or dried oregano
1 tsp dried cumin
2½ tsp Kosher salt or 3 tsp (see NOTES)
Instructions
Rinse the chiles in cold water and pat dry.

12 ancho chilies

Tear open the chilies, and remove the seeds. It's okay if a few seeds remain.

Heat a large skillet over medium heat. Add the chilies, onions, and garlic and roast them, stirring frequently, until the onions are charred in places and the chiles are aromatic, about 10 minutes. Set aside.

1 medium onion, 3 cloves garlic

Meanwhile, in a separate pot, bring about 6 cups of water to a boil. Set up an ice bath by filling a large bowl with water and adding at least a cup of ice. Carefully drop the tomatoes into the boiling water and then remove with a slotted spoon after 30 seconds. Place in the ice bath.

5 medium tomatoes

Remove the tomatoes into an ice bath and peel off the skin (you may need the end of a paring knife to help you start peeling the skin away). Cut out the top of the tomatoes where the stems were and then cut the tomatoes in half.

Discard the water used for the tomatoes, and add 4 cups of water, the beef stock, and the tomato sauce. Bring to a simmer.

2 cups beef stock, 1 cup tomato sauce

Transfer the chilies, onions, garlic and tomatoes to the water/stock. Add in the oregano and cumin. Lower the heat to low/medium and simmer for about 15 minutes

1 tsp Mexican oregano, 1 tsp dried cumin

Working in batches, carefully transfer the chili mixture to a blender or large food processor. Puree for about 1 minute, until very smooth.

Pass the puréed sauce through a fine colander or fine-mesh sieve into a heat-proof bowl.

Return the strained sauce to the stove and heat for about 15 minutes. Add 2½ tsp salt. Taste and add another ½ tsp, if desired.

2½ tsp Kosher salt

Use at once, or store in a container with a tight-fitting lid. Keep in the fridge for up to 1 week or freeze for up to 2 months.
Notes
See the video near the top of the blog post for visual guidance. If you liked the video, please subscribe to our YouTube channel. The recipe can be easily cut in half. However, we love making the full batch and freeze what we don't use. Take extra caution when transferring any of the hot liquid and vegetables from the pot to the blender. Cover with a kitchen towel. We typically end up adding 3 full teaspoons of salt to the sauce. Taste after adding the initial 2½ and see if you think it could use a little more.
Nutrition
Calories: 36kcal | Carbohydrates: 7g | Protein: 2g | Fat: 0.3g | Saturated Fat: 0.1g | Polyunsaturated Fat: 0.1g | Monounsaturated Fat: 0.1g | Sodium: 995mg | Potassium: 409mg | Fiber: 2g | Sugar: 4g | Vitamin A: 773IU | Vitamin C: 14mg | Calcium: 22mg | Iron: 1mg
POST UPDATE: This recipe was originally published in January 2014, but was updated with improved tweaks to the recipe with new tips and photography and a fabulous new video in April 2023!