We can say with confidence that this is one of the most delicious Mexican-style dishes we've ever created, served, or eaten.
The flavors blend together beautifully. From the crispy, crunchy tortillas, to the creamy and savory beans, flavorful roasted chicken, tangy dressed romaine, and awesome roasted corn salsa. It is truly a special dish. And so much of it can be made in advance!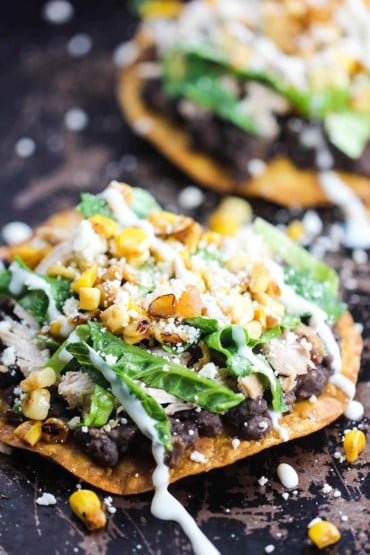 How to Make Black Bean and Roasted Chicken Tostada
There are shortcuts you can make with this recipe and still get wonderful results.
And, much of the components of the tostada can be made ahead of time.
NOTE: If you liked the video, please subscribe to our YouTube channel. Remember to click the little 'bell' icon so you'll never miss a new video!
The Ingredients You Will Need
As mentioned, you can take some shortcuts on the following list of ingredients, but we find the best results are when you roast your own chicken and fry up tortillas.
Here's What You'll Need on Hand
Tortillas – Corn is the way to go. Grab some soft corn tortillas from the store and fry them up. They are amazing, although, you could go with store-bought tostadas, and be just fine. Warm them first in the oven.
Vegetable oil – For frying the tortillas
Pork lard – Or bacon grease, or olive oil
Onion – Chopped
Garlic – Minced
Black beans – Canned is perfectly fine, save the liquid, though!
Salt – Kosher
Chicken – Roasted bone-in, skin-on chicken breasts with a little olive, salt, and pepper, is so delicious. Although, shredded chicken from a rotisserie works well, too. We don't recommend canned chicken.
Mexican crema – Sour cream thinned with a small bit of cream is a great substitute
Roasted corn salsa – This can be made up to several days in advance (click the link for the recipe).
Cotija cheese – Can be found in the Hispanic section of many supermarkets or at Latino food markets. Good substitutes are queso fresco or feta.
Green leaf lettuce – Or romaine, or even iceberg.
Oil – Extra-virgin.
Vinegar – Apple cider or red wine are great choices.
EXPERT TIP: The tortillas can be fried several hours in advance. Cover them loosely with paper towels. Don't put them in a container because they will lose their crispiness.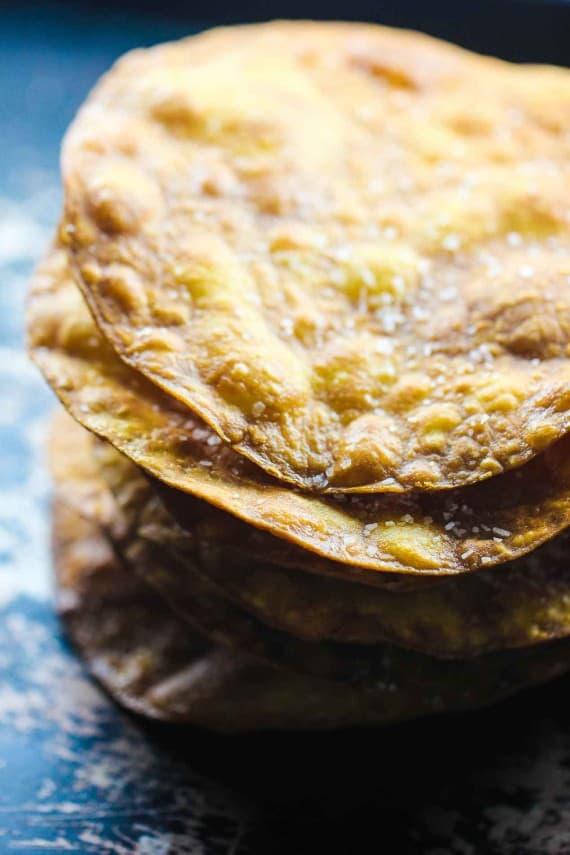 Tips for Making the Perfect Black Bean and Roasted Chicken Tostada
Use High-Quality Ingredients: The success of this dish depends on the quality of the ingredients used. Use fresh corn salsa, high-quality chicken, and crisp lettuce for the best results.
Make the Roasted Corn Salsa from Scratch: Making the roasted corn salsa from scratch will give your tostadas a fresh and flavorful taste. Roast the corn in a skillet and mix it with sautéed onions, jalapenos, and lime juice for a tangy and slightly spicy flavor.
Fry the Tortillas Until Crispy: To make the tostadas, fry the tortillas in hot oil until they are crispy and golden brown. This will give them a crunchy texture that contrasts with the soft and flavorful toppings.
EXPERT TIP: You want the beans to be slightly mashed, but not necessarily the texture of refried beans. Keep the drained liquid from the canned beans handy. Thin the beans so they are easily spreadable, but not runny.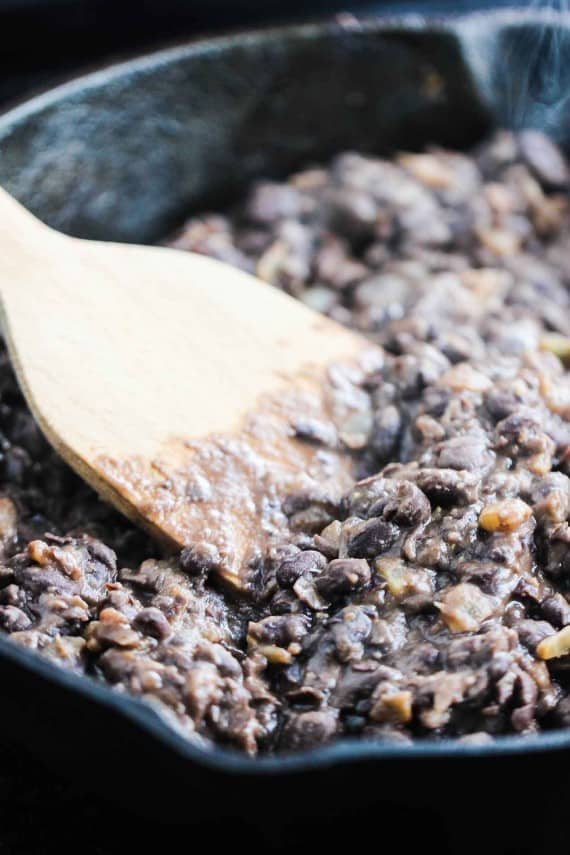 Other Amazing Mexican Recipes to Try
Authentic Mexican is not exactly like Tex-Mex, which is loaded with cheese, spices, and often lots of sauce. These South-of-the-Border dishes are some of our favorites and we think you will like them, too
Veracruz-Style Shrimp with Tortillas and Pepian (Pumpkin) Sauce
Chipotle Roasted Chicken
Classic Chicken Molé
Pork and Hominy Pozole (Pork Stew)
Tortilla Soup with Roasted Chicken
Classic Chili Rellenos with Cheese
Seafood-Stuffed Poblanos
Huevos Rancheros
Chiles Chilaquiles
Authentic Mexican Rice
Elotes (Mexican Grilled Corn)
EXPERT TIP: The corn salsa can be prepared several days in advance. Be sure to let the salsa come to room temperature before serving with the tostadas. If preferred, you can gently warm it over medium heat until heated through. If necessary, add a little chicken broth, or water, to thin the salsa, if too thick.
There is so much to love about these amazing tostadas.
They are wonderful for entertaining. Set all of the ingredients out in festive bowls and containers, and let guests build their own tostada!
The combination of flavors just works beautifully. Every time we serve them, we get rave reviews from family and friends. You can't go wrong with these incredible Black Bean and Roasted Chicken Tostadas!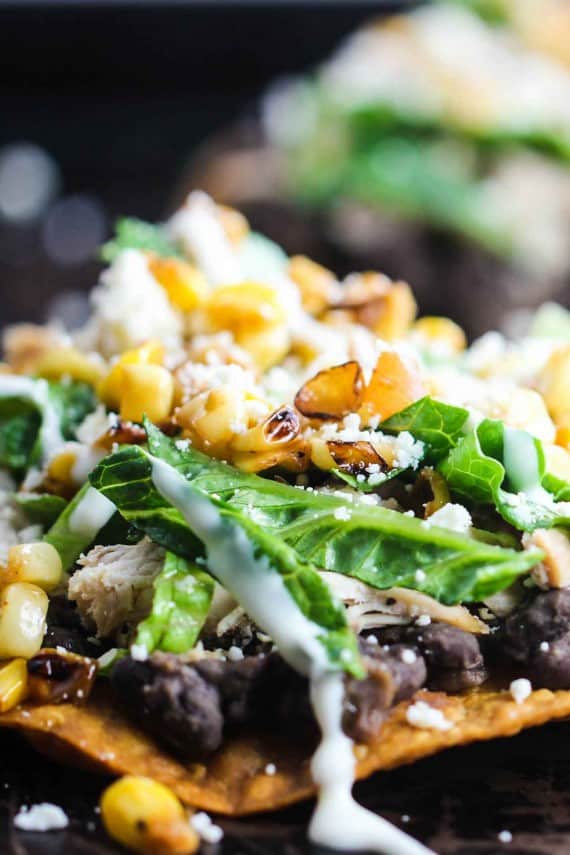 Ready to make the best tostadas this side of Mexico City? Go for it!
And when you do, be sure to take a photo of it, post it on Instagram, and tag @HowToFeedaLoon and hashtag #HowToFeedaLoon!
Black Bean and Roasted Chicken Tostada
This Black Bean and Roasted Chicken Tostada recipe is a true winner. It's not spicy, but deep in flavor and the combination of crunchy freshly made tortillas matched against the black beans and tender chicken, just can't be beat. So good!
Print
Pin
Rate
Servings: 8 people
Calories: 199kcal
Equipment
Deep-fryer or skillet with oil
Ingredients
2 chicken breasts skin on, bone-in
1 tbsp olive oil
salt and pepper
2 cups skillet roasted corn salsa
Vegetable oil enough for a depth of 3/4 inch for frying, plus or in a deep-fryer
8 corn tortillas preferably yellow
1 tbsp pork lard or bacon grease, or olive oil
1 medium onion chopped
3 cloves garlic minced
2 15 oz. can black beans liquid drained - reserve the liquid (don't throw it out, you'll need it).
½ tsp Kosher salt See NOTES
2 tbsp apple cider vinegar
1 tbsp extra-virgin olive oil
2 cups romaine lettuce sliced
¾ cup crema or sour cream thinned with a little milk or cream
1 cup cotija cheese crumbled
Instructions
Do Ahead - Corn Salsa and Roasted Chicken
To roast the chicken, preheat your oven to 350°F. Line a baking sheet with foil and place a baking rack on it. Place the chicken breasts on the rack and liberally brush them all over with olive oil, and then sprinkle all over with salt and pepper. Bake for 55 to 65 minutes, or until internal temperature is 165°F. When cool enough to handle, remove the skins, and shred the meat with two forks or your fingers. Set aside or refrigerate (let come to room temperature, or heat in the microwave when ready to serve).

1 tbsp olive oil, salt and pepper, 2 chicken breasts

Make the corn salsa up to several days in advance. Allow to come to room temperature before serving. (Link to the recipe is in the Ingredients list).

2 cups skillet roasted corn salsa
Make the Tostada Shells
In a sturdy skillet heat the vegetable oil over medium-high heat, or heat your deep-fryer to 350°F.

Vegetable oil, 8 corn tortillas

When the oil is hot enough to make the edge of a tortilla sizzle excitedly, fry the tortillas one at a time by laying a tortilla in the oil, and after about 10 seconds, use tongs to flip it over. Continue to push down in the oil every few seconds. When the bubbling starts to stop and the tortilla has darkened a bit (usually about a minute of frying time), remove it from the oil and drain it on paper towels. Immediately sprinkle a pinch of salt on the hot tortilla.

When fried just long enough, they will be completely crisp when cooled. You may need to test a couple at first, and adjust the heat until they cook just right.
Prepare the Beans
Heat the pork lard (or bacon grease or vegetable oil) over medium heat in a medium-sized saucepan.

1 tbsp pork lard

Add the onions and sauté, stirring often, until they are soft, about 4 minutes. Add the garlic and sauté until aromatic, about another 30 seconds.

1 medium onion, 3 cloves garlic

Add the drained beans. Using a potato masher, or the back of a large wooden spoon, coarsely mash the beans, mixing in the onion and garlic as you go.

2 15 oz. can black beans

Add enough of the reserved liquid to give the beans a spreadable consistency, not too thick, but also not too thin.

Taste and season with salt, typically about ½ teaspoon. Cover and set aside.

½ tsp Kosher salt
Prepare the Topping
When you are ready to serve, set out the shredded chicken, the crema (or thinned sour cream), corn salsa and cheese.

Gently re-heat the beans if necessary.

Meanwhile, in a large bowl, mix together the vinegar and olive oil. Toss in the lettuce and season with ¼ tsp salt.

2 tbsp apple cider vinegar, 1 tbsp extra-virgin olive oil, 2 cups romaine lettuce
Building the Tostadas
One by one, layer the tostadas by spreading each fried tortilla with about 2 heaping tablespoons of beans (if too thick, thin with a little water).

Spread on two tablespoons of the chicken, then ¼ cup of the dressed lettuce, and then about ¼ to ½ cup of the corn salsa.

Drizzle on a little of the crema (or sour cream) and sprinkle generously with the crumbled cheese.

¾ cup crema, 1 cup cotija cheese

Arrange tostadas on a platter and serve at once.
Notes
See the video near the top of the blog post for visual guidance. If you liked the video, please subscribe to our YouTube channel.
Shredded rotisserie chicken is a decent substitution for roasted chicken. Both the chicken and the salsa can be made several days in advance. Be sure to bring them to room temperature (or warm gently in the microwave) before serving.
The tortillas can be fried several hours before serving. Don't place them in a container as they may get soft. Store-bought tostada shells are perfectly fine, too. If using store-bought, you'll want to heat them in la ow-temp oven (225°F) for about 10 minutes before serving.
These tostadas are best served fresh. Leftovers will keep for a day or two, but the shells will become a bit soft.
Nutrition
Calories: 199kcal | Carbohydrates: 16g | Protein: 8g | Fat: 12g | Saturated Fat: 4g | Cholesterol: 39mg | Sodium: 325mg | Potassium: 135mg | Fiber: 2g | Sugar: 2g | Vitamin A: 1221IU | Vitamin C: 2mg | Calcium: 160mg | Iron: 1mg
POST UPDATE: This recipe was originally published in March 2018, but was updated with improved tweaks to the recipe with new tips and photography and a fabulous new video in June 2023!