This is so simple and yet so amazingly delicious.
Even in the colder months, when fresh corn isn't available, you can still get incredible taste and texture with a simple bag of frozen corn, a sturdy skillet (such as a cast-iron!), and a few herbs and fresh lime juice. We love to serve this on our Roasted Chicken and Black Bean Tostadas!
How To Make Roasted Corn Salsa
As is so often the case, it doesn't take a ton of ingredients to make a dish taste really good.
Obviously, the corn here is the star, and pan-roasting them just brings out their sweetness and flavor even more.
Then throw in a little spice and lime, and you've got an absolutely incredible salsa on your hands!
NOTE: If you liked this video, please subscribe to our YouTube channel. Remember to click the little 'bell' icon so you'll never miss a new video!
The Ingredients You Will Need
The ingredients for this delicious salsa are very pantry friendly, and not numerous.
Here's What You'll Need to Have on Hand
Olive oil – For sautéing. Can also use butter.
Onion – We love red onion, but yellow or white works just as well, chopped.
Jalapeño – Remove the seeds and ribs for a mild salsa. Leave seeds in for a spicy salsa.
Green chilies – You can find these in the Hispanic section of most well-stocked supermarkets.
Corn – Our favorite is to cut the kernels from 2 to 3 ears of fresh corn. However, a package of frozen corn works great, too. Only use canned corn if no other options are available.
Salt – Kosher
Pepper – Freshly ground
Chili powder – For a little extra heat go with ancho chili powder, chipotle chili powder, or New Mexico light chili powder
Lime – Fresh is best
EXPERT TIP: To remove the corn kernels from an ear of corn, first shuck the corn. Place a small bowl upside down in a large bowl and place the corn on the bottom of the base of the small bowl. Hold the corn upright with one hand and use your other hand to carefully slice the kernels from the cob with a large, sharp knife.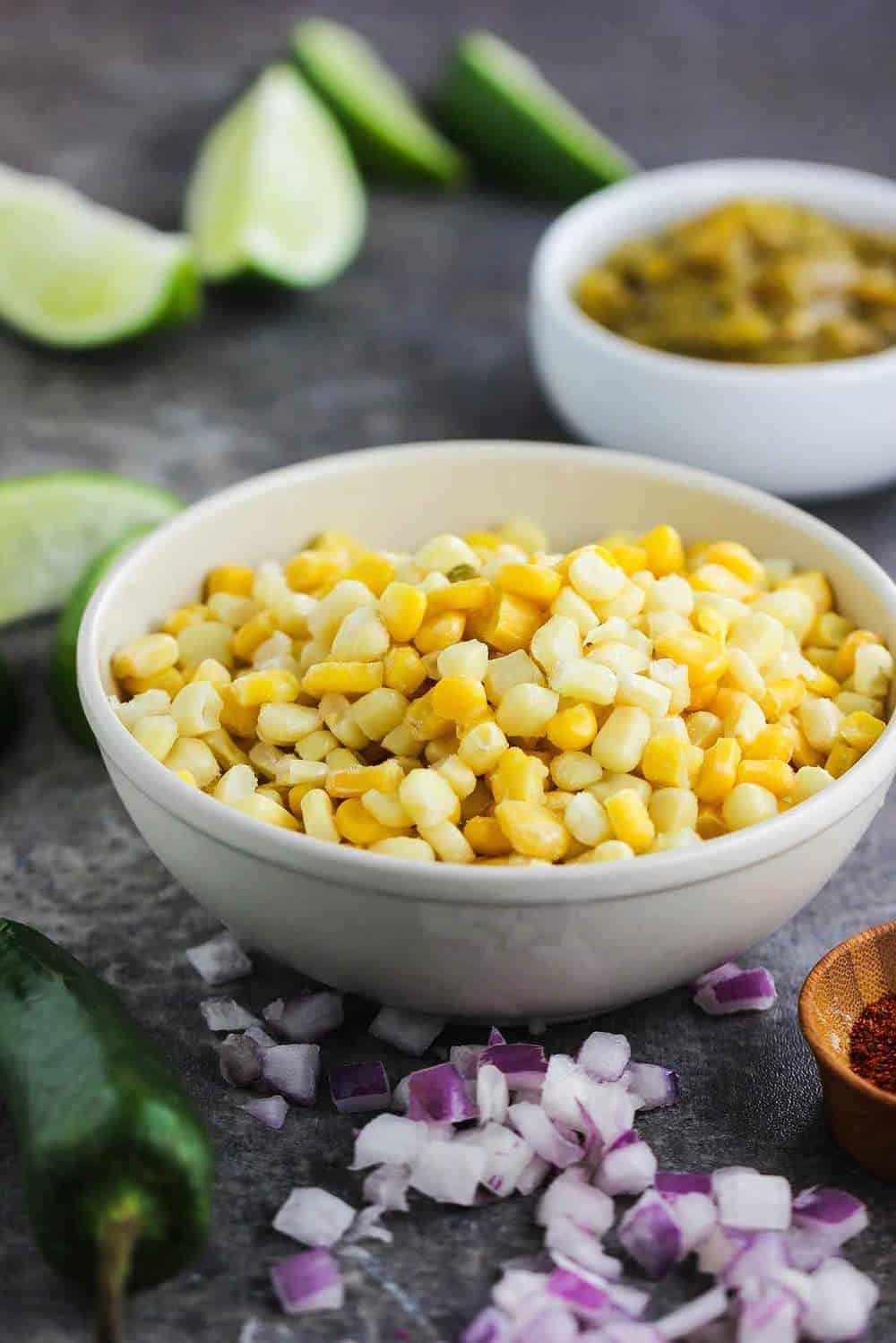 Tips for Perfect Roasted Corn Salsa
Roast the corn in a skillet: Roasting the corn in a skillet gives it a smoky and slightly charred flavor that adds depth to the salsa. Make sure to use fresh corn and remove the kernels from the cob before roasting.
Use fresh and high-quality ingredients: The success of any salsa recipe depends on the quality of the ingredients used. Use fresh corn (if possible), green chiles, jalapenos, and lime juice for the best results.
Adjust the seasoning: The seasoning is key to a flavorful salsa. Use chili powder and salt to taste and adjust the amount of jalapeno and green chiles depending on your preference for spiciness.
Let the flavors meld together: Once you have mixed the salsa, let it sit in the refrigerator for at least an hour before serving. This will allow the flavors to meld together and the salsa to thicken slightly.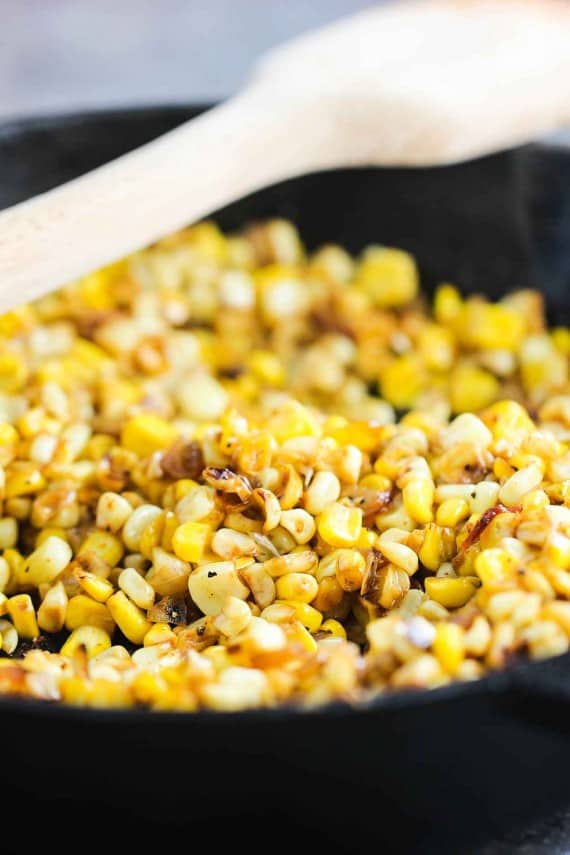 How To Serve
We love serving this at room temperature, but it's also really good when warmed.
Place it out in a festive bowl with warmed tortilla chips for parties and gatherings and watch how fast it goes.
It's also an amazing addition to classic dishes such as tostadas, shrimp tacos, and roasted chicken enchiladas.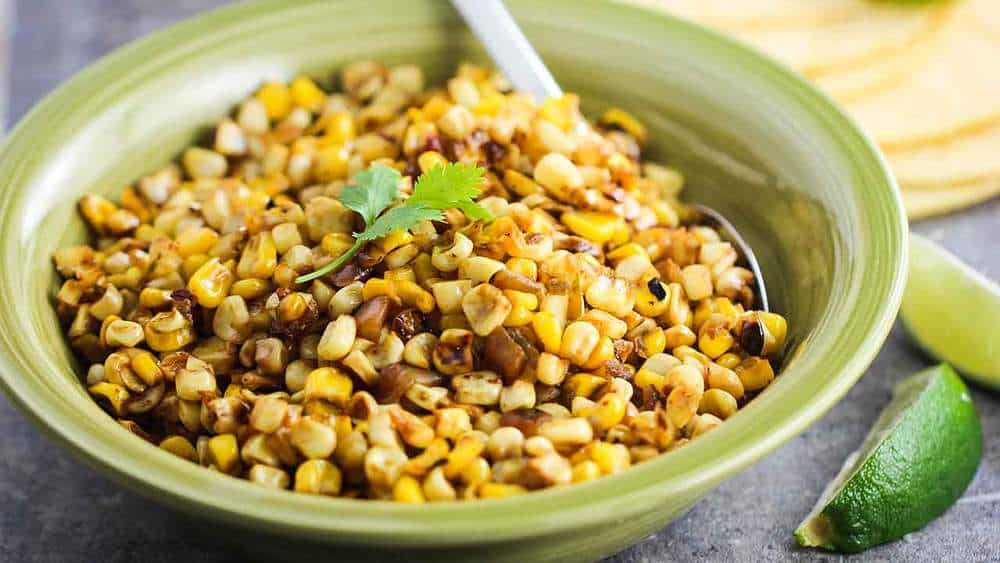 Ready to make a salsa that folks will absolutely love and beg you for the recipe? Go for it!
And when you do, be sure to take a photo of it, post it on Instagram, and tag @HowToFeedaLoon and hashtag #HowToFeedaLoon!
Skillet Roasted Corn Salsa
Roasted Corn Salsa is packed with flavor and is easy to make any time of the year. The pan roasting brings out the sweetness of the corn, and the touch of red onion, pickled jalapeño, and chiles, along with the dash of chili powder and lime just brings it all together. This is one salsa you and your guests will be going back to again and again! It's that good!
Print
Pin
Rate
Servings: 8 people
Calories: 46kcal
Equipment
heavy-duty skillet, such as cast-iron
Ingredients
1 tbsp olive oil
¼ cup red onion chopped
1 jalapeño seeds and ribs removed, finely chopped
2 cups corn kernels from 2 to 3 ears, or 1 16 oz. package frozen corn kernels
1 4.5 oz. can green chilies chopped
½ tsp Kosher salt
¼ tsp freshly ground black pepper
½ tsp chili powder
Juice of 2 limes about 2 tablespoons
Instructions
Heat oil in a large skillet over medium-high heat.

1 tbsp olive oil

Add onion and jalapeño and cook until soft, about 3 to 4 minutes.

¼ cup red onion, 1 jalapeño

Add corn and green chilies, and cook until corn starts to brown, about 12 minutes.

1 4.5 oz. can green chilies, 2 cups corn kernels

Stir in salt, pepper, chili powder, and lime juice.

½ tsp Kosher salt, ¼ tsp freshly ground black pepper, ½ tsp chili powder, Juice of 2 limes

Remove from heat and let cool.
Notes
See the video near the top of the blog post for visual guidance. If you liked the video, please subscribe to our YouTube channel.
Fresh corn really makes this salsa shine, but we've used frozen corn, and it's excellent, too. Let it thaw first (you can easily defrost it in your microwave). We don't recommend using canned corn.
The salsa will keep covered in the fridge for up to 1 week. The salsa is best served at room temperature or slightly warmed.
Nutrition
Calories: 46kcal | Carbohydrates: 7g | Protein: 1g | Fat: 2g | Saturated Fat: 0.3g | Polyunsaturated Fat: 0.4g | Monounsaturated Fat: 1g | Sodium: 232mg | Potassium: 68mg | Fiber: 1g | Sugar: 2g | Vitamin A: 74IU | Vitamin C: 3mg | Calcium: 3mg | Iron: 0.2mg