This Skillet Roasted Corn Salsa recipe is so simple and yet so amazingly delicious. Even in the colder months, when fresh corn isn't available, you can still get incredible taste and texture with a simple bag of frozen corn, a sturdy skillet (such as a cast-iron!), and a few herbs and lime.
We love all kinds of salsa in our house, and this has found it's way right to the upper standings when it comes to all-time favorites!
So good!
As is so often the case, it doesn't take a ton of ingredients to make a dish taste really good.
Obviously, the corn here is the star, and pan-roasting them just brings out their sweetness and flavor even more.
Then throw in a little spice and lime, and you've got an absolutely incredible salsa on your hands!
And the other great thing about this salsa is how simple it is to prepare.
Give yourself about 15 minutes, and you'll have one of the most delicious salsas you've ever tried ready to go!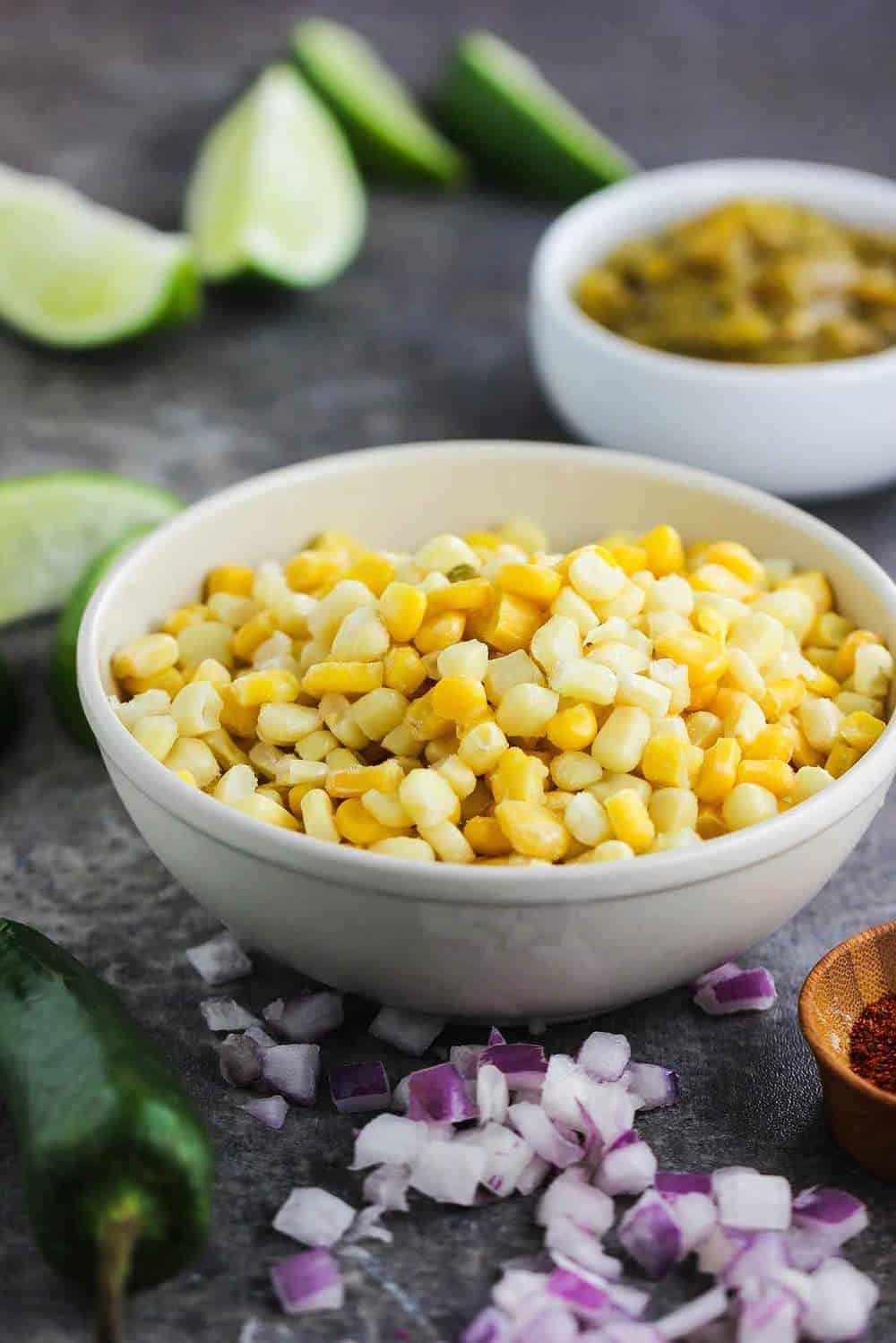 This literally only takes about 15 to 20 minutes to make. We put this on everything, from our favorite Tex-Mex dishes, to baked potatoes, or eggs, or just as a delicious side.
Skillet roasted corn is incredible.
Don't you want to make this right now?
The addition of red onion and pickled jalapeño acts as just a little flavor boost. As it all cooks together, the onion and the jalapeño mellow and just blend perfectly with the lightly browned corn.
And then the fresh lime juice brightens the salsa, and just makes you keep coming back for more!
Oh, just so very good.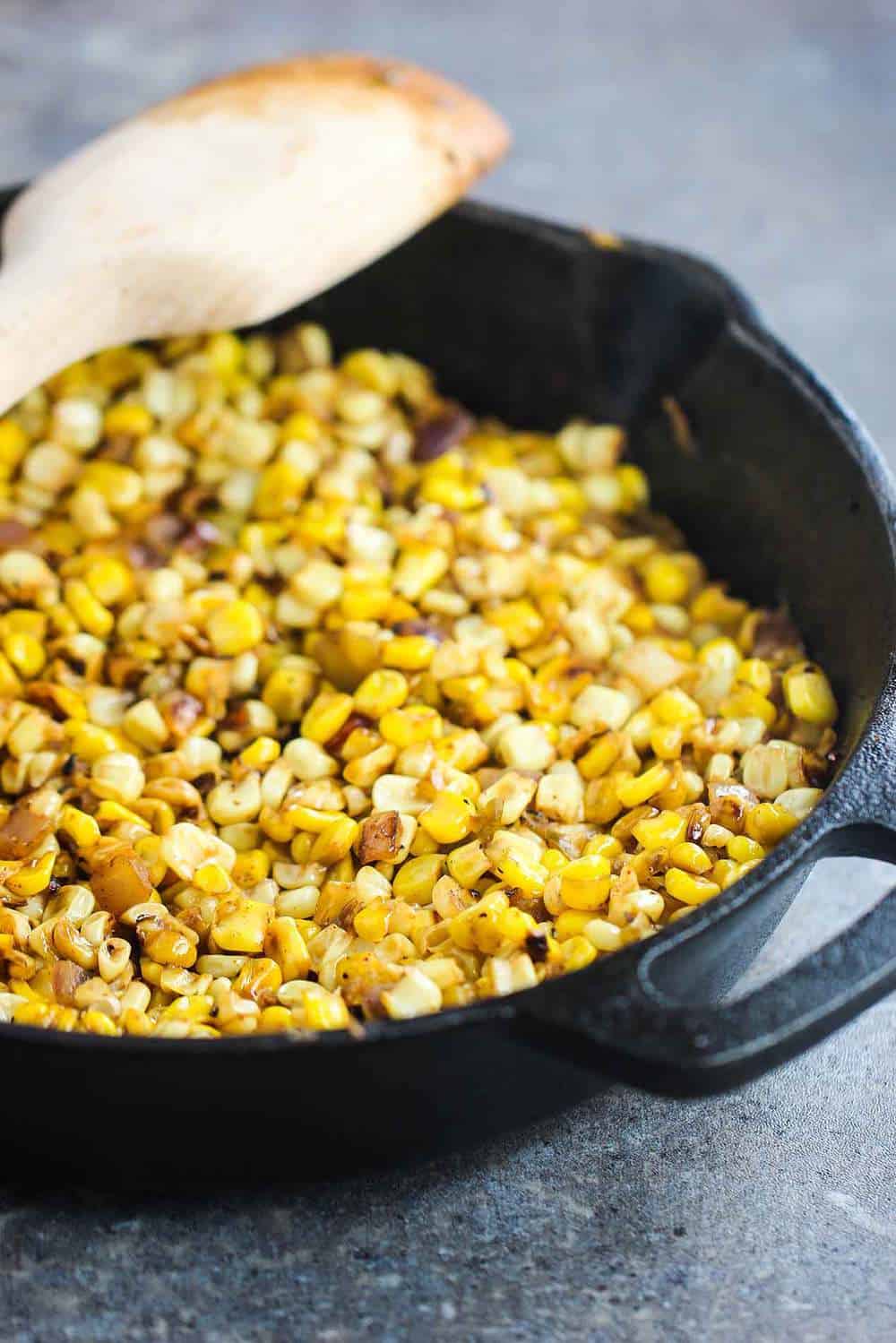 I've got to admit, I'm a traditional tomato-based salsa kinda guy. But the Loon urged me to come up with a slightly different type of salsa, for a new tostada recipe that I was developing. I hesitantly agreed.
Let me tell you, the Loon has some pretty good instincts. After a few test runs, this salsa is just perfect. And wait until you see the tostada recipe that's coming soon.
Over-the-top delicious!!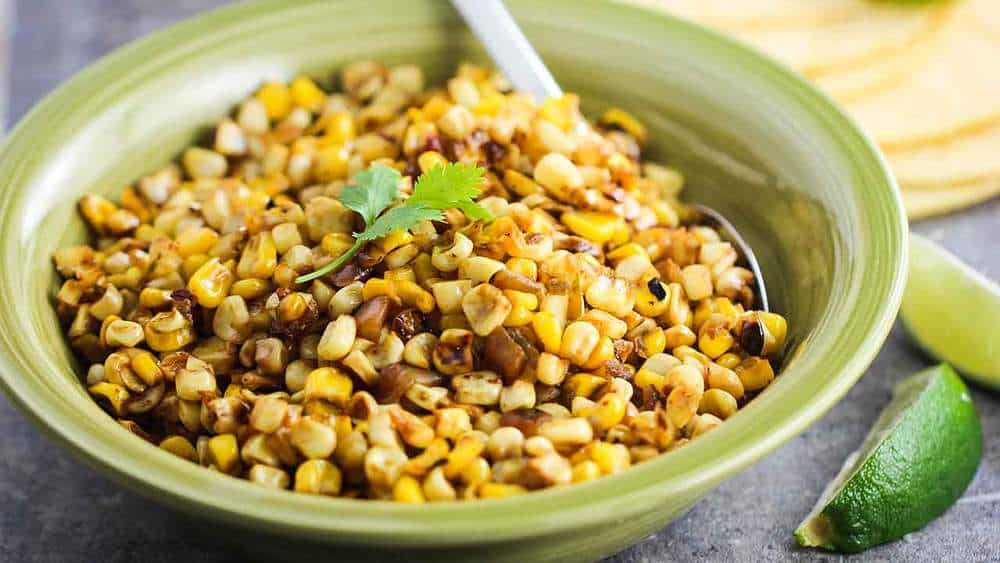 Now, stop everything you're doing…and hurry and go make this incredible Skillet Roasted Corn Salsa recipe!
You will be so happy that you did!
Skillet Roasted Corn Salsa
This Skillet Roasted Corn Salsa recipe is packed with flavor and is easy to make any time of the year. The pan roasting brings out the sweetness of the corn, and the touch of red onion, pickled jalapeño and chiles, along with the dash of chili powder and lime just brings it all together. This is one salsa you and your guests will be going back to again and again! It's that good!
Print
Pin
Rate
Servings: 8 people
Calories: 165kcal
Ingredients
1 tbsp olive oil
1/4 cup red onion chopped
2 tsp jalapeño pickled or fresh, finely chopped
1 4.5 oz. can of green chilies chopped
2 cups fresh corn kernels from 2 to 3 ears, or 1 16 oz. package frozen corn kernels
1/4 tsp Kosher salt
1/8 tsp freshly ground black pepper
1/2 tsp chili powder
Juice of 2 limes about 2 tablespoons
Instructions
Heat oil in a large skillet over medium-high heat.

Add onion and jalapeño and cook until soft, about 3 to 4 minutes.

Add corn and green chilies, and cook until corn starts to brown, about 12 minutes.

Stir in salt, pepper, chili powder and lime juice.

Remove from heat and let cool.
Nutrition
Calories: 165kcal