If you love tacos as much as we do, you are going to flip for these.
We love all kinds of tacos. One of our most popular recipes on the blog is our Mahi Mahi Tacos. They are amazing. And folks, these tacos right here give them a true run for the money. Topped with roasted tomato salsa puts it all over the top.
How To Make Shrimp Tacos Dorados
Dorado in Spanish means "Golden" and is why these tacos are fried to perfection.
Since you don't have to cook the shrimp first, bringing these tacos is super easy!
NOTE: If you liked this video, please subscribe to our YouTube Channel. Remember to click the little 'bell' icon so you'll never miss a new video. Thank you!
The Ingredients You Will Need
These tacos only call for a handful of ingredients. They all just work together perfectly.
Here's what you'll need:
Shrimp – You'll need about 1 pound of shelled and deveined shrimp. The size doesn't really matter because you're going to give them a rough chop before filling the tortillas. Frozen is perfectly fine. Thaw in a colander in the sink with cool water running over them.
Jalapeno – Remove the seeds and ribs for little heat. Leave seeds in for extra heat.
Onion and Cilantro – Go with fresh, it's best.
Shredded Cheese – Anything melty will work. These are best: Chihuahua, Monterrey Jack, cheddar, or a combination of these.
Corn Tortillas – You could substitute flour, but we think corn crisps up perfectly. If using flour, we recommend sautéting the shrimp first, because the tortillas will crisp up much quicker.
Vegetable Oil – Just enough to fill a large skillet to ¼ to ½-inch in depth.
Toppings – These bring it all together. We love shredded iceberg lettuce, roasted tomato salsa, chopped cilantro, and crumbled Cotija cheese.
EXPERT TIP: Place the shrimp in your food processor and pulse a few times. Add to a bowl and mix in the cilantro, pepper, onion, and 1 tsp of salt. If you don't have a food processor, give the shrimp a rough chop with a large, sharp knife.
FAQs for Shrimp Tacos Dorados
Can the filling be made in advance? Absolutely. Leave the cilantro out until ready to fill the tacos. Prep the filling and keep it in the fridge for up to 2 days. It can be frozen for up to 1 month. Sti in the cilantro just before filling the tortillas.
Is it safe to not cook the shrimp first? Yes. The hot oil will cook the shrimp perfectly. Making sure your oil is 350°F helps to ensure perfectly cooked tacos. You'll want to fry the tacos for about 2 to 3 minutes per side.
What can I substitute for the shrimp? The chicken used in our chicken tinga tacos is amazing as a filling for dorados. The beef that we used for our smothered burritos is also amazing.
Can I bake the tacos? Yes, absolutely, but they won't have that classic durado taste, but they will still be delicious. Simply place the corn tortillas in the microwave and cook on HIGH until very soft and pliable. Spray them with cooking spray and drape the tortillas over the oven grates and bake at 425°F for 10 minutes. You'll need to sauté the shrimp mixture in 1 tbsp of oil until cooked. Then stuff the tacos.
Can I air-fry the tacos? Again, they won't be quite the same, but still delicious. For an air-fryer, you'll need a taco shell stand. Heat them in the microwave, and then brush with oil. Wrap around the taco stands and air-fry at 400°F for 2 minutes. You'll need to sauté the shrimp mixture in 1 tbsp of oil until cooked. Then stuff the tacos.
NOTE: Use a pair of tongs to quickly dip the tortillas in the hot oil (350°F) and then stack them on a plate. This will make them pliable and easy to fill and slightly seal the edges. Don't worry if the tacos don't completely seal, they will stay closed as they fry in the oil.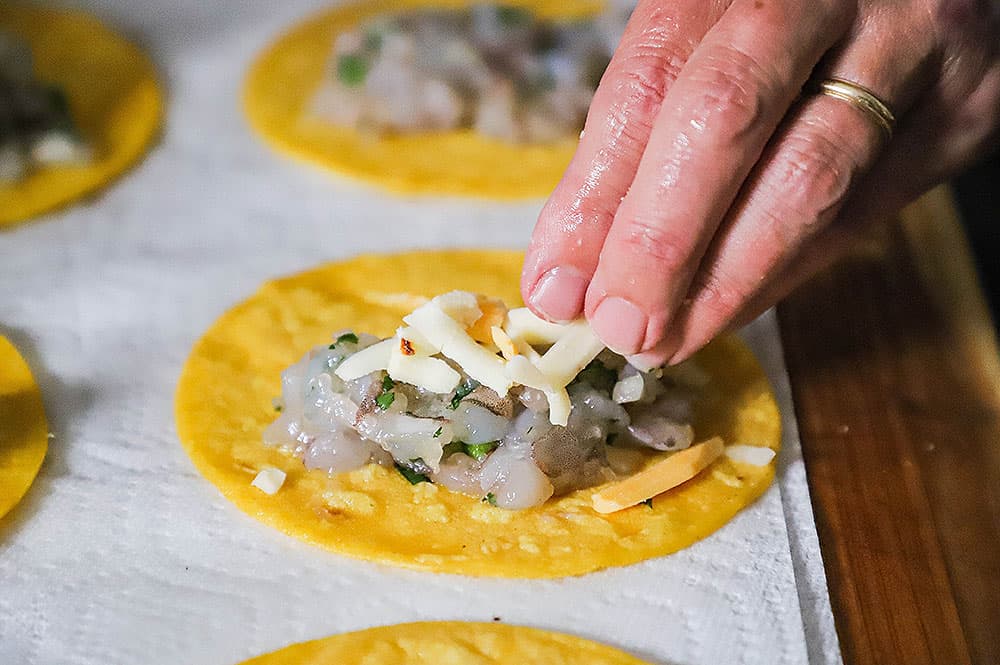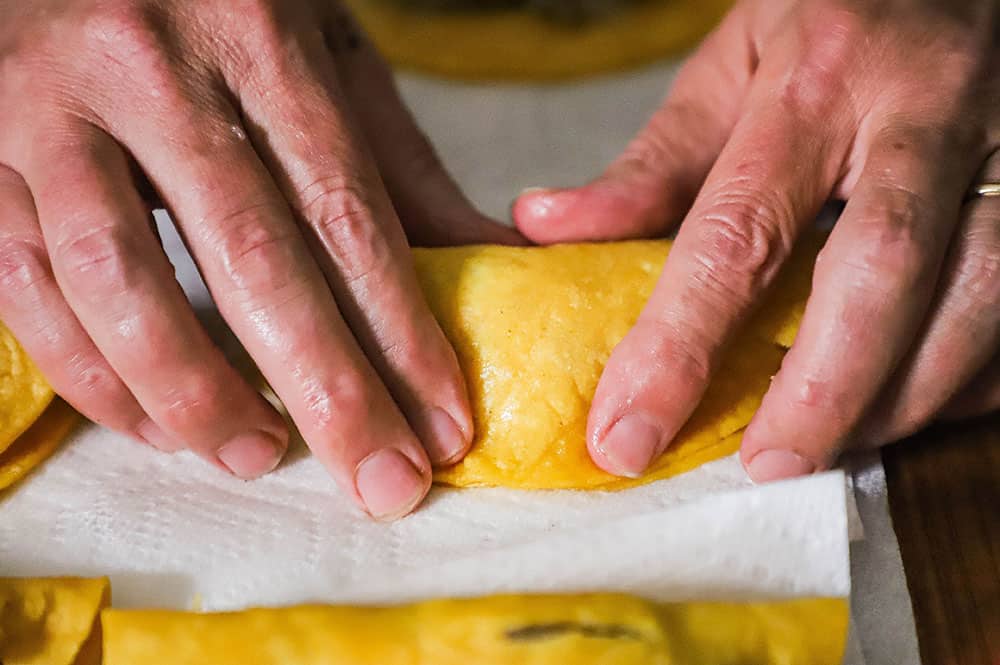 How To Serve
The tacos make for a beautiful presentation and are awesome for taco night dinner with the family or for serving at a party or for watching the big game.
Instead of adding the traditional toppings inside the tacos, it's fun to arrange the tacos on a large platter and then top them (down the center) with shredded iceberg lettuce, roasted tomato salsa, chopped parsley, and crumbled Mexican cheese, such as Cotija.
EXPERT TIP: After quickly frying the tacos dorados in the skillet of oil, (about 5 to 6 minutes total), place the tacos on paper towels to drain. And then place on a baking sheet lined with a baking rack and keep warm in a low-temperature oven until you're finished frying up all of the tacos.
Other Amazing Taco Recipes
In case you haven't noticed, like so many of us, we are crazy for tacos! Here are some great recipes you'll want to try!
Classic TexMex Beef Tacos
Carnitas (Pork) Tacos
Easy Chicken Tinga Tacos
Korean Beef Tacos with Kimchi
Mahi Mahi Tacos
Baha Fried Fish Tacos
In the meantime, you've got to try these incredible shrimp tacos dorados!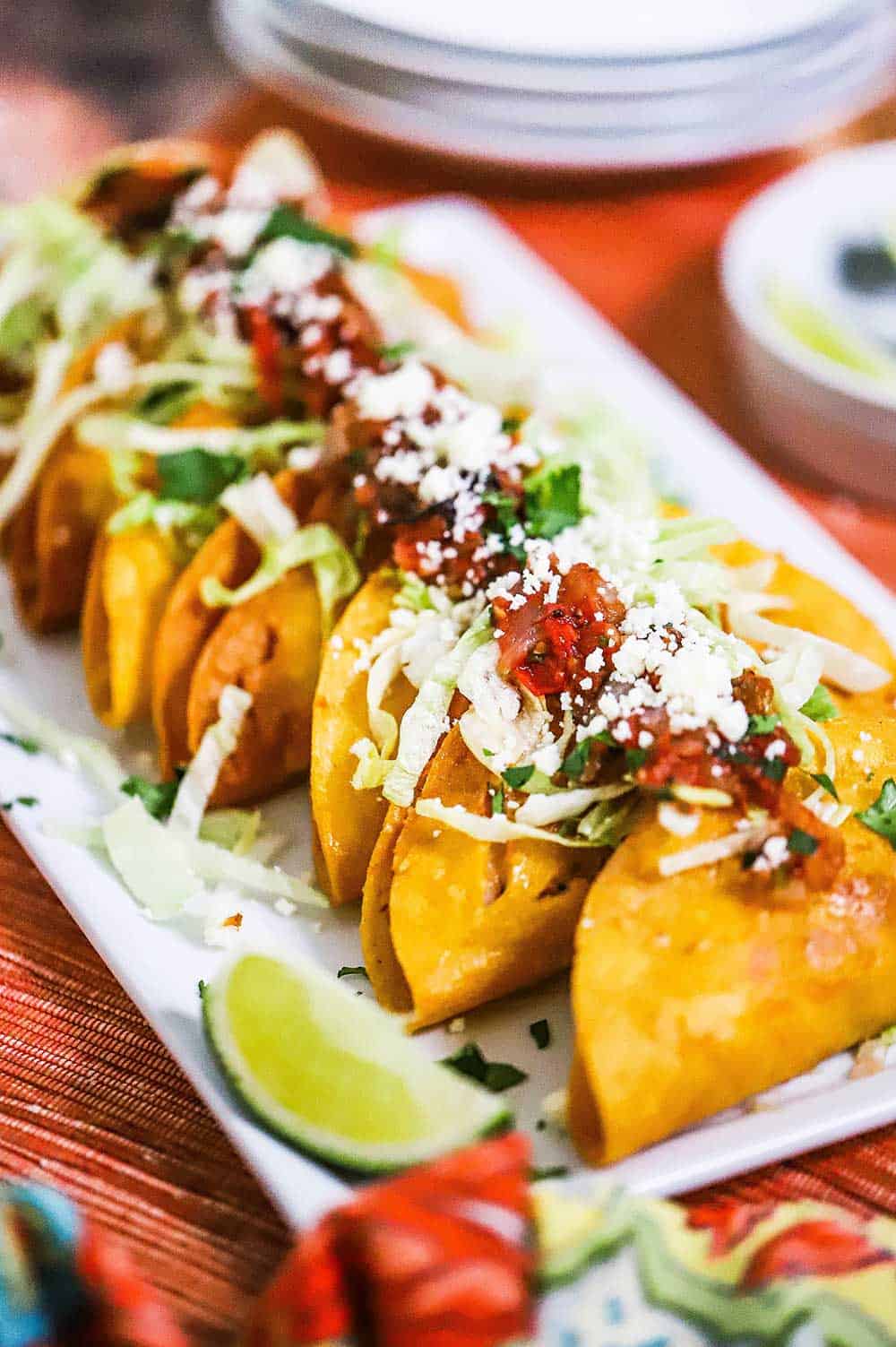 Folks, these tacos are truly something spectacular.
Even our family members and friends who aren't big shrimp fans absolutely love these. They're not fishy at all!
The shells are crunchy, but not crumbly. And the filling is flavorful and moist. And the toppings bring it all together.
Taco perfection!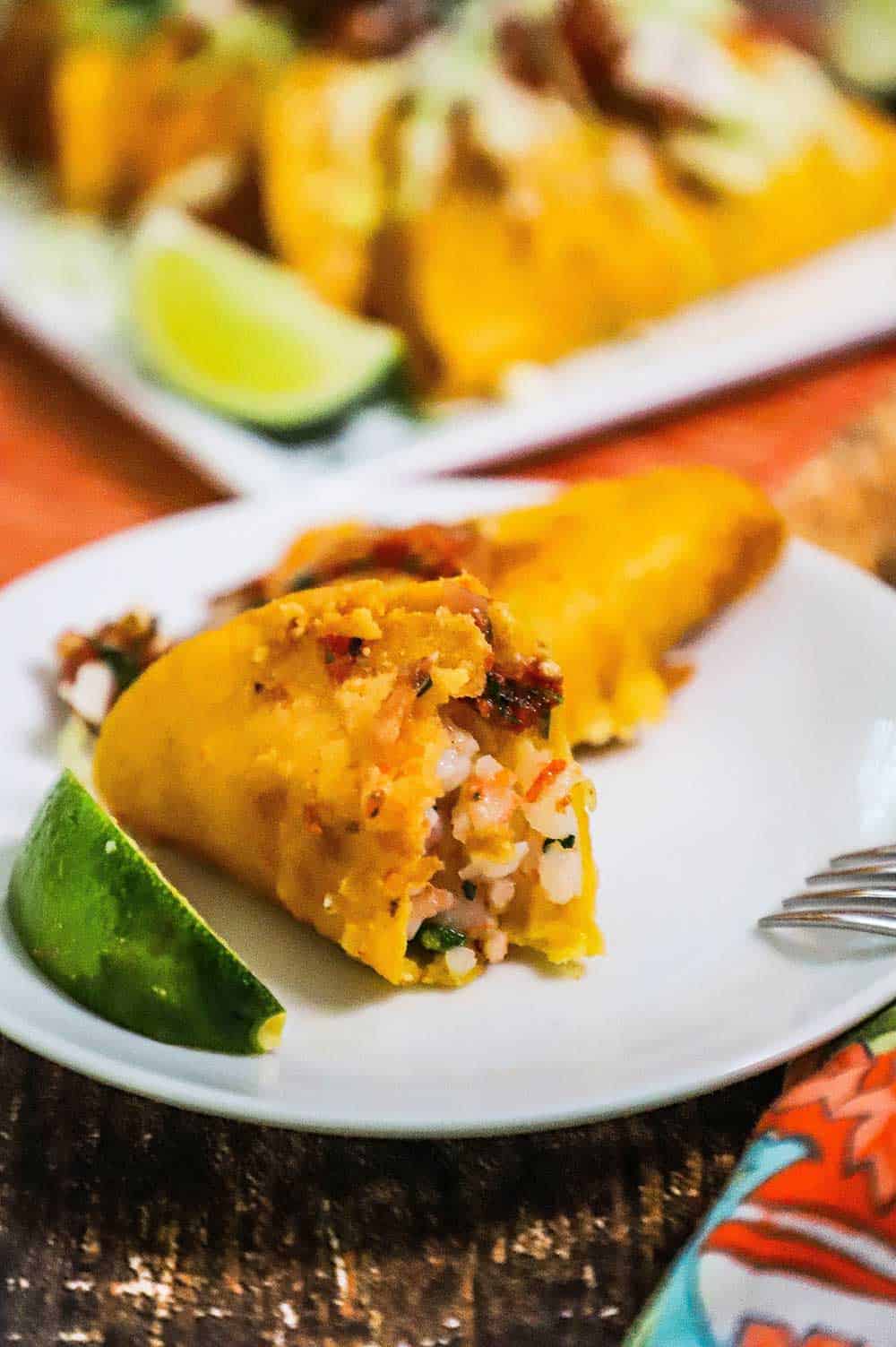 Ready to make the best tacos this side of the Gulf of Mexico? Go for it!
And when you do, be sure to take a photo of it, post it on Instagram, and tag @HowToFeedaLoon and hashtag #HowToFeedaLoon!
Shrimp Tacos Dorados
Shrimp Tacos Dorados are truly an explosion of Mexican flavor. Quickly fried until just crispy with a savory yummy shrimp filling. And the filling is not fishy tasting at all! The roasted tomato salsa really brings it all together!
Print
Pin
Rate
Servings: 4
Calories: 358kcal
Ingredients
Vegetable oil for frying
12 corn tortillas
1 lb extra-large shrimp shelled and deveined
1 jalapeno seeded and chopped
1 tbsp cilantro chopped, plus extra for topping
1 tbsp onion chopped
1 tsp Kosher salt
1 cup Monterey Jack cheese shredded, or cheddar, or Mexican blend
iceberg lettuce shredded, for topping
roasted tomato salsa for topping
Cotija cheese crumbled, for topping
Instructions
Preheat the oven to 200°F.

Add enough oil to a large skillet that it comes to about ¼ to ½-inch in depth. Heat over medium-high heat to 350°F.

Working one at a time, quickly drag a tortilla through the oil and immediately place it on a plate that is lined with paper towels. Repeat with remaining tortillas Cover with a kitchen towel.

Meanwhile, place the shrimp into your food processor. Pulse 4 to 6 times until roughly chopped. Or, use a knife to roughly chop the shrimp.

Transfer the shrimp to a medium bowl and add the chopped jalapeno, onion, cilantro (1 tbsp each), and 1 tsp salt. Stir with a large wooden spoon until fully mixed.

Working one taco at a time, spoon 1 heaping tbsp of the shrimp mixture on one side of the tortilla, leaving about ¼-inch around the edges. Fold over the tortilla and press the edges together. They won't completely seal, but that's okay. Repeat with remaining tortillas and filling.

Working in batches, carefully place the folded tacos in the hot oil. Fry for about 2 to 3 minutes on one side and then carefully flip them over and cook another couple of minutes until golden. Drain on paper towels. Place on a baking sheet lined with a baking rack and keep warm in a low-temp oven.

Place the cooked tacos on a platter and add a layer on top (down the middle of the tacos) of shredded lettuce, roasted tomato salsa, cilantro, and crumbled Cotija cheese. Serve at once with more salsa on the side.
Notes
See the video near the top of the blog post for visual guidance. If you liked the video, please subscribe to our YouTube channel.
Rotisserie chicken or cooked taco meat are delicious substitutes. Our tinga chicken is amazing, too.
The shrimp filling can be prepped up to 24 hours in advance, except, don't stir in the cilantro until just ready to fill the tacos.
These are best served fresh, but still pretty yummy heated up the next day in the microwave, although you'll lose the crispiness. Don't worry, you won't have any leftovers.
Nutrition
Calories: 358kcal | Carbohydrates: 36g | Protein: 27g | Fat: 21g | Saturated Fat: 6g | Polyunsaturated Fat: 2g | Monounsaturated Fat: 3g | Trans Fat: 1g | Cholesterol: 168mg | Sodium: 1428mg | Potassium: 309mg | Fiber: 5g | Sugar: 1g | Vitamin A: 467IU | Vitamin C: 4mg | Calcium: 337mg | Iron: 1mg