Everyone loves a good taco, right? Well, get ready to make (and eat) one of the best in town.
These tacos are always such a hit whenever we serve them. They are great in tacos, but they are also great on tostadas, enchiladas, and flautas. You can poach the chicken as we do, or you can absolutely use a rotisserie chicken from the market. And they are so easy to prepare!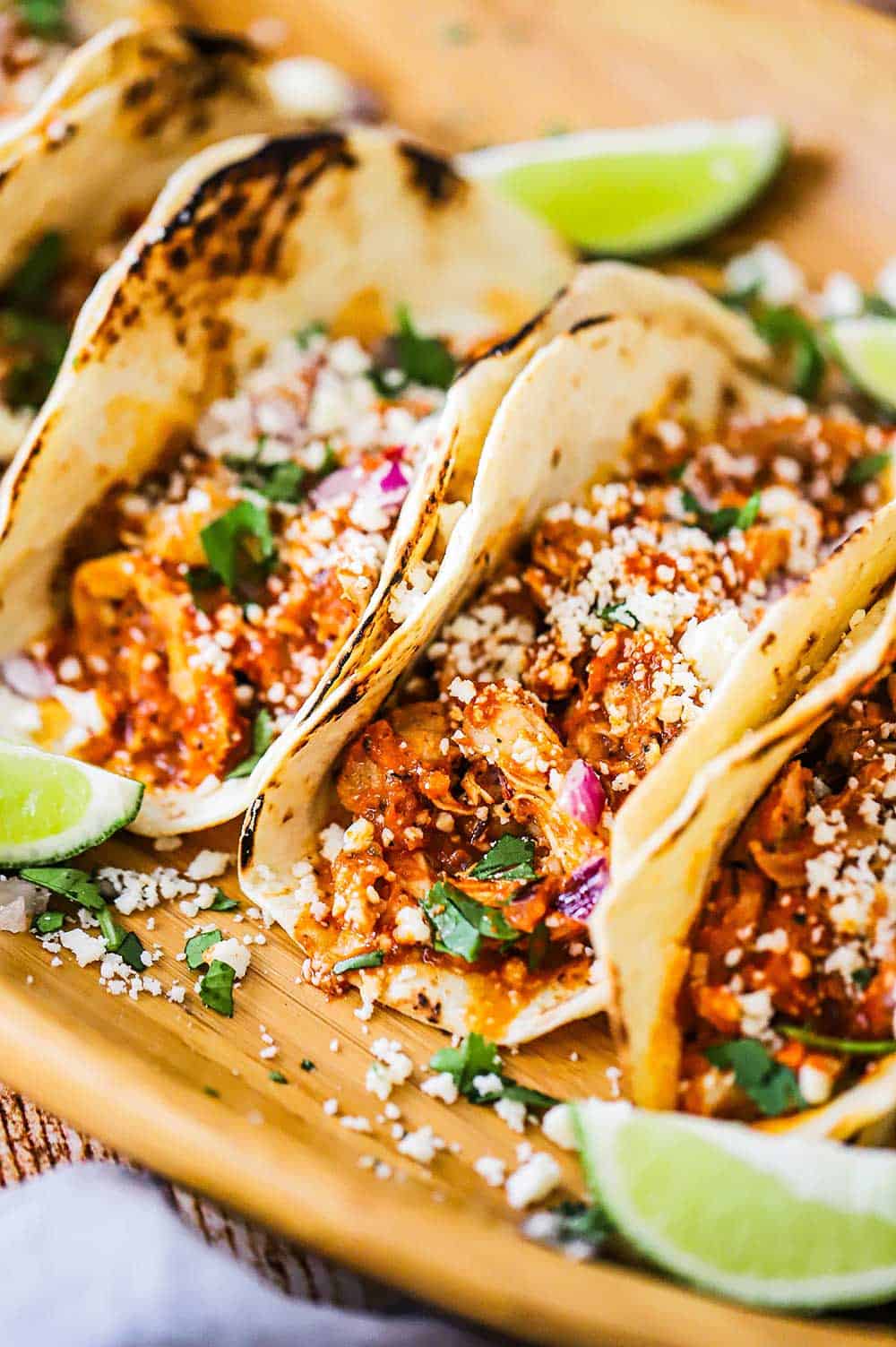 How To Make Chicken Tinga Tacos
Mexican cuisine has a deep and colorful history and is loved around the world, especially in North America.
This chicken tinga recipe is easy to bring together but tastes like you've been slow-cooking it for hours or days.
NOTE: If you liked this video, please subscribe to our YouTube channel. Remember to click the little 'bell' icon so you'll never miss a new video! Thank you!
How to Prepare the Chicken
As mentioned, you can absolutely skip poaching the chicken and purchase a rotisserie chicken from the supermarket. Nowadays, you can even find shredded and/or cubed roasted chicken in the prepared food section of many well-stocked supermarkets. If you go this route, you'll also need some chicken broth for making the tinga.
We love, however, to poach 6 chicken thighs to get incredibly delicious chicken. Our favorite is to go with skin-on, bone-in thighs, however, you could certainly opt for chicken breasts, with or without skin and bones.
EXPERT TIP: After you've poached the chicken in simmering water (with skillet covered), you'll want to carefully remove the chicken with a slotted spoon and let rest until cool enough to handle. Strain the liquid into a heat-proof bowl and keep a cup reserved for the tinga. Save the remaining broth for chicken noodle soup, chicken pot pie, or any recipe that calls for chicken stock.
We love to shred the chicken with our fingers, but a couple of forks will do the trick, too.
The Ingredients You Will Need
Obviously, chicken is a key ingredient for chicken tinga. We've already covered that.
Another key ingredient is chipotle peppers in adobo sauce. These peppers are actually a form of jalapenos and do carry a decent amount of spice. If you like your tacos to have some heat, use two peppers and include the seeds. After chopping the peppers, we use our knife to scrape away most of the seeds. This provides a slightly spicy sauce but is not too hot at all.
The other ingredients include:
Chopped onion
Minced garlic
Canned diced fire-roasted tomatoes (or just regular diced tomatoes)
Dried oregano, preferably Mexican
Bay leaves
Salt and pepper
Chipotle peppers and adobo sauce
EXPERT TIP: Chipotle peppers are typically canned and can be found in the Hispanic section of most well-stocked supermarkets or Latin food markets. You'll only use one or two, but the remaining peppers and sauce and be transferred to a baggie and frozen until the next time you need chipotle.
After you've simmered the tinga sauce, you can purée it or leave it chunky. We pull out our trusty blender and purée the mixture. It coats the shredded chicken beautifully.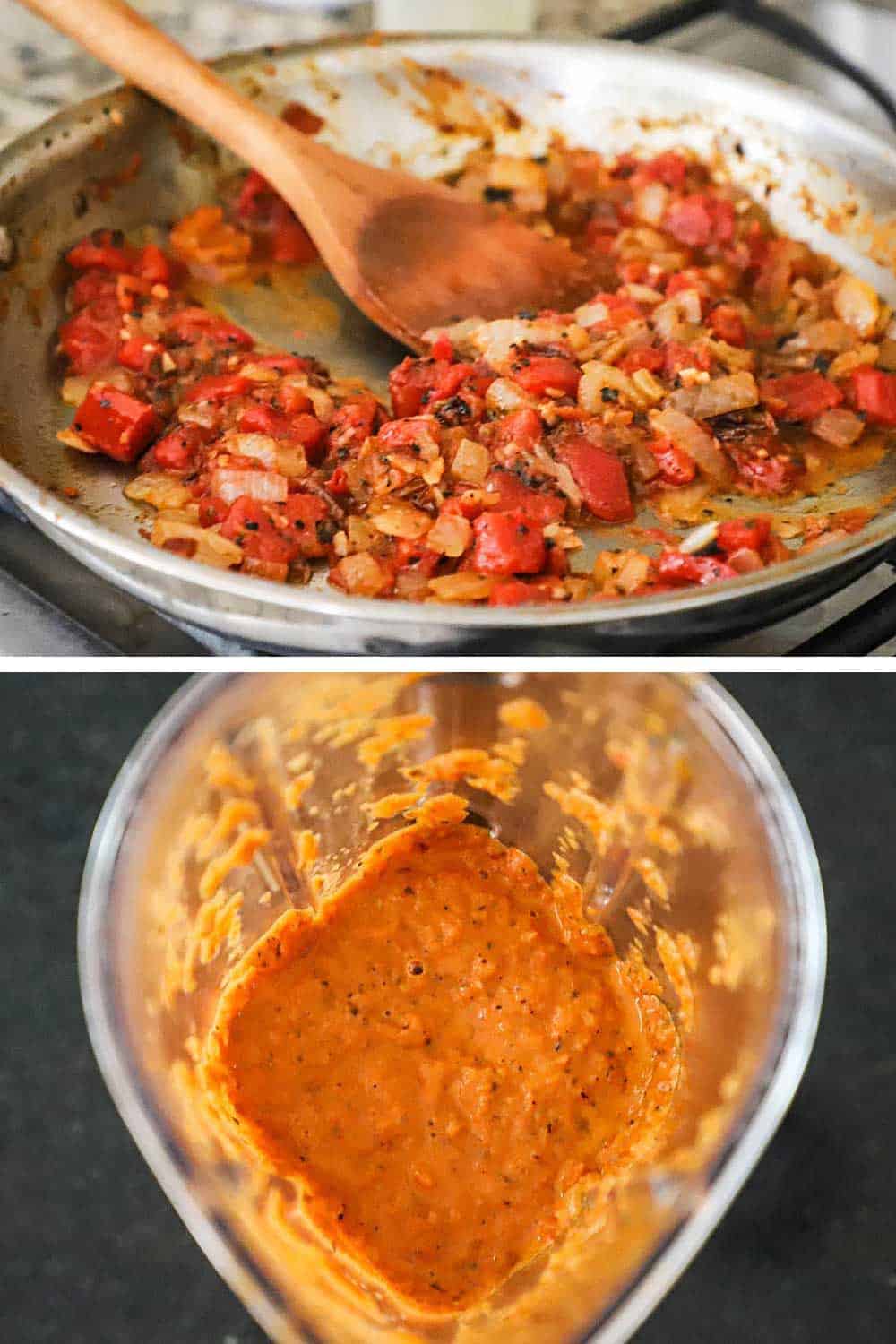 Now, it's time to bring finish up the tinga.
If you've puréed the sauce, carefully add it back into the skillet and stir in the shredded chicken.
Stir in the chicken and then let simmer for only about 5 to 10 minutes.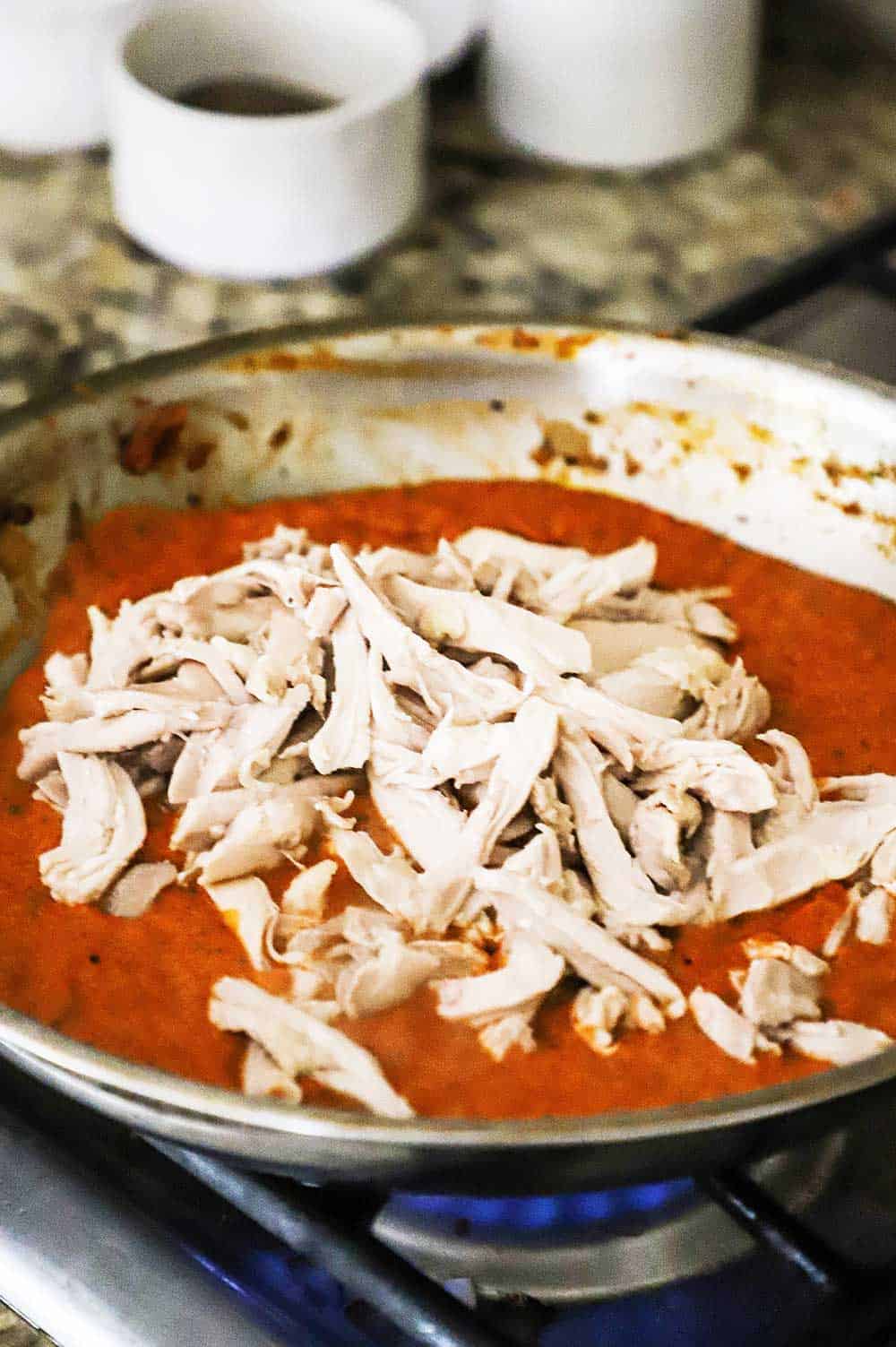 What You Need to Make the Perfect Chicken Tinga Tacos
Tortillas: You can go with flour or corn tortillas. To get maximum flavor, crank up your gas stove or fire up your grill and place the tortillas over the flame for just a few minutes. Get the edges a little charred and then place them on a plate covered with a damp kitchen towel. This adds flavor and slightly steams the tortillas making them nice and pliable.
Toppings: You go with your favorite taco toppings, but our favorites for these tacos are chopped fresh cilantro, crumble cheese (such as Cojita), and finely chopped red onion. Top with your favorite hot sauce. A slice or two of fresh avocado is a wonderful touch, too.
Fresh Limes: These tinga tacos are just begging for a fresh squeeze of lime. Cut a couple of limes into wedges and serve alongside the tacos.
We love to place all of these ingredients in bowls on the table or kitchen island and let family or guests build their own easy chicken tinga tacos.
Other Easy Taco Recipes
We love all kinds of tacos! Here are some of our other favorites:
Crispy Beef Tacos
Pork Carnita Tacos
Mahi Mahi Tacos
Baja Fish Tacos
Korean Beef Tacos with Kimchi
Tostadas are delicious, too! Check out our Best Beef Tostada and Black Bean, Chicken, and Corn Tostada!
But in the meantime, don't you want to sink your teeth into this gem?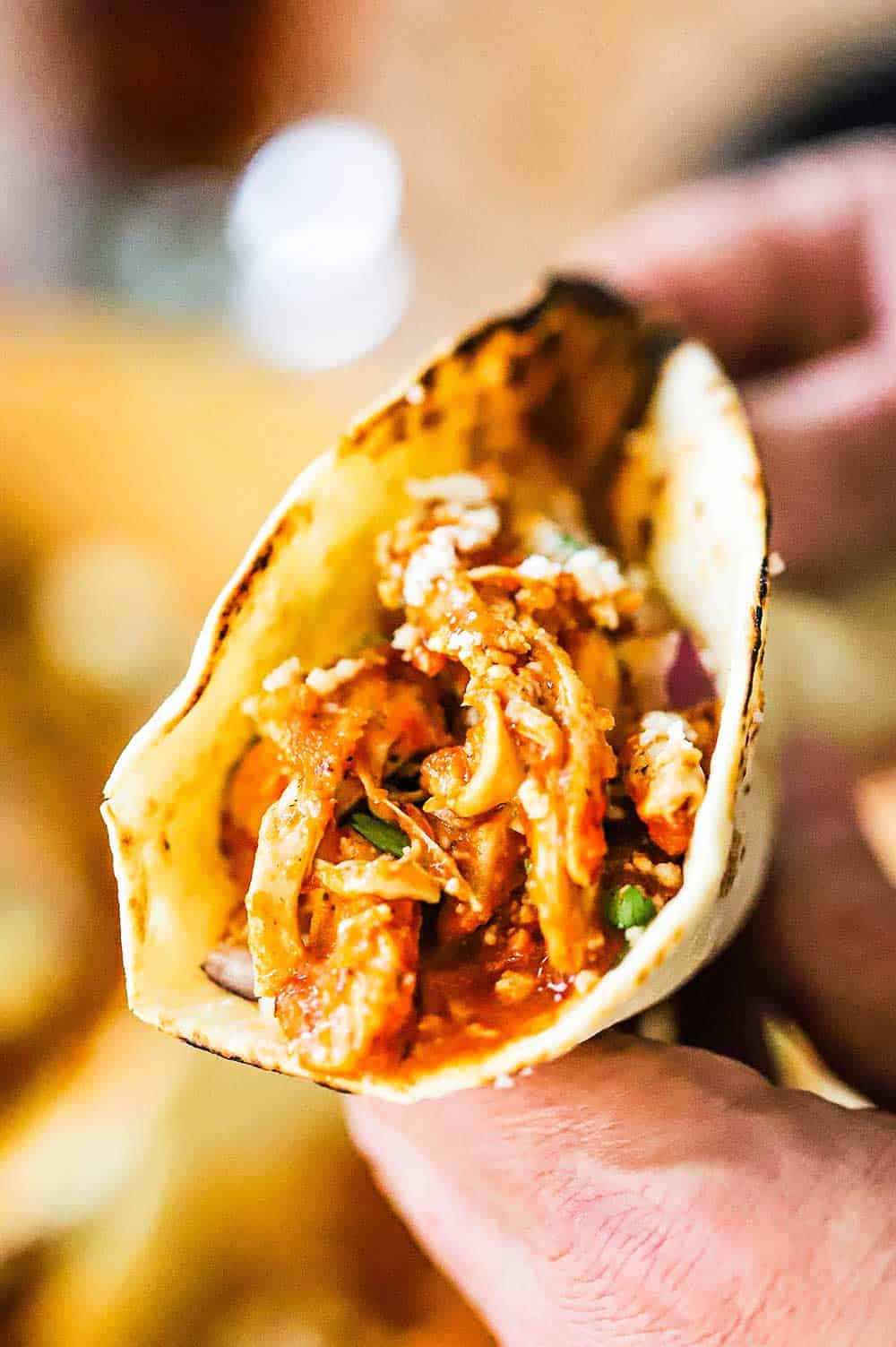 Ready to make the best chicken tinga tacos this side of Puebla, Mexico? Go for it!
And when you do, be sure to take a photo of them, post it on Instagram, and tag @HowToFeedaLoon and #HowToFeedaLoon
Easy Chicken Tinga Tacos
Chicken Tinga Tacos are so easy to prepare and perfect for a weeknight taco dinner as well as a fun taco party. The poached chicken thighs are wonderful, but you could also go with a rotisserie chicken from the store, just be sure to grab some chicken broth, too.
Print
Pin
Rate
Servings: 4
Calories: 491kcal
Equipment
1 large (12-inch) skillet

Blender
Ingredients
For the Poached Chicken and Broth
6 chicken thighs bone-in, skin-on
1 large onion roughly cut up
4 cloves garlic pressed, or minced
1 tsp Kosher salt
Water
For the Chicken Tinga Tacos
1 tbsp olive oil
1 cup onion chopped
3 cloves garlic minced
1 tsp oregano dried, preferably Mexican
½ tsp ground cumin
1 14.5 oz. can fire-roasted diced tomatoes with juices
1 cup chicken broth reserved from the poaching, or purchased
2 tbsp chipotle peppers chopped with some of the seeds removed
2 tbsp adobo sauce from the chipotle can
1 tsp Kosher salt
6 flour tortillas or corn, heated over a gas flame and then covered
½ cup Cotija cheese crumbled, for topping (optional)
¼ cup cilantro fresh, chopped, for topping (optional)
½ cup red onion chopped, for topping (optional)
hot sauce for topping (optional)
Instructions
Poach the Chicken with Broth
Place the chicken, roughly cut onion, pressed garlic, and 1 tsp salt in a large skillet. Add enough water to just cover the chicken.

Bring to a boil and then lower to a simmer. Cover the pan and simmer for 20 to 25 minutes. Use a slotted spoon to remove the chicken to a platter. Let rest until cool enough to handle. Use your fingers, or two forks, to remove the skin and then pull the meat from the bones and roughly shred it. Set aside.

Carefully strain the broth through a colander into a heat-proof bowl and remove 1 cup of the broth to use for cooking the tinga chicken. Save the remaining broth for another use. (It freezes perfectly!).
Make the Chicken Tinga Tacos
In a large skillet (can be the same one use poached the chicken in), heat the oil over medium heat. Add the onions and cook until soft, about 4 to 5 minutes. Add the garlic and cook, stirring often, for another 30 seconds.

Stir in the oregano and cumin. Cook, stirring, for about 1 minute.

Add the tomatoes (with juice), chicken broth, peppers, and adobo sauce. Stir in the salt and add the bay leaves. Let simmer for about 15 minutes.

Remove the bay leaves, and then carefully transfer the tinga sauce to a blender (a ladle helps). Purée for about 1 minute until smooth. Add the puéed sauce back into the skillet. Stir in the chicken and cook, stirring often, until fully heated through, about 5 minutes.

Serve at once with warmed tortillas (see NOTES), cheese, cilantro, red onions, and hot sauce, if desired.
Notes
See the video near the top of the blog post for visual guidance. If you liked the video, please subscribe to our YouTube Channel.
If you use rotisserie chicken, then you'll need to grab some chicken broth. In a pinch, you could just add 1 cup of water to the sauce.
We love to place each tortilla over a gas flame on our stove and lightly char the edges. Then place them on a plate with a dampened kitchen towel to steam them. You could also do this on your grill. Or, just heat them in damp paper towels in the microwave.
The tinga sauce can be made up to 48 hours in advance. Reheat in a large skillet and stir in the chicken.
Leftovers will keep for up to 5 days in the fridge. Reheat in a medium skillet over medium heat (you may need to add a little more broth). Leftovers can be frozen for up to 2 months.
Nutrition
Calories: 491kcal | Carbohydrates: 42g | Protein: 37g | Fat: 22g | Saturated Fat: 8g | Polyunsaturated Fat: 4g | Monounsaturated Fat: 17g | Trans Fat: 1g | Cholesterol: 184mg | Sodium: 3612mg | Potassium: 622mg | Fiber: 6g | Sugar: 9g | Vitamin A: 315IU | Vitamin C: 10mg | Calcium: 229mg | Iron: 4mg