Homemade Flour Tortillas are about as comforting as it gets.
Simple ingredients and a simple process make this a universal favorite.
Perfect for steak fajitas, chicken fajitas, and chicken quesadillas.
And these come together in only about 30 minutes!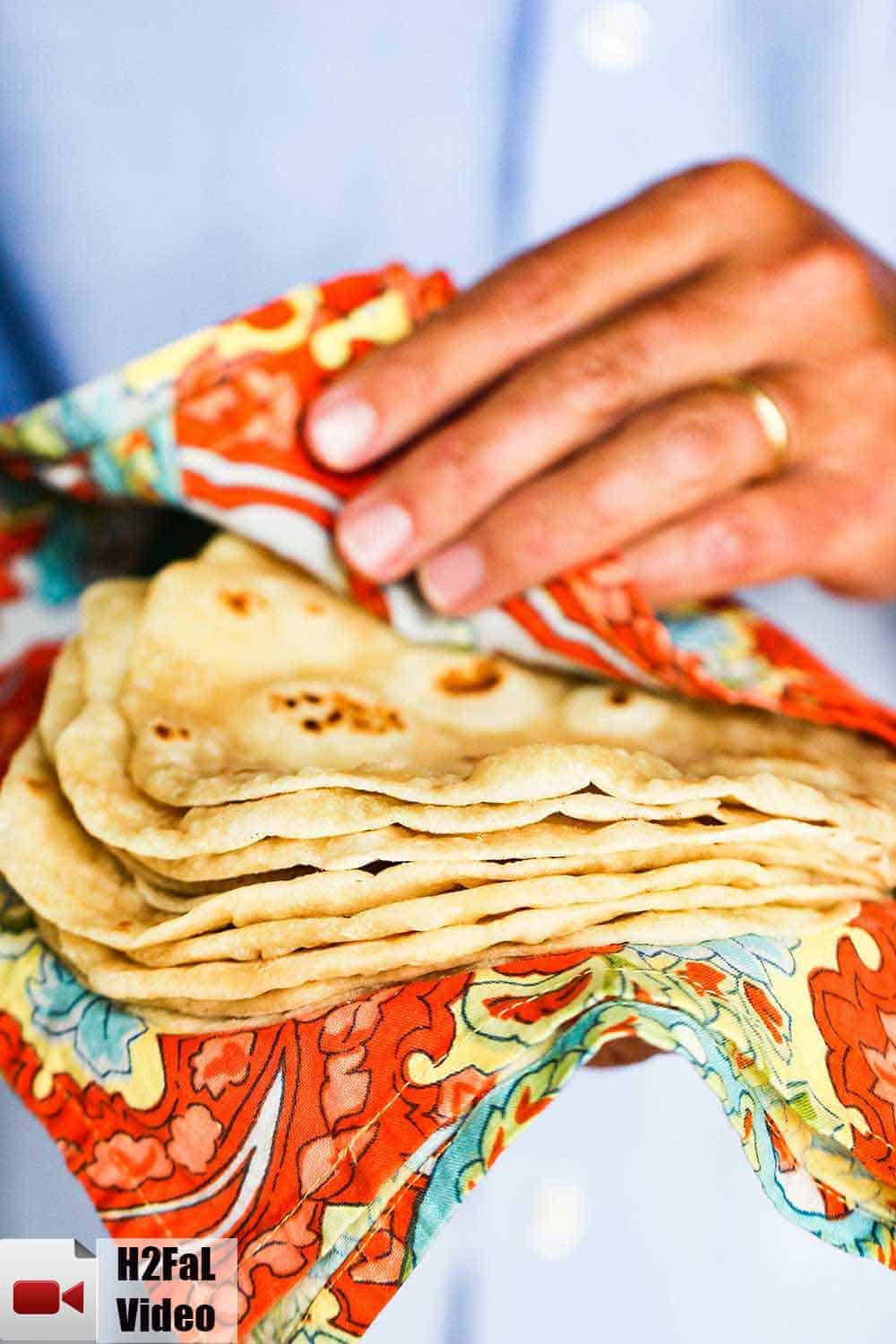 HOW TO MAKE HOMEMADE FLOUR TORTILLAS
Our soft flour tortilla recipe uses a few tools that we find making them just like you get at your favorite Mexican restaurant.
We use our large (11 cup) food processor, as well as a pastry mat and pastry roller. You can certainly substitute a stand mixer or hand mixer for the food processor. And if you don't have a pastry mat, just a cool surface will work, and if no small pastry roller, use a regular rolling pin, or even a sturdy bottle.
Watch us show you how to make authentic flour tortillas at home!
THE INGREDIENTS YOU WILL NEED
We find that using lard for our Mexican flour tortillas yields the softest and best tasting tortilla.
However, you can substitute shortening, if you can't find lard.
Butter or oil would work, too, but won't result in quite as billowy soft tortillas.
After pulsing the flour, baking powder, salt and lard together, you will notice the mixture is a little lumpy.
This is the time to add hot water through the tube of your food processor.
We simply heat the water to very hot in our microwave using a heat-resistant measuring cup. With the motor running on low, carefully pour in the hot water.
HOW TO HANDLE THE DOUGH
After a rough ball has formed in the bowl of the food processor, turn the machine off and lightly flour your hands.
Remove the dough and place on a floured surface and pull off about a golf-ball sized piece of dough. Gently roll into a ball, and place on a slightly floured board.
EXPERT TIP: After you have rolled all of the dough into balls (you should have between 12 and 15 balls), cover them with a damp kitchen towel and let them rest for 15 minutes. This will allow the gluten to settle, as well as keep the dough moist, which will yield softer tortillas.
HOW THICK TO ROLL THE FLOUR TORTILLA DOUGH
After the dough has rested for 15 minute, grab one of the balls and use the palm of your hand to flatten the dough. Press, then turn the dough 90°, and press again. This will help keep the tortilla round.
Use a pastry roller (small or large) to gently roll the dough out to the thickness of about a dime and the diameter of about 6 inches. NOTE: The tortilla will get thicker once it cooks in a hot skillet.
We like to roll all the dough balls out before we start to cook them. However, do NOT stack the uncooked tortillas because they will stick to each other. We recommend stacking them with a piece of wax paper, or parchment paper, between each layer of dough.
Cook in a hot skillet just until air pockets start to form, usually about 1 minute. Flip and cook for another minute. Small brown spots should appear on both sides, too.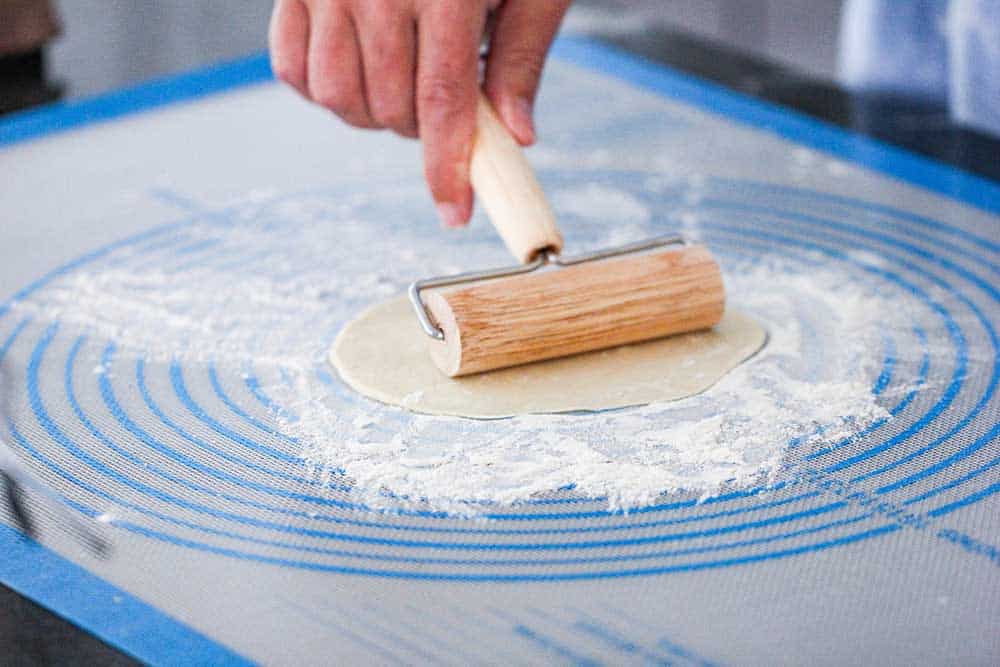 HOW TO KEEP HOMEMADE FLOUR TORTILLAS SOFT
As soon as you have finished cooking each tortilla, transfer them to an insulated tortilla warmer, preferably lined with damp paper towels.
We find that letting the tortillas sit for a few minutes before eating them allows them to soften even more and taste even better.
The homemade tortillas are perfect as they are, but get even better with:
HOMEMADE FLOUR TORTILLA FAQs
How do you keep the tortillas from breaking? Don't over process, knead, or roll the dough. Also, let the dough balls rest for 15 minutes under a damp kitchen cloth. Your skillet should be hot enough so that the tortillas start to get air bubbles along with small brown spots after 1 minute of cooking on each side. All this adds up to soft, tortillas that won't break.
How long can you keep tortilla dough? You can keep the prepared dough in the refrigerator for 1 day, and you can freeze for up to one month. In both cases, let the dough come back to room temperature before rolling out the tortillas and cooking.
How do you re-heat homemade flour tortillas? Simply wrap them in a slightly damp paper towel, or a kitchen towel, and microwave in 30-second intervals until warmed through.
What can I use in place of lard? Pork lard is the most authentic way to make homemade flour tortillas, and we find produce the best taste and texture. However, you can substitute shortening, and still get nice tortillas. You can also use soft butter, or vegetable oil, though the end result won't be quite as fluffy.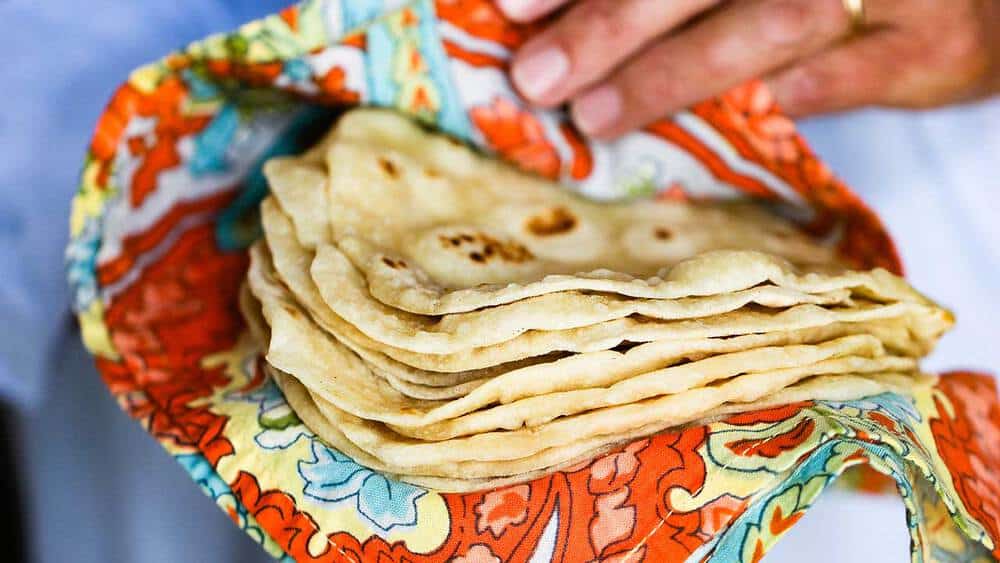 Looking for corn tortilla recipes? Try our Authentic Tex-Mex Enchiladas, Pork Carnitas, or Mahi-Mahi Tacos! In the meantime, whip up a batch of these incredible homemade flour tortillas! And you might also want to make our amazing Corn Tortillas!
When you make them, be sure to take a picture, post on Instagram, and tag @howtofeedaloon and #howtofeedaloon!
Homemade Flour Tortillas
These Homemade Flour Tortillas are so fresh and velvety soft and amazing, especially with fajitas. These are simple to make, but as with just about anything, practice makes perfect. If you can't find pork lard, using all shortening will still work, but the lard lends significantly to the authentic taste and texture.
Print
Pin
Rate
Servings: 8 people
Calories: 256kcal
Equipment
Food processor, or stand mixer, or hand mixer

Pastry roller

Tortilla warmer
Ingredients
3 ½ cups all-purpose flour
2 tsp baking powder
1 tsp Kosher salt
1/3 cup lard or shortening
1 ¼ cup hot water
Instructions
In the bowl of a large food processor, add the flour, baking powder, and salt. Pulse a few times to combine.

Add in the lard and pulse again until incorporated, about 30 seconds.

With the motor running on low, add the hot water (should be hot, not just warm) through the tube of the food processor. Process just until a rough ball forms.

Lightly flour your hands and remove the ball onto a floured surface. Form small balls with your hands approx. the size of a golf ball. Place on a floured cutting board and cover with a damp kitchen towel. Let rest for 15 minutes.

One at a time, take a dough ball and gently flatten with the palm of your hand, turning to a 90° angle, and pressing again, to keep the dough round. Use a pastry roller to roll out the dough to about 6 inches in diameter and very thin, about the thickness of a dime.

After each dough is rolled out, stack them up, placing a small sheet of wax or parchment paper between each.

Heat a non-stick, or cast iron skillet, or comal pan (flat cast iron griddle), over medium-high heat.

Carefully pick a rolled out tortilla with your fingers and carefully tranfser to the hot skillet.

Cook until air pockets, or bubbles, begin to form. Usually about 1 minute. Flip the tortilla. Small brown spots should appear on the cooked side. Cook for about another minute then transfer to a tortilla warmer lined with a slightly damp cloth. Once finished with all dough balls, let the cooked tortillas rest for about 5 minutes.

Serve at once, or re-heat the tortillas in the microwave wrapped in a damp cloth in 30 second intervals.
Notes
If you do not have food processor, you can follow the steps using a stand mixer or a hand mixer. Shortening can be substituted for the lard, however the taste and texture will not be quite as authentic. Do not over process, or over knead, or roll the dough. Over handling the dough will result in a chewier tortilla. Be sure to let the balls of dough rest for 15 minutes under a damp kitchen towel before rolling them out. We find that letting the cooked tortillas rest for about 5 minutes before serving allows them to soften even more.
Nutrition
Calories: 256kcal | Carbohydrates: 42g | Protein: 6g | Fat: 3g | Saturated Fat: 1g | Sodium: 293mg | Potassium: 185mg | Fiber: 2g | Sugar: 1g | Vitamin A: 75IU | Vitamin C: 1mg | Calcium: 66mg | Iron: 3mg
POST UPDATE NOTE: This was originally posted June, 2017, but was updated with tweaks to the recipe, new photography, and new video in September, 2019.