Authentic Steak Fajitas have become legendary in our house, and for good reason.
You'll want to marinate the steak overnight. Before grilling, make sure you have the classic fajita accompaniments: best-ever guacamole, pico de gallo, easy refried beans, and homemade flour tortillas. These fajitas are the real deal!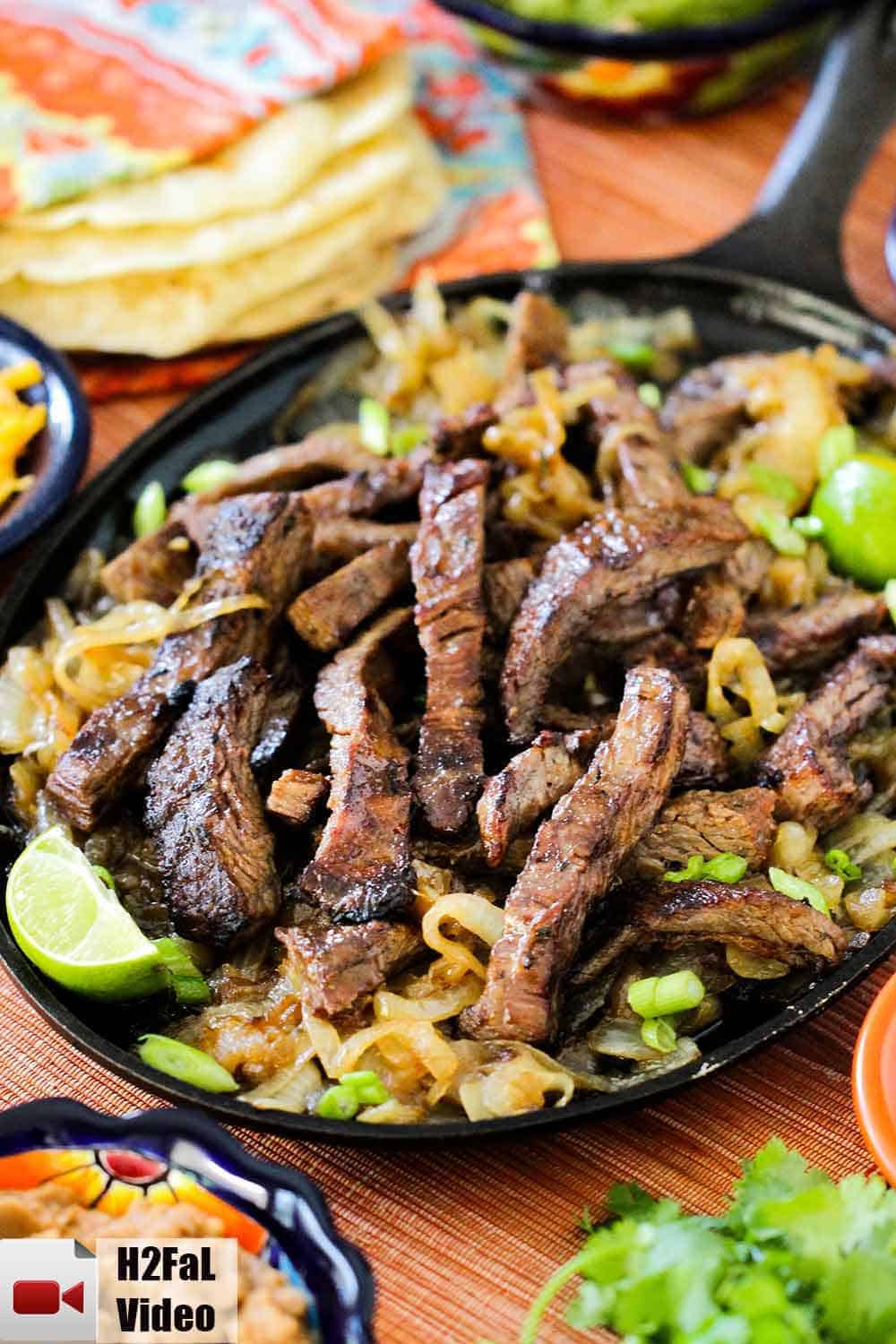 HOW TO MAKE AUTHENTIC STEAK FAJITAS
We've got a few tricks up our sleeves to truly put these steak fajitas over the top on the delicious meter.
We'll go over them in detail, but we feel a good steak fajita is better than the sum of its parts. Stay with us…you'll see what we mean.
Watch us who you how to make authentic steak fajitas at home!
CHOOSING THE RIGHT MEAT FOR STEAK FAJITAS
Skirt steak is the traditional (and original) cut of meat that was used when steak fajitas were first developed by Mexican ranchers in South and West Texas in the early 1930s. It was an inexpensive piece of meat that is high in flavor but not tender, at all.
As fajitas made the quantum leap from obscure campfire fare in South Texas to universal appeal in the 1970s and 80s, different types of meat began to appear on restaurant menus.
Though skirt steak was still most common, other tender were used as well, ranging from ribeye, sirloin to strip. When prepared properly, we still love the original…skirt.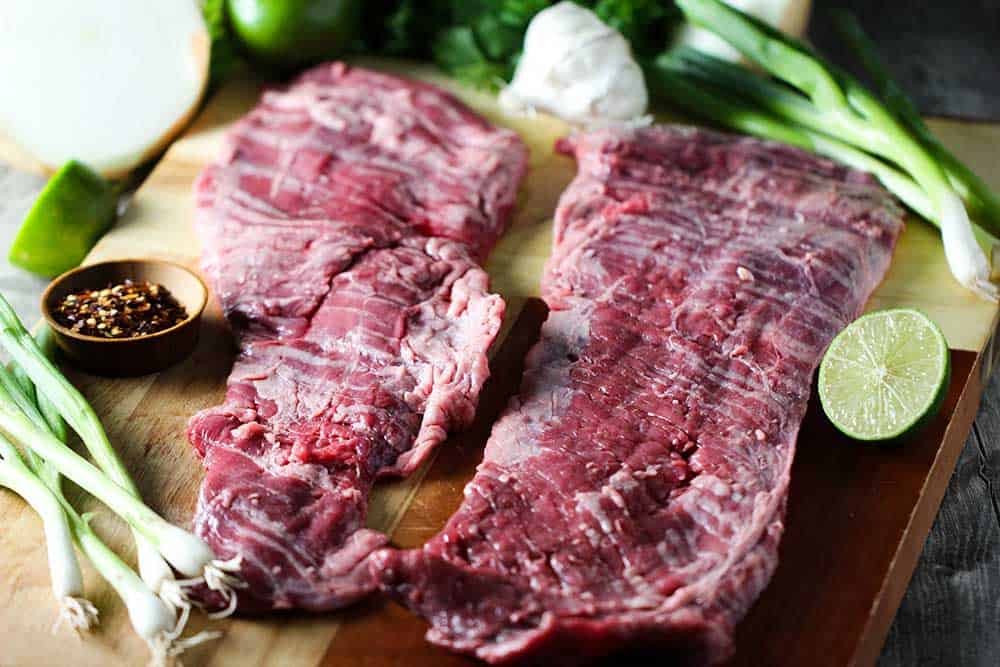 MARINATING THE MEAT IS ESSENTIAL
In order to break down the connective tissue in skirt steak, it is imperative to marinade the meat in a citrus-based marinade for hours, preferably over-night.
We use fresh lime juice as the basis for our marinade. Fresh aromatics such as scallions (green onions), garlic, cilantro and coriander deepen the flavor as it marinates.
EXPERT TIP: If you can, turn the meat over at least once while marinating. Maybe once before bedtime and then again the next morning. This will help to completely re-distribute the marinade and further help to tenderize the meat.
INGREDIENTS NEEDED FOR THE FAJITA SEASONING
Authentic steak fajitas are nicely seasoned. You can certainly purchase decent fajita seasoning from most well-stocked markets, but when you make your own, you know EXACTLY what's going onto your steak.
For our homemade fajita seasoning, we simply mix together:
Chili powder
Smoked paprika
Beef bouillon cube, crushed
Onion and garlic powders
Cayenne pepper
Cumin
Corn starch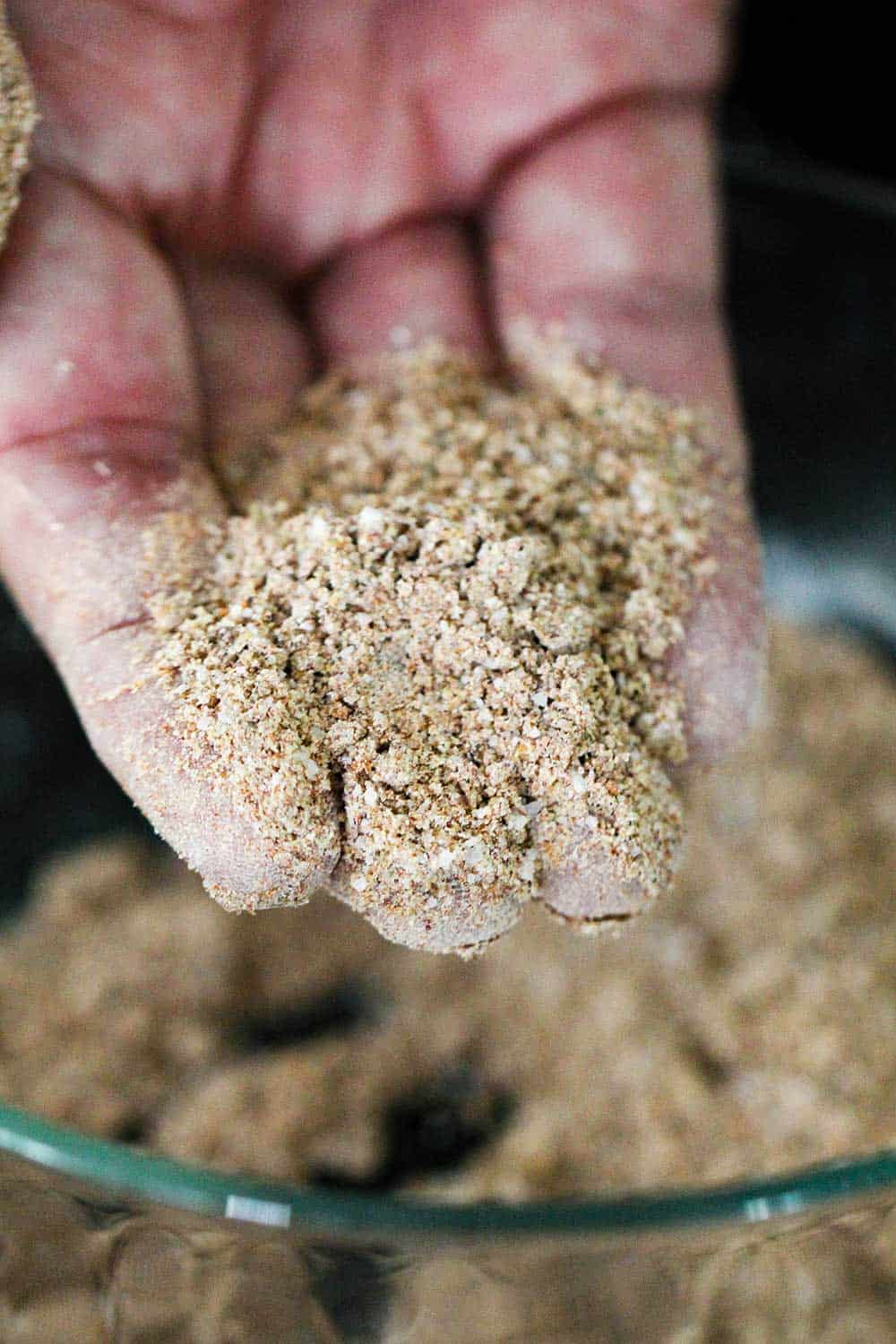 HOW TO CARAMELIZE ONIONS
One of the key components of our authentic steak fajitas are caramelized onions.
Start these early. Simply take two large white, or yellow onions, and slice them. Don't worry, two may seem like a lot, but they cook down considerably.
Cook them in a large skillet with oil for about 20 to 30 minutes, until very, very soft and turning a nearly dark golden brown.
EXPERT TIP: To bring out the umami taste in these onions, add a few splashes of low-sodium soy sauce while they are cooking. Trust us on this. The taste, matched against the sweetness of the caramelized onions is off the charts delicious.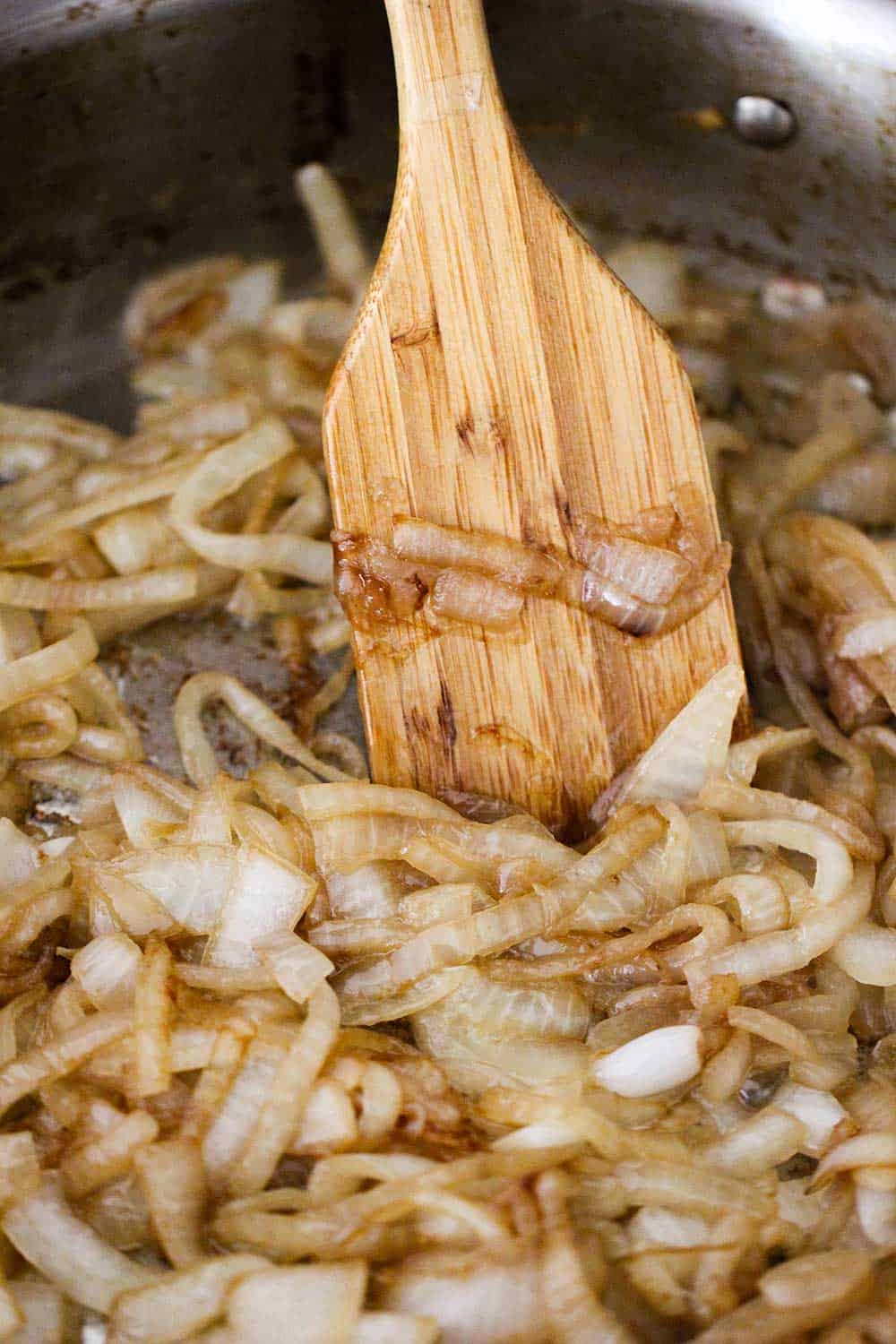 When you are ready to cook the meat, we recommend firing up your gas or charcoal grill to nice and hot. Alternatively, you can cook the meat in a large (preferably cast iron skillet).
Remove the meat from the marinade and you can generously sprinkle the fajitas seasoning all over the meat before you place on the grill, ors right after its heat the grates (or pan).
You want the meat to get a nice char on the outside, but stay pink on the inside. Internal temp of 140°F is a beautifully medium cooked steak. And the smell….um…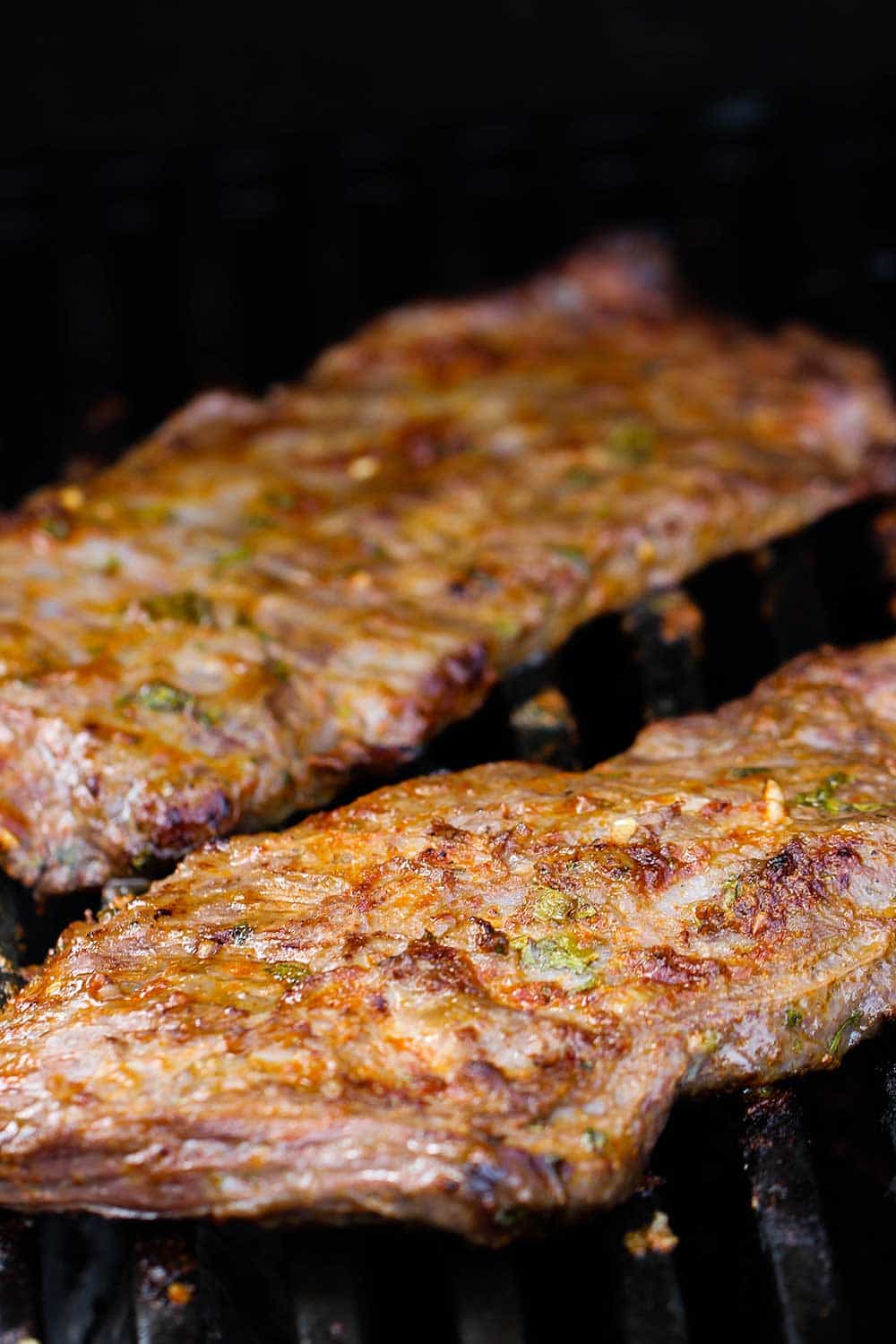 HOW TO SLICE STEAK FAJITA MEAT
This is important for creating a tender bite of fajita, every time. Cut against the grain.
You will see the strands of meat that run the length of the steak, this is called 'the grain.' You want to cut the meat in the opposite direction of the grain.
You will probably need to cut the skirt steak in half, before slicing against the grain.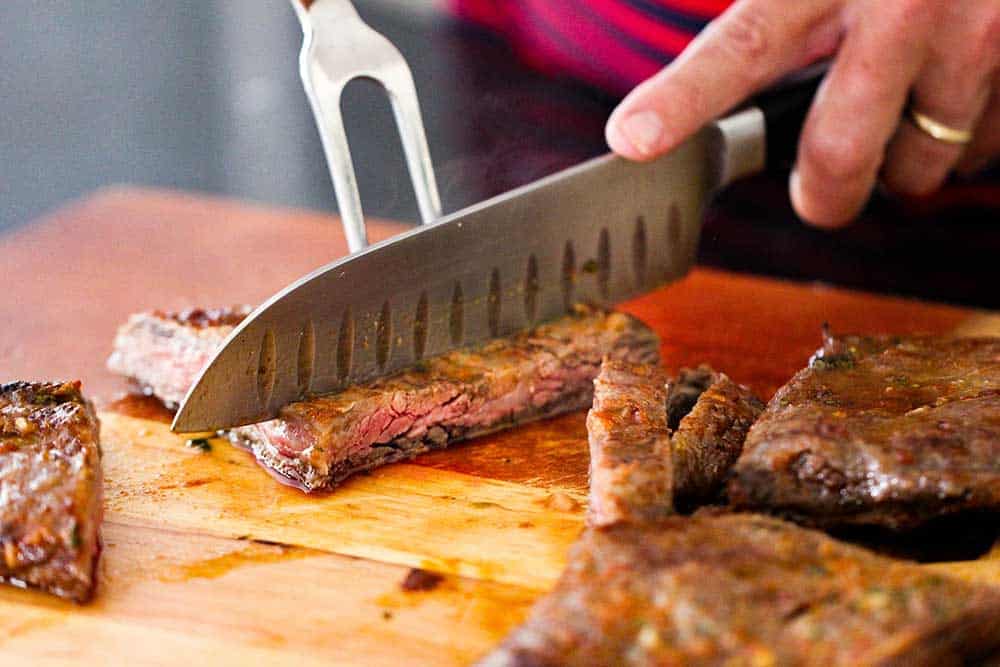 Before you slice the meat, be sure you've got the fajita accompaniments ready to go and on the table. We always serve our authentic steak fajitas with:
Easy refried beans
Guacamole
Sour cream
Shredded cheddar cheese
Pico de gallo
Salsa
Homemade flour tortillas
HOW TO SERVE AUTHENTIC STEAK FAJITAS
It's almost showtime, folks! After you've got all the fixins' ready to go, and you've slice your meat, and the onions are cooked…heat a fajita skillet/pan, or any sturdy skillet, over medium-high heat for about 5 minutes. We want that pan hot! (But be careful when handling! Don't burn yourself!).
Next, transfer the onions to the hot skillet and then top with meat and immediately bring to the table.
You want these fajitas to sizzle! The meat mixed in with the sizzling hot onions just adds even more flavor!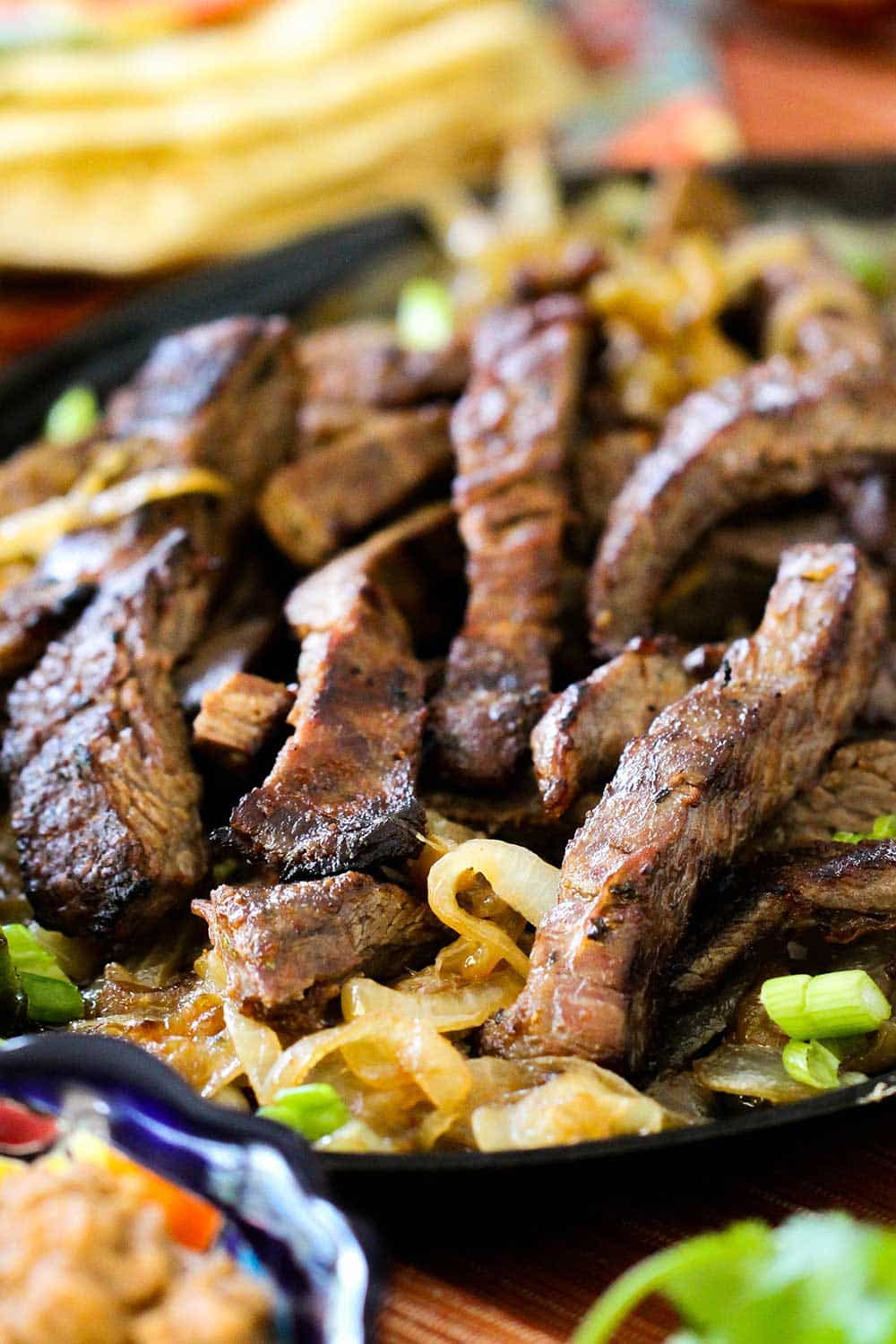 AUTHENTIC STEAK FAJITAS FAQs
What if I can't find skirt steak? You can certainly use ribeye, or sirloin, or a strip steak, but that's going to cost a little more, but won't require as long as a marinating period (only about 2 to 4 hours would be needed). Flank steak works really well, and should be marinated for at least 6 hours. Avoid London broil or brisket for steak fajitas.
Can I do chicken instead of steak? Of course! We love our chicken fajitas! It's a similar recipe, just require less marinating. You can also grill deveined and cleaned shrimp to use, or go completely vegetarian with grilled mushrooms and peppers!
How far in advance can I marinate the meat? We wouldn't recommend more than 18 hours. Otherwise, the meat will begin to break down and not have the desired texture. You can make the marinade up to several day in advance.
Can the recipe be doubled or tripled? Of course! Just plan accordingly! You may not use all of the fajita seasoning, but what you don't use will keep for weeks in a container with a tight-fitting lid.
Ready for authentic steak fajitas? YES!!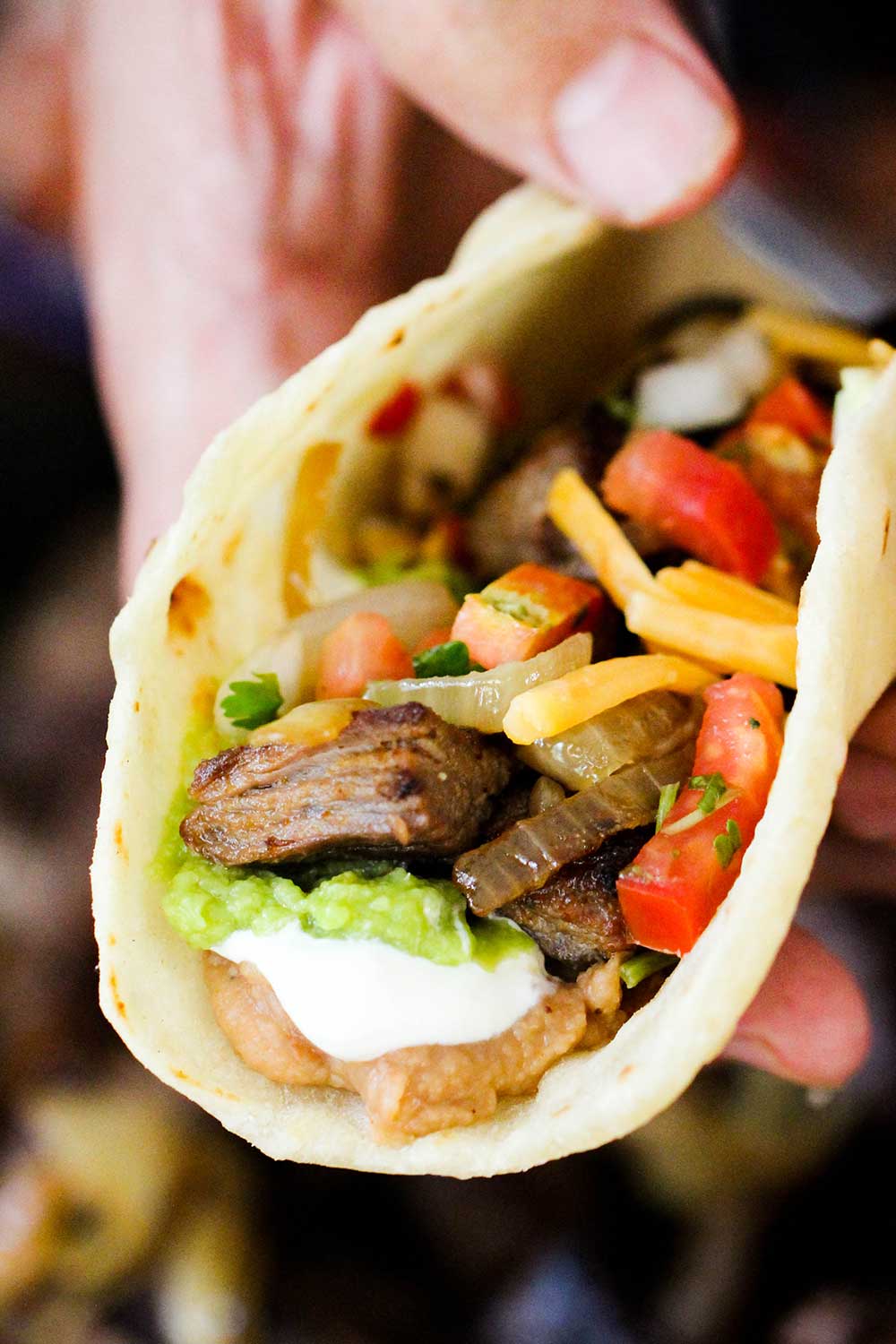 All right folks, it's fajita time! This is hands-down one of our very favorite meals to prepare, and we get massive rave reviews every time we serve it.
And when you make them, be sure to take a picture, post on Instagram, and tag @howtofeedaloon and #howtofeedaloon!
Authentic Steak Fajitas
These Authentic Steak Fajitas are the real deal. Be sure to use skirt steak, marinate it overnight, saute the onions until nicely caramelized, and use fresh flour tortillas with homemade pico de gallo. Just amazing.
Print
Pin
Rate
Servings: 6 people
Calories: 432kcal
Ingredients
1 ½ lbs skirt steak
Juice 3 limes you'll need about ½ cup
2 scallions diced
3 cloves garli minced
3 tbsp cilantro fresh, choped
2 tsp vegetable oil
1 tsp red pepper flakes
¼ tsp coriander ground, optional
2 large onions sliced
3 tbsp vegetable oil or lard
1 tbsp soy sauce
FAJITA SEASONING
1 tbsp cornstarch
2 tsp chili powder
1 tbsp salt
1 tsp smoked paprika
1 beef bouillon cube crushed
1/2 tsp onion powder
1/2 tsp garlic powder
1/4 tsp cayenne pepper
¼ tsp cumin ground
THE FIXIN'S
10 flour tortillas warmed
Refried beans warmed
Sour cream
Guacamole
Shredded cheddar
Pico de gallo
Salsa
Instructions
Whisk together the lime juice, scallions, garlic, cilantro, oil, red pepper flakes, coriander.

Place the meat in a large dish, flat. Pour the marinade over the steak, cover, and refrigerate for 8 to 12 hours, flipping 1 or 2 times.

Heat the oil (or lard) in a large non-stick skillet. Add the onions.

Cook for 15 minutes, stirring occassionaly

Add the soy sauce and cook for another 20 minutes, caramelizing the onions. They should turn soft and and a nice brownish color. Set aside.

Mix together all ingredients of the fajita seasoning in a medium bowl.

Prepare a medium-hot grill.

Remove the steak from the marinade and liberally sprinkle the seasoning all over the meat.

Use tongs to place the seasoned meat over direct heat. Cook until lightly charred on the outside, but still pink on the inside. Approx. 4 minutes per side. Internal temperature should be between 135°F and 145°F.

Bring in the steak and cut into 1/4 inch strips against the grain.

Place your fajita pan (or sturdy skillet) on the stove over medium high heat to heat completely. About 4 to 5 minutes.

Add the caramelized onions to the hot pan (be careful...they will sizzle!)

Then place the meat on the onions. Bring to the table and squeeze fresh lime over the fajitas.

Serve with warmed tortillas and all the fixin's.
Notes
If using skirt steak, marinate for at least 8 hours, preferably overnight. If using a more tender cut of meat, such as ribeye, you will only need to marinade for a couple hours. The onions can be made in advance (up to 1 day) and re-heated in a large skillet. Cut the cooked meat against the grain. Look for strand in the meat. You'll want to cut perpendicular to these strands. You may need to cut the steak in half first. You don't want the strips to exceed 1 to 2 inches. Re-heat fajitas and onions in a skillet over medium heat. They are delicious the next day!
Nutrition
Serving: 8g | Calories: 432kcal | Carbohydrates: 34g | Protein: 30g | Fat: 9g | Saturated Fat: 4g | Cholesterol: 71mg | Sodium: 1932mg | Potassium: 536mg | Fiber: 3g | Sugar: 5g | Vitamin A: 624IU | Vitamin C: 5mg | Calcium: 80mg | Iron: 4mg