Brace yourself…this recipe for Amazing Chicken Pot Pie is almost too good to mention.
But I will.  This is comfort food at its all-time best.
Watch us show you how easy it is to make Amazing Chicken Pot Pie!  
If you can, go with homemade chicken stock, it really makes all the difference. And roasting the chicken delivers the most flavorful and succulent chicken possible.
Add that with the other classic chicken pot pie ingredients, and you've got something really special on your hands!
And, of course, homemade pie crust…is the perfect top for this perfectly amazing and super comforting dish.
Take the time, and be sure to make the Perfect Pie Crust. You will be so glad you did!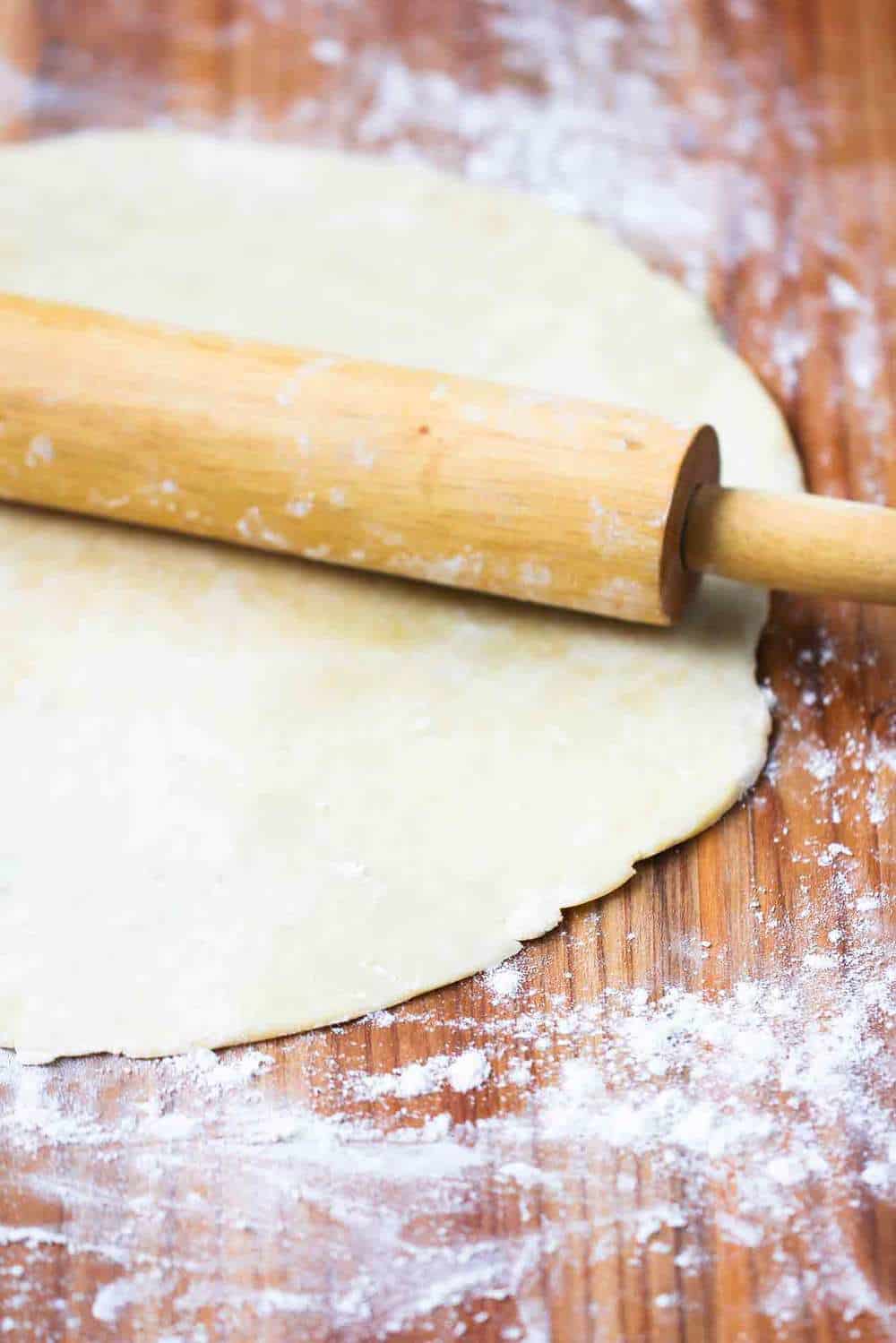 After the filling thickens and cooks to perfection, it will be difficult for you to not want to eat just a bowl full of the filling!
The Loon says it's like amazing "Pot Pie Soup." He's right…but it's not finished yet!
An egg wash on the top of the dough ensures a golden beautiful crust when it comes out of the oven!
Mmmmmmm!
Just a quick peek!!
Everything comes together to make hands-down the best tasting chicken pot pie recipe you'll ever know.
This is chicken pot pie recipe is absolutely the best!
This is without doubt, an all-time favorite of both The Loon and me.  Amazing Chicken Pot Pie!!  %150 Loon Approved!
Now, let's make this Amazing Chicken Pot Pie recipe!

Amazing Chicken Pot Pie
Get ready...this Amazing Chicken Pot Pie recipe really is...amazing. If you can, use
homemade stock
and
homemade pie crust
. You simply will not believe how good this is. This is hands-down one of our all-time favorites. Make it! You'll love it!
Author: Kris Longwell, adapted from Ina Garten
Recipe type: Main
Cuisine: American
Serves: 4
Ingredients
4 whole chicken breasts, bone-in, skin-on
¼ cup of good olive oil
Kosher salt
Ground black pepper
5 cups of homemade chicken stock, or homemade turkey stock
2 chicken bouillon cubes
12 tablespoons of (1½ sticks) of unsalted butter
8 oz. (about 1 & ½ cups) chopped mushrooms (shiitake are nice)
2 cups of yellow onions, chopped
¾ cup of all-purpose flour
½ cup of heavy cream
2 cups of carrots, ¼" slices, - blanched in boiling water for a couple minutes
1 cup of frozen peas
½ cup of chopped flat-leaf parsley
1 egg, beaten with 1 tablespoon of water (for egg wash)
Instructions
Pre-heat oven to 375 degrees F
Place chicken breasts on a baking sheet and rub with oil. Sprinkle generously with salt and pepper.
Roast for 65 minutes (internal temp should be 165 F) - set aside until cool enough to handle.
Remove meat from bones and discard the skin - cut the chicken into large bites.
Heat the stock in a medium pan. Dissolve the bouillon cubes in the stock.
In a large skillet, melt the butter over medium-high heat and add the onions and mushrooms, cook until translucent - about 15 minutes.
Add the flour and cook over low heat, for about 2 minutes.
Add the hot stock to the sauce, simmer for another minute or somewhat until thickened.
Add 1 teaspoon of Kosher salt, ½ teaspoon of black pepper, and heavy cream.
Add the cubed chicken, carrots, peas, and parsley. Mix well.
Taste and add more salt, if needed.
Pour filling into 4 oven-proof bowls.
Brush egg wash around the top edges of the bowls.
Cut the dough so it fits over the top of each bowl, with about a half inch lip around the sides. (if desired, cut additional decorative leaf-like shapes to add on top of the pot pies)
Place cut dough on top of each bowl. Press the sides against the edges of the bowl.
Brush the dough with egg wash, and then sprinkle with coarse salt (sea salt, or Kosher) and freshly ground black pepper.
Make 3 or 4 slits in center of each dough topping.
Place on baking sheets and bake for 45 minutes.
Let rest for at least 15 minutes (filling is extremely hot!!)
Enjoy!!