Roasted Chicken Stock has the ability to elevate your recipes to amazing heights.
Next time you use a rotisserie chicken, or enjoy a batch of chicken wings…don't throw away those bones! You won't believe the difference roasted chicken stock will make in your Chicken Pot Pie, Chicken and Dumplings, and White Chili with Roasted Tomatillos & Chicken!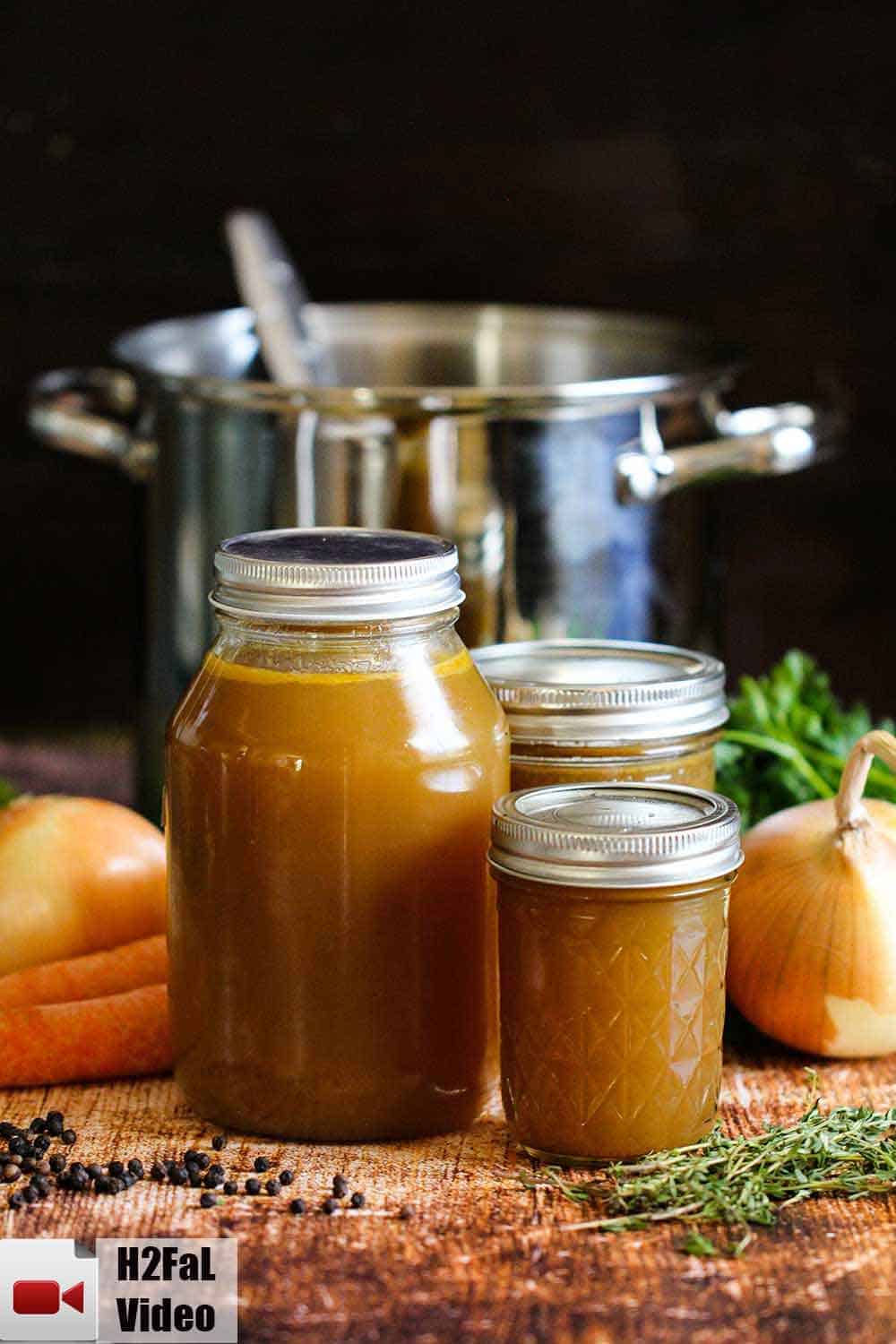 ROASTED CHICKEN STOCK IS EASY TO PREPARE
All you need is a few hours to make this recipe that the Loon refers to as "liquid gold."
Roasting the bones deepens the flavor of the stock, which greatly enhance any recipe that calls for chicken stock. Bone broth has bee utilized for many generations throughout the ages.
Watch us show you how easy it is to make Roasted Chicken Stock!
THE INGREDIENTS YOU WILL NEED
The beauty of roasted chicken stock is that the ingredients are not that numerous and are truly farm-to-table in nature.
We like to roast the bones at a high temperature (450°F) with a combination of roughly chopped onions, carrots and celery for 40 minutes. After 20 minutes, use a wooden spoon to move the bones and veggies around in the pan.
EXPERT TIP: For this recipe, you'll need between 3 to 4 lbs of bones. That's usually the carcass of two rotisserie chickens, and a handful of chicken wings or legs. You can easily remove the chicken meat from a couple rotisserie chickens and freeze until ready to use. Get in the habit of not throwing away chicken bones. Freeze them and then use them for making stock! Don't worry if a little meat is left on the bones. It will all roast beautifully and just add to the flavor.
Below, see pre-roasting, and then post-roasting. This is getting really good!
SIMMER WITH HERBS AND AROMATICS
Now, it's time to make the stock.
Simply transfer the roasted bones and vegetables to a large stock pan and add enough water to cover by a couple inches.
EXPERT TIP: For even more flavor, add a couple cups of water to the roasting pan after you've transferred the bones and veggies to the stock pan. Use a sturdy spatula to scrape up the stuck-on bits on the bottom of the pan. If there are deeply burnt or charred bits, don't scrape them up, as they may impart a slightly burnt taste to the stock.
We like to add fresh herbs (such as thyme) and black peppercorns for even deeper flavor.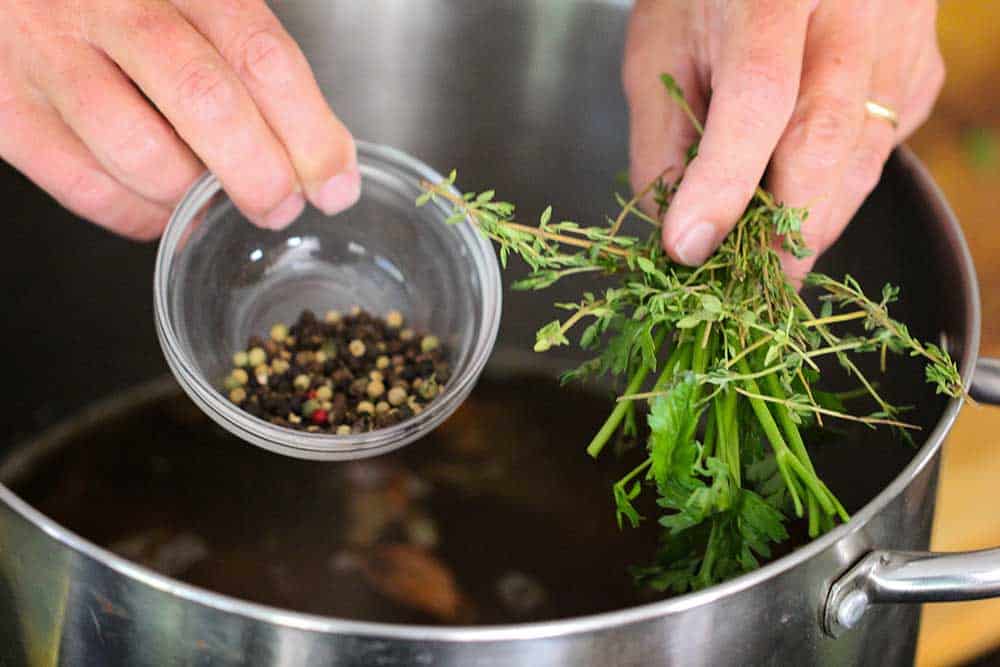 HOW TO STRAIN THE ROASTED CHICKEN STOCK
As the stock simmers, you may notice some frothy impurities bubbling on the surface. Simply grab a small sieve, or even a large spoon, and skim until it is no longer there.
It's important to strain the stock once it has simmered for several hours. We first very carefully strain the stock through a fine-mesh colander into another pot.
A second straining isn't 100% necessary, but we find staring the liquid one more time through a colander lined with cheese cloth, or using a Chinoise, helps to get a beautiful, silky stock.
ROASTED CHICKEN STOCK FAQs
Can I use turkey bones? Yes! Use the same recipe with you Thanksgiving turkey! Or, use a combination of turkey and chicken bones. You will get an amazing, rich stock.
Can I use the stock immediately after it has been strained? We recommend letting the stock completely cool in the refrigerator, usually overnight. A thin layer of congealed fat will most likely form on the surface of the stock. Use a spoon to remove the fat. At this point, the stock is ready for use.
What types of recipes are best for this stock? Soups and gravies, without a doubt. Any recipe that calls for chicken stock or broth is the perfect time to pull out your roasted chicken stock!
How long will the stock keep? You can keep the cooled stock in the refrigerator for up to 1 week. The stock freezes beautifully for up to 3 months. Depending how much water you add to the stock pan, the amount of stock you'll get will vary, but you should have enough to freeze multiple containers of it for future use.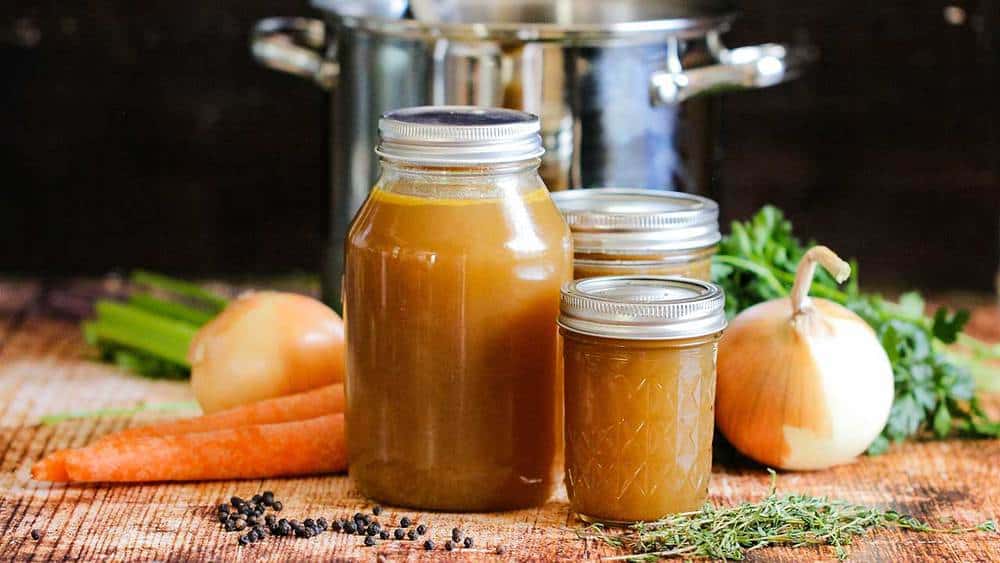 Ready to take your favorite soups and anything that calls for chicken stock to the next level? Go for it!
And don't forget, when you make this amazing Roasted Chicken Stock, be sure to take a picture, post on Instagram, and tag @howtofeedaloon and #howtofeedaloon!
Roasted Chicken Stock
This recipe for roasted chicken stock delivers such a deeply flavored broth for your favorite soups, gravies, or any recipe calling for stock/broth. Be sure to save those poultry bones and freeze until ready to make this incredible stock!
Print
Pin
Rate
Servings: 12
Calories: 40kcal
Equipment
Large roasting pan.

Large stock pot (preferably 12 to 16 quart) - or a couple smaller pots
Ingredients
3 to 4 lbs chicken bones or turkey, roughly broken down
3 onions quartered, skins left on
2 large carrots roughly cut, no need to peel
3 stalks celery roughly cut
Kosher salt
Black pepper freshly ground
2 tbsp olive oil
4 sprigs thyme fresh
1 bunch flat-leaf parsley fresh, stems only
¼ cup peppercorns whole, black
Instructions
Pre-heat oven to 450°F.

Place bones, onions, carrots, and celery in a large roasting pan. Generously sprinkle salt and pepper all over. Add the oil and toss until well coated.

Place in the oven and roast for 40 minutes, stirring the contents of the pan once after 20 minutes.

Transfer the roasted bones and vegetables to a large stock pot. Add enough cool water to cover by 2 inches.

Add 2 cups water to the roasting pan and use a spatula to scrape up bits that are stuck to the bottom of the pan. Pour into the stock pot. (If the bits are extremely burnt and charred, skip this step)

Add the thyme, parsley stems, and peppercorns to the pot.

Simmer over medium heat for 4 hours, skimming any impurities that may appear on the surface.

Carefully strain the stock into another large pot through a fine-mesh seive. Discard the solid items.

If desired, strain again through a very fine mesh Chinoise, or colandar lined with cheese cloth.

Place in the refrigerator and let cool for 4 hours, or overnight. Use a large spoon to skim off congealed fat that has formed on the surface of the stock.

Use at once, or store in airtight containers. Store in the refrigerator for up to 1 week, or freeze for up to 3 months.
Notes
You can also use a turkey carcass, or turkey bones, or a combination of chicken and turkey. Or, just use all chicken bones. Be sure to stir the bones and veggies at least once during the roasting process. This will help to eliminate burnt bits on the bottom of the pan, which you don't want when you deglaze the pan with water before adding to the stock pan. If you do have overly-burnt bits, then skip the de-glazing step. If you prefer your stock to be salted, add salt, 1 tsp at a time, after you have strained the liquid. Taste and add more until desired seasoning is reached. We like to strain the stock twice. Once through a regular colander, and then a second time through a fine-mesh sieve, Chinoise, or colander lined with cheesecloth. This second straining isn't 100% necessary, but ensures a smooth and silky stock. To prevent messy spillage, we place a pot in a large pan, or sink, before pouring the stock through the strainer. Just in case some of the stock doesn't make it into the 2nd pot, the pan will catch the spillage. We divide the stock into several different containers, usually about 2 to 3 cups each. This way, you only have to thaw the amount you need for your next recipe, rather than thawing out the entire batch, which will most likely be more than you will need. Keep stock in the refrigerator for up to 1 week and in the freezer for up to 3 months.
Nutrition
Calories: 40kcal | Carbohydrates: 4g | Protein: 1g | Fat: 2g | Saturated Fat: 1g | Sodium: 20mg | Potassium: 131mg | Fiber: 1g | Sugar: 2g | Vitamin A: 2466IU | Vitamin C: 10mg | Calcium: 22mg | Iron: 1mg