White Chili with Tomatillos and Chicken.
This is truly one of the most comforting and heart-warming bowls of yumminess we've ever made.
Deep in flavor, so hearty, and very easy to make. What could be better than that?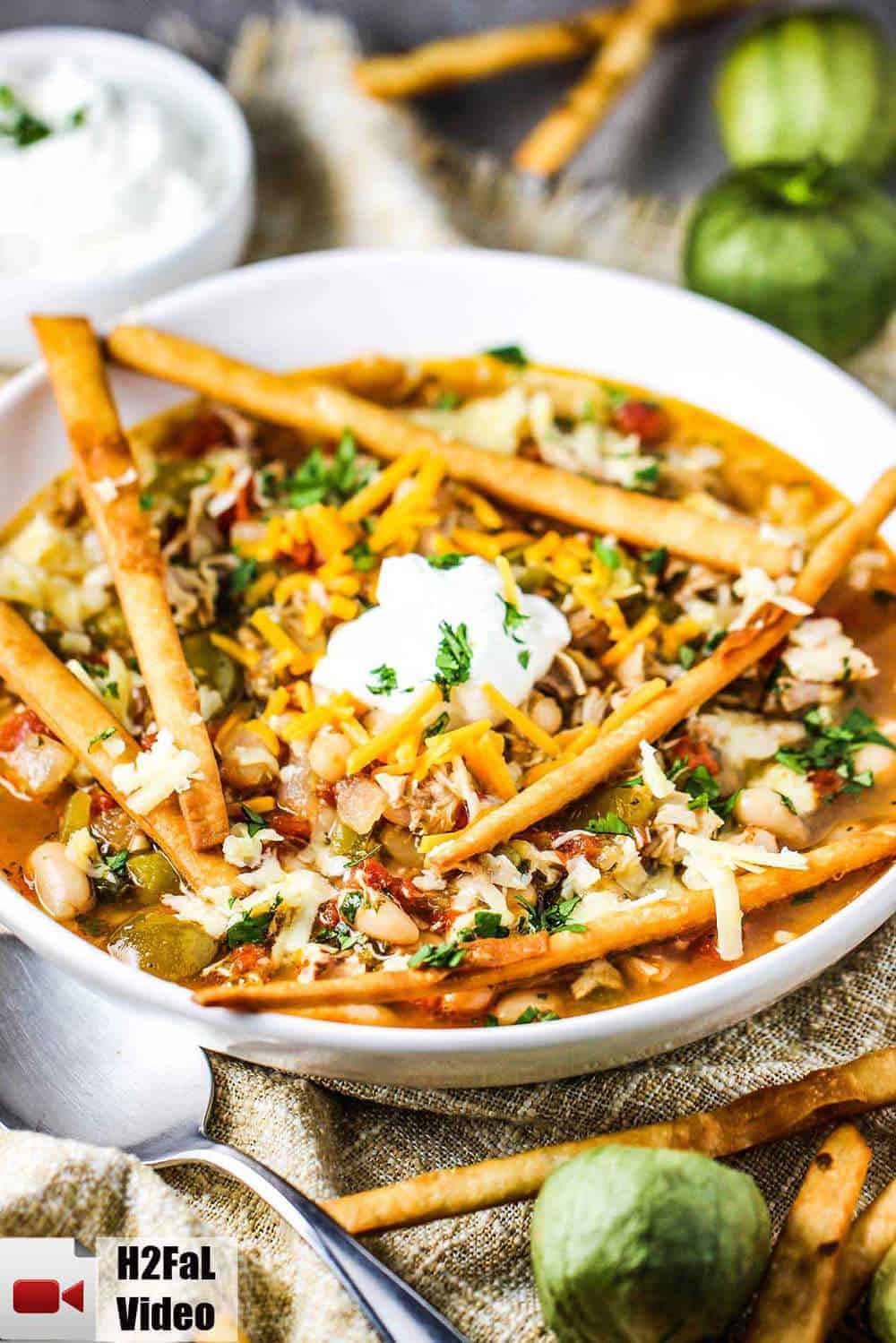 WHITE CHILI WITH TOMATILLOS AND CHICKEN IS EASY TO PREPARE
Using a rotisserie chicken from the supermarket makes this dish come together in a short amount of time.
We love making this white chili!
Watch us show you how easy it is to prepare this White Chili with Tomatillos and Chicken!
The ingredients in this chili work beautifully together.
If you can't find fresh tomatillos, you could substitute chopped green bell pepper.
If you can't find Ro-tel, you can usually find canned tomatoes with chiles from another brand. If not, just go with two 15 oz. cans of stewed tomatoes.
REMOVE THE HUSKS FROM THE TOMATILLOS AND ROUGHLY CHOP
As the tomatillos cook, they become very tender and delicious.
If you like your chili a little on the spicy side, use two finely chopped jalapeños, instead of just one.
The smell, as you build the chili, is amazing. But just wait for the taste.
The white beans give the chili its white appearance.
You can use white beans, Great Northern beans, or cannellini beans.
If you choose to use dried beans, be sure to soak them overnight. We find for this recipe, canned beans work great.
FRIED FLOUR TORTILLA STRIPS ARE THE PERFECT GARNISH
We love to get three or four flour tortillas and cut them into strips.
A pizza cutter makes this a snap.
We love corn tortillas, but we find flour works wonderfully with this White Chili with Tomatillos and Chicken.
Simply take a nice sturdy pan and fill it with about 1 inch of vegetable oil.
Once the oil is shimmering, toss in a handful of the tortilla strips.
They are ready once they become a golden brown. Remove and place on a plate lined with paper towels.
WHITE CHILI WITH TOMATILLOS AND CHICKEN IS A FAMILY FAVORITE
I honestly don't remember where I got this recipe from, but I have been making it for many years, and it never disappoints.
It was one of those dishes that tastes like it slow-cooked for hours on end.
When actually, it all comes together and is ready to eat within about 30 to 40 minutes.
As with most chilis, this is even better the next day.
We love to serve it with the fried tortilla strips, a dollop of sour cream, and some shredded cheddar and Monterrey jack cheese.
Comfort at its best.
This is one dish you will be so happy you made.
And so will your loved ones.
Aren't you just dying to have a big 'ole spoonful of this incredible White Chili with Tomatillos and Chicken? We thought so. Now, if you're looking for a traditional red chili, you've got to try our amazing Texas Red Chili! But in the meantime, you're going to flip for this chili! Just look at that bowl of yumminess!
White Chili with Tomatillos and Chicken
This White Chili with Tomatillos and Chicken is the most comforting bowl of yumminess. Tomatillos can be found in the produce section of most well-stocked food markets. However, if you can't find them, you can substitute chopped green bell pepper. And this comes together in 30 to 40 minutes! So good!
Print
Pin
Rate
Servings: 6 people
Calories: 296kcal
Ingredients
2 tbsp olive oil
1 medium onion chopped
3 cloves garlic minced
2 cans Ro-tel or canned tomatoes with chiles
6 tomatillos skin removed and roughly chopped
1 jalapeno seeded and finely chopped
2 cups chicken stock
1 7 oz. can green chiles chopped
2 cups cooked chicken rotisserie works well
1 tsp dried oregano
1 tsp ground cumin
1/4 cup fresh cilantro chopped
2 19 oz. cans white beans, drained or Great Northern or cannellini,
1/4 cup fresh lime juice
Kosher salt and freshly ground black pepper
Sour cream for garnish
Cheddar cheese and Monterrey Jack cheese shredded, for garnish
Flour tortilla strips lightly fried in oil
Instructions
Fry the tortillas strips in oil until golden brown. Drain on paper towels. Set aside.

Heat the olive oil in a large skillet (or Dutch oven) over medium-high heat.

Add the onion and sauté for about 5 minutes, until softened. Add the garlic, and cook for 1 to 2 minutes longer.

Add the tomatoes, tomatillos, and jalapeño. Cook until the tomatillos are tender, stirring occasionally, about 10 to 12 minutes.

Add the chicken stock, green chiles, chicken, oregano, cumin, cilantro, beans, and lime juice.

Simmer for about 10 minutes, season with a healthy pinch of salt and pepper. Taste and adjust seasonings, if necessary.

Ladle the chili into serving bowls. Serve garnished with a dollop of sour cream, shredded cheese, and fried tortilla strips.
Nutrition
Calories: 296kcal