This Best-Ever Turkey Chili just makes you feel good. It' delicious. And it's good for you!
The Loon and I always say it really warms our cockles. Yes, it's that's good. It's so comforting.  So deep in flavor and just amazing. Let this simmer for a couple of hours on the stove or slow cook in your slow-cooker.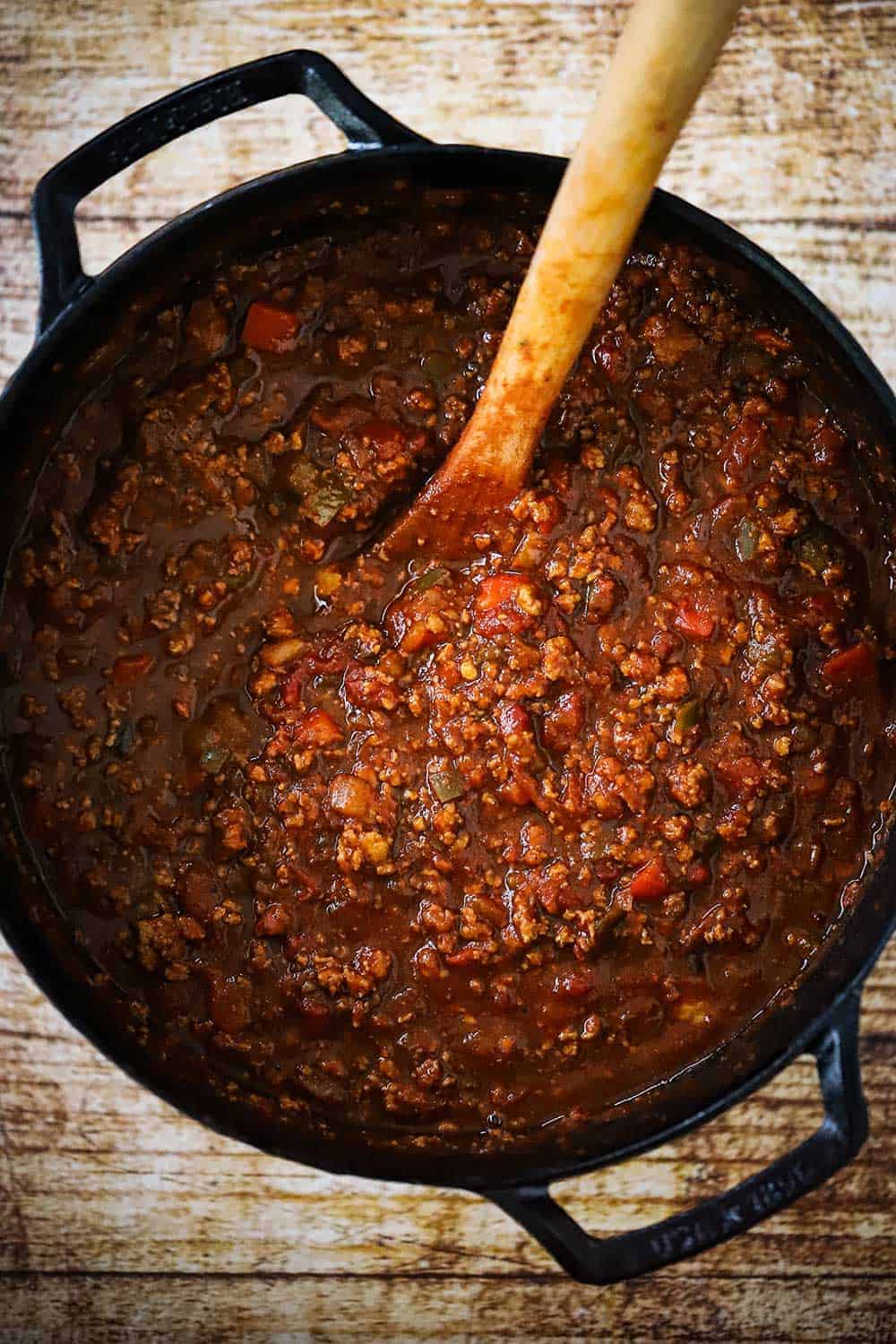 HOW TO MAKE THE BEST-EVER TURKEY CHILI
We know it's a bold statement to call this "Best Ever."
But folks, wait until you try it! We love our Texas Chile (which is loaded with ribeye steak), but this turkey chili is amazing, too!
Prep all the ingredients, and then it's simmering time! So flavorful and loaded with nutritional value!
MAKING GROUND TURKEY FLAVORFUL
If you're looking for a healthier alternative to beef or pork, then ground turkey is an ideal protein for chili.
Some folks may be concerned there's not enough flavor as beef. That's a legitimate concern. But, this recipe sidesteps that issue and brings full-on chili flavor.
Cook the ground turkey in a large skillet and season with salt and pepper, then add into the chili party.
Your house will smell so good, and then when you have your first bowl…oh boy.  Whip up a batch of Cowboy Cornbread, and you'll be in Heaven.  So good.  And healthy, too!
This chili is so heartwarming and is perfect when the temperatures are dropping outside.
And it is with so many dishes, this turkey chili just gets better with time. It will keep perfectly in the fridge for up to 1 week, and the flavors get deeper as they sit! Yum!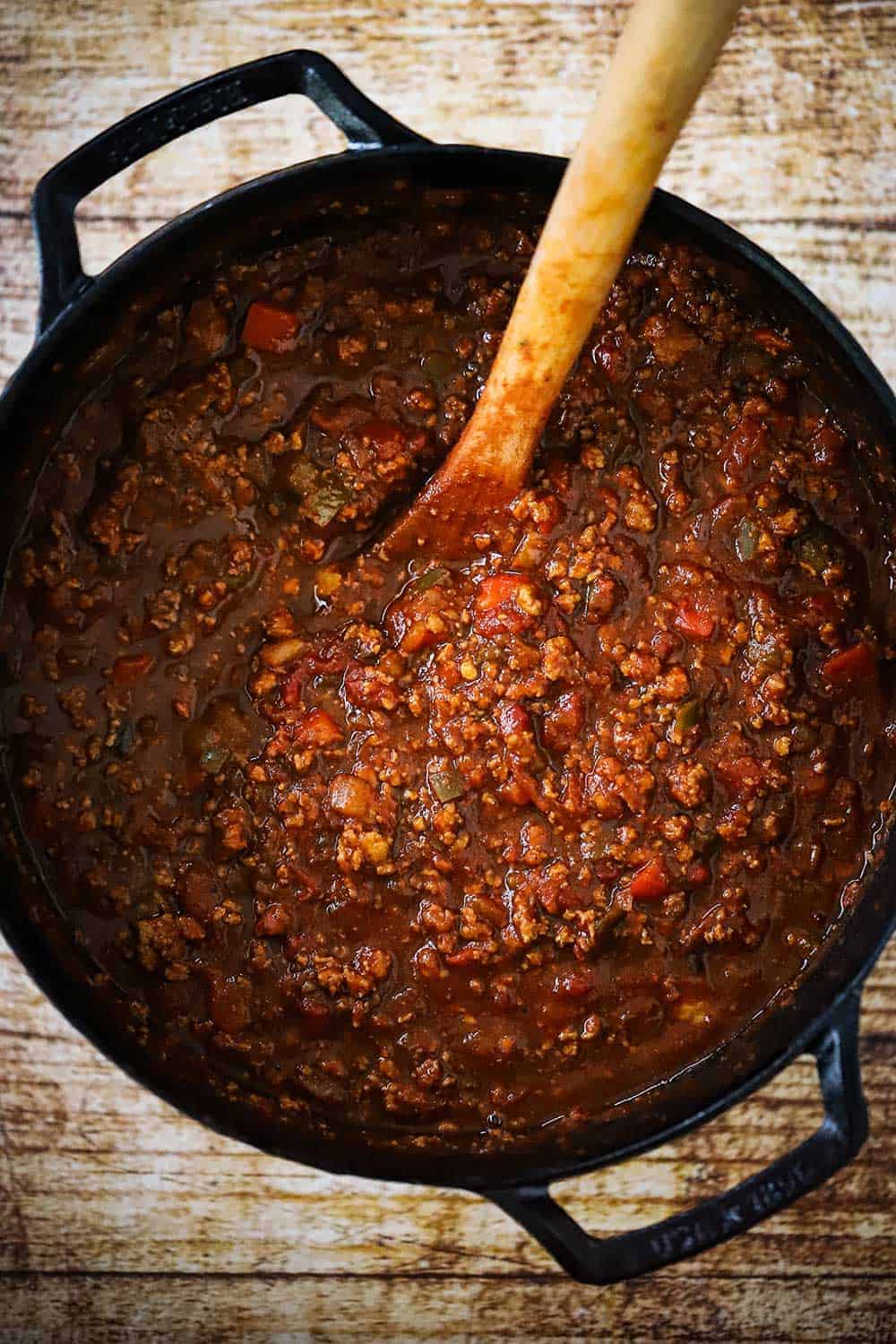 Ready to make the most delicious (and healthy) chili in town? Go for it! And when you do, be sure to take a picture, post it on Instagram, and tag @howtofeedaloon with hashtag #howtofeedaloon!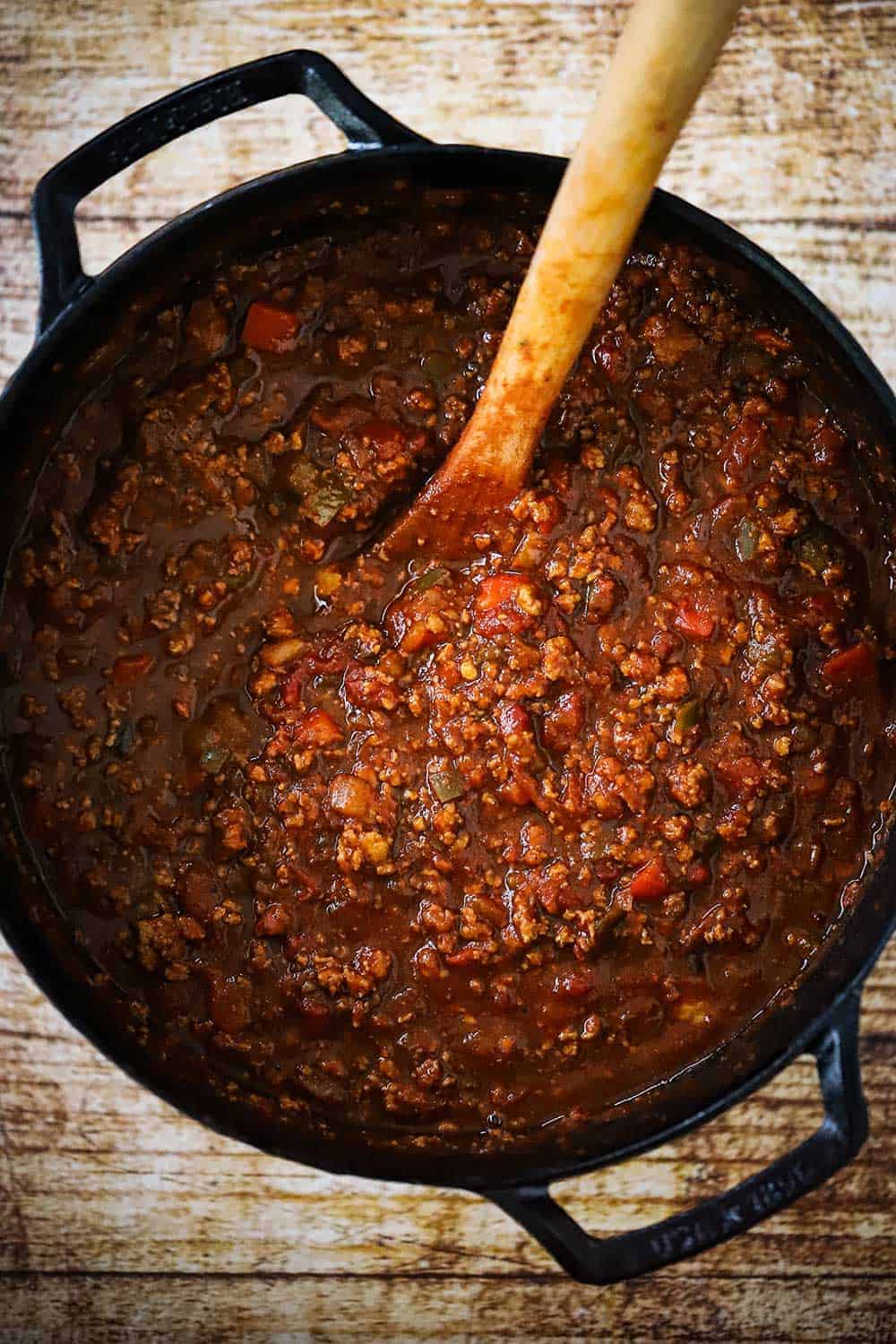 The Best-Ever Turkey Chili
This truly is the best-ever turkey chili. So flavorful, chock full of pure deliciousness. It really will warm your cockles. And isn't that good to know? The best-ever turkey chili.
Print
Pin
Rate
Servings: 8 people
Calories: 308kcal
Ingredients
2 lbs ground turkey 85% lean
2 tbsp smoked paprika plus salt and pepper, to taste.
2 tbsp olive oil
2 red bell peppers cored and chopped
2 green red peppers cored and chopped
1 large yellow onion chopped
4 jalapenos 1 cored, seeded, and diced...use the other 3 for cooking in the chili
1 green chilies small can, chopped
2 28 oz tomatoes whole, San Marzano are great
1½ cups chicken stock or vegetable
14.5 oz. tomato paste
2 tbsp red wine vinegar
2 tsp hot sauce ie, Tobasco or Crystals
4 tbsp chili powder
2 tbsp ground cumin
1 tsp Adobo seasoning
1 tbsp Kosher salt
1 tsp ground black pepper
1 tbsp garlic powder
1 tsp cayenne pepper or more, to taste
½ cup Grated cheddar cheese for garnish (optional)
½ cup Finely chopped onion for garnish (optional)
½ cup sour cream for garnish (optional)
Instructions
Heat the olive oil over medium heat in a large pot, preferably a Dutch oven

Add the peppers and onion

Saute until soft, about 8 minutes.

Meanwhile, cook the ground turkey in a large skillet

Add 1 tablespoon of the paprika, and a few pinches salt and pepper.

Drain in a colander once cooked.

Add the turkey to the cooked veggies.

Meanwhile, pulse the whole tomatoes in a food processor.

Add the chopped chilies.

Add the tomatoes plus juice to the turkey/veggie mixture.

Add the stock.

Add the tomato paste.

Add the vinegar, hot sauce, chili powder, cumin, Adobo, salt, pepper, garlic powder and cayenne, plus the remaining tablespoon of smoked paprika

Let simmer for about 2 hours over low-medium heat...stirring occasionally.

Serve with cheese, onions and sour cream (if desired).
Nutrition
Calories: 308kcal | Carbohydrates: 21g | Protein: 34g | Fat: 7g | Saturated Fat: 2g | Cholesterol: 79mg | Sodium: 1573mg | Potassium: 1204mg | Fiber: 6g | Sugar: 11g | Vitamin A: 4150IU | Vitamin C: 61mg | Calcium: 128mg | Iron: 5mg