A bowl of this deeply flavorful chili just makes you feel good. It's delicious. And it's good for you! What could be better than that?
The Loon and I always say it really warms our cockles. Yes, it's that's good. It's so comforting. So deep in flavor and just amazing. Let this simmer for a couple of hours on the stove or slow cook in your slow-cooker and you won't believe the results! And it freezes perfectly and will be ideal for those cold days yet to come.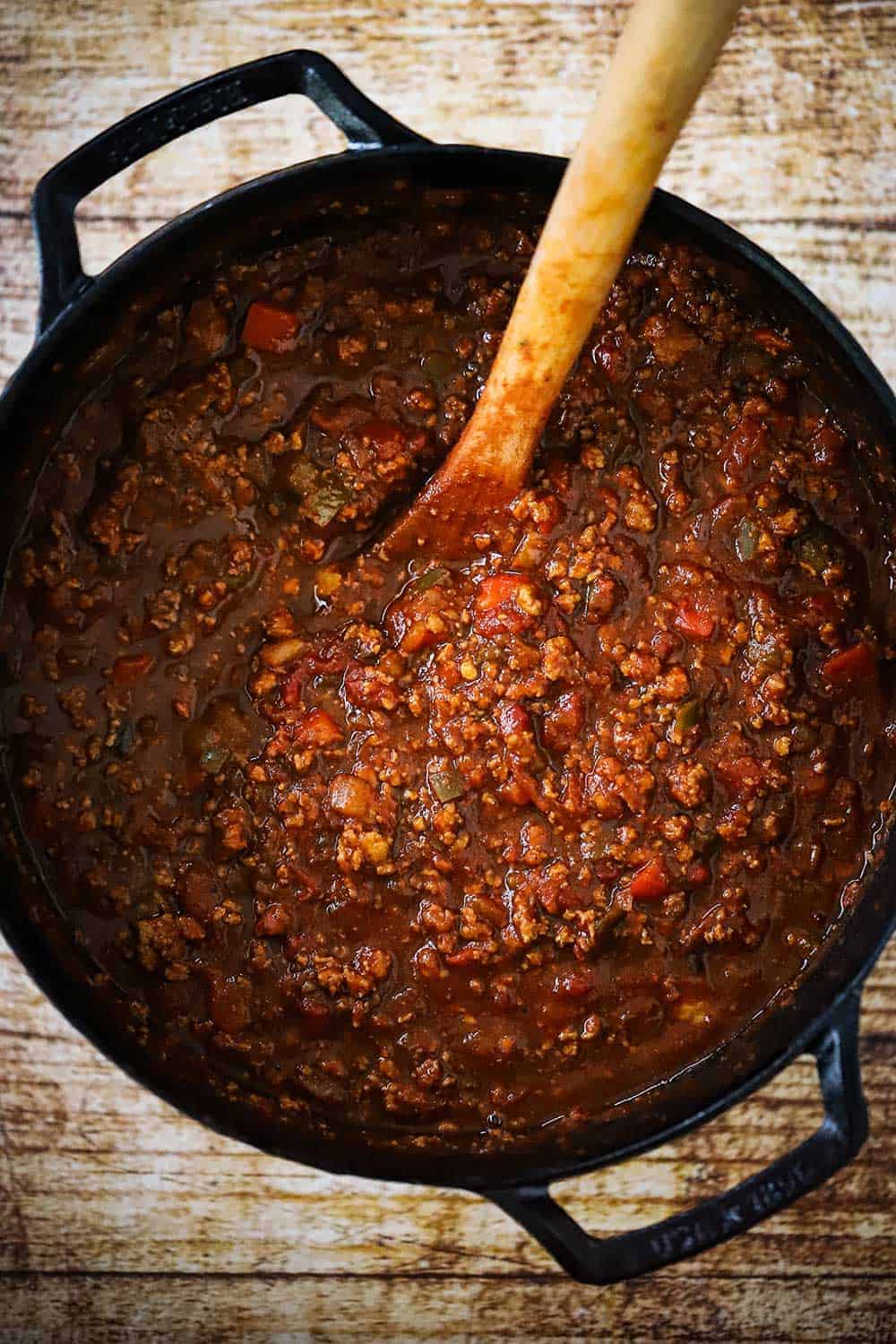 How To Make Best-Ever Turkey Chili
We know it's a bold statement to call this "Best Ever."
But folks, wait until you try it! We love our Texas Red Chili (which is loaded with ribeye steak), but this turkey chili is amazing, too! And figure-friendly, too!
Prep all the ingredients, and then it's simmering time! So flavorful and loaded with nutritional value!
We think building the flavor profile as you go is key to producing a deeply flavorful chili.
EXPERT TIP: There is a decent amount of prep for this turkey chili, especially when it comes to chopping the peppers. The bell peppers, jalapeno pepper, and onion can all be prepped up a couple of days in advance. Just store in an air-tight container until ready to use.
If you like your chili with some extra heat, then go with 2 chopped jalapenos, and don't discard all the seeds. Sautéing the chopped veggies in olive oil and then smoked paprika begins the processing of building that classic chili taste.
How To Make Ground Turkey Flavorful
If you're looking for a healthier alternative to beef or pork, then ground turkey is an ideal protein for chili.
Some folks may be concerned there's not enough flavor as beef. That's a legitimate concern. But, this recipe sidesteps that issue and brings full-on chili flavor.
Cook the ground turkey in a large skillet and season with salt and pepper, then add into the pot with the sautéed veggies.
EXPERT TIP: We recommend cooking the turkey in a separate skillet so you can easily discard any rendered grease. You can usually find 93% lean or 99% lean ground turkey in the meat department of most well-stocked supermarkets. We go with 93% lean, and then use a spoon to remove the rendered grease.
Breaking with Texas-style tradition, we do include tomatoes in our turkey chili.
If you can find them, go with canned San Marzano whole tomatoes and squeeze them by hand into the turkey mixture.
EXPERT TIP: As the chili simmers and cooks on the stovetop, the tomatoes will continue to break down. Of course, if you prefer your chili to not have tomato chunks at all, then feel free to puree the tomatoes in your food processor, or use purchased crushed tomatoes in place of the whole tomatoes. You'll need two 28 oz. cans, and use all the tomatoes and the juice.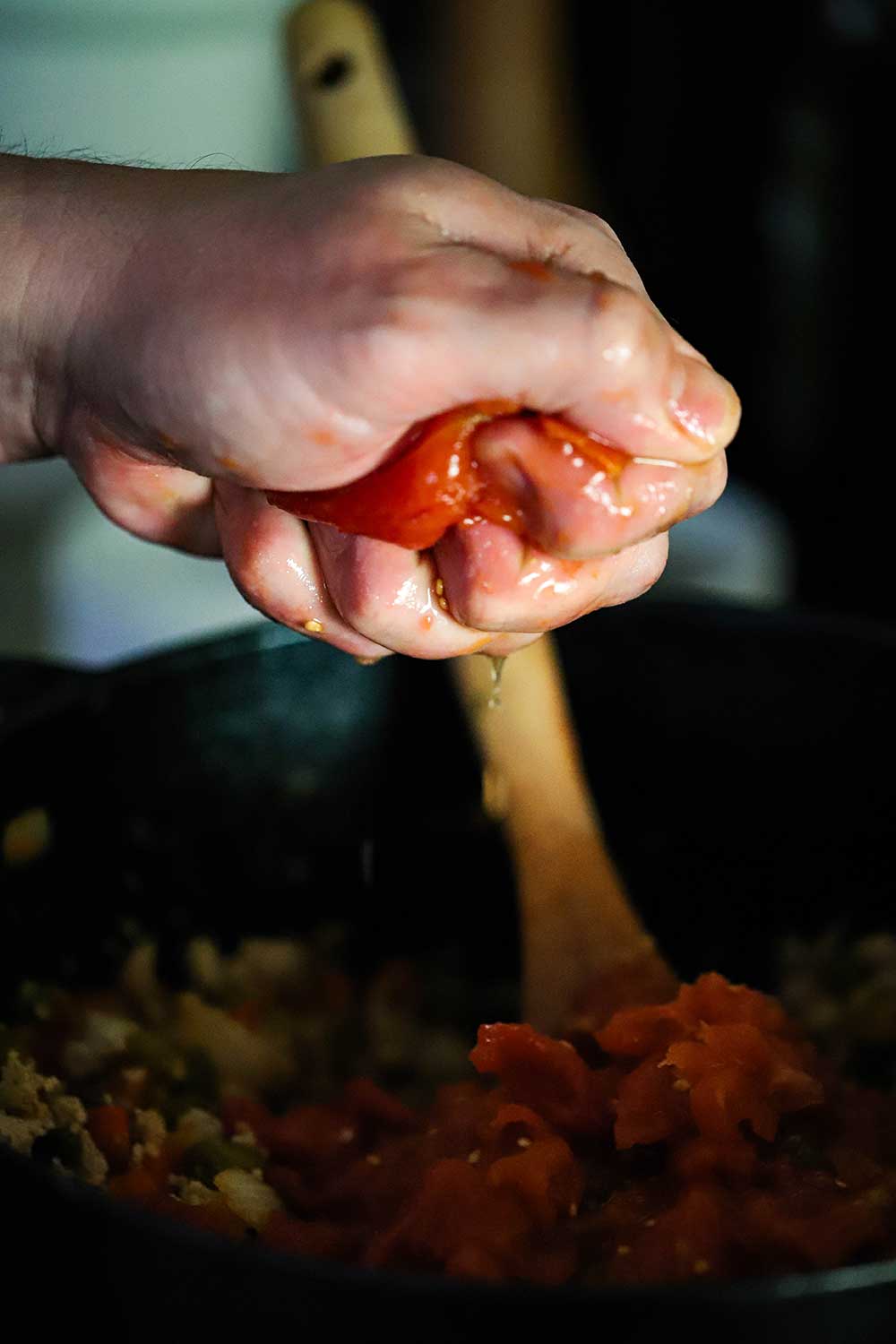 Simmering Deepens the Flavors
We recommend using a good-quality chili powder for the best results. We get ours from Pendrys, which is one of the most amazing spice companies in the world located in Forth Worth, Texas. You can browse all of their options online and then have it shipped directly to your home.
The addition of chopped green chilies, ground cumin, Adobo seasoning, garlic powder, red wine vinegar, and hot sauce round out the classic chili flavors.
EXPERT TIP: We like just a hint of heat in our chili. We find that taking three fresh jalapenos and making 3 or 4 slits down the sides of each pepper and then letting them simmer on top of the chili during the cooking process will impart jalapeno taste without adding a lot of spice. Allowing the chili to simmer for at least 2 hours will transform it into a deeply flavorful dish that is one of the best we've ever tasted.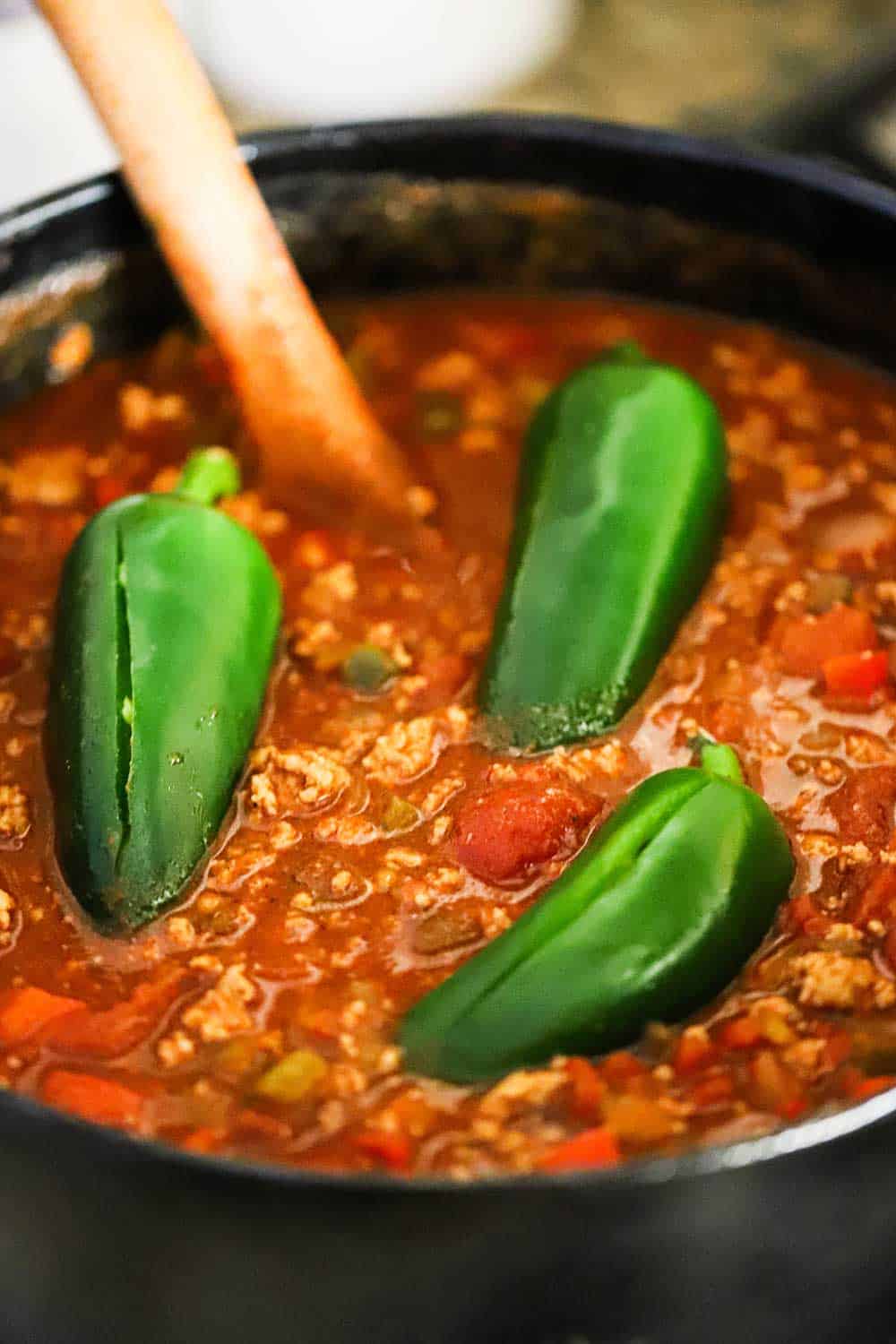 You won't believe how amazing your house will smell when this turkey chili is simmering on the stove.
When we make a batch of it, we often double the recipe and freeze it in smaller portions.
The chili gets even better the next day as the flavors have even more time to meld.
Folks, if you love this turkey chili as much as we do, then you would definitely flip for our Stuffed Bell Peppers with Turkey and Rice. They are amazing! Now, back to this amazing chili!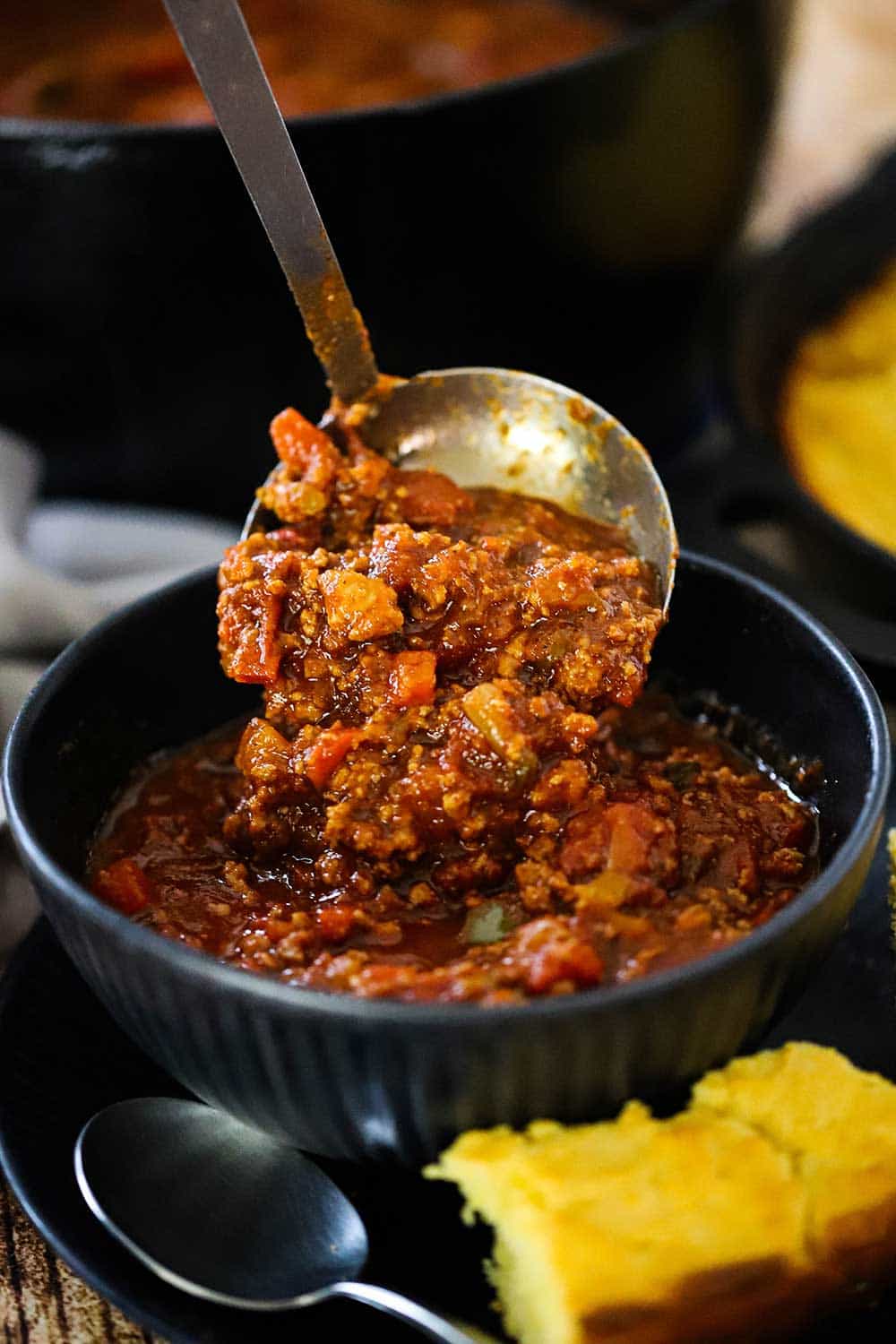 How To Serve Turkey Chili
As with any kind of chili, it's made even better with all the classic fixin's.
We love to serve it with:
Shredded cheddar and/or Monterrey Jack cheese
Sliced pickled (or fresh) jalapenos
Chopped onions
Saltine crackers
Mmmmm…just look at this:
If you're looking for a dish that will please the family, but also is nutritious, this chili fits the bill perfectly.
Every time we make a batch of this chili, we are amazed at how perfectly delicious it is.
And did we mention that homemade cornbread is perfect for dunking and puts the meal over-the-top yummy? Well, it absolutely is!
Ready to make the most delicious (and healthy) chili in town? Go for it!
And when you do, be sure to take a picture, post it on Instagram, and tag @howtofeedaloon with hashtag #howtofeedaloon!
The Best-Ever Turkey Chili
This truly is the best-ever turkey chili. So flavorful, chock full of pure deliciousness. It really will warm you to the bone. And it's healthy, too! The best-ever turkey chili.
Print
Pin
Rate
Servings: 8 people
Calories: 262kcal
Equipment
5 quart pot or Dutch oven

Skillet/saucepan
Ingredients
2 tbsp olive oil
1 large onion chopped, plus more for garnish
2 red bell peppers cored and chopped
2 green red bell peppers cored and chopped
4 jalapenos 1 cored, seeded, and chopped, the others left whole for simmering
1 tbsp smoked paprika
2 lbs ground turkey 93% lean
1 tbsp Kosher salt and ground black pepper
2 28 oz cans tomatoes whole, with juices
1 4 oz can green chilies chopped
1½ cups chicken stock or vegetable
1 12 oz. can tomato paste or 2 smaller cans
2 tbsp red wine vinegar
2 tbsp hot sauce ie, Tobasco or Crystals
5 tbsp chili powder
2 tbsp ground cumin
1 tbsp Adobo seasoning
1 tbsp garlic powder
Grated cheddar cheese for garnish (optional)
sour cream for garnish (optional)
jalapenos sliced, pickled or fresh
Instructions
Heat the olive oil over medium heat in a large pot, preferably a cast iron pot or Dutch oven. Add the onions, bell peppers, and jalapenos. Cook, stirring frequently, until soft and translucent, about 5 to 8 minutes. Stir in the smoked paprika.

Meanwhile, cook the ground turkey in a large skillet until fully cooked. Drain excess grease. Sprinkle with ¼ tsp of salt and pepper.

Add the cooked turkey to the sautéed veggies. Using your hands, squeeze the tomatoes into the pot, adding all the juice, as well.

Stir in the chopped chilies, chicken (or vegetable) broth, tomato paste, red wine vinegar, hot sauce, chili powder, cumin, Adobo seasoning, garlic powder, 1 tbsp salt, and 1 tsp black pepper. Stir until fully mixed.

Use a small sharp knife to cut 3 or 4 slits down the sides of the remaining 3 jalapenos. Place them on top of the chili.

Simmer the chili for 2 hours stirring occasionally. If simmering for more than 2 hours, you may need to add a little more broth if too much liquid cooks out.

Serve with cheese, onions, sliced jalapenos, and sour cream (if desired)
Notes
We use 93% lean ground turkey for our chili. It will render a little grease which adds some flavor, however, since we want this chili to be low-calorie and low-fat, we drain the grease off. For a healthier option, you could use 99% lean ground turkey. It won't be as juicy or flavorful, but will still be very good. Chili powders vary in spice level, depending on the brand and type of peppers that are utilized. For standard chili powder, we use 5 tablespoons. However, this can be adjusted according to your taste. If you are concerned about the spice level, then start off with a couple of tablespoons of chili powder, and taste after about an hour of simmering. Add more if desired. Our version is definitely on the mild side. For a completely vegetarian version, omit the chili, and add in other ingredients such as canned red kidney beans and corn kernels. Use vegetable broth in place of the chicken broth/stock. This recipe can easily be cut in half or doubled, if desired. This chili will keep in the fridge in an air-tight container for up to 1 week. It freezes beautifully for up to 3 months. As with most good chili recipes, this is even better the following days after the initial preparation.
Nutrition
Calories: 262kcal | Carbohydrates: 20g | Protein: 32g | Fat: 6g | Saturated Fat: 1g | Cholesterol: 64mg | Sodium: 634mg | Potassium: 1118mg | Fiber: 6g | Sugar: 9g | Vitamin A: 4047IU | Vitamin C: 60mg | Calcium: 61mg | Iron: 5mg
POST UPDATE: This recipe was originally published in November 2014 but was updated with improved tweaks to the recipe, with new tips and photography, and a fabulous new video in January 2021.