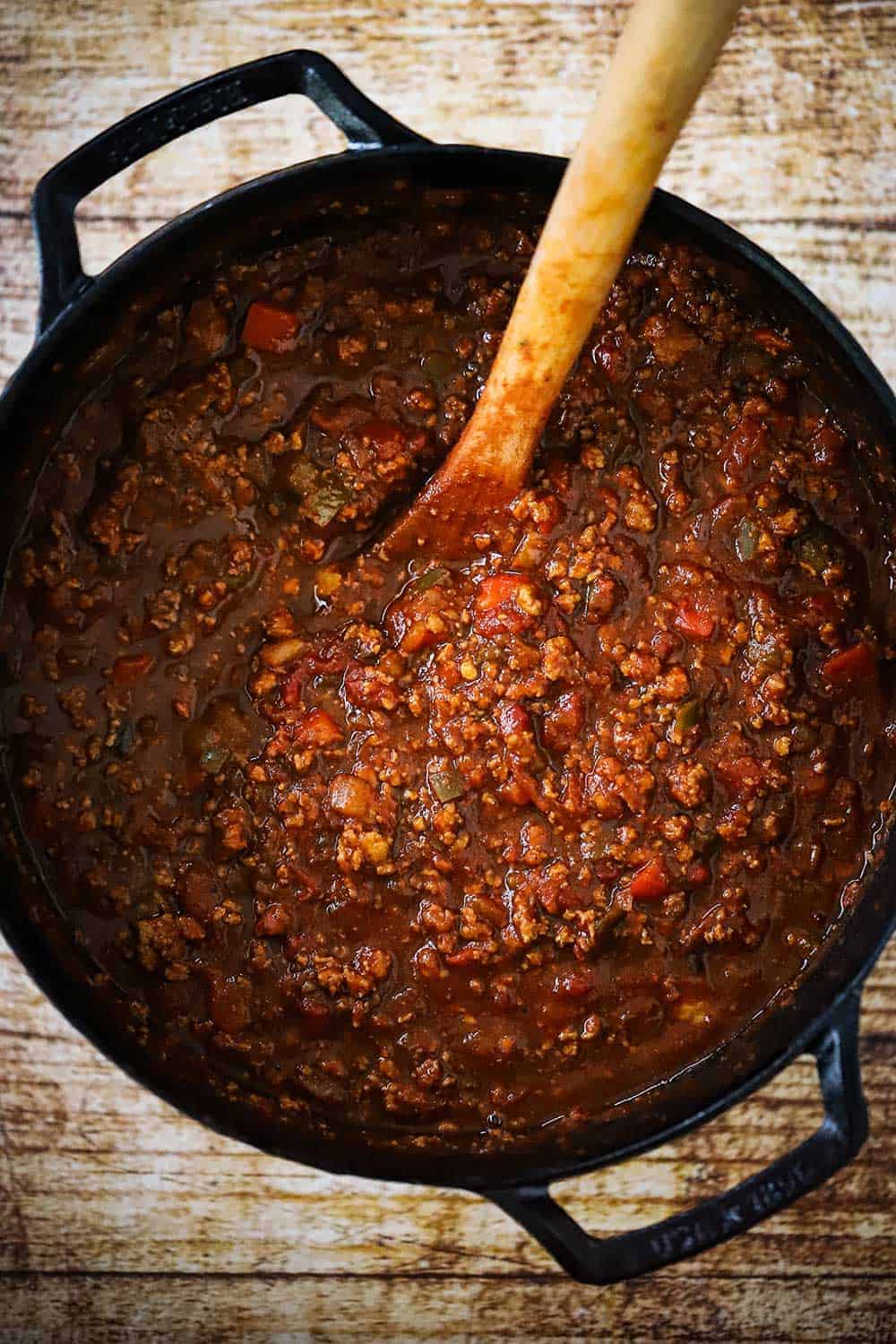 This Best-Ever Turkey Chili just makes you feel good. The Loon and I always say it really warms our cockles.  Yes, it's that's good.   It's so comforting.  So deep in flavor and just amazing.   Let this simmer for a couple hours on the stove, or slow cook in your slow-cooker.  Your house will smell so good, and then when you have your first bowl…oh boy.  Whip up a batch of Cowboy Cornbread, and you'll be in Heaven.  So good.  And healthy, too!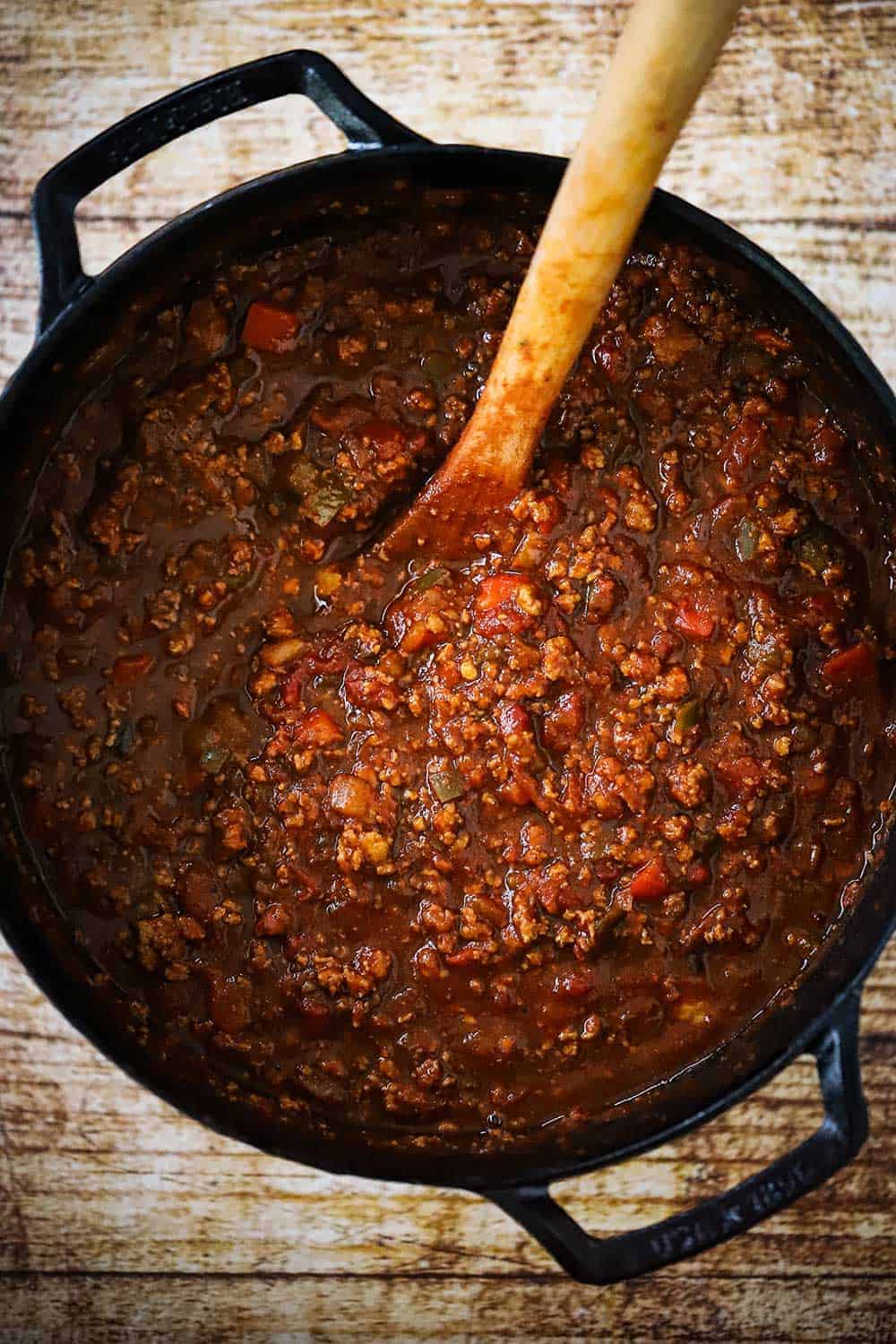 The Best-Ever Turkey Chili
This truly is the best-ever turkey chili. So flavorful, chock full of pure deliciousness. It really will warm your cockles. And isn't that good to know? The best-ever turkey chili.
Print
Pin
Rate
Prep Time: 15 minutes
Cook Time: 2 hours
Total Time: 2 hours 15 minutes
Servings: 8 people
Calories: 146kcal
Ingredients
2 lbs 85% lean ground turkey
2 tbsp smoked paprika plus salt and pepper, to taste.
2 tbsp olive oil
2 red bell peppers cored and chopped
2 green red peppers cored and chopped
1 large yellow onions chopped
4 jalapenos 1 cored, seeded, and diced...use the other 3 for cooking in the chili
1 small can of green chopped chilies
2 28 oz cans of whole tomatoes San Marzano are great
1 1/2 cups beef or chicken stock
1 14.5 oz can tomato paste
2 tbsp red wine vinegar
2 tsp hot sauce ie, Tobasco or Crystals
3 to 4 tbsp good quality chili powder
2 tbsp ground cumin
1 tsp Adobo seasoning
1 tbsp Kosher salt
1 tsp ground black pepper
1 tbsp garlic powder
1 tsp cayenne pepper or more, to taste
Grated cheddar cheese for garnish (optional)
Finely chopped onion for garnish (optional)
Dollop of sour cream for garnish (optional)
Instructions
Heat the olive oil over medium heat in a large pot, preferably a Dutch oven

Add the peppers and onion

Saute until soft, about 8 minutes.

Meanwhile, cook the ground turkey in a large skillet

Add 1 tablespoon of the paprika, and a few pinches salt and pepper.

Drain in colander once cooked.

Add the turkey to the cooked veggies.

Meanwhile, pulse the whole tomatoes in a food processor.

Add the chopped chilies.

Add the tomatoes plus juice to the turkey/veggie mixture.

Add the stock.

Add the tomato paste.

Add the vinegar, hot sauce, chili powder, cumin, Adobo, salt, pepper, garlic powder and cayenne, plus the remaining tablespoon of smoked paprika

Let simmer for about 2 hours over low-medium heat...stirring occasionally.

Serve with cheese, onions and sour cream (if desired).
Nutrition
Calories: 146kcal