Is there anything more luxurious, as well as comforting and delicious, as a silky, gorgeous bowl of Lobster Bisque?
Not really, at least not in our books. And this Lobster Bisque recipe pulls from the classic techniques and brings it all together in a stunning and delicious bisque that will leave your guests asking for more.
It's truly something to behold.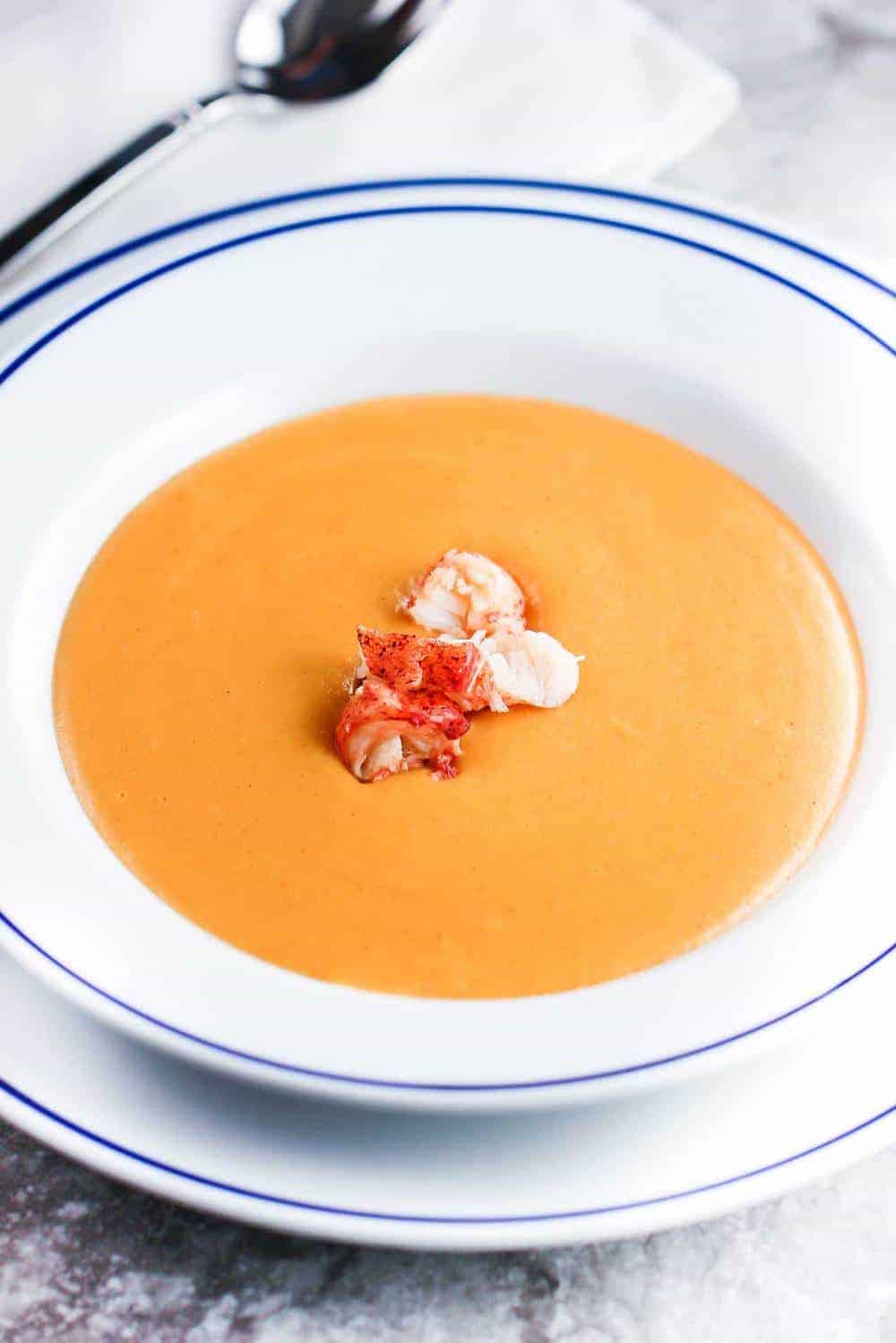 PREPARING THE LOBSTER FOR THE BISQUE
Even though I learned how to kill and prepare live lobsters while taking an intensive culinary boot camp summer program at the Culinary Institute of America in upstate New York a few years back, I'm just not a big fan of doing it myself.
If you find yourself in the same boat, seek out a good fish monger and have them do the work for you. Make sure they are reputable and you can rest assured your lobsters will be handled in a humane and safe manner.
Now, let's make some incredible lobster bisque.
HOW TO GET A SILKY LOBSTER BISQUE
I've been working on perfecting a good lobster bisque for quite a while, and I've pulled some techniques from some of the greatest chef's around, including Chef Raymond Oliver and even Julia Child.
A good bisque should taste deeply of the shellfish and still be silky smooth.
You could substitute shrimp, crayfish, steamed mussels, or crab, if you prefer. But let's go with what we think is the best: Lobster.
Lobster meat is so succulent and just so flavorful.
Two 1 1/4 lb. lobsters will give you just the right amount of meat and flavor for this show-stopping bisque.
Mmmmmm. Now that's good.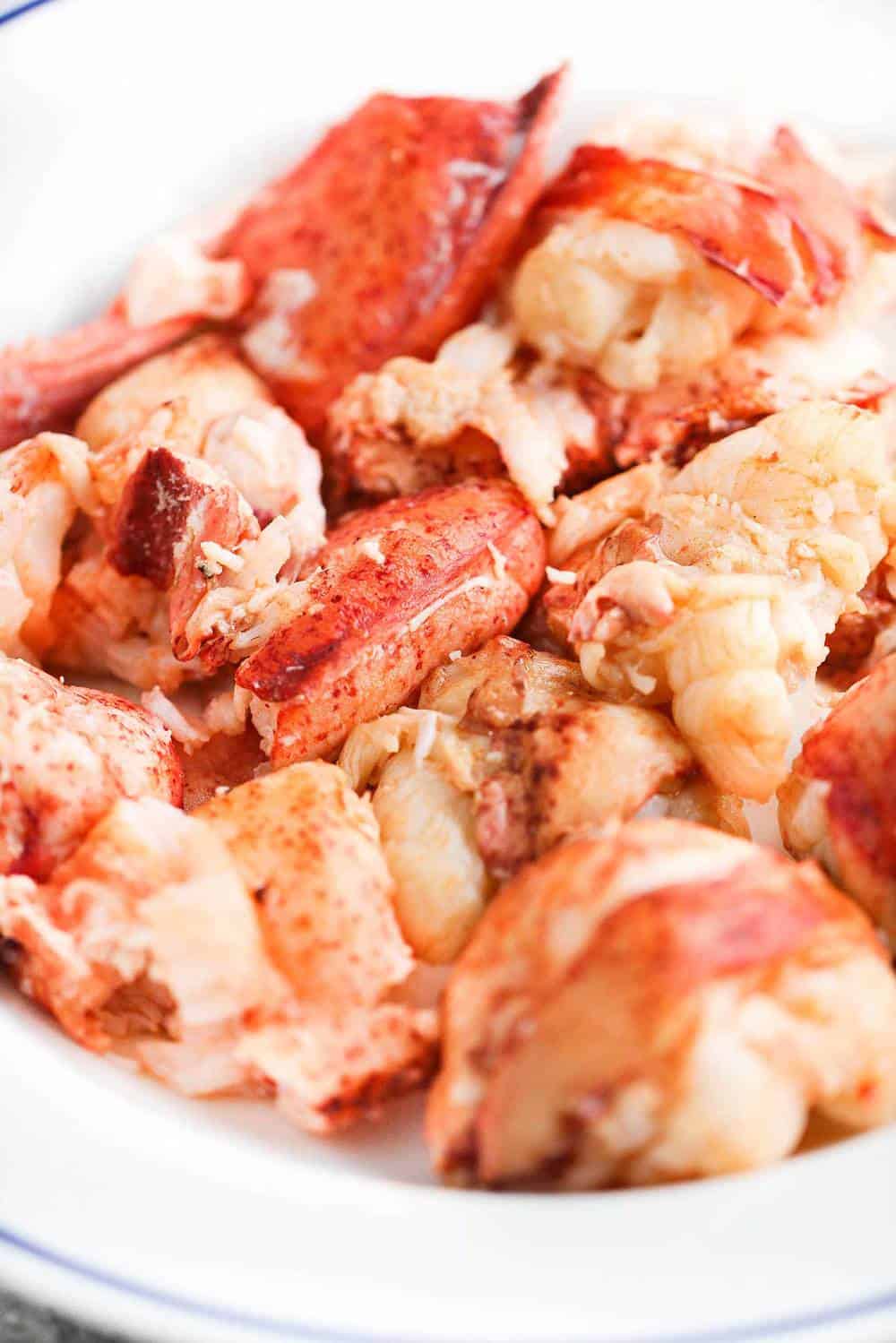 As the layers of flavor build onto an incredible base of lobster, you just won't believe the smell in your house as it slowly simmers.
Talk about creating something to talk about.
We get giddy (and hungry) just thinking about it.
Using cooked rice is the traditional method for thickening the bisque, and we find it really does work best, and gives it just the right texture.
To create the truly silky texture, it's super important to press the bisque through a fine mesh sieve, using the back of a wooden spoon to help. I usually bring in the Loon to hold the sieve (a Chinoise works perfectly) while I press on the liquid. It takes a little elbow grease, but you'll get there in no time.
Once the bisque has been strained and the cream has been added, you may need to thin it some more by adding additional warm stock. You'll know when you've got the consistency just where you want it.
What more is there to say? Just look at that: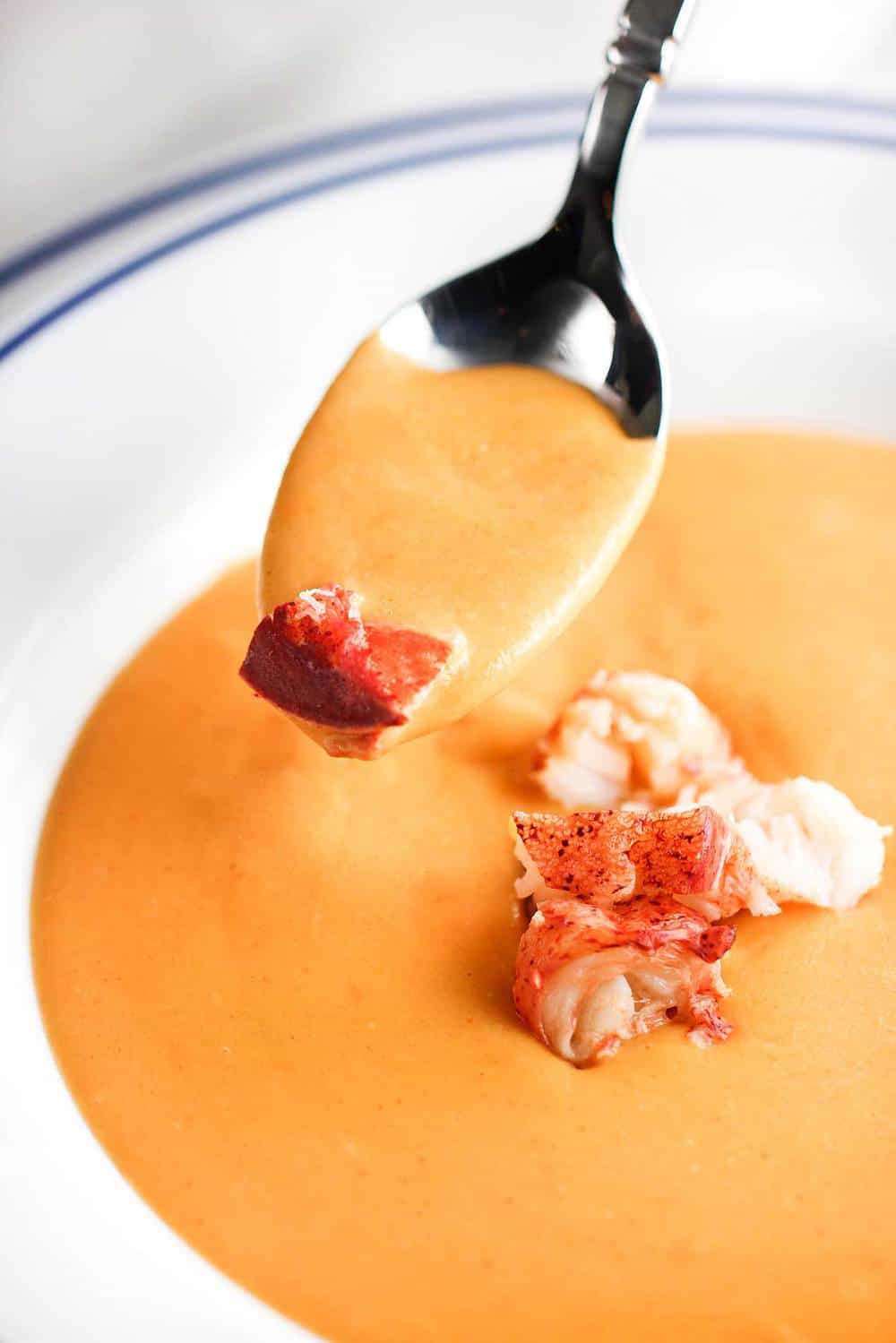 Now, it's your turn to make this incredible Lobster Bisque recipe.
Go for it!
Lobster Bisque
This Lobster Bisque recipe is truly a stunning presentation and divine in taste and texture. Employ the assistance of your local fish market, if you prefer, and follow these steps to make a truly epic bowl of deliciousness. A nice glass of Champaign pairs well with this amazing bisque.
Print
Pin
Rate
Servings: 6 people
Calories: 314kcal
Ingredients
2 1 1/4 lb live lobsters
8 tbsp butter
1/4 cup brandy
6 sprigs fresh parsley
6 sprigs fresh thyme
1 bay leaf
4 whole cloves
2 quarts fish stock plus more if needed
2 carrots chopped
2 celery stalks chopped
1 onion chopped
1/3 cup long grain rice
2 tbsp tomato paste
2 cups dry white wine
1/2 cup heavy cream
Salt and pepper to taste
Instructions
Place a large sharp knife into the head and split the lobster down the middle. Discard intestinal tract and sac behind head. Separate claws and tail from body and crack claws. Cut body and tail into 4 or 5 pieces.

Tie the parsley, thyme and bay leaf together to make a bouquet garni.

Melt the butter in deep skillet over medium-high heat. Add lobster parts; cook, covered, turning once, until bright red, 6 - 7 minutes. Remove skillet from heat and pour lobster-infused butter into a bowl and set aside. Pour brandy over lobster; ignite with a match. When flame subsides, transfer lobster to a plate and remove the meat.

In a stock pot, heat the fish stock, bouquet garni and lobster shells over medium heat and bring to a simmer for 20 minutes. Remove from heat and pour stock through a fine-mesh strainer; reserve.

Meanwhile, add the lobster-infused butter back to the large skillet over medium-high heat. Add the carrots, celery, onion and rice and cook, stirring occasionally, until the onion is soft, about 7 minutes. Stir in the tomato paste and cook until the tomato has darkened in color and it aroma has softened, 5 to 7 minutes.

Add the wine, bring to a boil, and boil for 4 minutes. Add the reserved stock, reduce the heat to low, and simmer gently until the rice is fully cooked, about 15 minutes.

Meanwhile, dice half of the reserved lobster meat and reserve for a garnish. Stir the remaining lobster meat into the stock and remove from the heat.

Puree with an immersion blender, or, transfer the soup to a blender, and working in batches, blend, gradually increasing the speed, until the mixture is very smooth and silky (always take care when blending hot liquids). Strain the soup though a fine-mesh strainer, pressing on the solids with the back of a ladle. Discard any solids that do not pass through.

Gently reheat the bisque and whisk in the cream, adding more fish stock if bisque is too thick.

Taste and add salt and pepper, to taste.

Divide the bisque among bowls and garnish with the reserved diced lobster meat. Serve immediately.
Nutrition
Calories: 314kcal
recipe