If you asked for a list of the most popular chowders in the world, this one would be right near the top, if not the number one position.
This is a 5 Star New England Clam Chowder recipe, without a doubt. We go with fresh clams, but in a pinch, you can use canned. The ingredients are simple yet deliver the most comforting soup in the world. This ranks right up there with our Farm Fresh Corn Chowder! And it comes together in less than an hour!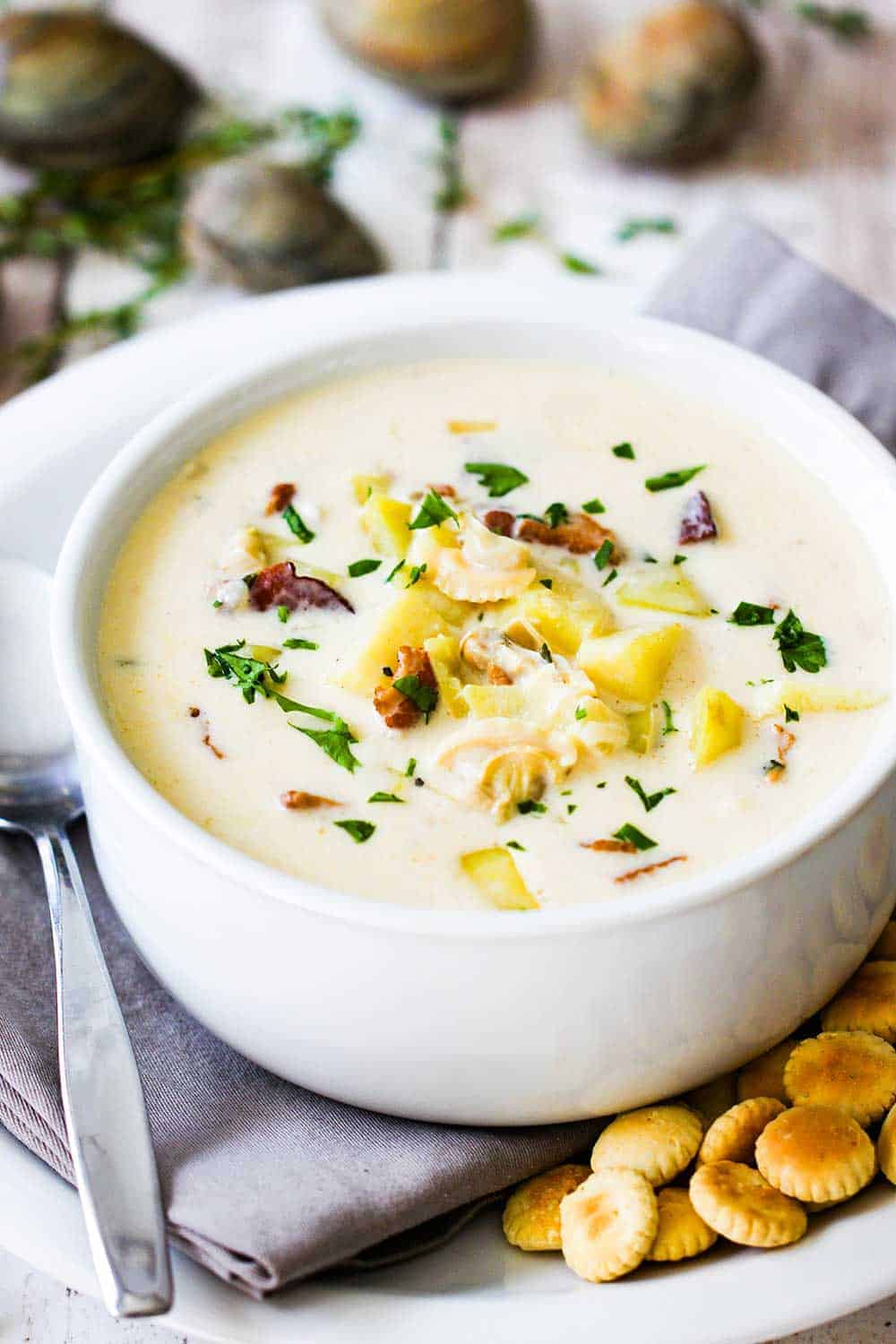 HOW TO MAKE OLD FASHIONED NEW ENGLAND CLAM CHOWDER
We love to start off by picking up fresh clams from our local fishmonger. Littleneck clams or cherrystone clams are what we recommend.
We often purchase farm-raised, which means they don't come from the sea, so they won't be sandy. If you have access to the freshest of fresh clams, directly from the sea, go for it! Just be sure to grab some extra cheesecloth (but more on that, in a moment).
Watch us show you how easy it is to make this incredible chowder at home!
HOW TO STEAM CLAMS
If you're using fresh clams for this chowder (which we think you should!), the process of cooking them is very easy.
First, start by scrubbing the shells with a brush. We do this even if the clams are farm-raised because there is often a little debris on the edges of the clams.
EXPERT TIP: When you come across a clam that is partially open, give it a little squeeze, and it should close up. If not, discard the clam.
Next, simply add the clams to a large, sturdy pot and add 1 cup of water. Turn the heat on high, cover, and simmer on high for about 6 to 8 minutes. Open the lid, and see if the majority of the clams have opened. If not, cover again, and steam for another couple of minutes. Now, you should have mostly opened clams, which have released their flavorful clam liqueur.
Once the clams are cool enough to handle, use a small knife, or your fingers, to pull the clam meat from the shells.
We typically give the meat a rough chop.
EXERT TIP: How Many Clams for New England Clam Chowder? This recipe easily feeds 4 to 6 people. We use 48 littleneck clams (4 dozen) and the ratio of clam to chowder is good. If you want extra clam meat, then you can certainly double the number of clams, and you'll be fine. Obviously, though, this will cost you double the amount as it would for 48 clams.
STRAIN THE CLAM BROTH FOR BEST RESULTS
You will definitely want to strain the clam liquid after the clams have steamed.
If your clams are from the sea, you may want to do this a couple of times. Even if they are farm-raised, you'll still want to strain the liquid because particles of the shell can break off during the steaming process.
EXERT TIP: To strain, we place a medium-sized sieve lined with cheesecloth over a large measuring cup. If you don't have cheesecloth, you can use a coffee filter. You'll need a total of 4 cups of liquid, which means you'll need to add approximately another two cups of water to the measuring cup once the clam juice has been transferred.
Once you've got the clams all ready to go, the chowder comes together fairly quickly.
We start by cooking thick pieces of bacon until crisp. Next, we toss in the chopped onion and cook until tender.
Toss in the herbs and cubed potatoes, and next comes the reserved clam broth.
EXPERT TIP: Cut the potatoes to about ½" x ½" cubes. They will become perfectly tender after only simmering in the broth for about 15 to 20 minutes. Also, if the bacon has rendered more grease than you prefer, simply tilt the pot to the side, and use a spoon to remove the excess. IMPORTANT! Don't get rid of all of it! You'll want to leave at least 2 to 3 tbsp for sauteeing the onion, plus there is the major flavor that you don't want to discard!
Once the potatoes are tender, in goes the cream.
For the best taste and texture, we use a combination of heavy cream and whole milk.
You can substitute half-and-half for the heavy cream or for the milk, or use a combination of them. But, we enjoy our New England Chowder recipe with heavy cream.
FINISHING THE CHOWDER
That's really all there is to it folks!
Now, it's ready to add in those clams and heat through. We love to add a few dashes of hot sauce just before serving. A splash of good quality Sherry is a nice touch, too.
EXPERT TIP: The perfect clam chowder shouldn't be too thin (runny) and definitely not too thick. You can slightly thicken the chowder by crushing some of the cooked potatoes along the side of the pot. Or, adding a corn starch slurry at the end of cooking (see the recipe for details on this). You can also create a roux by adding ¼ cup of flour to the vegetables before adding the clam broth.
CLAM CHOWDER FOR A CROWD
This recipe easily feeds a hungry group of 4 to 6 clam chowder lovers.
If you're feeding a crowd, the recipe can simply be doubled, or even tripled.
San Francisco is known for its classic version of this amazing chowder.
If you've ever visited (or if you live there), then you know how they serve the soup.
Sourdough bowls are so much fun…and delicious!
This chowder has been a favorite of ours for as long as we can remember.
The taste is just so heart-warming, and not fishy tasting AT ALL! If you're looking for tomato-based clam chowder, check out our Portuguese-Style Clam Chowder
In the meantime, whip up a batch of this incredible New England Clam Chowder. This is something you and your loved ones will be so happy that you did.
Ready to make the best clam chowder this side of Bean Town (aka: Boston)? Go for it!
And when you do, be sure to take a picture, post it on Instagram, and tag @howtofeedaloon and hashtag #howtofeedaloon!
New England Clam Chowder
This iconic chowder is so comforting, and not fishy tasting at all. Go with fresh clams, if possible, but if not, then canned will do in a pinch. This comes together in less than an hour and is so deeply flavorful and satisfying.
Print
Pin
Rate
Servings: 6
Calories: 401kcal
Equipment
Sturdy pot, such as a Dutch oven
Ingredients
48 clams littleneck or cherrystone, scrubbed clean
1 tbsp olive oil or vegetable oil
4 strips bacon thick slice
1 cup onion chopped
1 tsp Kosher salt
½ tsp black pepper freshly ground
3 sprigs thyme fresh, bundled together with twine
2 bay leaves
1½ lb gold potatoes peeled and cubed, about 4 to 5 potatoes
1½ cups heavy cream
1 cup whole milk
3 tbsp corn starch
1 tsp hot sauce a few splashes, to taste - optional
1 tbsp Sherry optional
2 tbsp flat-leaf parsley chopped, for garnish
Instructions
After scrubbing the clams under cold water, discard any that are open and don't close to the touch.

Add clams to a large pot (i.e., Dutch oven) with 1 cup of water. Cover and bring to boil and cook for 7 minutes. Carefully remove the lid. If the majority of the clams have not opened up, place the lid back on the pot and continue steaming for another 2 minutes.

Remove the clams from the pot with tongs onto a cutting board.

Line a sieve (or colander) with cheesecloth and place over a large measuring cup. Strain the clam broth through the cheesecloth into the measuring cup. Add additional water to the measuring cup until you have a total of 4 cups.

Once the clams are cool enough to handle, use a small knife, or your fingers, to remove the meat from the clams and roughly chop. IMPORTANT: Discard any clams that did not open during the steaming process.

Meanwhile, heat the oil over medium-high heat in a large pot. Add the cut bacon and cook until crisp, about 5 to 6 minutes.

Add the onion and cook until soft and translucent, about 5 minutes.

Add the salt, pepper, bundled thyme, bay leaves and stir to combine. Add in the potatoes and stir again.

Add the reserved clam juice, turn the heat to high, and bring to a boil. Reduce the heat and simmer until the potatoes are tender, about 15 to 20 minutes.

Add the cream and milk and cook for a few minutes until heated (don't bring to a boil). Add the clams.

Make a corn starch slurry by mixing together in a small bowl 3 tbsp corn starch with ¼ cup of cold water.

Add the slurry to the chowder and stir until slightly thickened. If desired, smash a few of the tender potato cubes against the side of the pot for additional thickening and texture.

If desired, add a few splashes of hot sauce and Sherry. Taste and add more salt, if necessary.

Serve warm in bowls and garnish with chopped parsley and oyster crackers, if desired.
Notes
If using clams from the sea, we recommend scrubbing them first under cold water, and then dissolving 2 tsp of salt in 4 quarts of cold water, and then adding the clams. Refrigerate for 1 hour (or up to overnight) to allow the clams to expel sand and grit. Drain before proceeding. When straining the broth, use cheesecloth, or a couple of coffee filters. If there is a lot of sand and grit, another straining with fresh cheesecloth (or filters) may be necessary. If you don't have access to fresh clams, then use two 10-ounce cans of clams, drained and then 2 cups of bottled clam juice (combined with two more cups of water). If you prefer, you can thicken the chowder by adding ¼ cup of all-purpose flour to the vegetables and cooking for several minutes before adding the clam juice. The chowder will begin to thicken as the potatoes are cooking, but this is just fine. You can use half and half in place of the heavy cream, although the finished chowder won't be quite as silky and rich. Serve in sourdough bowls for a fun (San Fransico-style) variation. We love serving the soup with hot sauce, oyster crackers, and chopped parsley or chives, for garnish. The soup will keep in the refrigerator for up to 1 week and freezes beautifully for up to 2 months.
Nutrition
Calories: 401kcal | Carbohydrates: 25g | Protein: 10g | Fat: 24g | Saturated Fat: -4g | Cholesterol: 100mg | Sodium: 657mg | Potassium: 650mg | Fiber: 3g | Sugar: 3g | Vitamin A: 1127IU | Vitamin C: 18mg | Calcium: 135mg | Iron: 4mg
POST UPDATE: Thie recipe was originally published in November 2013, but was updated with improved recipe tweaks and tips, new photography, and a fabulous new video in February 2020!