Is there anything more comforting than a warm bowl of delicious soup? We think not.
Folks, this recipe does not disappoint. And this is one of those soups that just gets better after a day or two. You can easily make the beef stock at least 2 to 3 days in advance, which makes the soup preparation a snap!
How To Make French Onion Soup
There are a few not-so-secret secrets to making restaurant-quality French onion soup at home.
Get started on the stock ahead of time. Allow a little time to get the onions just right.
And don't skimp on the cheese. And you'll have the best soup you've ever tasted or served.
NOTE: If you like this video, please subscribe to our YouTube channel. Remember to click the 'bell' icon so you'll never miss a new video!
How to Caramelize Onions
One of those "secrets" that we mentioned is caramelized onions.
This takes a little bit of time, but this step is what really delivers the classic French Onion flavor.
EXPERT TIP: You'll need to start with 8 medium-sized yellow onions. It will seem like too much, but don't worry, they will cook down. In about 1 hour you will have dark beautifully caramelized. Be sure to stir them at least every 15 minutes.
Want to know what happens during the caramelization process? Learn more by clicking here!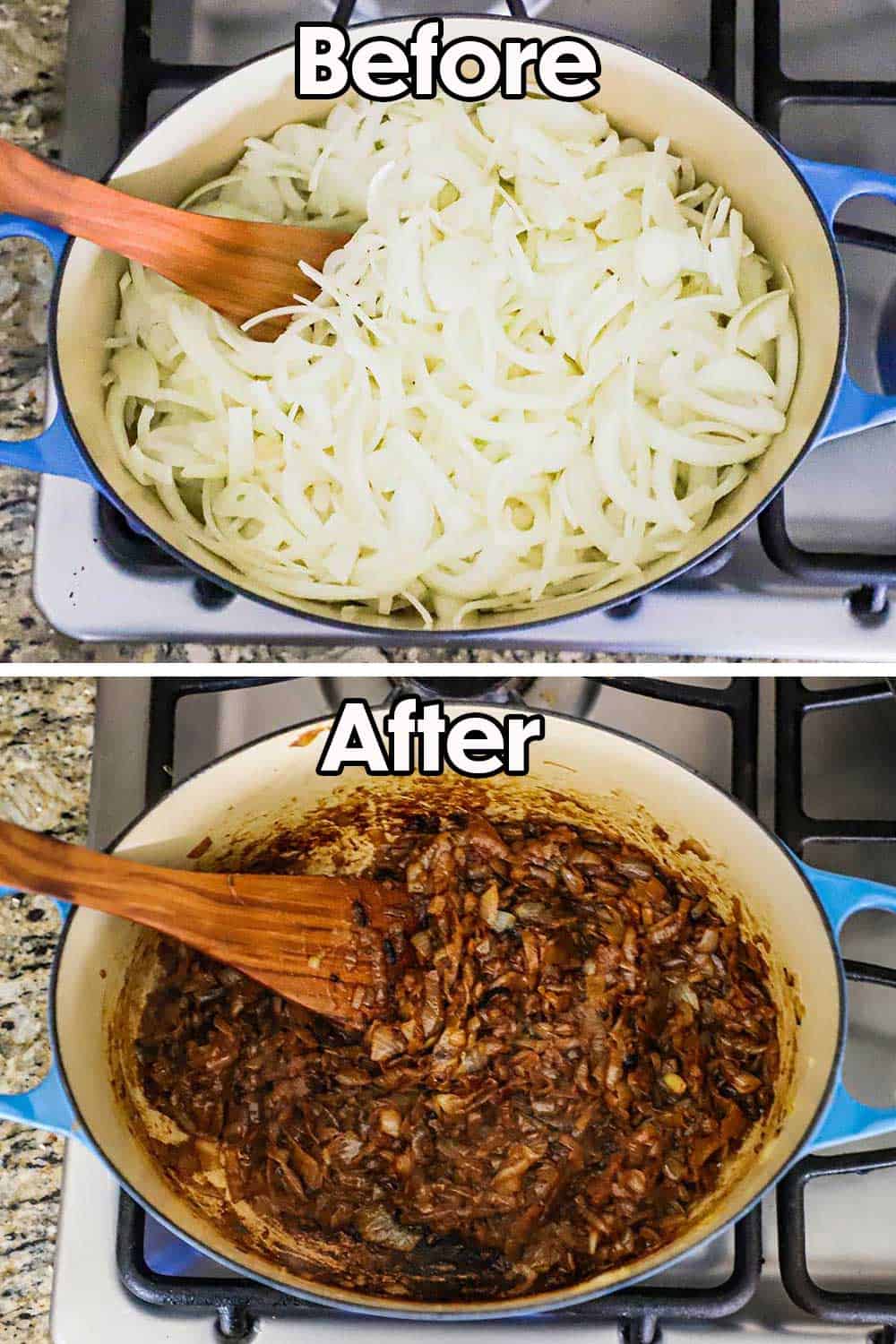 French Onion Soup FAQs
Do caramelizing the onions really make a difference? Yes. If you have to choose between caramelizing the onions or making the stock from scratch, go with caramelizing the onions. It's really what delivers the classic taste.
Will store-bought beef stock work? Absolutely. We can honestly say that making our beef stock from scratch takes the soup to the next level, but good-quality purchased stock will still make a scrumptious soup.
What's the best cheese to use? Traditionally Gruyere cheese is used. We grate ours in our food processor or on the side of a box grater. Perfectly acceptable substitutes are Swiss or Fontina. We don't recommend mozzarella.
EXPERT TIP: Our recipe for homemade beef stock make enough for one batch of this soup. We often double the stock recipe. It freezes beautifully.
After you've deglazed the onions with white wine, and then added the stock, thyme, salt, and pepper, all you need to do is bring the soup to simmer for about 15 minutes.
During this time, toast your bread and get the cheese ready to go.
EXPERT TIP: As mentioned, we go with gruyere cheese. This can usually be found in the gourmet cheese section of most well-stocked supermarkets. You can either shred the cheese or slice it with a sharp knife.
Pour the soup into your bowls and then place one or two slices of toasted baguette slices and then liberally top with the cheese.
Other Classic Soups To Try
In the meantime, don't you think it's time to whip up a batch of this?
Folks, this is the ultimate comfort soup.
You will not believe the response you will get when you serve this to family and friends.
Remember the secrets to the ultimate French onion soup: Homemade beef stock, caramelized onions, Gruyere cheese.
Every spoonful is an experience you won't soon forget.
Ready to make the most comforting soup this side of Paris? Go for it!
And when you do, be sure to take a photo of it, post it on Instagram, and tag @HowToFeedaLoon and hashtag #HowToFeedaLoon
French Onion Soup
This is comfort at its best. You just can't do better than French Onion Soup...with homemade beef stock, caramelized onions, and Gruyere cheese...oh yes.
Print
Pin
Rate
Servings: 8 people
Calories: 382kcal
Equipment
Large pot for caramelizing onions, i.e., Dutch oven
Ingredients
8 tbsp unsalted butter 1 stick
8 medium yellow onions sliced
½ cup dry white wine
8 cups beef stock
1 tbsp thyme chopped, plus a little extra for garnish
1 tbsp Kosher salt
6 slices bread i.e., from a baguette, toasted
2 cups Gruyere cheese shredded or sliced
Instructions
Melt butter in large pot (Dutch oven works very well) over medium heat.

Add the onions.

Stir frequently (about every 10 to 15 minutes) for about 1 hour until the onions turn a dark brown color.

Add the wine and scrape (deglaze) the bottom of the pan with a spatula. Bring to a strong simmer for 4 to 5 minutes.

Add stock, thyme, and salt. Bring to a simmer for 15 minutes. Taste, and add more salt, if necessary.

Turn on the broiler. Ladle the soup into bowls.

Add a toasted piece of bread on top of the soup, and then place a handful of grated Gruyere cheese over the top.

Place under broiler and cook for about a few minutes, until cheese is golden on top (keep an eye on it, don't let it burn!).

Remove from oven and garnish with chopped thyme. Serve at once.
Notes
See the video near the top of the blog post for visual guidance. If you like the video, please subscribe to our YouTube channel.
Don't skip caramelizing the onions. It's critical to the classic taste. The homemade beef stock really puts the soup over the top, but good-quality purchased beef stock will still yield a delicious soup. You could add 1 tbsp of purchased beef demi-glace for a deeply flavorful soup.
The homemade beef stock can be made weeks in advance. It freezes beautifully.
Leftover over soup will keep covered in the fridge for up to 5 days. It freezes nicely for up to 2 months.
Nutrition
Calories: 382kcal | Carbohydrates: 24g | Protein: 18g | Fat: 23g | Saturated Fat: 14g | Polyunsaturated Fat: 1g | Monounsaturated Fat: 7g | Trans Fat: 1g | Cholesterol: 66mg | Sodium: 1574mg | Potassium: 689mg | Fiber: 3g | Sugar: 8g | Vitamin A: 707IU | Vitamin C: 10mg | Calcium: 416mg | Iron: 2mg
POST UPDATE: This recipe was originally published in November 2017, but was updated with improved tweaks to the recipes with new tips and photography and a fabulous new video in January 2022.