Is there anything more comforting than French Onion Soup? It's hard to think of what it would be.
And this recipe does not disappoint. And this is one of those soups that just gets better after a day or two.
You can easily make the beef stock at least 2 to 3 days in advance, which makes the soup preparation snap!
Heart-warming comfort at its very best.
HOW TO MAKE CLASSIC FRENCH ONION SOUP</2>
The key to really great French Onion Soup is caramelizing the onions.
This takes a little bit of time, but this step is what really delivers the classic French Onion flavor.
That, and a really good beef stock. As mentioned, make the beef stock days in advance. You can even make and then freeze it for later use.
But again, it's all about those onions. Want to know what happens during the caramelization process? Learn more by clicking herehere!
THE ULTIMATE COMFORT SOUP
Is your mouth watering yet? Ours is.
It's time for a delicious hot bowl of this French Onion Soup recipe!
And if you like this soup, you'd probably also love some of our other favorites:
Chicken and Dumplings
Rustic Lentil Soup
Broccoli Cheddar Soup
White Chili with Roasted Tomatillos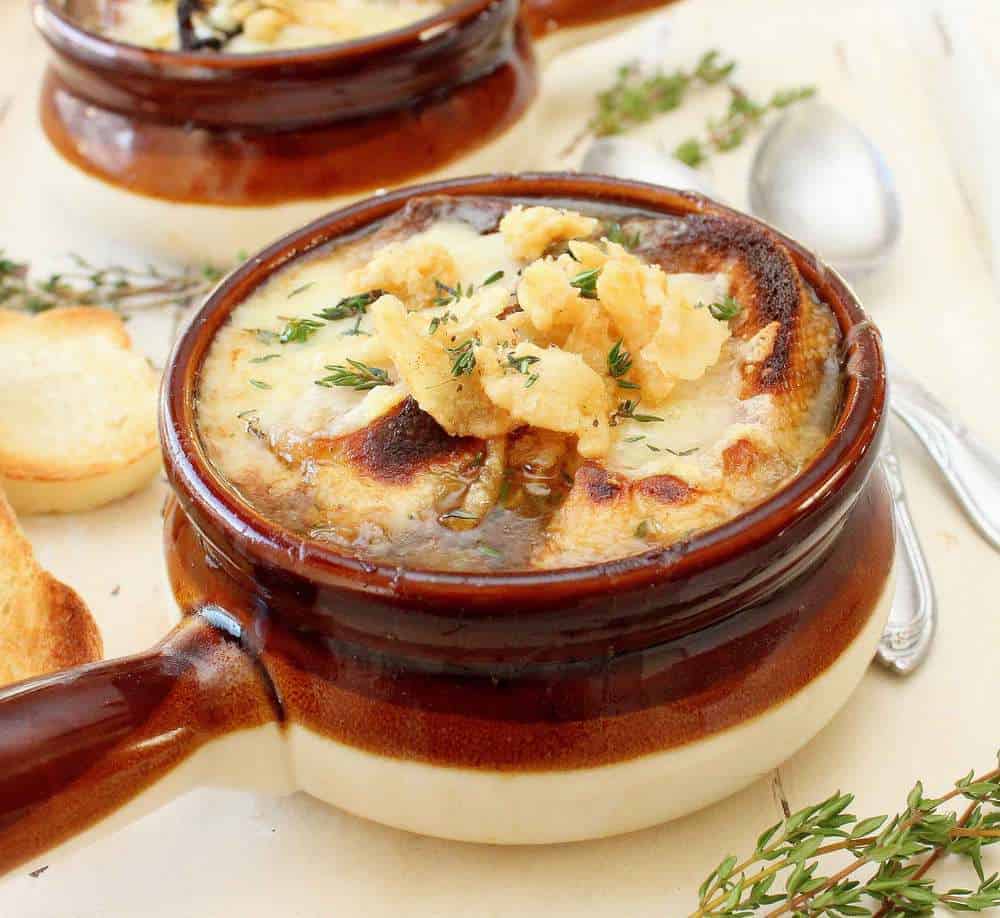 French Onion Soup
This is comfort at its best. You just can't do better than French Onion Soup...with homemade beef stock and Gruyere cheese...oh yes.
Print
Pin
Rate
Servings: 8 people
Calories: 348kcal
Ingredients
8 tbsp unsalted butter 1 stick
8 medium yellow onions sliced
1/2 cup dry white wine
8 cups of beef stock
1 tbsp fresh thyme chopped
1 tbsp Kosher salt
6 slices bread toasted
2 cups shredded Gruyere cheese or sliced
1/2 cup fried onions you can use French's
Instructions
Melt butter in large pot (Dutch oven works very well) over medium heat.

Add onions.

Stir frequently (about every 5 to 10 minutes) for about 1 hour to 1 hour and fifteen minutes, the onions will turn a dark brown color.

Add the wine and deglaze the bottom of the pan. Bring to a boil.

Add stock, thyme and salt...simmer for about 15 minutes. Taste, and add more salt, if necessary.

Turn on the broiler.

Ladle the soup into bowls.

Add a toasted piece of bread on top of the soup, and then place a handful of grated Gruyere cheese over the top

Place under broiler and cook for about 4 minutes, until cheese is golden on top (keep an eye on it, don't let it burn!).

Remove from oven and top with fried onions and remaining thyme.

Serve immediately.
Nutrition
Calories: 348kcal