This Jumbo Lump Crab Au Gratin recipe is incredible. Rich and a bit decadent…and all about the crab.
Pick yourself up some good quality lump crab meat (Gulf crab is amazing and so are Maryland blue crabs) at your local fish market and get ready to impress.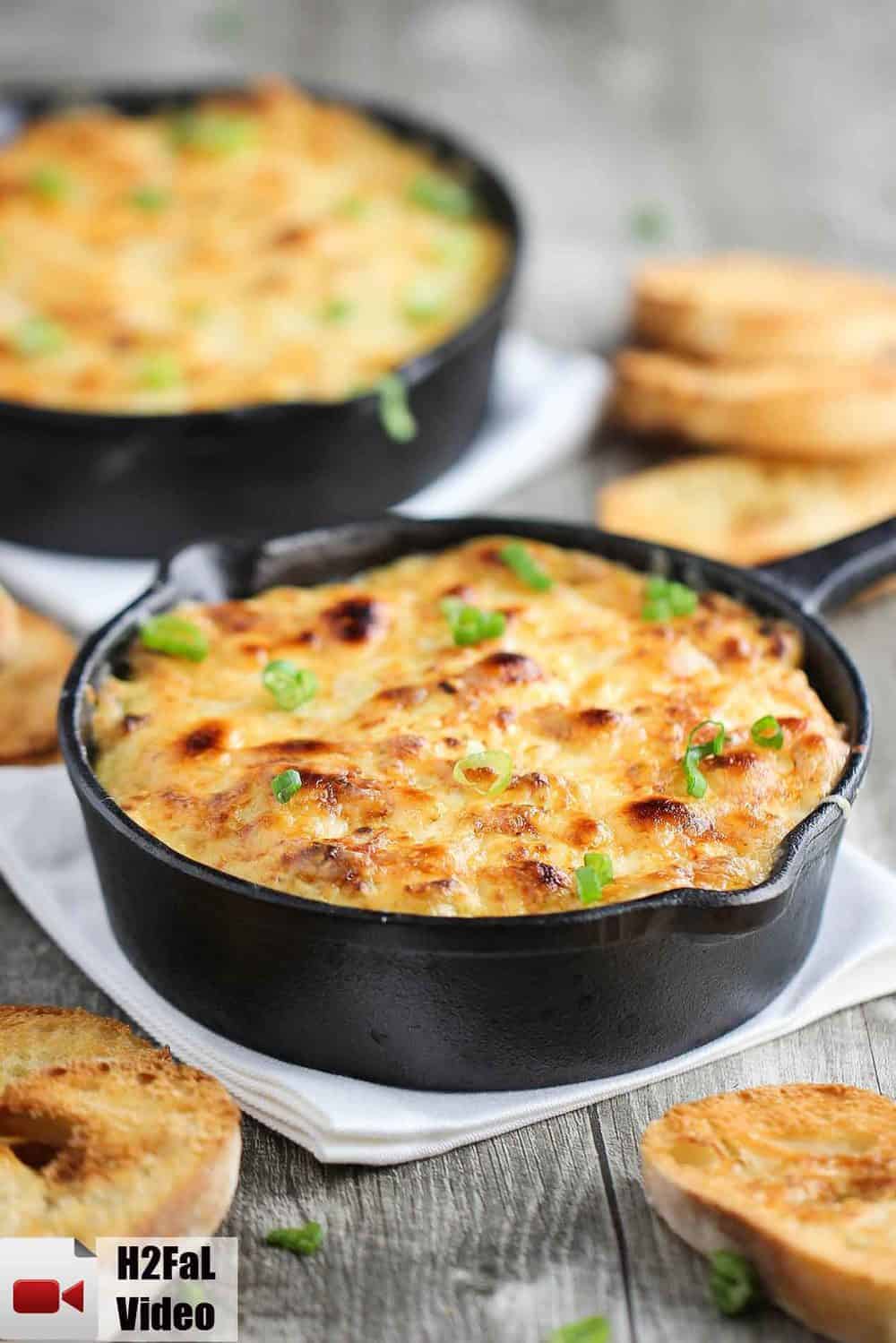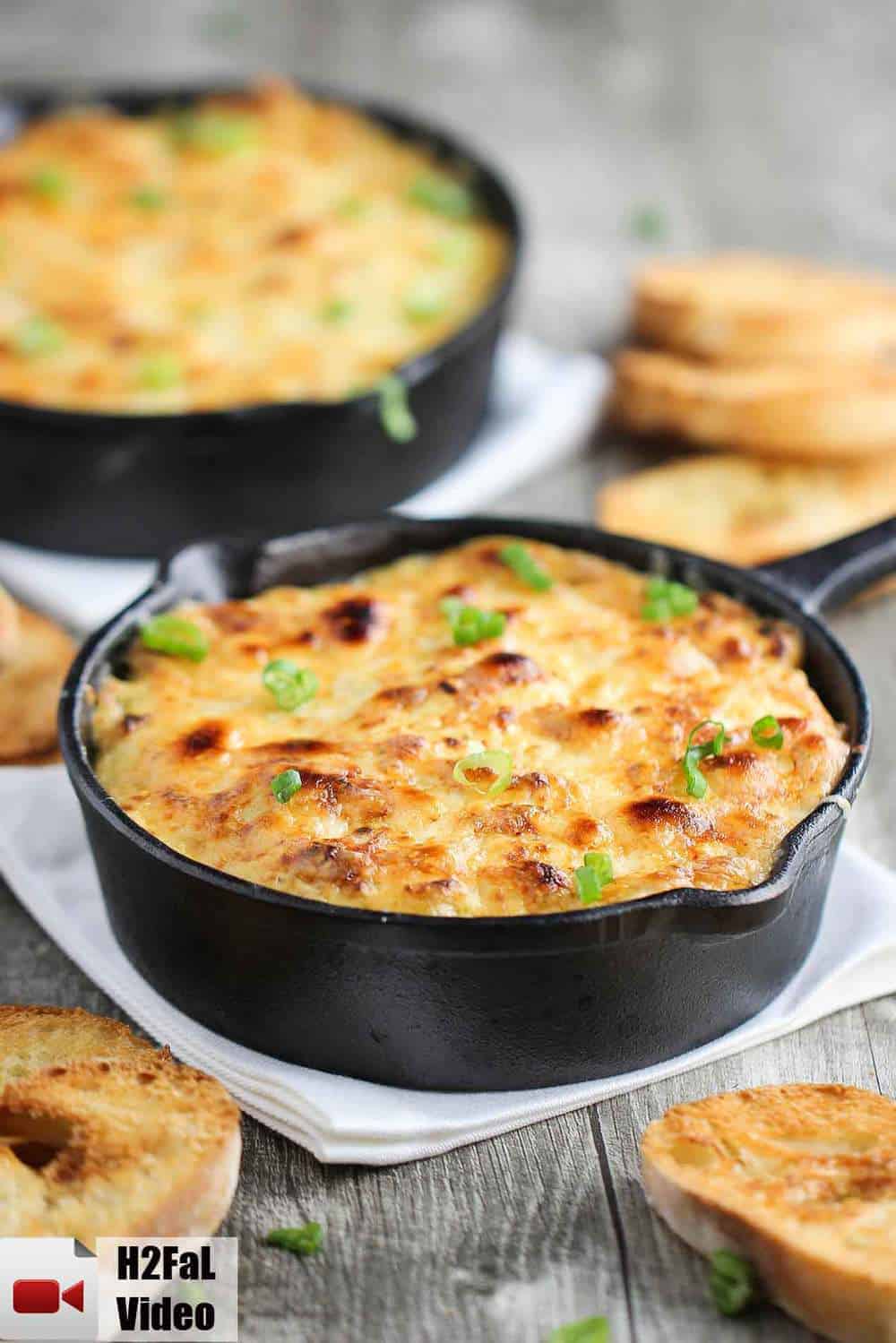 HOW TO MAKE JUMBO LUMP CRAB AU GRATIN
Making this dish is easy and fun! Watch us show you how to make one of the fanciest (but easiest) appetizers of all time!
We love Jumbo Lump Crab Au Gratin!
OTHER AMAZING CRAB DISHES
Crab and Spinach Dumplings
Lump Crab and Tomato Salad
The ingredients in this amazing au gratin really help to elevate the star of the dish, which of course is the crab.
Every time we serve this dish to guests, it gets nothing but rave reviews. It's really, really good.
HOW TO SELECT THE RIGHT TYPE OF CRAB MEAT FOR CRAB AU GRATIN
EXPERT TIP: Lump crab meat is a bit pricey, so I usually go with a mix of lump crab and regular crab meat.
But, always go with quality.
Be sure to pick the crab over to remove any excess cartilage. I usually do this twice, just to make sure.
This sauce is rich and creamy, and the perfect compliment to the fresh crab.
Just place the crab in the bottom of the pan, and then pour that amazing sauce right on top.
Oh, yes…here we go.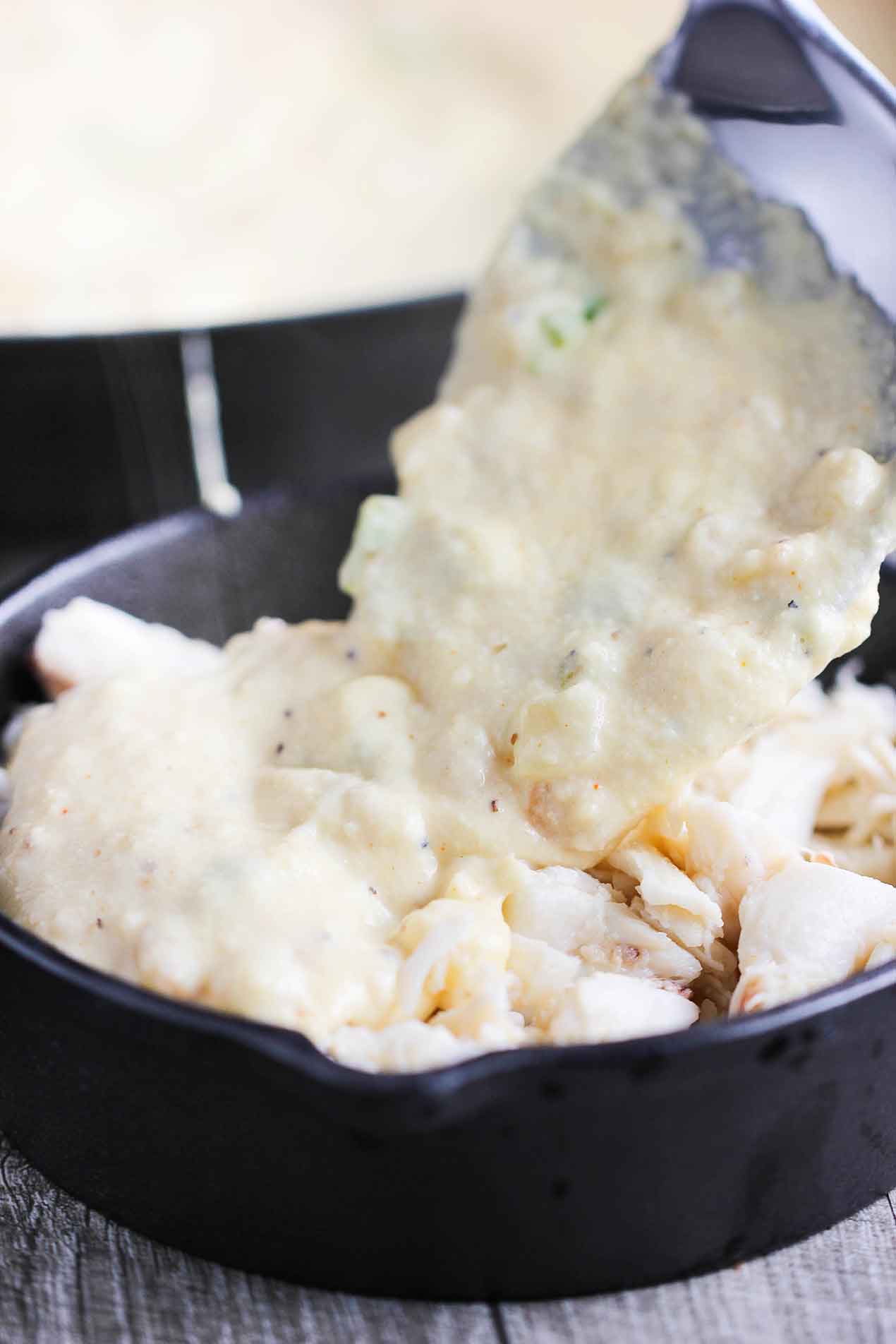 Top it off with a combination of your favorite types of creamy, melting cheese.
USE A GOOD MELTING CHEESE, SUCH AS FONTINA, FOR CRAB AU GRATIN
Our favorite is a blend of Gruyere and Fontina. But, Monterey Jack, or Emmentaler, or even mozzarella will work. To learn all about the amazing History of Cheese, read this awesome article from the National Historic Cheesemaking Center.
And we love to serve these in individual cast iron skillets. But you can also use 1 large skillet when serving a group. It's is beautiful in presentation, too!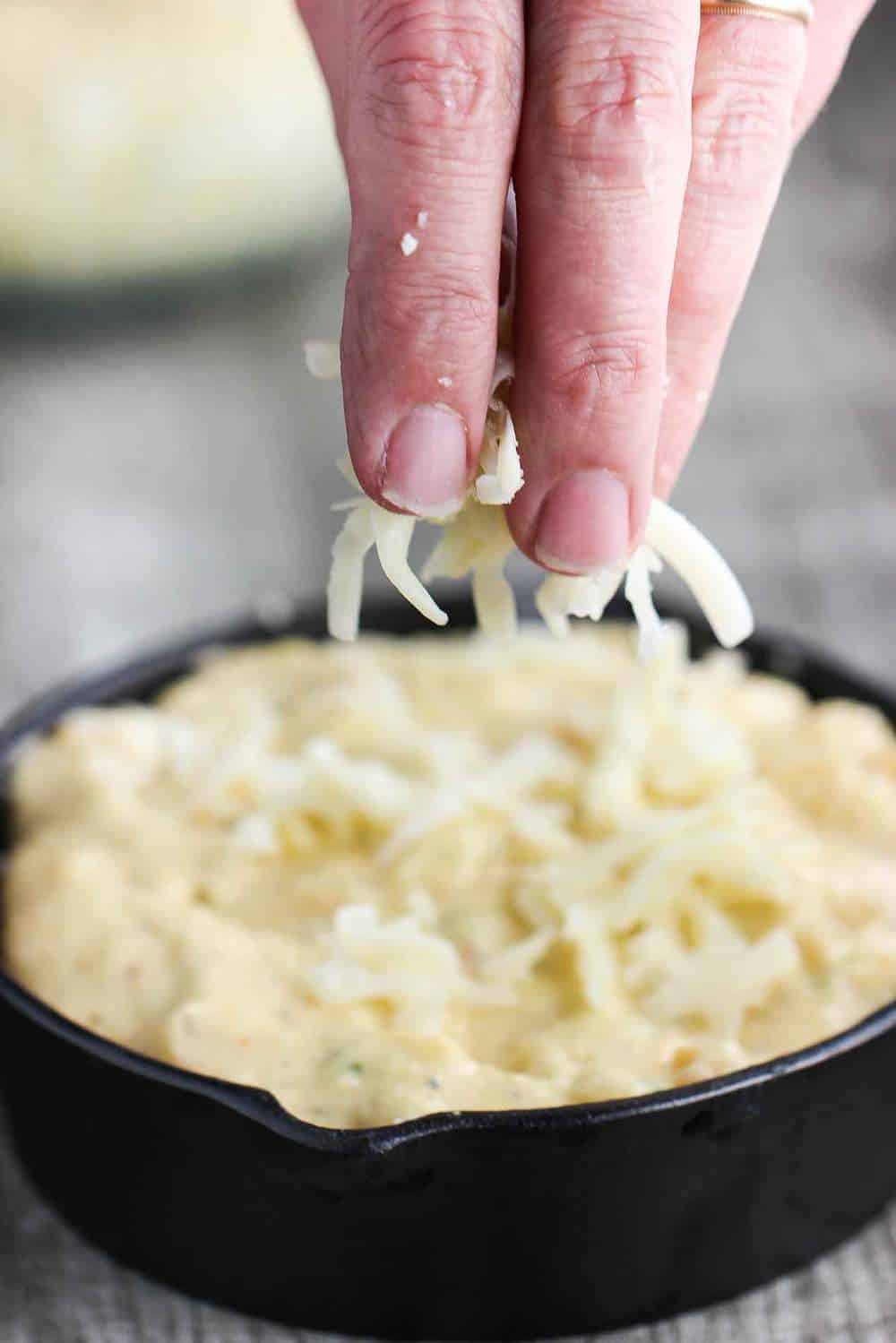 Make this dish and be prepared for lots of 'oohs' and 'ahh's'. It's not for the faint of heart, and one serving is a wonderful appetizer, probably for 2 – 4 people.
But, boy oh boy, is it good.. Crab lovers rejoice!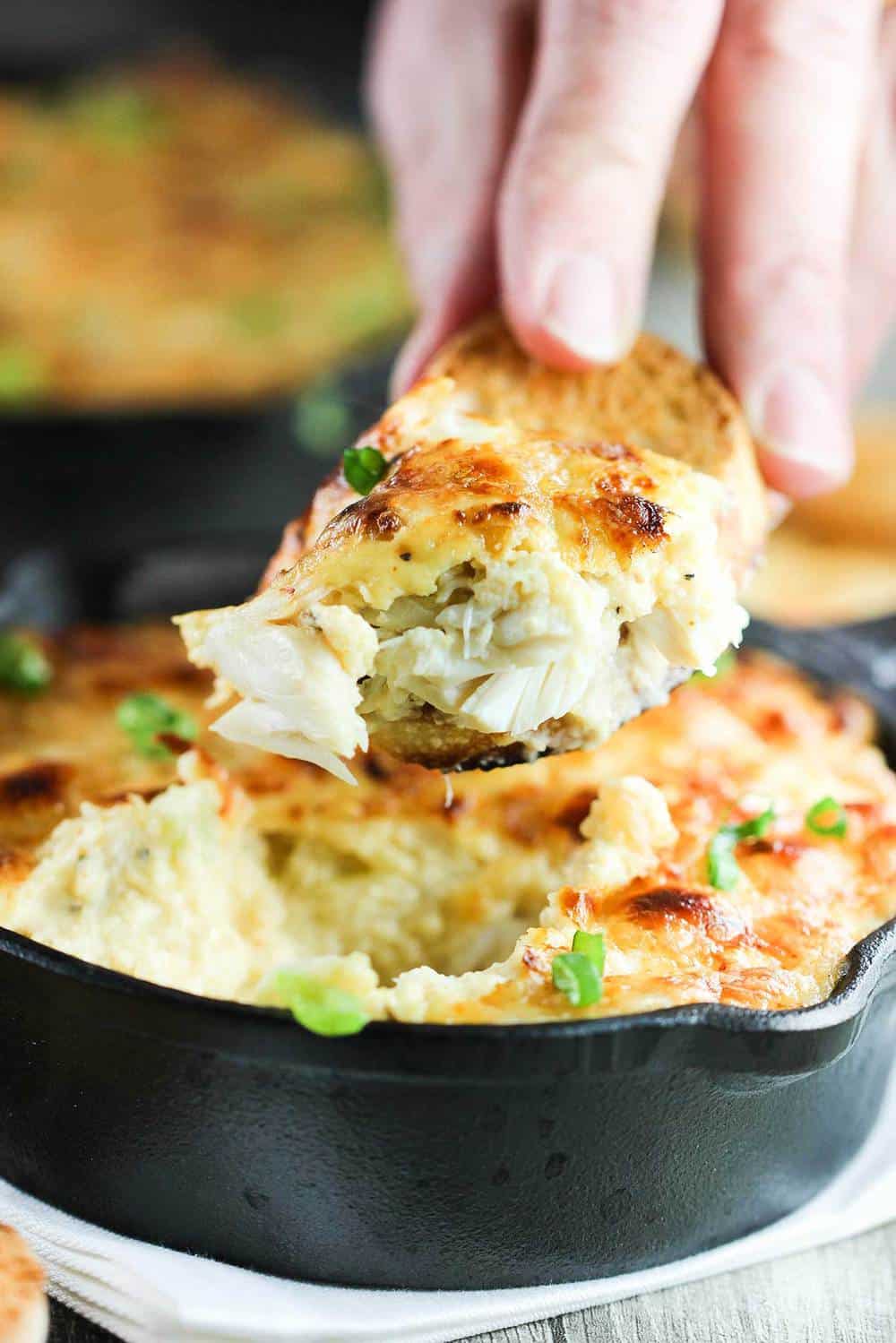 What's not to love with jumbo lump crab meat, Gruyere cheese and a little Cayenne for good measure?
Sinfully good!
Another one of our most favorite crab dishes is our incredible Southern Crab Cakes. It's one of our most popular dishes on the site!
Now, it's time to make this amazing Jumbo Lump Crab Au Gratin recipe! And don't forget to take a picture, post it to Instagram and tag @howtofeedaloon and #howtofeedaloon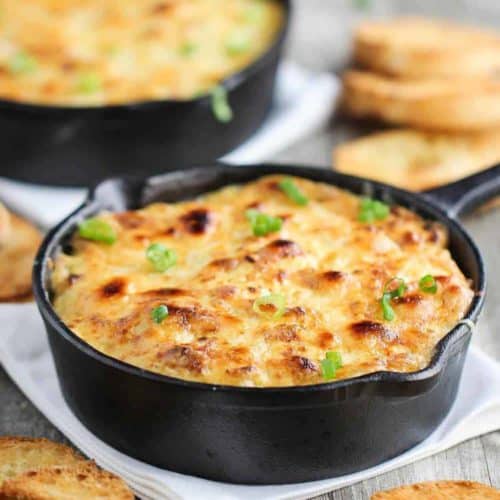 Jumbo Lump Crab Au Gratin
This jumbo lump crab au gratin is decadent and incredibly delicious. Serve as a wonderful first coarse. The crab, of course, is the star here, but complimented beautifully with the Gruyere and seasonings.
Print
Pin
Rate
Servings: 8 people
Calories: 243kcal
Ingredients
1/2 cup unsalted butter 1 stick
1 medium onion finely chopped
1 celery rib finely chopped
2 tbsp green onions sliced, save some for garnish
1 cloves garlic minced
2 large egg yolks slightly beaten
1 12 oz. can evaporated milk
2 tbsp all-purpose flour
Juice of one lemon
1 tsp hot sauce
1 tsp Kosher salt
1/2 tsp cayenne pepper
1/2 tsp freshly ground black pepper
1/2 cup Gruyere cheese grated
1/2 cup Fontina cheese grated
1 lb lump crab meat picked over for shells and cartilage
Instructions
Pre-heat the oven to 350°F.

Melt the butter in a large skillet over medium-high heat.

Add the onion, celery, green onions (white parts), and garlic, and cook, stirring, until the vegetables are softened, about 5 minutes.

While the vegetables cook, vigorously whisk the egg yolks and evaporated milk together in a small bowl until well blended; set aside.

Add the flour to the skillet, and blend well into the vegetables to create a white roux; be sure to not let the flour brown. About 2 minutes.

Using a whisk, add the milk mixture, stirring constantly to blend into the roux mixture.

Stir in the lemon juice, hot sauce, salt, cayenne, and black pepper, and continue to stir for another 4 - 5 minutes. (if sauce seems too thick, add a little water or milk to thin...should be the consistency of thick creamed soup).

Remove from the heat, and fold in half the cheese; blend until it is totally melted and fully incorporated.

Gently divide the crab meat among four mini oven-proof casseroles, or iron serving dishes; trying not to break up the crab lumps. Or, pour into 1 large cast iron skillet, or 8"x8" baking dish.

Pour the cheese sauce over the crab, and then sprinkle with the remaining grated cheese on top.

Bake until bubbly, about 15 minutes, then reset the oven for broil, and broil until the cheese begins to brown, about 5 minutes (keep an eye on this...don't let it burn!!).

Remove from the oven, sprinkle with the green onions (green parts), and serve at once!
Notes
Jumbo lump crab meat can be pricey. For a more economical version, but still very delicious, we do a combination of jumbo lump and regular crab meat. Be sure to use a good melting cheese such as fontina, gruyere, Monterrey jack, or even mozzarella. This au gratin is quite rich. We serve it as an appetizer with lots of toasted baguette slices.
Nutrition
Calories: 243kcal | Carbohydrates: 3g | Protein: 16g | Fat: 18g | Saturated Fat: 11g | Cholesterol: 119mg | Sodium: 879mg | Potassium: 152mg | Fiber: 1g | Sugar: 1g | Vitamin A: 645IU | Vitamin C: 6mg | Calcium: 167mg | Iron: 1mg
rab