Sautéed Soft-Shell Crabs are truly something special. Simply one of the most delicious seafood dishes we've ever encountered.
And now, thanks to the most amazing seafood market in the world, Citarella, we are able to make them at home.
What a spectacular treat.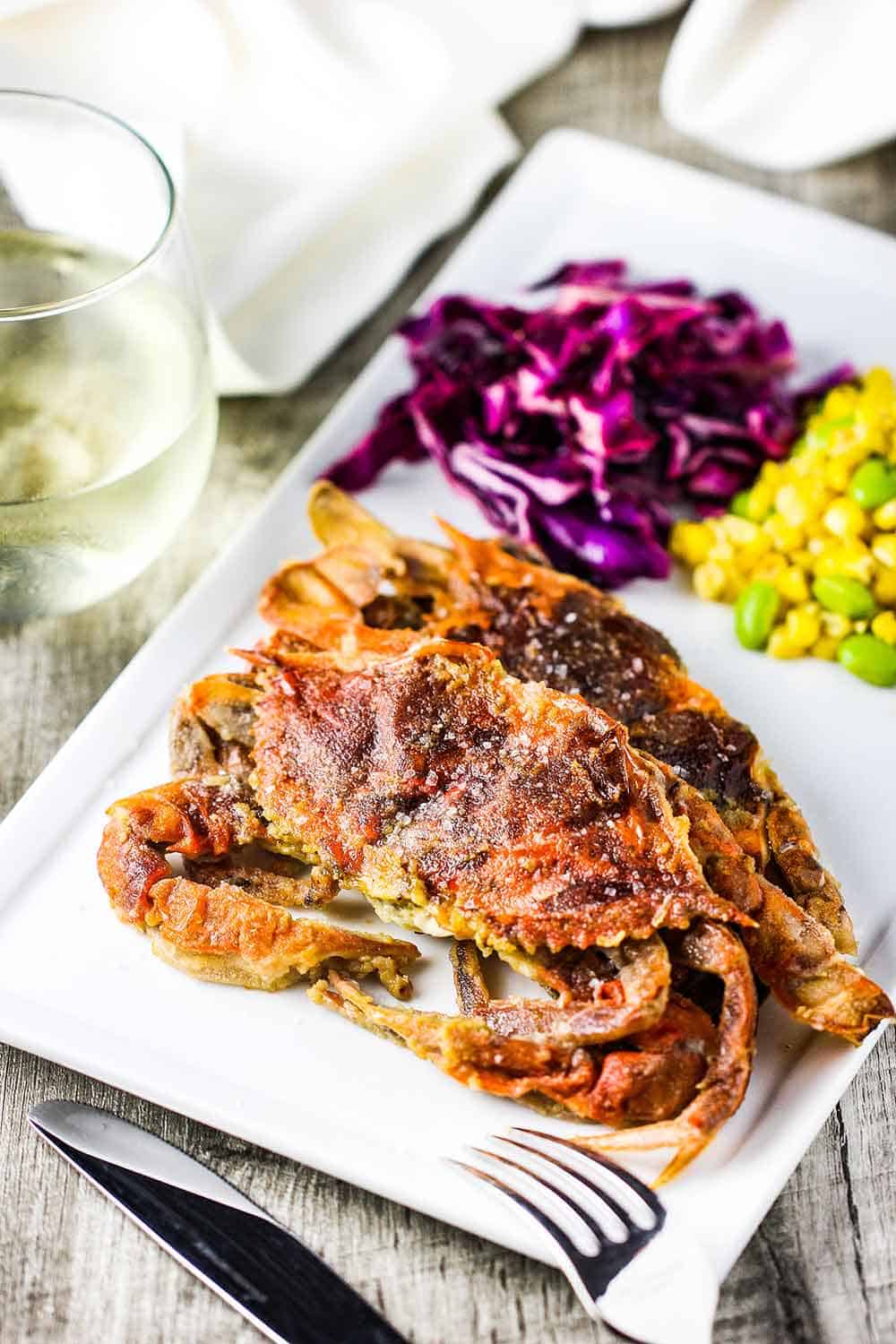 CITARELLA IS UNMATCHED IN FRESHNESS AND QUALITY
As usual, our shipment from Citarella came pristinely packaged with all ingredients sufficiently chilled, very fresh, and most importantly – cleaned. When purchasing live soft-shell crabs, it's important to ask your fishmonger to clean them for you. Citarella delivered beautifully cleaned soft-shell crabs (which also means the crabs are no longer alive) and ready to be cooked.
Once again, we had faith in Joe Gurrera, owner of Citarella, that we would receive only the highest quality in soft-shell crabs, but also in his guidance in preparing the dish. We followed his recipe and tips to a "T" from his critically-acclaimed cookbook "Joe Knows Fish." Joe says when preparing this amazing dish, you need whole, live, cleaned soft-shell crabs and that they should be cooked with 24 to 48 hours of picking them, or, ideally sooner.
To that point, we are elated to announce that as a "How To Feed a Loon" reader, Citarella is offering you FREE SHIPPING on any fresh seafood order of $150 or over when you order online. Simply use Promo Code: LOONFREE now through May 25th, 2019. This really is incredible and we hope you take advantage!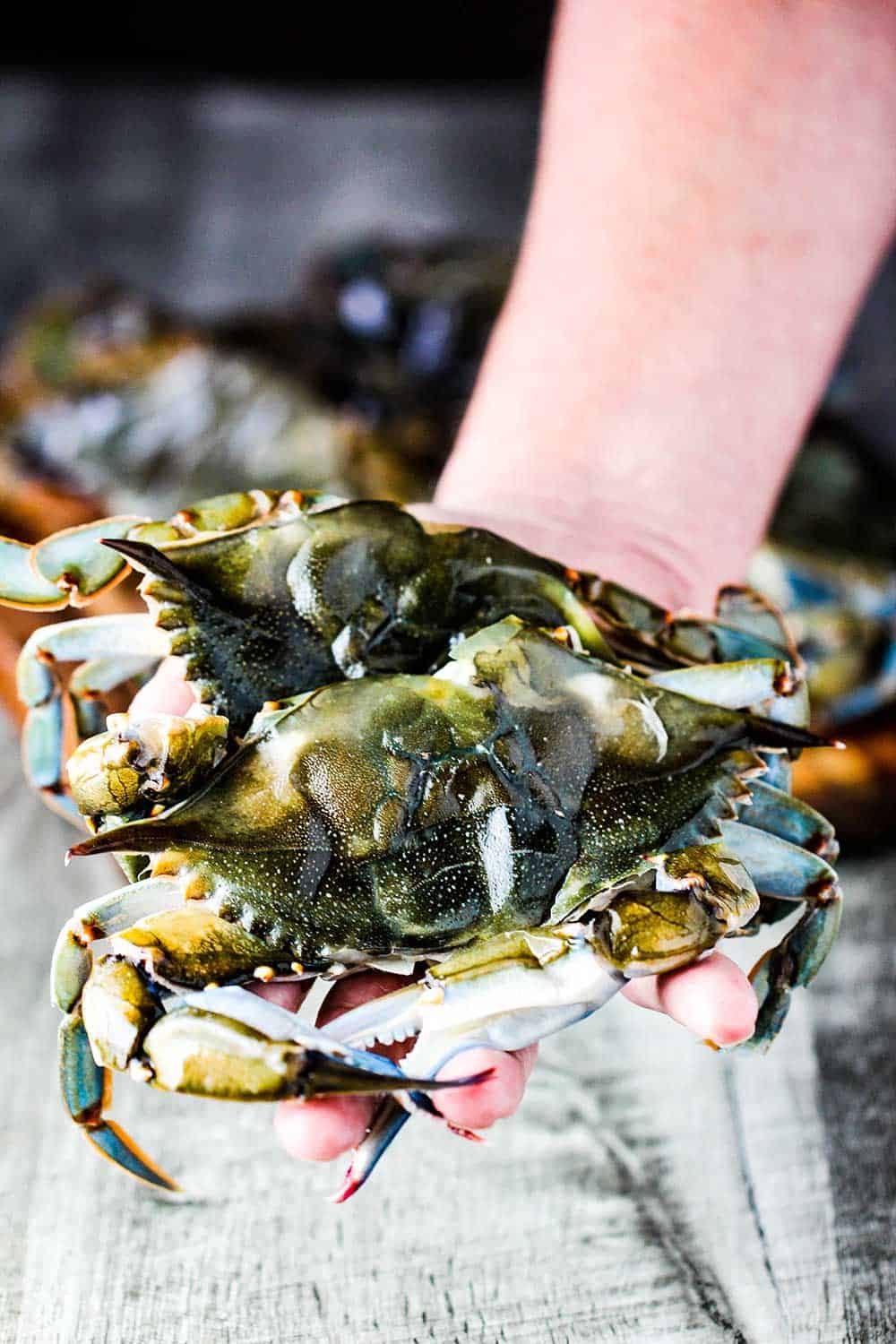 Joe explains that for optimal freshness and taste, the crabs that were shipped to us (and all Citarella customers) are caught in a pot, then put into open saltwater tanks, where they can be observed as they shed their shells.
It is a time-sensitive process. There are people watching them around the clock because the crabs shed at all times and have to be pulled from the water shortly thereafter – if not, they become a hard-shell crab. Joe says the crustaceans can molt up to an impressive twenty-three times in eighteen to twenty-four months!
All they require is a light dusting of flour before they go into a large slightly oiled skillet to be cooked.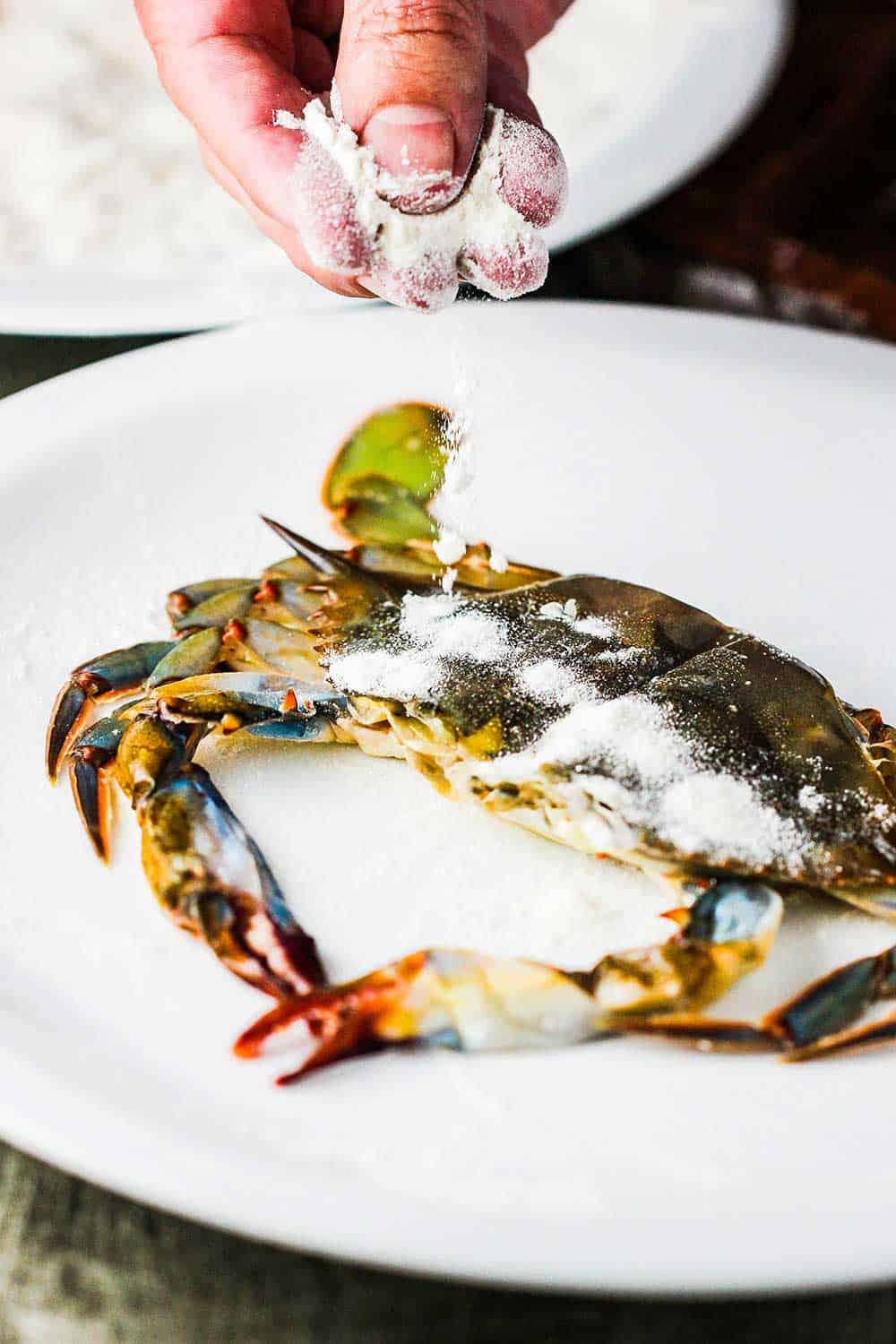 "Joe Knows Fish" is such an amazing book because Joe understands how to teach the home cook to prepare the fish carefully, but also expertly.
Another great aspect of the book is Joe recommends the perfect side dish for most of the seafood recipes. And he even includes the recipes for each side dish.
With our sautéed soft-shell crabs he suggested Red Cabbage Slaw and Corn & Edamame Salad.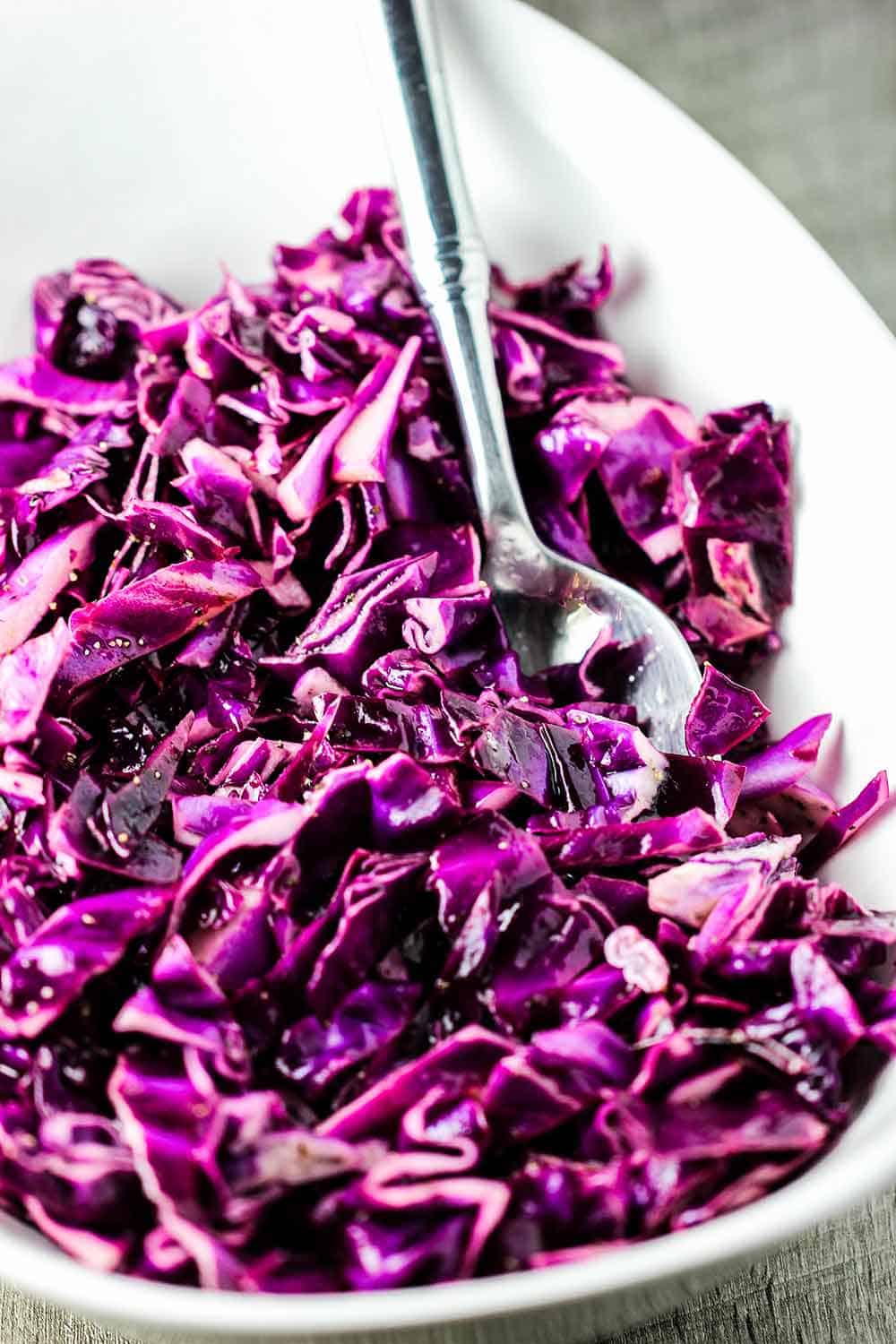 As with almost all of Joe's seafood recipes, the side dish recipes are fresh and not overly complicated.
This simple, straightforward approach is our favorite way to cook.
Let the ingredients shine. And boy, do they ever.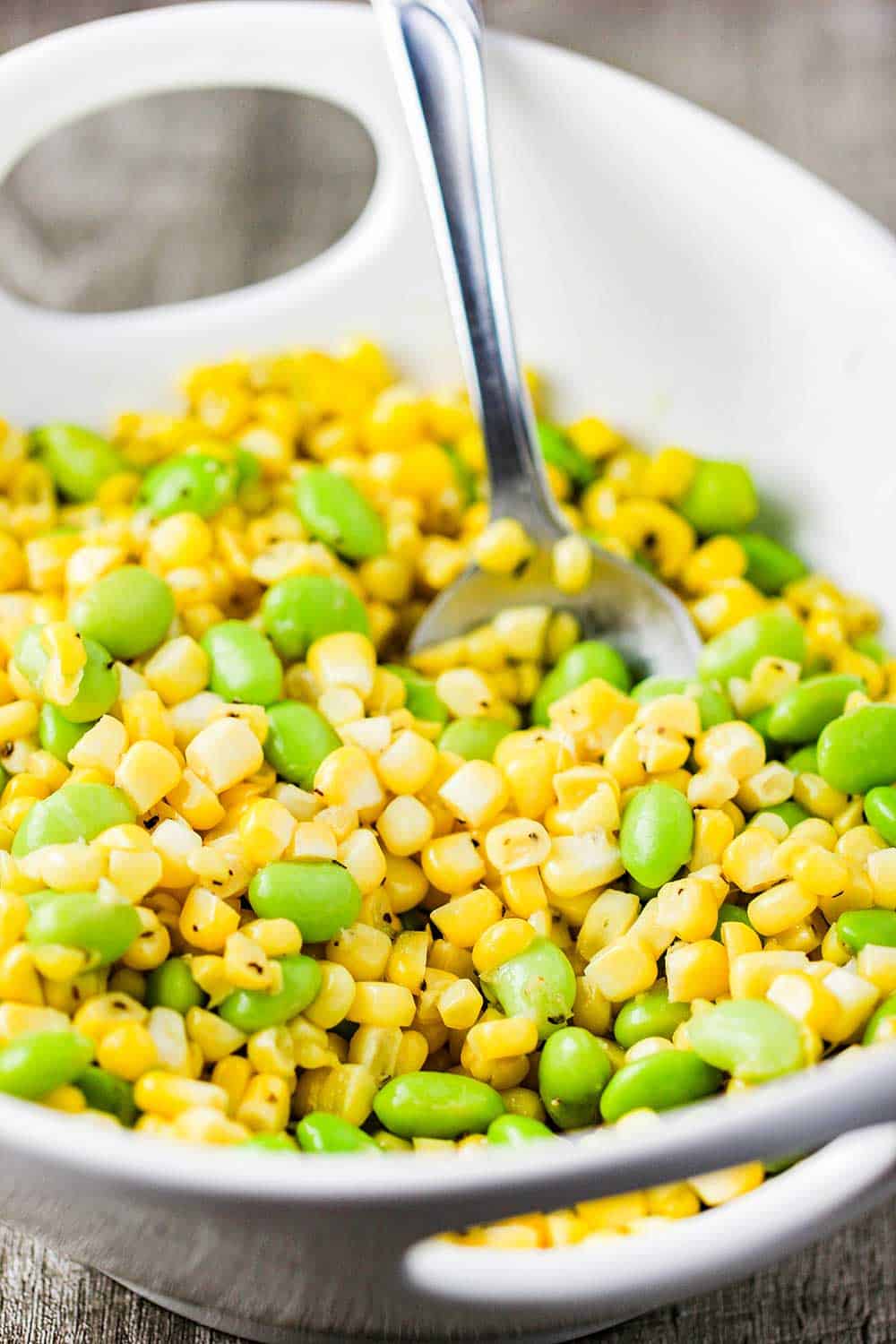 SOFT-SHELL CRABS ARE SAUTÉED FOR ONLY A FEW MINUTES
Now, back to the all-star headliner of this meal: Soft-shell crabs!
Once lightly sautéed, they become golden and sweet and the briny meat stays juicy.
Joe says the key is to not overcook the crab. The goal is get the soft-shell exterior nice and crispy while keeping the meat plump and tender. And YES!! You eat the entire crab!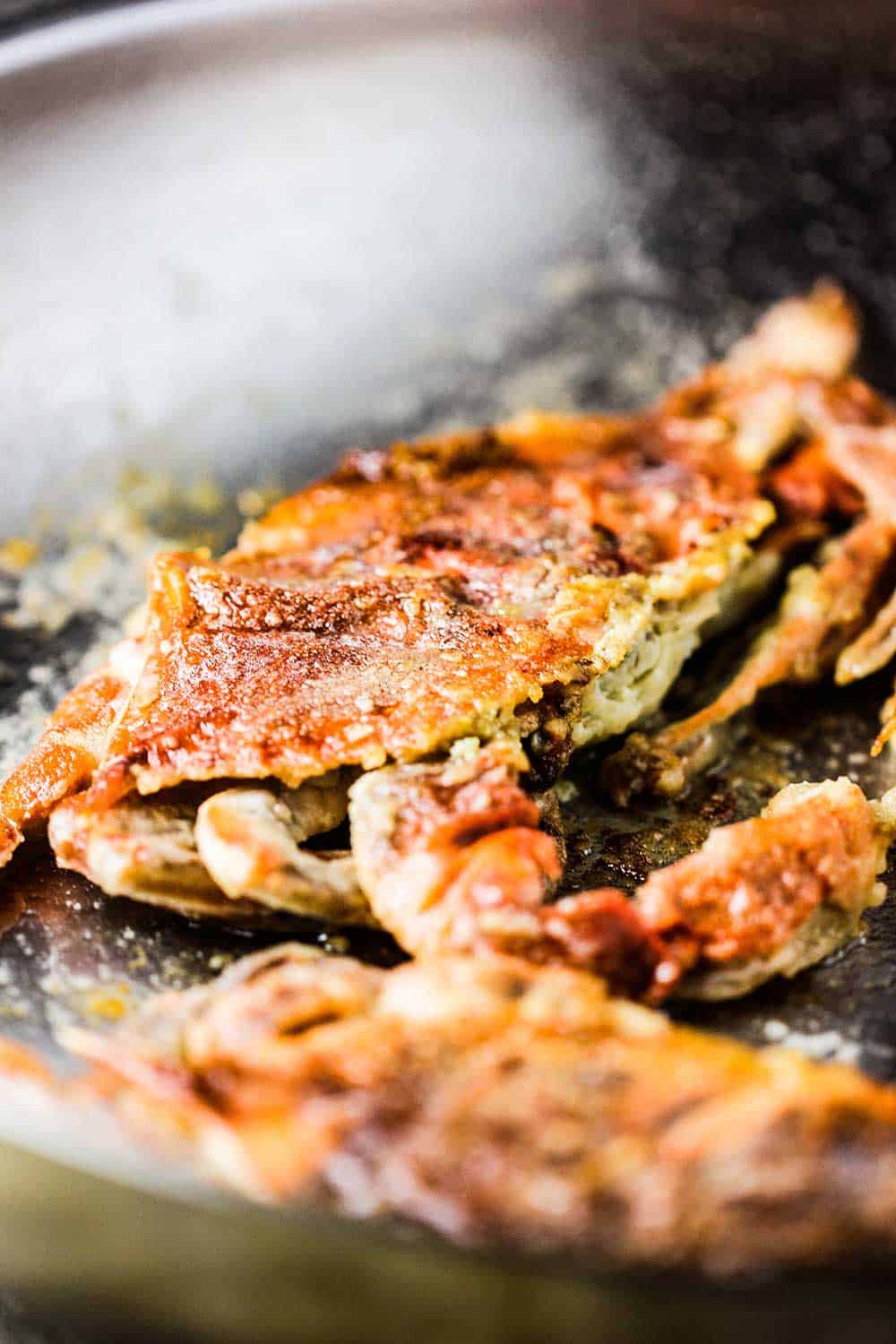 If you're looking for a true knock-out seafood meal, you've come to the right place.
Soft-shell crabs are insanely delicious and surprisingly easy to prepare. When you start with the freshest, most delicious soft-shell crabs available, from Citarella, then you can rest assured that you'll produce a meal that you and your loved ones will remember for a very long time.
Some of our other favorite recipes from Joe Knows Crab are:
But in the meantime, look at these soft-shell crabs!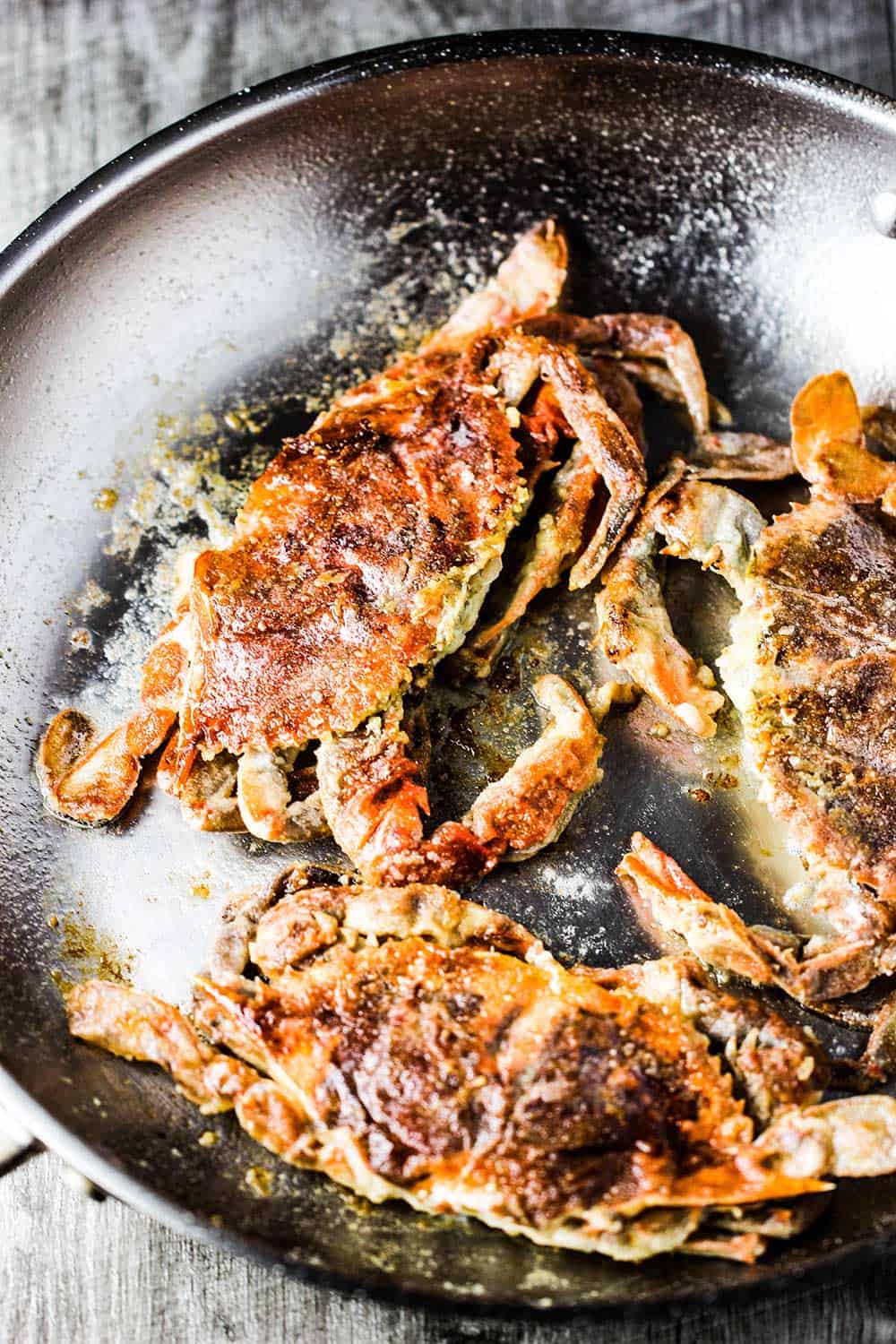 Sautéed Soft-Shell Crabs
Sautéed Soft-Shell Crabs are a seafood lover's dream come true. We get our soft-shell crabs from Citarella, because we know they are the best and the fresh crabs anywhere. Preparation is simple and the results are incredible. We've also included two side dishes that compliment the soft-shell crabs perfectly: Red Cabbage Slaw and Corn & Edamame Salad.
Print
Pin
Rate
Servings: 2 people
Calories: 216kcal
Ingredients
FOR THE SAUTÉED SOFT-SHELL CRABS
4 whole live soft-shell crabs cleaned
1/2 cup Wondra flour or all-purpose flour
1/2 cup extra-virgin olive oil
Sea salt and freshly ground pepper to taste
FOR THE RED CABBAGE SLAW
1/4 cup distilled white vinegar
1 tsp cane sugar
1 tsp sea salt
1/4 cup extra-virgin olive oil
1 medium red cabbage about 1 1/4 lbs, cored and very thinly sliced, about 6 cups
freshly ground pepper to taste
FOR THE CORN & EDAMAME SALAD
2 tbsp extra-virgin olive oil
4 ears corn shucked and kernels cut off the cob
8 oz edamame shelled (2 cups), thawed if frozen
Sea salt and freshly ground pepper to taste
Instructions
SAUTÉED SOFT-SHELL CRABS
Rinse the crabs with cold water and pat them dry with paper towel.

Dust the crabs with flour by sprinkling a light layer onto each side and shaking off any excess.

Pour a very thin layer of olive oil into a large shallow skillet and heat over medium heat until it starts to shimmer. Sauté the crabs for 1 1/2 to 2 minutes per side.

Sprinkle with salt and pepper to taste. Serve immediately.
RED CABBAGE SLAW
In a large bowl, combine the vinegar, sugar, and salt. Whisk until the sugar and salt dissolves.

Add the olive oil and whisk until combined. Put the cabbage in the bowl and toss until fully coated with the dressing. Season with pepper to taste. Let stand at room temperature for 30 minutes before serving.
CORN & EDAMAME SALAD
Heat the olive oil in a medium sauté pan over medium heat. Add the corn and cook for 1 to 2 minutes. Add the edamame and continue to cook until it's just warmed through.

Season the mixture with salt and pepper to taste and serve immediately or at room temperature.
Nutrition
Calories: 216kcal