Penne alla Vodka is without doubt one of our all-time favorite Italian-American pasta dishes. It is truly the definition of "make-you-feel-good" food.
Going the distance and making the homemade marinara is a must. And then the dish comes together very quickly.
This is the real deal.
HOW TO MAKE CLASSIC PENNE ALLA VODKA
Penne all Vodka is not difficult to make at home, especially if you make the marinara sauce in advance.
Watch us show you how easy (and fun) it is to make this classic Italian dish at home!
Well, as mentioned, the basis for an outstanding Penne alla Vodka dish is a robust Homemade Marinara.
This can easily be made in advance. We make a large batch and then freeze in several storage containers.
This marinara is bursting with Italian flavors and is just so wonderful.
Start building the flavor profile off by sautéing onions, garlic, herbs, and red pepper flakes.
The smell emanating from your kitchen will begin to attract the attention of hungry house dwellers before you know it.
Mmmmm.
Now, let's really fire things up!
Very carefully, add the vodka and then use a long match to ignite the alcohol. Be careful when doing this, and be sure to stand back.
This is a technique called flambé and though it's not completely necessary, it does improve the overall flavor of the sauce.
Next goes in the prepared marinara sauce.
And then what gives the dish it's classic pink appearance is the addition of cream. We think just a touch of heavy cream gives the sauce a wonderful texture and luxurious taste.
Oh, yes…cream.
WHY WE LOVE THIS PASTA SO MUCH
Americans are just crazy about this dish. And I can tell you one thing…the Loon and I are two Americans that flip for a good Penne alla Vodka.
Some might ask, but why vodka? Does it really enhance the flavor? I've had a basic marinara sauce with sautéed aromatics, and it's good. But there is something about adding vodka to the sauce and then flambeing it that in my estimation…really does make a difference.
Learn more about the origins of Classic Penne Alla Vodka from SeriousEats.com
In the meantime, just feast your eyes on this…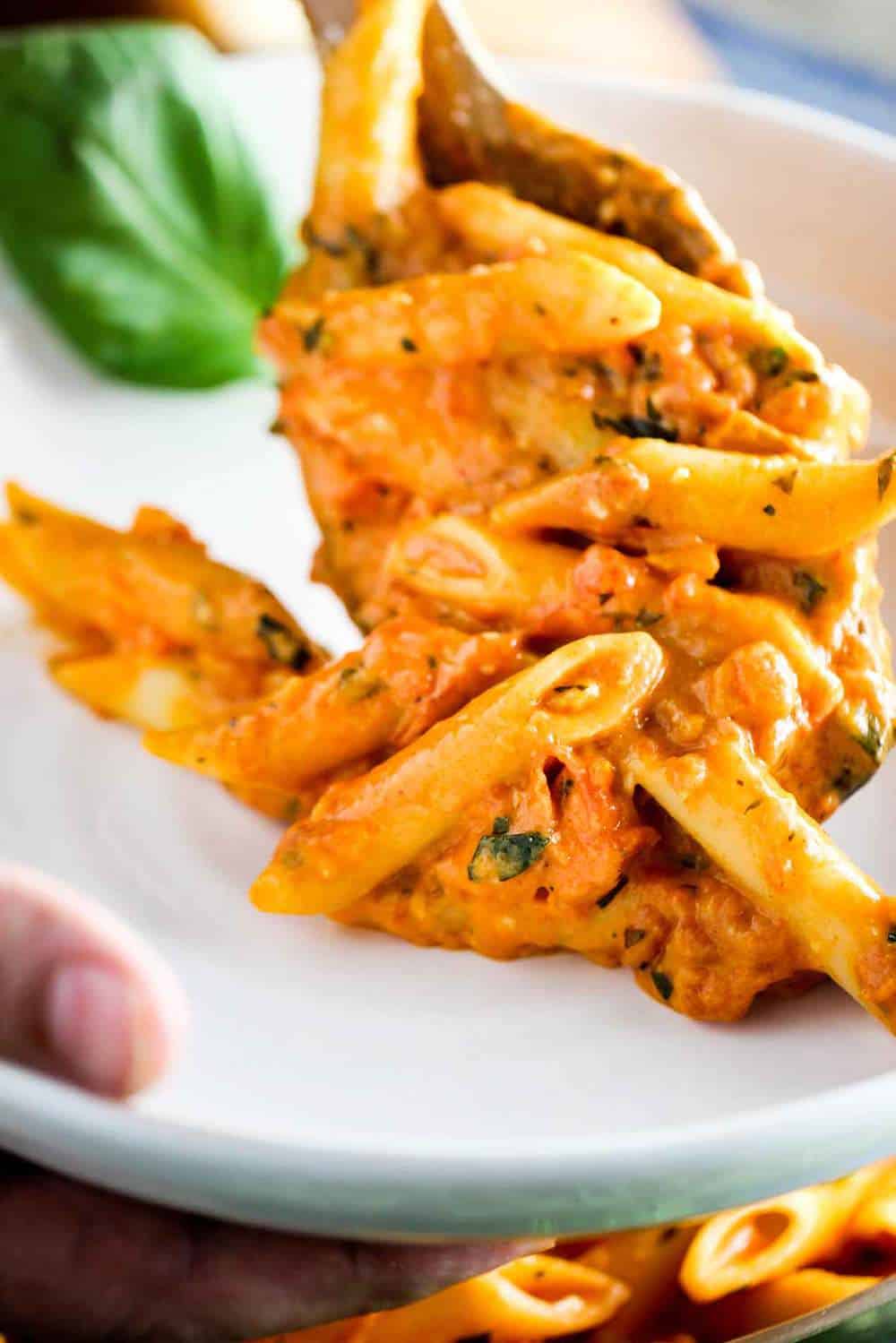 If you love this classic Italian-American dish, you've got to check out our recipes for:
Chicken Crusted Parmesan with Vodka Sauce
But in the meantime, you should really whip up a batch of this amazing Classic Penne alla Vodka.
Classic Penne alla Vodka
This Classic Penne alla Vodka is just that: Classic, vintage and perfectly Italian-American at it best. Make the Homemade Marinara to ensure the best taste you could ever imagine. This is pasta comfort heaven.
Print
Pin
Rate
Servings: 4 people
Calories: 296kcal
Ingredients
1/4 cup olive oil
1/2 onion, chopped
3 cloves garlic, minced
1/4 cup fresh basil, chopped
3 tbsp fresh parsley, chopped
1/4 tsp red pepper flakes (use 1/2 tsp for more heat)
1/3 cup vodka
4 cups homemade marina sauce (click link below for complete recipe)
1/2 cup heavy cream
12 oz dried penne
1 cup Romano cheese
Kosher salt and black pepper
Instructions
In a large pan, heat the olive oil over medium-high heat.

When the oil is just starting to smoke, add the onions and lower the heat to medium. Cook until starting to soften, about 3 minutes.

Add the garlic and cook for another 2 minutes.

Add the basil, parsley, and red peppers (to taste), cooking and stirring for about 30 seconds.

Remove the pan from the heat and carefully add the vodka (stand back when doing this). If the vodka does not flame, very carefully light a long match and ignite. (again, stand back).

Once flame has died down, return the pan to the heat and add the marinara sauce and simmer for about 5 to 6 minutes.

Add the cream and bring to a boil. Boil for 3 minutes until slightly thickened.

Meanwhile, cook the penne in a salted pot of water for 8 minutes, or until al dente.

Drain the pasta. Bring the sauce to a simmer again and stir in 1/2 cup of the Romano cheese, and season with salt and pepper.

Add the pasta to the sauce and mix well over low heat until penne is fully coated. Serve with remaining cheese on the side.
Nutrition
Calories: 296kcal