This is one of those dishes that we turn to time and time again.
This dish really is perfect in so many ways. We often serve it when having guests over, or we make it for ourselves after a long busy day. We think it's wonderful with simple roasted asparagus and the easy vodka sauce puts it over the top. And it all comes together in about a half-hour!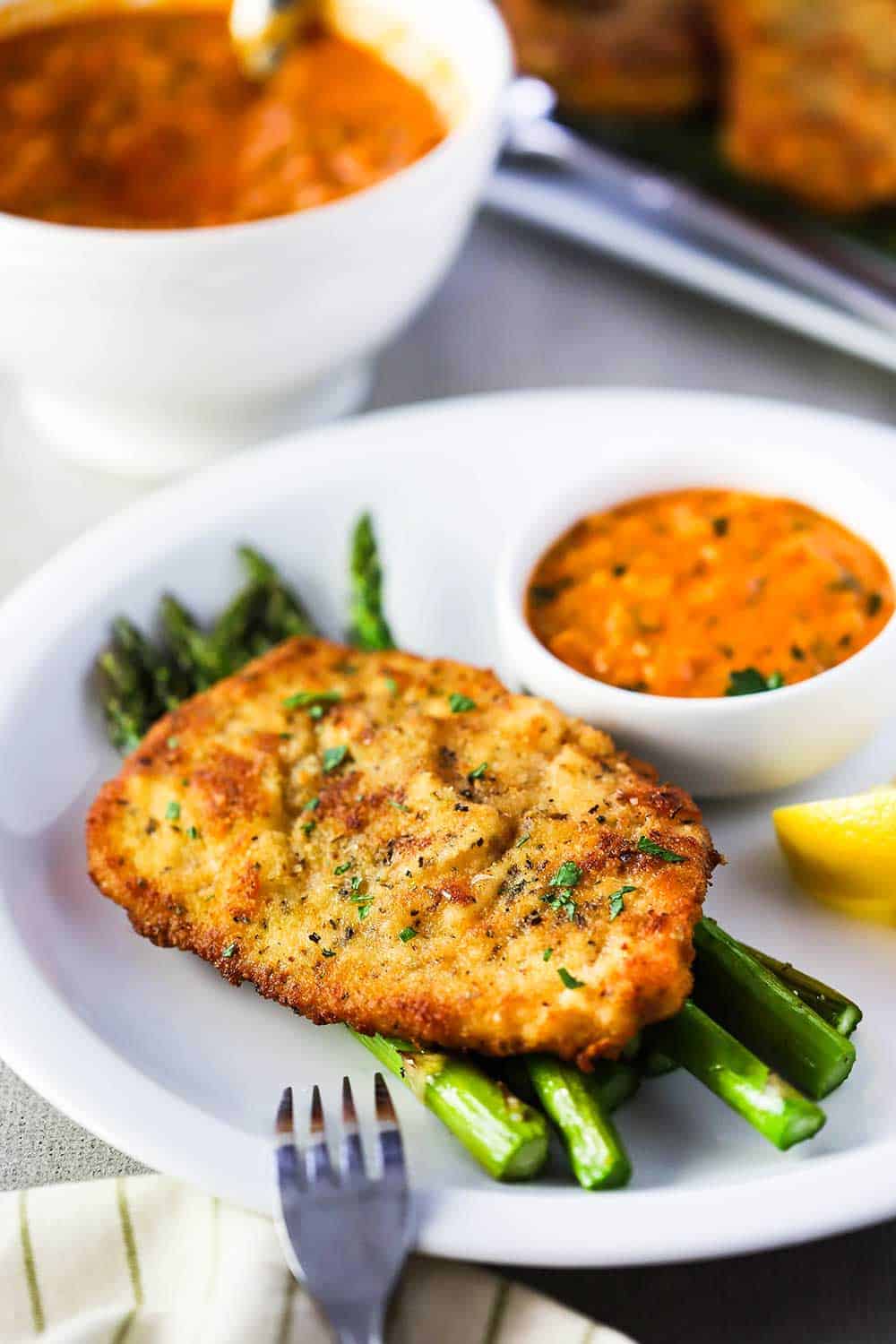 HOW TO MAKE PARMESAN CRUSTED CHICKEN
Besides incredible taste and easy preparation, another great thing about this dish is that most of the ingredients you'll probably already have on hand.
Get all the components of the recipe together first, and then it all comes together very quickly
We definitely recommend going with thin chicken breasts.
Use a mallet, or even a rolling pin, to make the cutlet nice and thin.
EXPERT TIP: If your chicken breast is large, you can easily slice in half, lengthwise, and then pound it to about ¼-inch in thickness. To prevent the meat from shredding, we place the cutlet in a large freezer baggie and then gently pound it with the side of the mallet in an outward motion.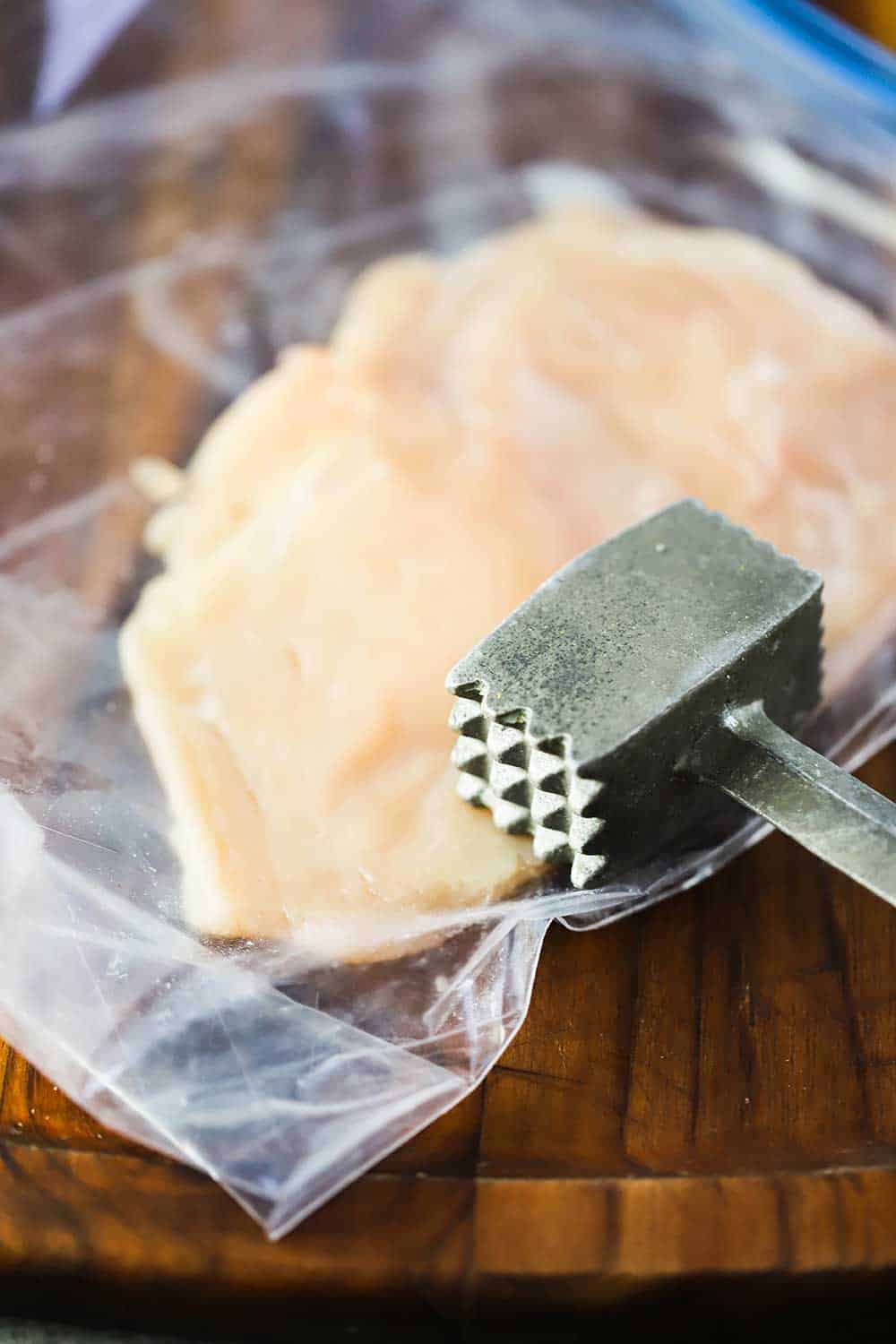 SETTING UP THE DREDGING STATION
After pounding out the chicken breasts, it's time to bread the Parmesan Crusted Chicken!
First, we sprinkle salt and pepper on both sides of the cutlets.
Then, one at a time, place the chicken in the seasoned flour, then the egg bath, and finally coat with the Parmesan and seasoned bread crumbs. Repeat with remaining cutlets.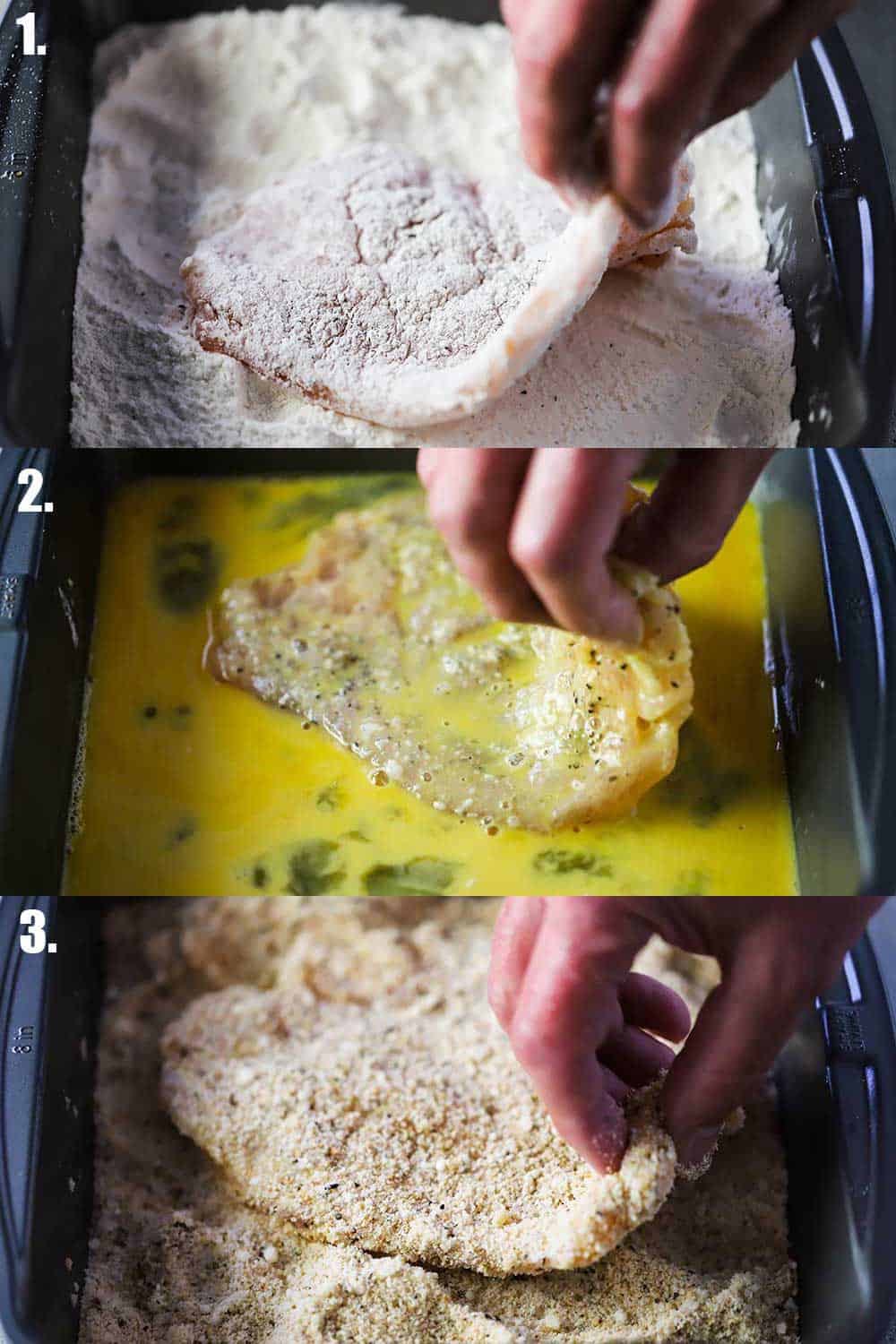 Now, it's time to quickly fry the cutlets.
We use a combination of olive oil and butter.
EXPERT TIP: When cooking the cutlets, be sure to not overcrowd the pan, otherwise the cutlets won't cook evenly, and will take longer to brown, and therefore absorb more oil than is desired. Keep cooked cutlets warm in a low-temperature oven (200°F) until they are all finished. You may need to add a little more butter as you fry additional cutlets.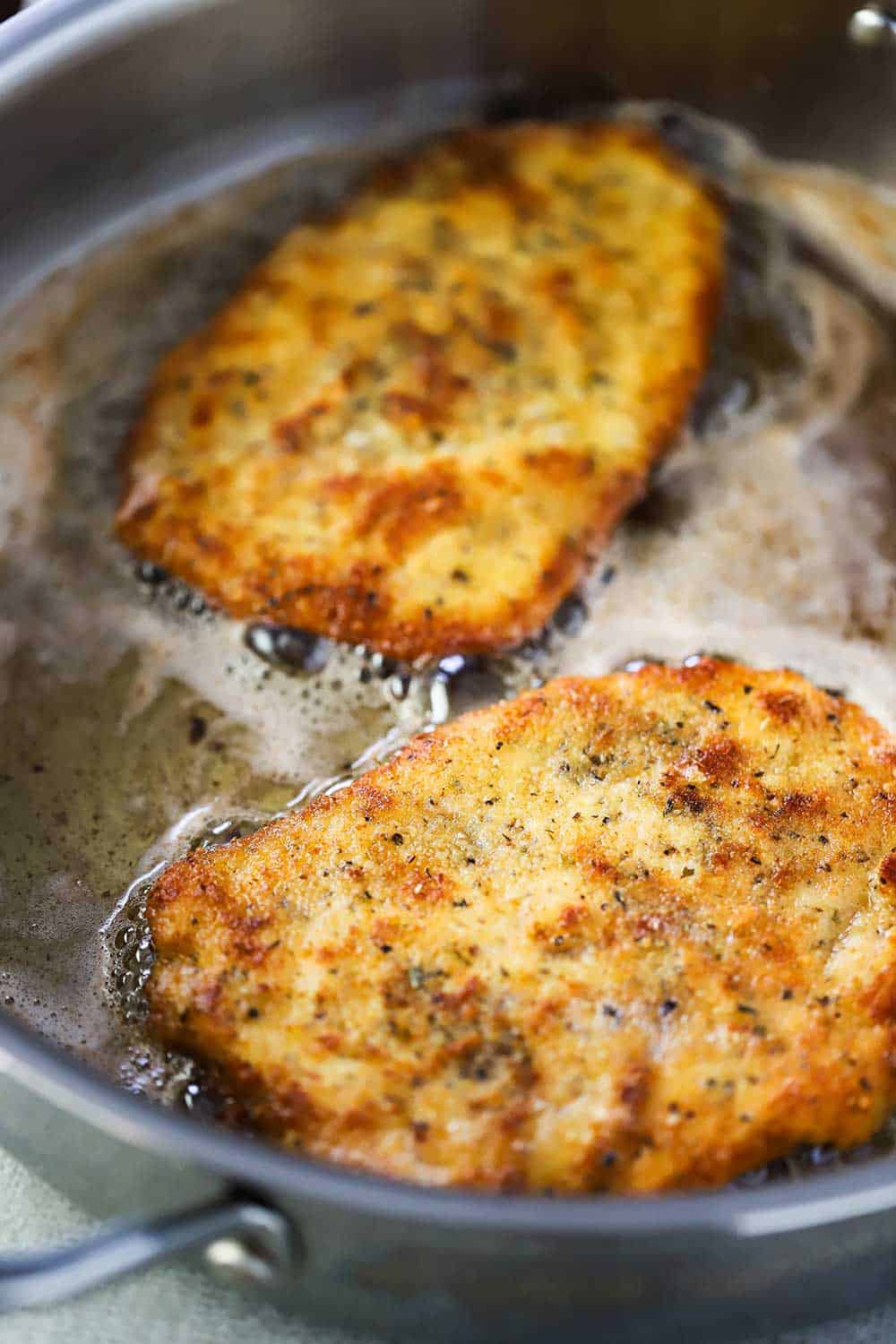 WHAT TO SERVE WITH PARMESAN CRUSTED CHICKEN
As mentioned, this chicken pairs incredibly well with a pink vodka sauce.
Simply follow the recipe here, but cut the sauce the ingredients in half. Unless serving this with pasta, then make the full batch.
EXPERT TIP: We also love serving this with roasted asparagus. To prepare them, simply cut the ends off of the asparagus, toss them in a couple of tablespoons of olive oil, and then sprinkle salt and pepper all over them. Roast them on a baking sheet in the oven for about 15 minutes at 400°F while the chicken cutlets are cooking. The vodka sauce can be made up to a day in advance.
IDEAL FOR ENTERTAINING OF A WEEKNIGHT DINNER
This dish is so simple, yet beautiful in presentation.
It's truly perfect for a beautiful dinner party, but also easy enough to whip up on a busy weeknight.
The cutlets can be prepared up to a couple of hours in advance of serving, just warm them in a low-temperature oven at 200° to 250°F.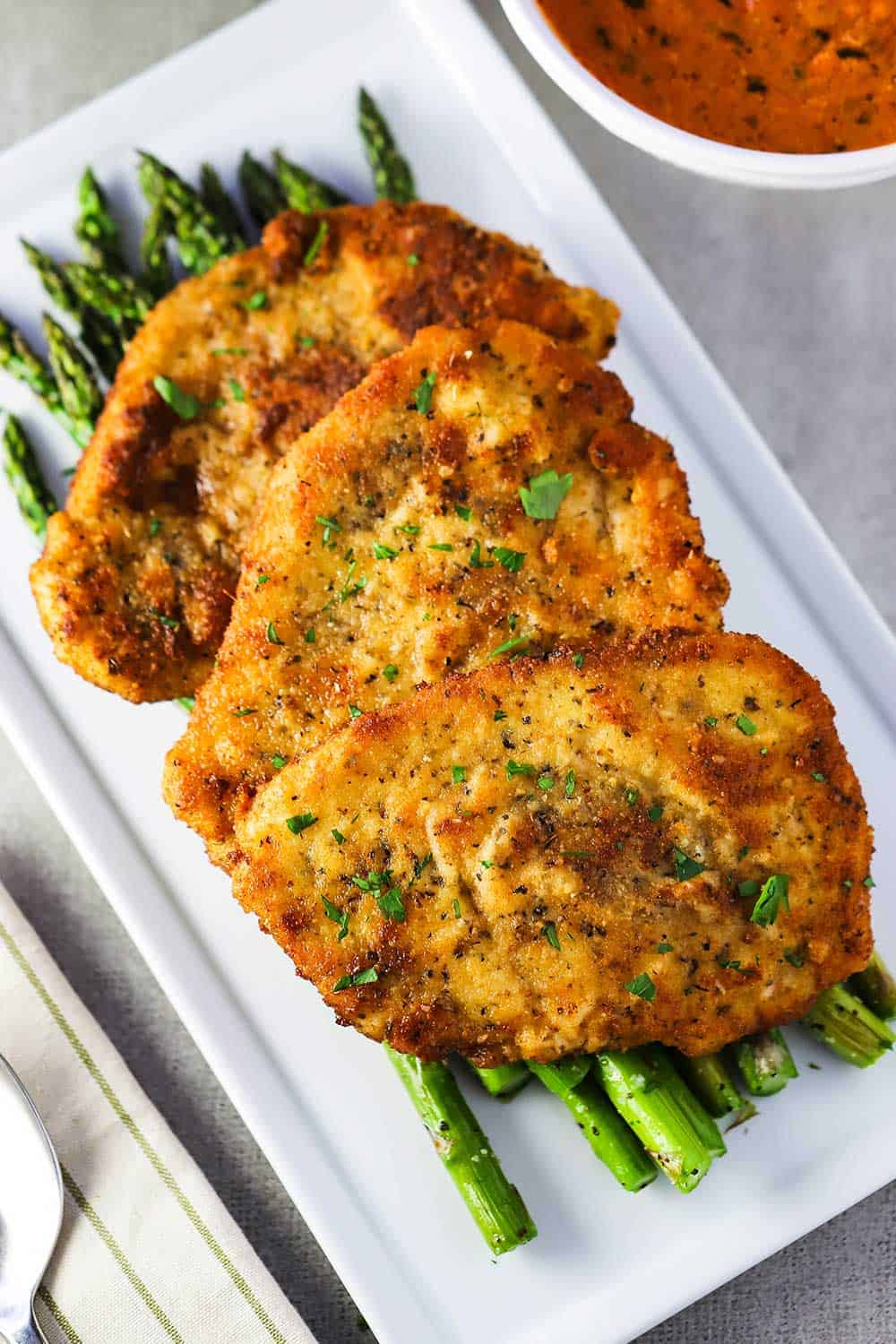 Parmesan Crusted Chicken is a knock-out without the sauce, no doubt.
But you need to trust us when we tell you that the sauce puts the dish over the top.
Just incredible!
Ready to make the best chicken dish on the planet? Go for it!
And when you do, be sure to take a picture of it, post it on Instagram, and tag @howtofeedaloon and hashtag #howtofeedaloon!
Parmesan Crusted Chicken
Parmesan Crusted Chicken is hands down one of our all-time dishes to make for guests or just for us when we're in the mood for a meal that is easy yet incredibly delicious. Serving it with homemade (easy) Italian vodka sauce puts it over the top!
Print
Pin
Rate
Servings: 6
Calories: 495kcal
Ingredients
6 chicken breasts skinless, boneless, pounded to ¼-inch thick
1 cup all-purpose flour
1 tsp Kosher salt
½ tsp black pepper freshly ground
3 large eggs
1 tbsp milk or water
1¼ cup bread crumbs plain
1 tsp oregano dried
1 tsp basil dried
½ cup Parmesan cheese grated
2 tbsp olive oil
2 tbsp unsalted butter plus more, if needed
Vodka sauce optional
Instructions
After thinning the chicken breasts with a mallet or rolling pin, season them all over with salt and pepper.

Set up your dredging station: In a medium pan or plate, mix together the flour with 1 tsp salt and ½ tsp pepper. In a 2nd pan or medium bowl, mix together the lightly beaten eggs with the milk (or water). Finally, in another medium pan, or plate, mix together the bread crumbs and Parmesan cheese with the dried herbs.

One cutlet at a time, first, dredge the chicken in the flour until fully coated. Next, dip in the egg bath to coat, shaking off excess. Next, press into the bread crumbs until fully coated. Place on a plate or platter, and repeat with remaining cutlets.

Heat the oil in a large skillet over medium heat until shimmering. Add the butter and swirl until melted. Working in batches (don't overcrowd the pan), place the chicken cutlets into the pan. Cook until nicely browned on the bottom, about 3 to 4 minutes. Flip over and cook until the other side is also browned and the cutlet is fully cooked, another 3 to 4 minutes. Place on a plate lined with paper towels and continue cooking remaining cutlets, adding more butter if necessary.

Serve at once with vodka sauce, if desired.
Notes
Thin chicken breasts are recommended for this dish. To reach ¼-inch thickness, place the cutlets, one at a time, in a large freezer baggie and use the side of a mallet, or a rolling pin, and gently pound out the meat until you've reached the correct thickness.
For these cutlets, we prefer regular bread crumbs instead of Panko. But, if you prefer an extra crunchy cutlet, you could certainly use Panko. You could also double the breading process, but you'll most likely need to increase the breading ingredients.
The cutlets can be made up to a couple of hours before serving. Keep warm (or re-warm) in a low-temperature oven (200° to 250°).
The cooked cutlets will keep in the refrigerator for up to 1 week and can be frozen for up to 1 month.
To make the vodka sauce:
Heat 1 tbps oil in a skillet over medium heat.
Saute 1 cup of onion until soft, about 3 minutes.
Add 3 minced garlic cloves and cook for another 30 seconds.
Add 3 tbsp fresh chopped basil and 1 tbsp freshly parsley, and 1/4 tsp red pepper flakes. Season with salt and pepper.
Stand back and add 1/4 cup of vodka. Light with a long match (stand back!) and cook until flame subsides.
Add 2 cups of marinara, and simmer for 3 minutes.
Add 1/4 cup of heavy cream, and then stir in 1/4 cup of grated Parmesan cheese.
Can be made up to 1 day in advance.
Nutrition
Calories: 495kcal | Fat: 9g | Saturated Fat: 2g | Sodium: 213mg