Chicken Piccata.
There are some dishes that truly deserve the term: Classic. This Classic Chicken Piccata recipe is 100% deserving.
Talk about scrumptious. This dish is a crowd favorite, without a doubt.
Although the history of piccata dishes is unclear, it without doubt originated in Italy and has become an Italian-American favorite. It certainly is a favorite in our house! Veal piccata is very popular, too!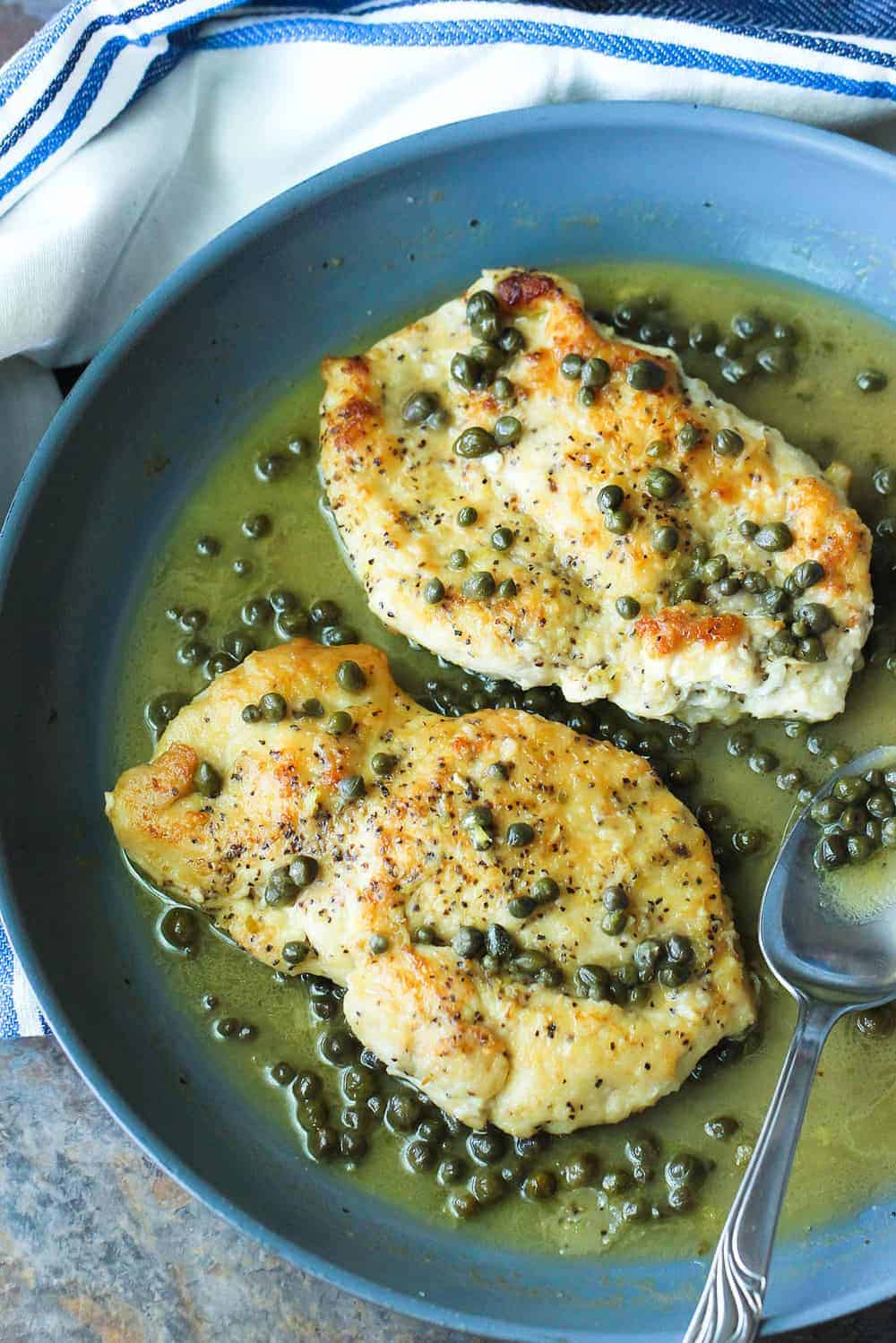 CLASSIC CHICKEN PICCATA IS EASY TO PREPARE AT HOME
The chicken is succulent with a lightly crisp exterior and a juicy interior. The sauce, of course, comes to life with a mouth-watering combination of white wine, lemon and butter. Finished off with tantalizing capers with briny bursts of flavor, this dish just can't be beat.
Watch us show you how easy it is to prepare this incredible Classic Chicken Piccata! You will be amazed that you can prepare something so incredibly delicious in such a short amount of time! The best!
Not only is this dish classic in flavor, it is stunning in presentation.
Bring this dish to the table, and be prepared for a shower of 'oohs' and 'ahhs.'
And then just wait until your guests take their first highly anticipated bite. The chicken is incredibly tender and the sauce is velvety and bright with lemon and capers. Finished off with melted butter. Now, that's the good stuff!
THE DISH ONLY TAKES 30 MINUTES TO PREPARE
And to make things even better, this chicken piccata literally comes together in about 30 minutes.
Serve with fresh pasta or rice. Steamed asparagus compliments the dish beautifully. Along with, of course, your favorite white wine.
Wow. Just, wow.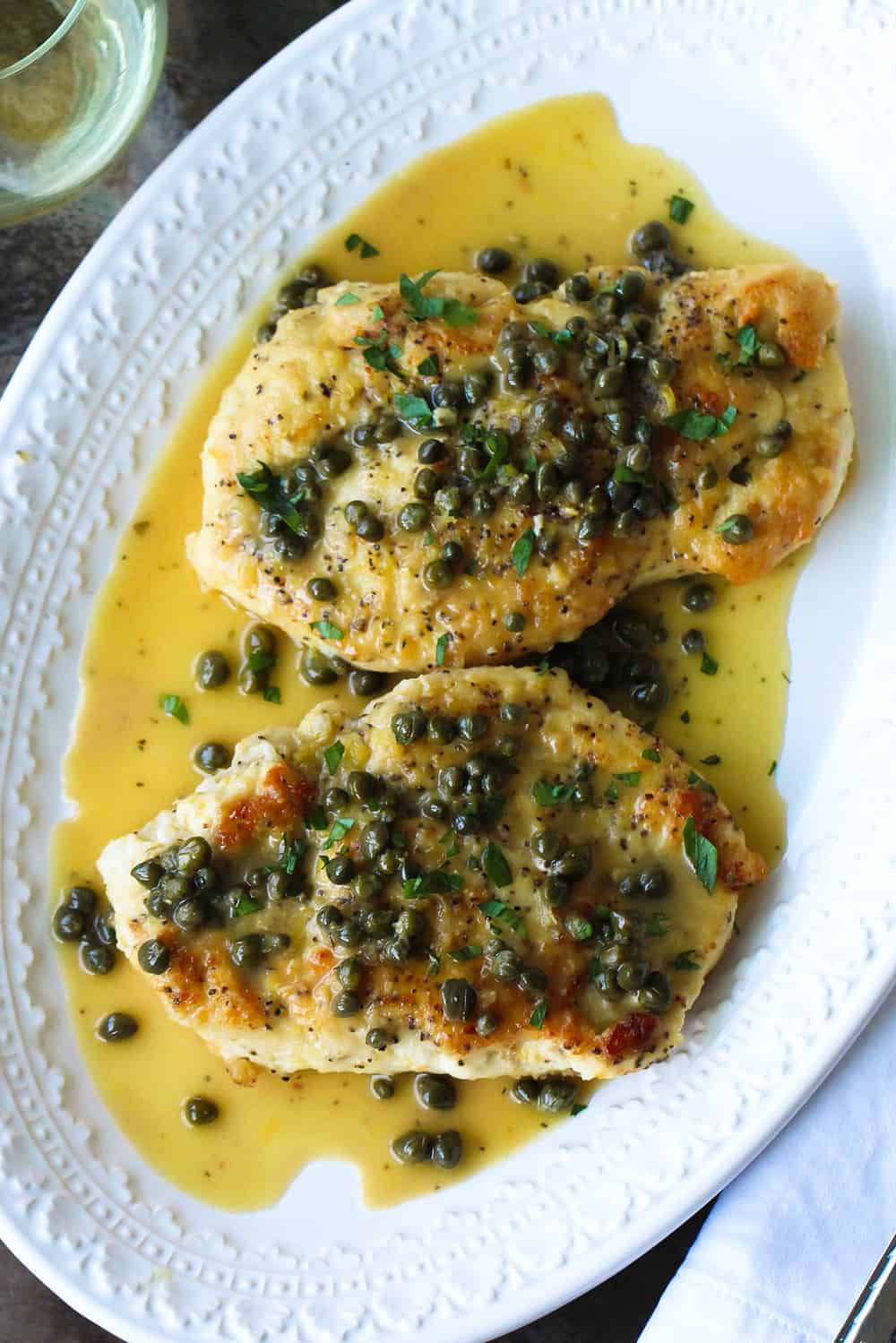 Okay, if you're not salivating by now, We're not sure what's wrong with you. But if you are, let's get to making this Classic Chicken Piccata recipe!
You're going to love this one!
Classic Chicken Piccata
The Loon and I just can't get enough of this Classic Chicken Piccata recipe. This dish is as big on taste as is it is beautiful in presentation. And best of all, it literally comes together in about half an hour, or so. Serve with pasta or rice and a nice white wine. Classic Chicken Piccata perfection.
Print
Pin
Rate
Servings: 4
Calories: 346kcal
Ingredients
4 skinless, boneless chicken cutlets boneless chicken cutlets
Kosher salt and black pepper
1 cup all-purpose flour
1/4 cup olive oil
1/2 cup chicken stock
1/2 cup dry white wine
1 tbsp lemon zest finely chopped
1/4 cup fresh lemon juice
1/4 cup Nonpareil capers drained
3 tbsp unsalted butter
2 tbsp flat-leaf parsley chopped, for garnish
Instructions
Place one chicken breast in a large plastic baggie, and using a meat pounder, pound until about 1/2-inch thick. Repeat with other chicken breasts.

Sprinkle the chicken evenly with salt and pepper.

Spread the flour on a plate.

Coat the chicken cutlets with the flour, shake off any excess.

In a large saute pan, heat the olive oil over medium-high heat.

When the oil is hot, carefully add the chicken. Don't overcrowd the pan.

Cook for about 4 minutes on each side, or until it's golden brown all over. (The chicken will not be completely cooked through at this point.)

Set the cutlets aside on a plate to collect any accumulated juices.

Remove oil from the pan and return to medium heat.

Add the stock, wine, zest and juice and increase the heat to high and cook for about 2 minutes.

Add the chicken back to the sauce, and simmer for another 3 minutes. Pierce the chicken with a small, sharp knife. If juices are clear, the chicken is ready, if still pink, cook another couple minutes until juices are clear.

Add the capers and heat for 1 minutes.

Remove from the heat and gently stir in the butter around the chicken until melted and slightly thickened.

Taste and add a pinch of salt, if necessary.

Serve on warmed platter, or individual plates, and garnish with chopped parsley.
Nutrition
Calories: 346kcal