This side dish is easy, unique, and absolutely delicious. Pretty awesome, right?
If you're looking for a new side dish to accompany your fantastic entree, such as Parmesan-Crusted Cod, Honey Mustard Baked Chicken, or Steak au Poivre, you are going to absolutely love this vibrant dish. It comes together in a matter of minutes and is loaded with nutritional benefits.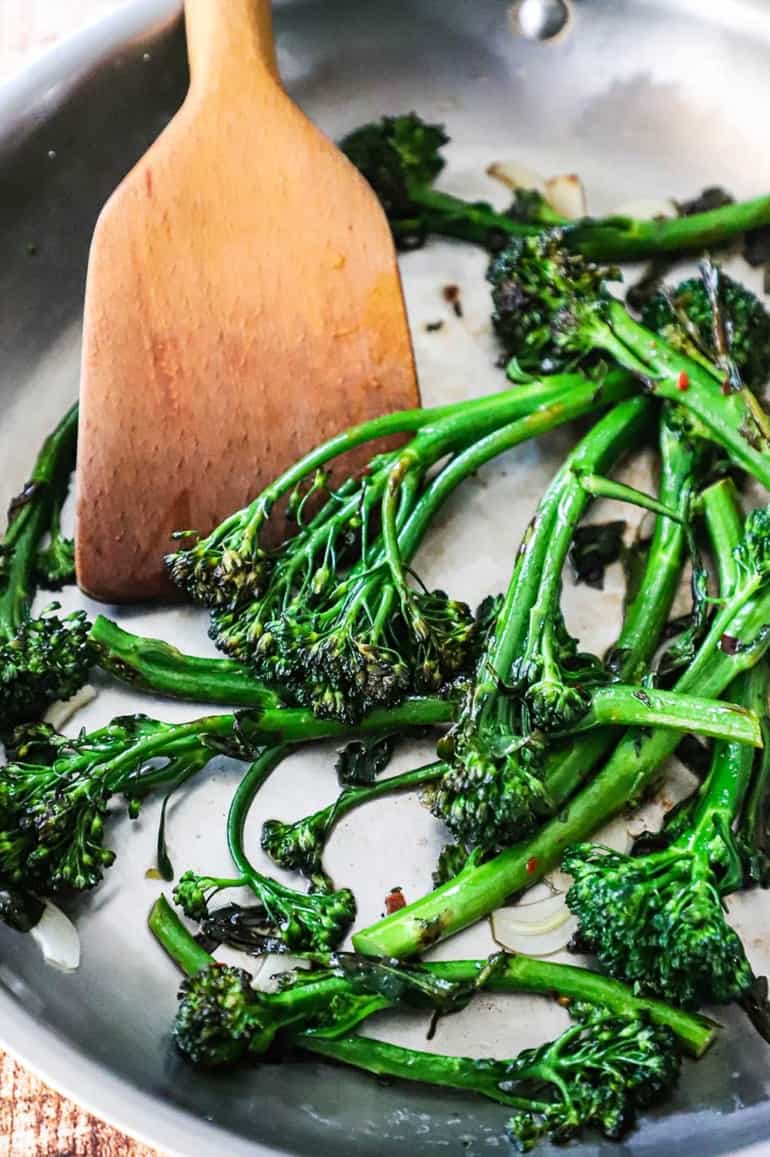 How To Make Sautéed Broccolini
You may be wondering, what is broccolini vs. broccoli? Although they are both vibrant green and have similarities in taste, they are actually from different plant families. Lots of folks mistakenly think that broccolini is baby broccolini. It isn't.
Broccolini is milder and not as bitter as broccoli. It's best steamed, grilled, roasted, or our favorite: sautéd. Learn more here.
Broccolini can be found in the produce section of most well-stocked supermarkets. It's often packaged and encased in plastic wrap.
NOTE: If you liked this video, please subscribe to our YouTube channel. Remember to click the little 'bell' icon so you'll never miss a new video!
The Ingredients You Will Need
One of the great things about this dish is that you only handful of ingredients to bring it all together.
Here's what you'll need to grab
Broccolini – Cut off the thick ends, about 1/2 inch
Oil – Olive or Extra Virgin is best
Garlic – Either thinly sliced or minced
Salt – Kosher
Red pepper flakes – For a little zip
Lemon juice – The juice from half a lemon, or about 1 tbsp
EXPERT TIP: If you can't get your hands on broccolini, then you can certainly substitute broccoli that has been cut into florets. Fresh is best, but frozen will work. Just make sure it's completely thawed and thoroughly dried with a kitchen towel.
Other Scrumptious Sides Dishes to Try
We love this broccolini because it's delicious and something a little different, but here are some of our other favorite side dishes:
Roasted Broccoli with a Kick
Cauliflower with Lemon and Olives
Roasted Potatoes with Balsamic and Herbs
Crispy Hasselback Potatoes
Braised Green Beans with Tomatoes
Sautéd White Beans with Tomatoes, Garlic, and Sage
Mashed Cauliflower with Roasted Garlic
Maple Glazed Carrots
Shaved Brussels Sprouts with Pancetta and Balsamic
Steakhouse Sautéd Mushrooms
In the meantime, preparing this broccolini dish could not be easier and the results are fantastic.
How To Serve Sautéed Broccolini
This side dish is perfect, obviously, as a side to so many entree dishes.
It's great to serve family style and let family or guests serve themselves.
But, it's also really beautiful and makes for a gorgeous presentation. We love to make a bed of it in the middle of the plate, and then place the protein on top of, preferably with a sauce drizzled over the top.
It pairs perfectly with our amazing Parmesan-Crusted Cod with Romesco Sauce.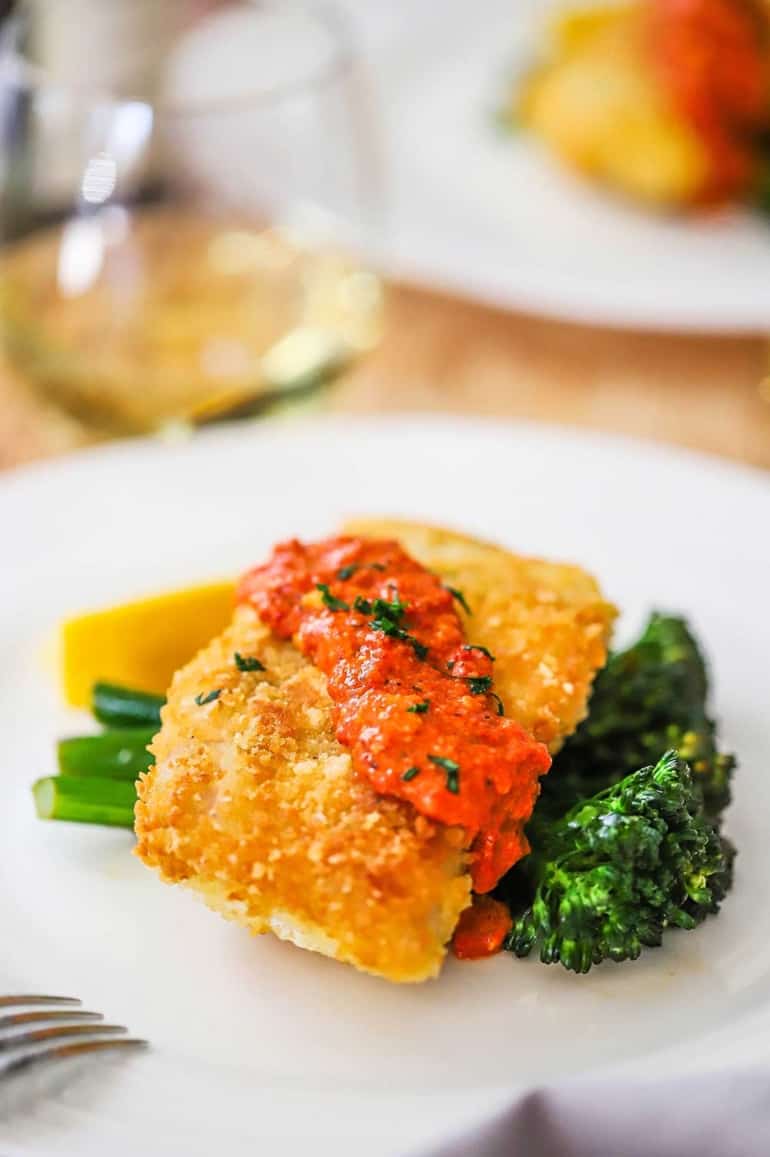 Ready to make one of the easiest, yet most delicious side dishes that also happen to be super healthy? Go for it!
And when you do, be sure to take a photo of it, post it on Instagram, and tag @HowToFeedaLoon and hashtag #HowToFeedaLoon!
Sautéed Broccolini
Sautéed Broccolini with garlic and lemon is delicious, easy, and also a beautiful side dish. Be careful not to sauté (or steam) for too long, otherwise, the beautiful green color will be diminished and become too soggy.
Print
Pin
Rate
Servings: 4
Calories: 130kcal
Ingredients
1 tbsp olive oil
3 cloves garlic thinly sliced, or minced
2 lbs broccolini ends cut off (about ½-inch), rinsed
1 tsp Kosher salt
½ tsp red pepper flakes
2 tbsp lemon juice from half of 1 lemon
Instructions
Heat the oil in a large skillet over medium heat. Add the garlic and sauté, stirring often, until softened and lightly browned, about 1 minute.

Add the broccolini, salt, and red pepper flakes, and continue to sauté for 5 minutes.

Add the lemon juice, cover the skillet, and cook for another 2 to 3 minutes. Serve at once.
Notes
See the video near the top of the blog post for visual guidance. If you liked the video, please subscribe to our YouTube channel.
Regular broccoli can be substituted for broccolini. You may need to sauté the broccoli a little longer since the florets will probably be somewhat larger. But, only by a minute, or two.
Don't overcook the broccolini, or it will lose its vibrant green color and become soggy.
Leftovers can be kept covered in the fridge for a day or two. It will lose its crispness and freshness, but will still be pretty yummy after being reheated in the microwave or on the stove.
Nutrition
Calories: 130kcal | Carbohydrates: 17g | Protein: 8g | Fat: 4g | Saturated Fat: 0.5g | Polyunsaturated Fat: 0.4g | Monounsaturated Fat: 3g | Sodium: 653mg | Potassium: 22mg | Fiber: 3g | Sugar: 6g | Vitamin A: 4077IU | Vitamin C: 212mg | Calcium: 166mg | Iron: 2mg