This is such a wonderful side dish for so many entrees.

The mild taste of the roasted cauliflower matches perfectly against the tangy green olives, capers, lemon zest, and fresh parmesan cheese. And it simply could not be easier to prepare, and is super healthy, too! This is great served with Roasted Chicken or Beef Brisket!


NOTE: If you liked this video, please subscribe to our YouTube channel. Remember to click the 'bell' icon so you'll never miss a new video. Thank you!
How To Make Roasted Cauliflower with Olives
The hardest part (and it's really not even hard), is cutting the cauliflower into florets. But like we said, it's not really that hard. Just use a nice, large, sharp knife to carve out the core, and then cut away the florets. Easy!
In many well-stocked supermarkets, you can get pre-cut cauliflower. In a pinch, you can use frozen, although the texture will be very soft.
You may be asking: "Is cauliflower healthy?" In a word: Yes! Read more about that here.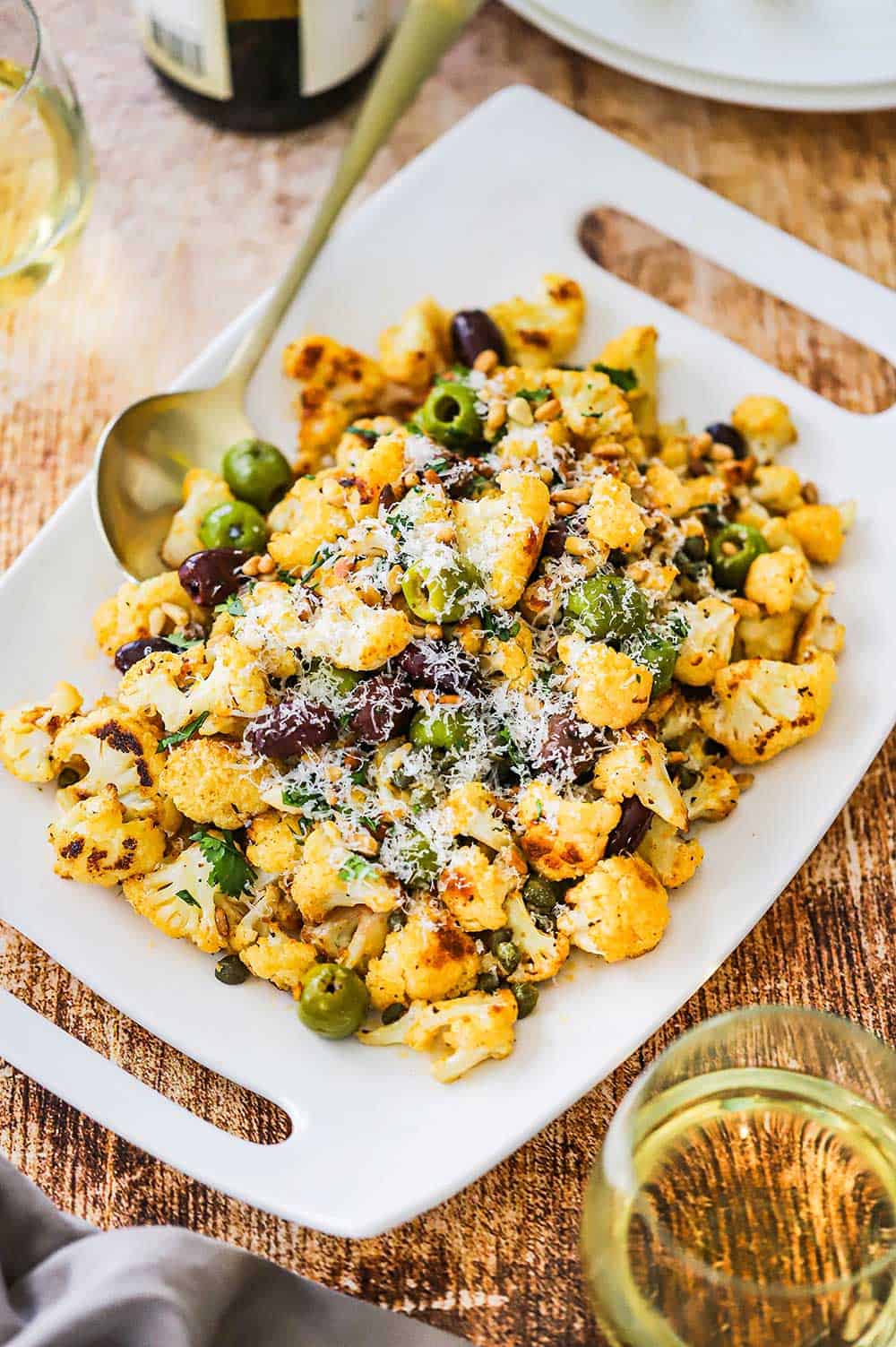 The Ingredients You Will Need
This recipe is not only extremely pantry-friendly, but you can also adapt it to your own tastes.
Here are the simple ingredients we love using, but you feel free to adjust:
Fresh cauliflower, cut into florets
Extra-virgin olive oil
Lemon zest
Salt and pepper
Smoked paprika
Olives (we love a mixture of green and kalamata)
Capers
Fresh parsley
Grated Parmesan cheese
EXPERT TIP: The dish as written is 100% vegetarian. To make it 100% vegan, leave off the cheese.
Mix together the seasonings with the oil and lemon zest and then pour over the cut cauliflower in a large bowl.
Place the prepared cauliflower on a large baking sheet with your oven preheated to 400°F.
We line our baking sheets with parchment paper (or foil) for easy cleanup.
This recipe will comfortably feed 4 people as a side dish. If you are feeding more, simply increase the cauliflower to 2 heads and add more olives as desired. The original flavored oil quantity will still work with the increased veggies.
Roasted Cauliflower FAQs
Can the dish be made ahead of time? Sort of. You can easily prep all of the items and get the oil mixture ready to go. We recommend serving the dish right from the oven, or soon after. The cauliflower, though still tasty, loses its nice crisp toasty texture after it sits for several hours.
What other ingredients can be added? For the holidays, we make this and add cooked pancetta (preferably cut into chunky pieces) and fresh sage. You can also add other vegetables, such as broccoli, carrots, and quartered new potatoes. They will bake in the same amount of time.
How long will leftovers keep? As mentioned, you'll lose some of the toasty texture, but leftovers will keep covered in the fridge for several days. The dish doesn't freeze very well, as the overall texture becomes compromised.
The combination of roasted ingredients makes for a gorgeous presentation, too!
Other Awesome Cauliflower Recipes
Cauliflower is one of our favorite ingredients to cook with. It's versatile, easy to find, and when prepared right, amazingly delicious.
Here are some great recipes to try:
In the meantime, you've got to whip up a batch of this amazing Roasted Cauliflower with Olives.
EXPERT TIP: Garnishing the dish with freshly chopped parsley, toasted pin nuts, and grated parmesan cheese adds an unforgettable depth of flavor and texture that is just amazing.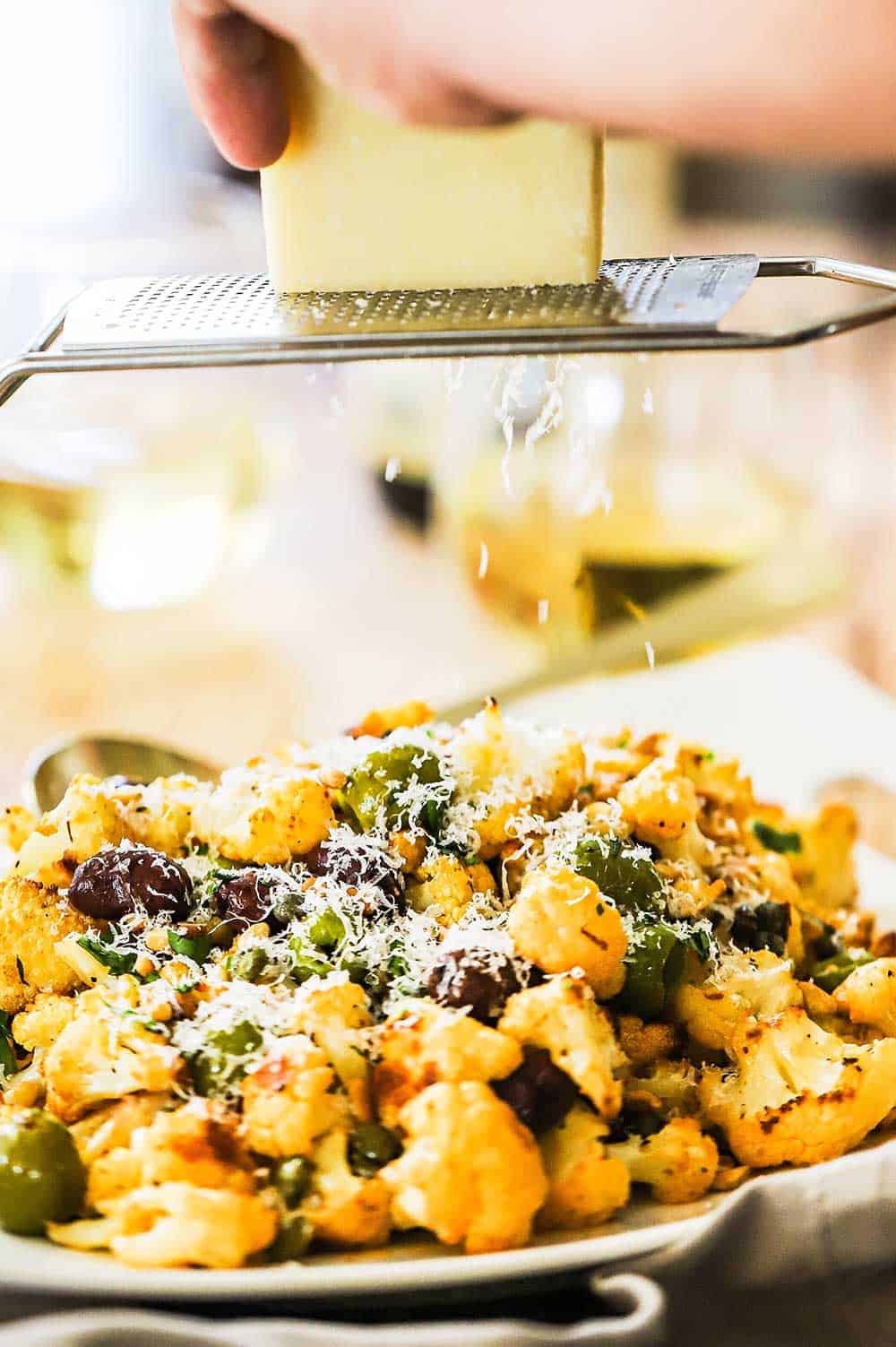 When To Serve
This dish is always a favorite when served to family, friends, and guests.
It's so easy and is ideal for a busy weeknight meal. And, by the way, remember it's very healthy.
But, it's so vibrant and gorgeous, it's really perfect for dinner parties and for holiday feasts.
This has become a staple in our house and we're certain you'll feel the same way.
It's deeply flavorful and so adaptable to your tastes.
Trust us, with one bite, you'll be hooked.
Ready to make an incredible side dish that just may steal the show from the main dish? Go for it!
And when you do, be sure to take a photo of it, post it on Instagram, and tag @HowToFeedaLoon and hashtag #HowToFeedaLoon!
Roasted Cauliflower with Olives and Lemon
Roast Cauliflower with Olives is deeply flavorful, healthy, easy to make, and can be adaptable to your own tastes. The roasting just enhances the natural flavors. Wonderful side dish any time of the year!
Print
Pin
Rate
Servings: 4 people
Calories: 186kcal
Equipment
1 baking pan lined with parchment paper or foil for easy cleanup.
Ingredients
1 head cauliflower cored and cut into 2-inch florets
¼ cup extra-virgin olive oil
¾ tsp Kosher salt
½ ground black pepper
1 tsp smoked paprika
1 tbsp lemon juice from 1 lemon
Zest from 1 lemon
½ cup green olives pitted
½ cup Kalamata olives pitted
2 tbsp capers drained
2 tbsp pine nuts toasted
2 tbsp parsley fresh, chopped, for garnish
3 tbsp Parmesan cheese freshly grated, for garnish, optional
Instructions
Preheat oven to 400F.

Place the cut cauliflower in a large bowl.

1 head cauliflower

In a small bowl, whisk together the oil, salt, pepper, paprika, and lemon juice. In a separate large bowl, combine the cauliflower, olive oil, and lemon zest. Pour the mixture over the cauliflower and use two large spoons to mix and fully coat.

¼ cup extra-virgin olive oil, ¾ tsp Kosher salt, ½ ground black pepper, 1 tsp smoked paprika, 1 tbsp lemon juice, Zest from 1 lemon

Spread the cauliflower onto a baking sheet lined with parchment paper (or foil).

Roast for 15 minutes, stirring halfway through with a wooden spoon.

Remove from the oven and stir in the olives, capers, and half of the toasted pine nuts. Return to the oven for another 10 minutes.

½ cup green olives, ½ cup Kalamata olives, 2 tbsp capers, 2 tbsp pine nuts

Remove from oven and carefully transfer to a serving platter. Garnish with remaining pine nuts, parsley, and grated Parmesan (if using). Serve at once.

2 tbsp parsley, 3 tbsp Parmesan cheese
Notes
See the video near the top of the blog post for visual guidance. If you like the video, please subscribe to our YouTube channel.
All of the prep work can be done for the dish up to a day in advance. Mix together the EVOO, seasonings, and lemon zest, and then keep covered in the fridge. Do the same for the cut cauliflower. Once ready to be baked, the recipe is extremely simple and quick.
You can also add in cut broccoli, carrot spears or slices, and/or bell pepper strips. During the holidays, we often add cooked pancetta (cut into small cubes) and fresh sage.
Leftovers will keep in the fridge for several days (though it's never as it is fresh out of the oven). We don't recommend freezing.
Nutrition
Calories: 186kcal | Carbohydrates: 10g | Protein: 5g | Fat: 14g | Saturated Fat: 2g | Polyunsaturated Fat: 1g | Monounsaturated Fat: 6g | Cholesterol: 3mg | Sodium: 1177mg | Potassium: 503mg | Fiber: 5g | Sugar: 3g | Vitamin A: 584IU | Vitamin C: 72mg | Calcium: 101mg | Iron: 1mg
POST UPDATE: This recipe was originally published in February 2015, but was updated with improved tweaks to the recipe with new tips and photography and a fabulous new video in February 2022!