This is a sponsored post written by me on behalf of Truly Grass Fed. All opinions are 100% ours.
We just love cauliflower, and when it's basted in butter and roasted to perfection…it's nothing short of amazing.
This dish deeply flavorful and one of our all-time favorites. And besides being delicious, it is truly stunning in presentation. It makes for a gorgeous side dish, but it's hearty enough as an entre. And so simple to prepare!
How To Roast a Whole Cauliflower
This dish is really quite simple to prepare.
The sauce can be made up to 12 hours in advance, and all the rest comes together in a snap!
Prepping the cauliflower requires very little effort.
Using a sharp knife, carefully remove any extra leaves at the base of the vegetable.
EXPERT TIP: You don't need to completely remove the core of the cauliflower because you want the florets to all stay attached. Cut just enough of the core (stem) away so it's smooth on the base.
Go With Quality Products
Now, it's time to apply butter all over the cauliflower. We love using clarified butter and without a doubt, we turn to Truly Grass Fed every time.
Here are a few big reasons why:
The milk for Truly Grass Fed products comes from approximately 3,000 farms located across Ireland's fertile land.
Their farmers share deep bonds with their herds, with sustainability and animal welfare always top of mind.
Each farm has an average of one cow for every two acres and is Certified Animal Welfare Approved by AGW (A Greener World, AWA), an independent nonprofit farm-certification program, which guarantees that animals are raised outdoors on pasture on independent farms their entire lives, using truly sustainable, high welfare farming practices.
Impressive, right? Just wait until you see this butter, cook with it, and then taste it. It is nothing short of amazing.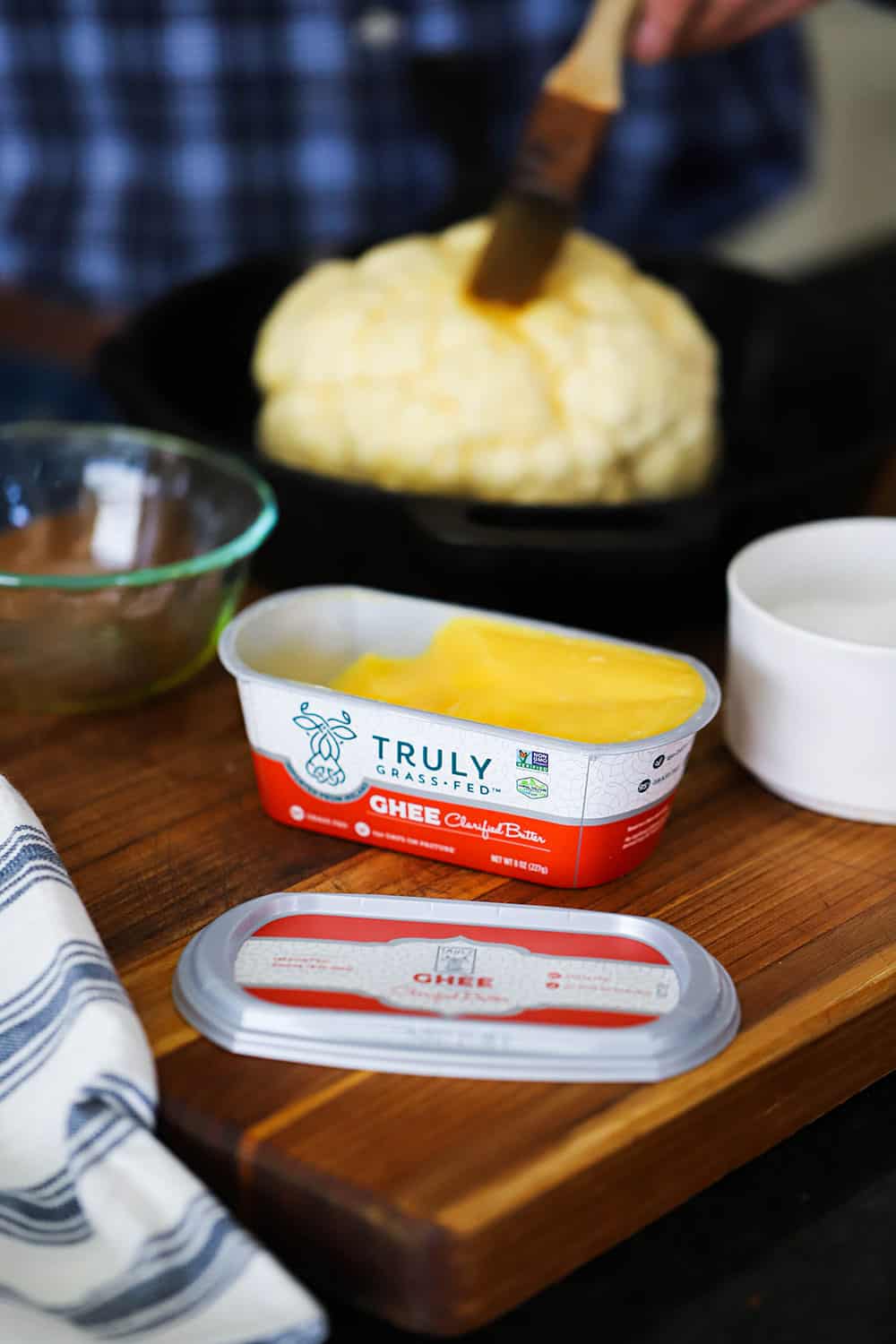 Steaming the Cauliflower
Before you roast the whole head of cauliflower, we need to soften it up a bit.
Simply preheat your oven to 325°F and then place the buttered and salted cauliflower in a small cast-iron skillet, or any other small baking dish or pan.
Cover with a large piece of foil, crimping the sides to make a nice seal.
EXPERT TIP: If the cauliflower is larger, then let it roast/steam in the oven for 20 minutes. If it's on the smaller side, then let it cook for 15 minutes.
The Perfect Sauce for Roasted Cauliflower
Whole roasted cauliflower is amazing by itself, but it's even better with a sauce!
After the initial steaming of the cauliflower, remove the foil, crank the heat up to 425°F and return the pan to the oven for another 45 minutes.
Meanwhile, let's make the amazing sauce.
EXPERT TIP: Clarified butter (or ghee) is butter with milk solids and water removed. We love cooking with Truly Grass Fed Ghee Clarified Butter because it has a high smoke point of 410°F and is perfect for sautéing, roasting, baking, and more. Once you add the ghee clarified butter to the skillet, you can immediately see the purity and high quality of the product.
This sauce is truly sensational.
The white wine, fresh herbs, and Truly Grass Fed Ghee Clarified Butter work beautifully together to make a lush and deeply flavorful complement to the roasted cauliflower. We also use this sauce on our Roasted Italian Loaf (Spiendini alla Romana).
EXPERT TIP: Don't be afraid of the anchovies. They honestly are not overpowering at all. They add depth and complexity to the flavor profile that we really think is just incredible.
When To Serve Whole Roasted Cauliflower
This side dish is so spectacular in taste and presentation, we think it is perfectly fitting for any special holiday menu.
It's also wonderful served tableside with a beautiful steak dinner.
And as mentioned, it's wonderful served as a main dish if you're thinking of a 100% vegetarian meal (just omit the anchovies in the sauce, and use veggie broth).
Placing the dish on the table is really impressive.
Pouring the sauce over the top of the beautifully roasted cauliflower will bring out more "oohs" and "ahhs" than you can imagine.
So good!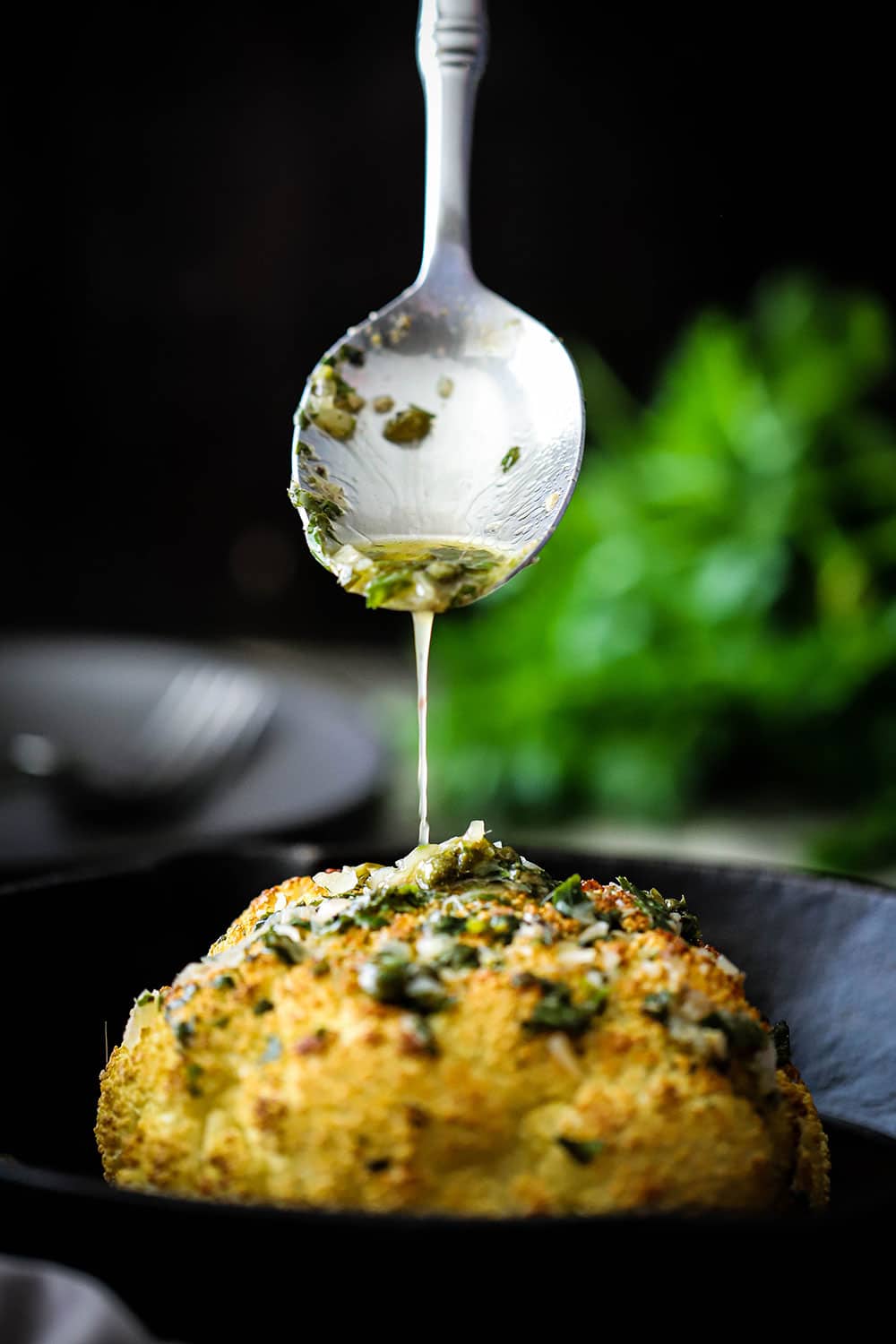 Truly Grass Fed is committed to making choices that matter to you and to your family, for the good of everyone and everything they impact.
We know that when we choose Truly Grass Fed, we can be assured we're choosing products that adhere to the highest standards of nutrition, flavor, and quality. Always non-GMO, growth hormone rBST-free and antibiotic-free
And most importantly…you can taste the difference in every single bite. It's really that good.
The Truly Grass Fed Difference
There is a BIG difference in quality with Truly Grass Fed. Consider this:
All Truly Grass Fed products are:
Fully Traceable: Every Truly Grass Fed farm has a unique barcode that enables them to track where every batch of milk comes from, making every single element fully traceable.
Minimally Processed: Their dairy is as close to nature as it gets with minimal inputs required to produce our delicious cheese and butter.
Safe and Pasteurized: In compliance with food safety regulations, all raw milk is pasteurized. And each farm's milk is tested numerous times from pickup through processing to ensure it contains no impurities and meets the high standards of the Truly Grass Fed name.
Sustainable: Truly Grass Fed is constantly striving to do better, be better, and achieve a sustainable milk supply with a minimal carbon footprint. That's why they created the Truly Grass Fed Sustainable Program in which their farms are certified to the Sustainable Dairy Assurance Scheme (SDAS), which is part of Origin Green, Ireland's national sustainability initiative.
In addition to this amazing Ghee Clarified Butter, they also produce Natural Sharp Cheddar Cheese, Natural Aged Cheddar Cheese, Naturally Creamy Butter Salted, and Naturally Creamy Butter Unsalted.
Find these amazing products via Truly Grass Fed Store Locator
Ready to impress with one of the most incredible veggie dishes of all time?
This is one recipe that you will turn time and time again.
It's really that fantastic.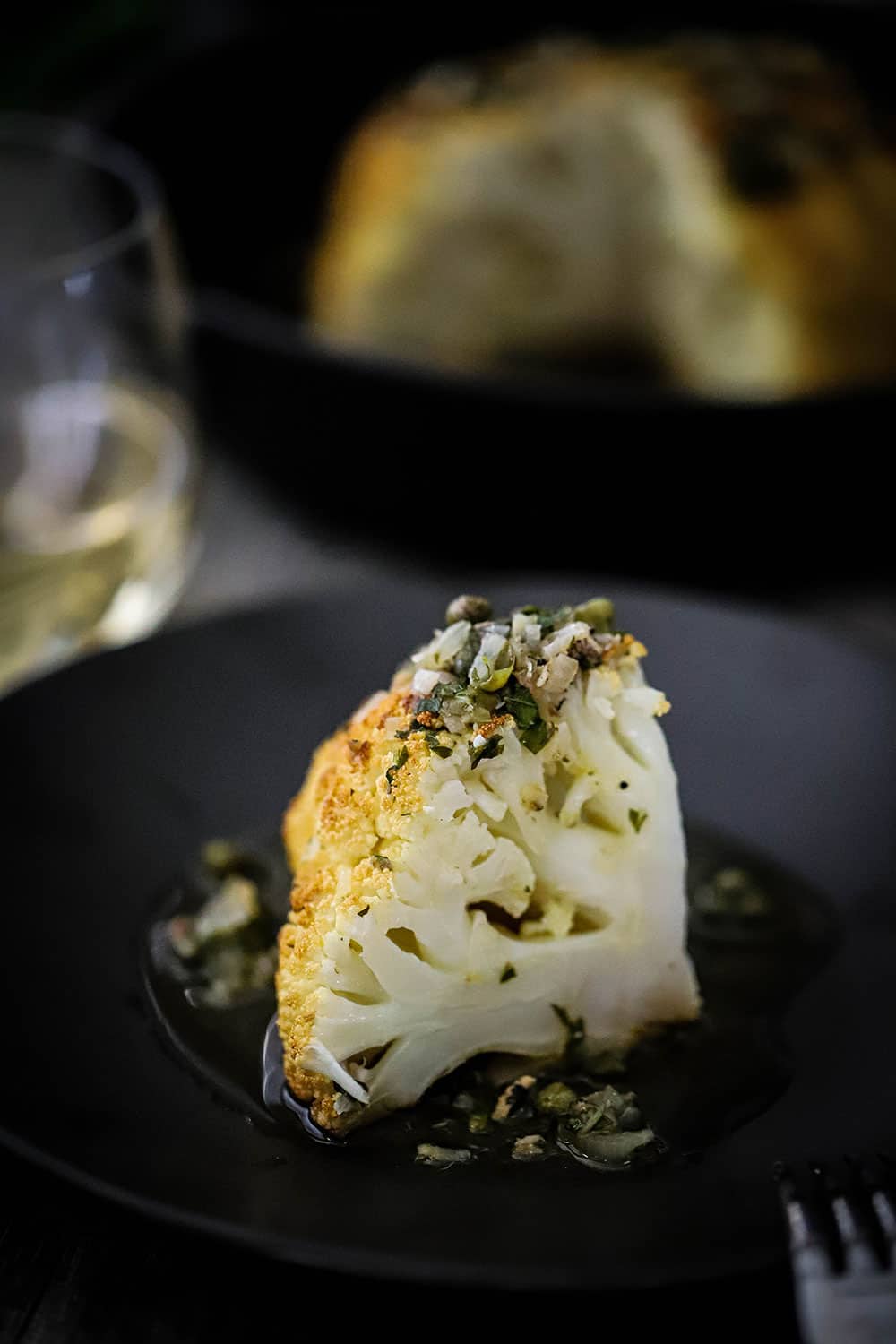 Ready to make a showstopper dish our a humble head of cauliflower? Go for it!
And when you do, be sure to take a photo of it, post it on Instagram, and tag @HowToFeedaLoon and @TrulyGrassFed
Whole Roasted Cauliflower with Herb Butter Sauce
Whole Roasted Cauliflower with Herb Sauce is as impressive in presentation as it is in taste. A wonderful addition to your special holiday menu, a steakhouse-themed dinner party, or just a busy weeknight when you're looking for something a little different.
Print
Pin
Rate
Servings: 4
Calories: 308kcal
Equipment
Small cast-iron skillet or baking dish

Aluminum foil (one large square piece)
Ingredients
1 large cauliflower whole
9 tbsp butter preferably clarified
Kosher salt and black pepper
cooking spray
½ onion chopped, about ½ cup
4 anchovy fillets drained and coarsely chopped
¼ cup white wine
1 cup chicken broth or vegetable broth
¼ cup capers nonpareil, drained
¼ cup basil fresh, chopped
1 tbsp parsley fresh, chopped
Instructions
Preheat oven to 325°F.

Use a knife to trim away any leaves at the base of the cauliflower. Cutaway just enough of the bottom of the core to make it flat, but not cutting away from any of the florets (you want the cauliflower head to stay intact).

Melt three tablespoons of the butter and then brush it all over the top and bottom of the cauliflower. Generously sprinkle salt all over the cauliflower, as well as turning it upside down and sprinkling some salt into the inside of the vegetable.

Spray the cast-iron skillet or baking dish with cooking spray. Place the cauliflower into the pan or dish, core-side down. Cover with a large piece of aluminum foil, crimping the sides of the foil to form a seal.

Place in the oven and steam the cauliflower for 20 minutes.

Remove the foil and increase the temperature to 450°F and roast for 35 to 45 more minutes. The top will become nicely browned and the cauliflower can easily be pierced with a sharp knife when it's ready.

While the cauliflower is roasting, make the sauce: In a large skillet melt 1 tbsp of the butter over medium-high heat. Add the onion and cook until soft, about 2 to 3 minutes.

Add the chopped anchovies and press them into the onions with the back of a fork. Cook for another 1 to 2 minutes.

Add the wine and simmer for 1 to 2 minutes. Add the chicken (or vegetable) broth and bring to a boil. Cook for 2 minutes.

Reduce heat to medium and add remaining butter, one tablespoon at a time, whisking often, until the sauce thickens a little.

Stir in the capers, basil, parsley, and season with a healthy pinch of salt and pepper.

Remove the cauliflower from the oven and pour the sauce over the top. Slice into quarters and serve at once.
Notes
Steam the cauliflower with the foil covering for 15 minutes if the head is smaller. A little large can go for 20 minutes. Don't be afraid of the anchovies, they are not overpowering, and add a wonderful depth to the sauce. However, to make the dish 100% vegetarian, then omit the anchovies and be sure to use vegetable broth. The sauce can be made up to 12 hours in advance. Gently reheat in your skillet over medium heat. The roasted cauliflower can be transferred to a serving platter, but we like serving it right in the cast-iron skillet and then pour the sauce over it at the table.
Nutrition
Calories: 308kcal | Carbohydrates: 13g | Protein: 6g | Fat: 18g | Saturated Fat: 4g | Trans Fat: 1g | Cholesterol: 70mg | Sodium: 812mg | Potassium: 743mg | Fiber: 5g | Sugar: 5g | Vitamin A: 969IU | Vitamin C: 108mg | Calcium: 76mg | Iron: 1mg