Southern Crab Beignets.
It's hard to find the words to describe how delicious this recipe is. But we'll try.
Crunchy on the outside with a luxurious crab meat-filled inside. The flavor and texture is simply out of this world.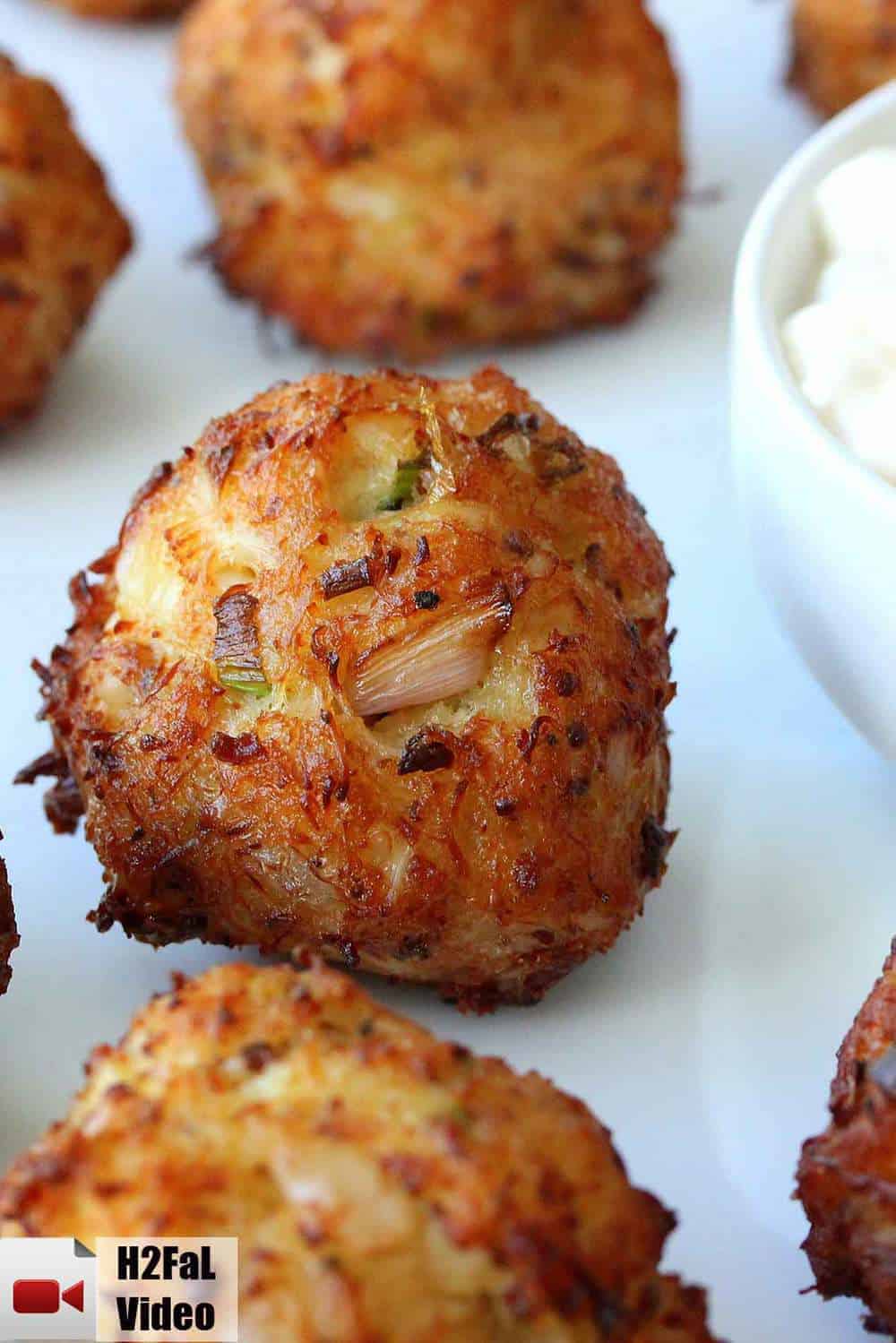 HOW TO MAKE SOUTHERN CRAB BEIGNETS AT HOME
We just can't rave about these Southern Crab Beignets enough! And they are really very easy to make!
The ingredients are New Orleans at its very best. Go with the freshest crab you can find.
If you really want to impress, go with lump crab meat. It'll cost you a bit more, but it delivers each crab beignet with full-on crab taste.
All the other ingredients complement the crab beautifully, and give just enough Cajun heat to make it worthwhile.
What we love about these crab beignets is that they stay so nice and tender on the inside.
All the flavors meld together so nicely, and as we said, it's all about the crab.
Oh, yes! By the way, if you think these look good, you'd probably also love Bacon Parmesan Cheese Puffs!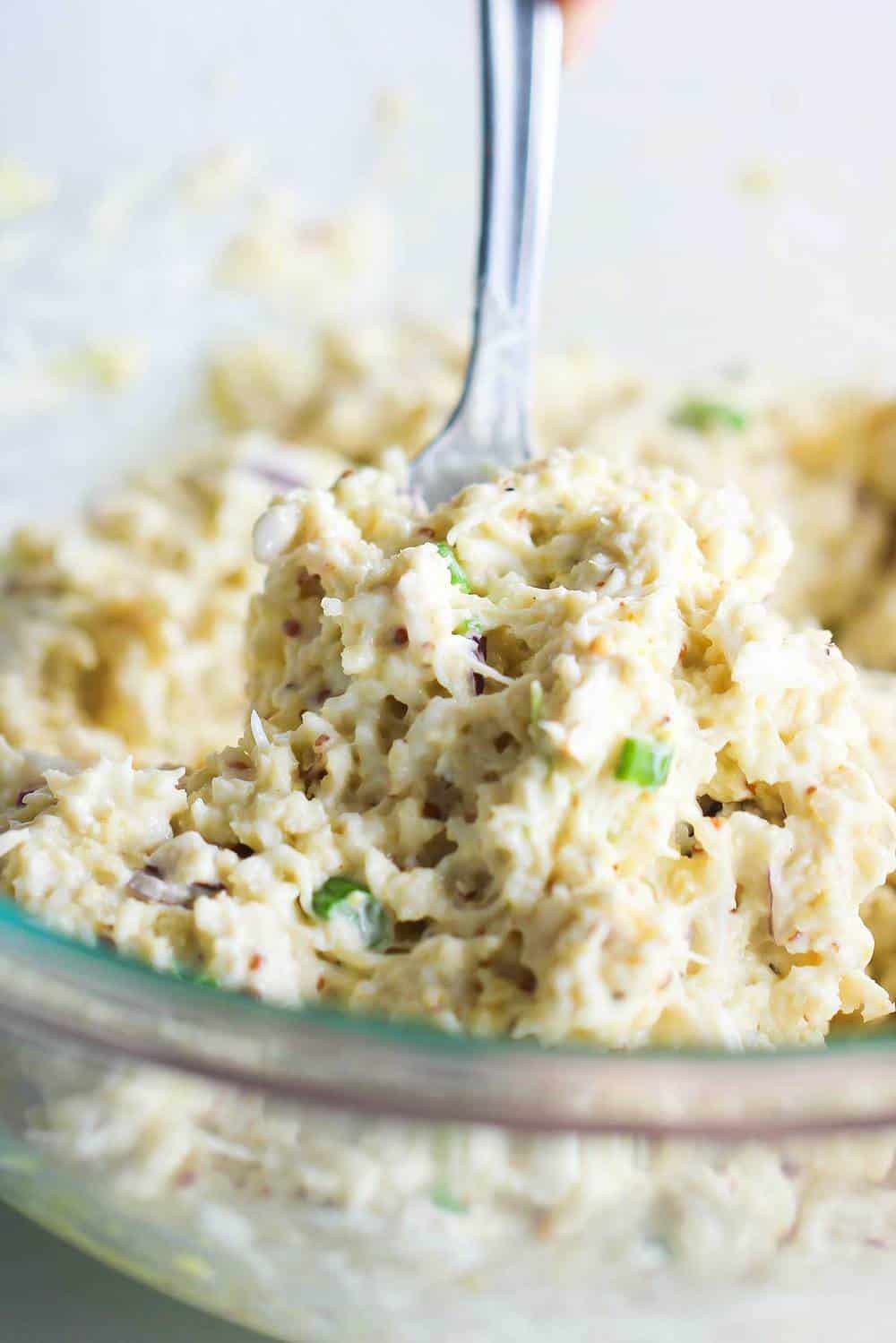 And just a minute or two in some hot oil produces the most amazingly crisp and crunchy exterior, and yet still the most tender, succulent crab mixture on the inside.
One word of warning, these do not last long at all when placed on a table in front of hungry guests. They are usually the first to go.
They are that good.
OTHER AMAZING CRAB DISHES TO TRY
Jumbo Lump Crab au Gratin
Southern-Style Crab Cakes
Sautéed Soft-Shell Crabs
Homemade Crab Rangoon
But in the meantime, you've got to make a batch of these Southern Crab Beignets!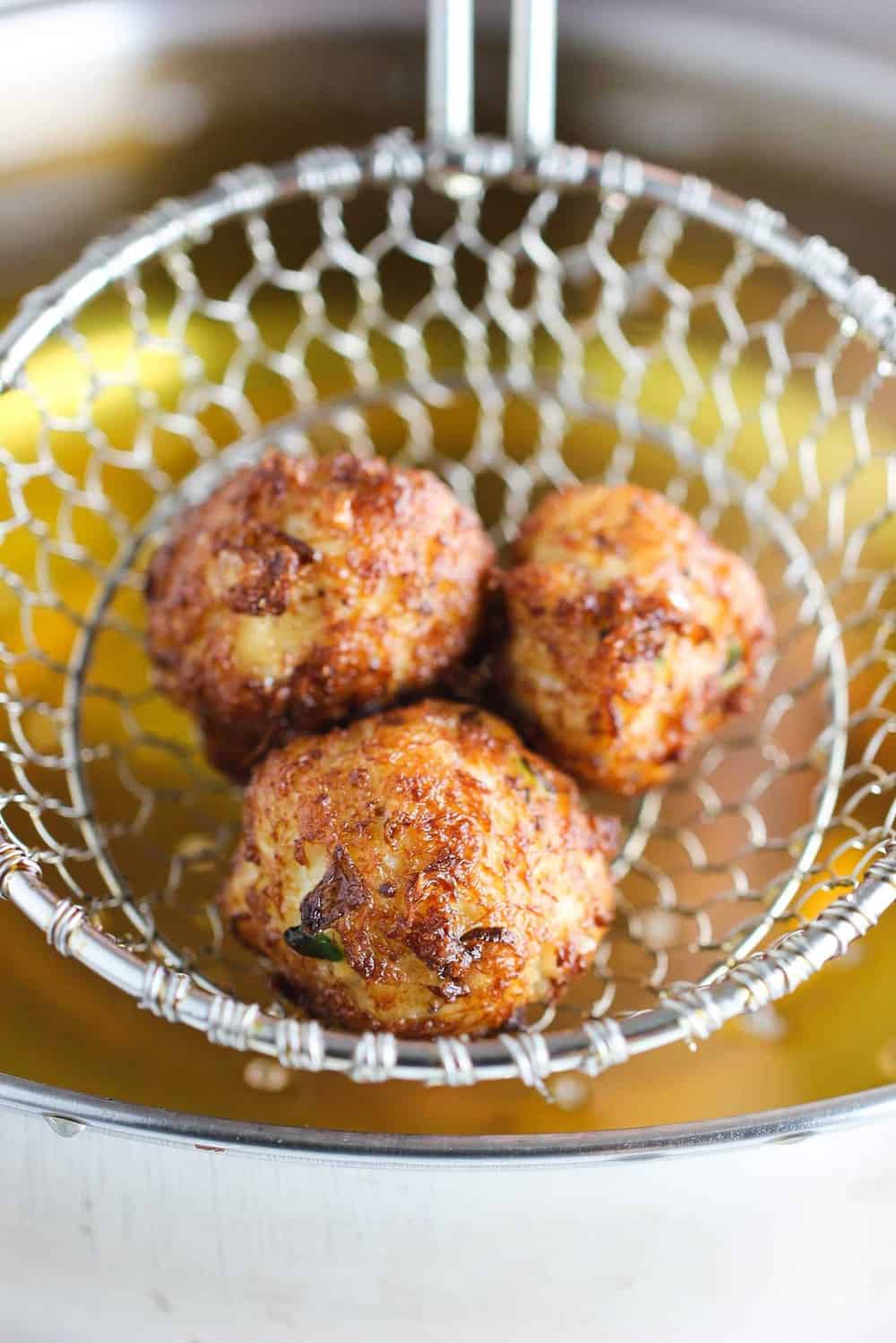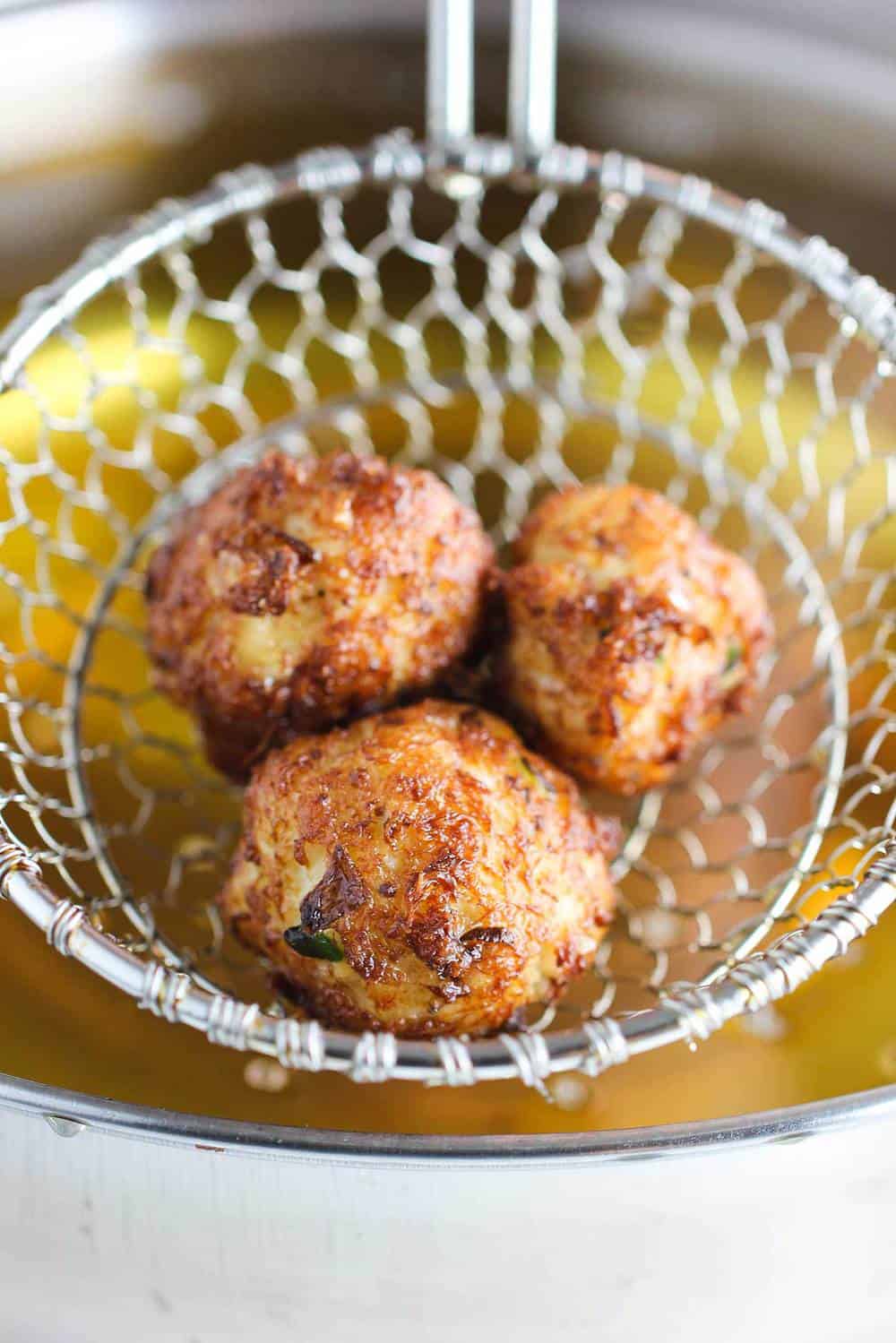 And, did we mention how creamy, crabby and ridiculously delicious the inside is? Oh we did? Well, we want to make sure you believed us.
I mean, just look these babies and tell us you are not getting yourself worked into a frenzy ready to whip up a batch as soon as humanly possible?!
Look at that!
We love to serve these amazing appetizers with a creamy White Remoulade Sauce. (Link to recipe is included below)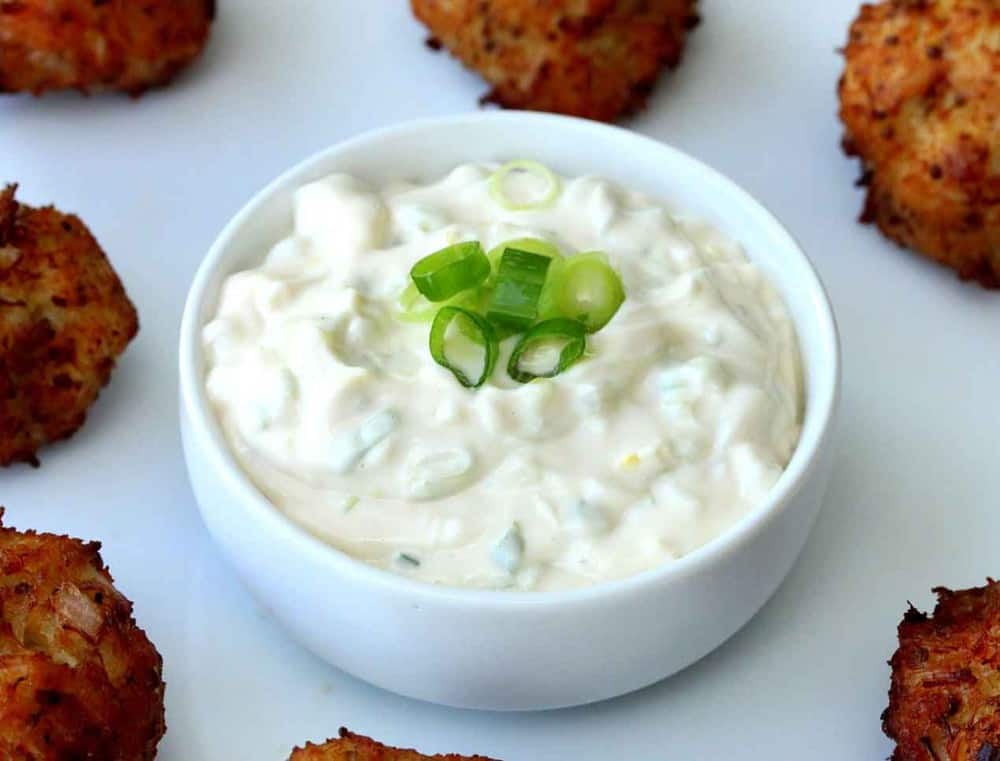 Now, let's get onto to making this Southern Crab Beignets recipe!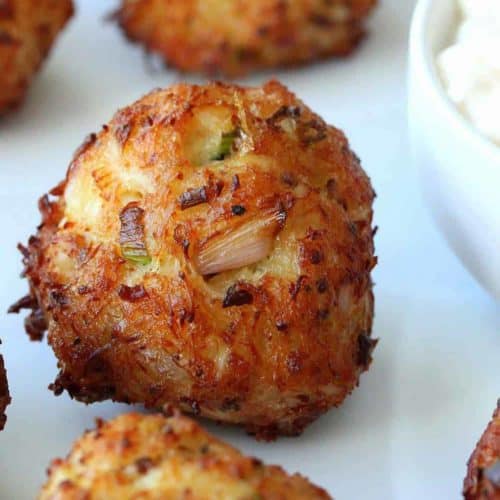 Southern Crab Beignets
These Southern Crab Beignets are supremely delicious. Try and find blue crab meat from your fish mongor or seafood market. If you can't find blue crab, any good quality crab meat will do. Amazing!
Print
Pin
Rate
Servings: 8 people
Calories: 376kcal
Ingredients
1 lb blue crab meat or any good-quality crab meat
2 large eggs
1 cup mayonnaise
2 tbsp Creole mustard or, coarse grain mustard
2 tsp fresh lemon juice
1/4 cup thinly sliced scallions
1/4 cup finely diced red onion
1 1/2 tsp Kosher salt
1/2 tsp black pepper
Pinch cayenne pepper
1 cup Panko bread crumbs
Canola oil for frying
1 cup White Remoulade Sauce
Instructions
Put the crabmeat in a bowl and use your hands to pick the meat free of any shells. Do this at least twice.

In a medium bow, whisk the eggs until they're light and foamy and then whisk in the mayonnaise and mustard.

Use a wooden spoon to stir in the lemon juice, scallions, red onion, salt, black pepper, and cayenne.

Fold in the Panko and then gently fold in the crabmeat so it doesn't get broken up from too much mixing. The batter should be just thick enough to barely hold together when frying. Refrigerate for at least 1 hour to help it firm up further.

In a large, deep skillet or pot, heat 2 inces of canola oil to 350 F.

Using 2 medium-sized spoons, drop a few spoonfuls of the crab mixture at a time into the oil and fry until a nice golden brown color forms on the outside, 1 to 2 minutes.

Use a slotted spoon to transfer the beignets to a plate lined with paper towels. Repeat with the remaining batter, frying in batches so as not to crowd the pan.

You can keep the cooked beignets warm in a 200 F oven, if desired.
Nutrition
Calories: 376kcal
This recipe is adapted from Chef Donald Link | Real Cajun.