This Incredible Bacon Parmesan Cheese Puffs recipe is so amazing on so many levels. These make the most amazing appetizers or party food. The cheese and the bacon make a delicious savory combination and it all comes together in a pillowy bite of goodness.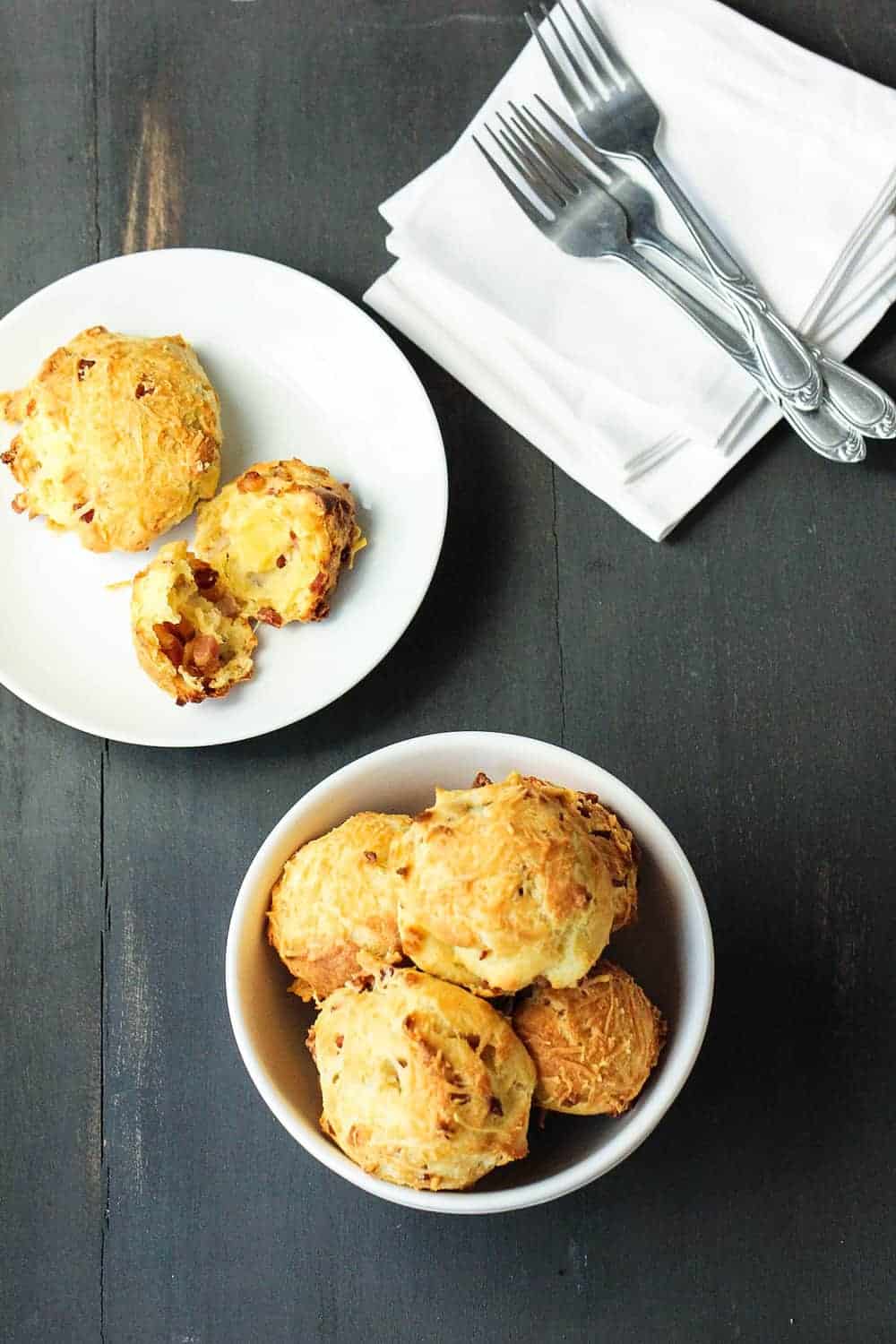 I gotta say, these are really additive. It's impossible to eat just one. Oh, and they are wonderful with a bottle of nice Champagne. Oh, yeah, why not make it really special! These bake and puff into pure perfection!
Wow! Now that's a good lookin' cheese puff. Make these, have fun, and enjoy!!
Incredible Bacon Parmesan Cheese Puffs
This Incredible Bacon Parmesan Cheese Puffs recipe is to die for. You and your guests won't be able to eat just one. Rich, savory and puffy! A perfection combination. A Loon favorite for sure!
Print
Pin
Rate
Servings: 6 people
Calories: 286kcal
Ingredients
4 strips thick-sliced bacon
1/2 cup whole milk
4 tbsp unsalted butter 1/2 stick
1 tsp Kosher salt
1 tsp onion powder
1/2 tsp sugar
1/4 tsp cayenne
1 1/4 cups bread flour sifted
3 large eggs
1 1/4 cups freshly grated Parmesan cheese
Instructions
Pre-heat the oven to 425°F and line 2 baking sheets with parchment paper.

Cook the bacon in a large skillet over medium heat until crisp, but not too dark.

Transfer the bacon to a plate lined with paper towels, and save 1/4 cup of the rendered fat.

Chop the bacon is cool (you should have about 1/2 cup).

Bring the milk, 1/2 cup water, the butter, and the reserved bacon grease to a simmer in a medium saucepan over medium heat.

Mix in the salt, onion powder, sugar, and cayenne.

Add the flour and stir with a wooden spoon very quickly. It will become a sticky dough very quickly. Add a bit more milk if too dry.

Simmer for about a minute and then remove from heat.

Transfer the dough to a bowl of your mixer with the paddle attachment.

One at a time, add the eggs, mixing on medium speed until each is incorporated into the dough.

On low speed, mix in 1 cup of Parmesan and the bacon until just combined.

Using a small ice cream scoop (about 2 inches in diameter), scoop the dough onto the prepared baking sheets.

Top the puffs with equal amounts of the remaining Parmesan.

Bake until puffed and golden, about 20 to 25 minutes.

Serve nice and warm and ENJOY!!
Nutrition
Calories: 286kcal