Marinated Olives are so wonderful in their simplicity, yet so elegant in their presentation.
We love everything about these amazing bites of deliciousness. Perfect for entertaining for a fun pool party in the summer or at a party during the holidays. And they can easily be prepared up to a day in advance. Olive perfection!
HOW TO MAKE MARINATED OLIVED
This wonderful appetizer is really easy to prepare.
The orange zest is such a wonderful addition to the flavor profile and also adds a little extra texture.
CHOOSING THE BEST OLIVES
If you've seen an olive bar at most major supermarkets and gourmet food markets, you are aware of the vast variety of olives that are available.
For this recipe, be sure to choose a mixture of colors and textures when selecting olives.  Varieties such as Kalamatas, Black Nicoise Olives,  Green Cerignola can usually be found a most well-stocked supermarket olive bars.  
You will want to be sure to not get pre-marinated olives, look for ones that are in water or a brine. You just can't go wrong with whatever olives you do choose. And, it's a good idea to get olives that have been pitted. This is a matter of taste, but you don't want anyone chipping a tooth. There are plenty of wonderful pitted olives to choose from.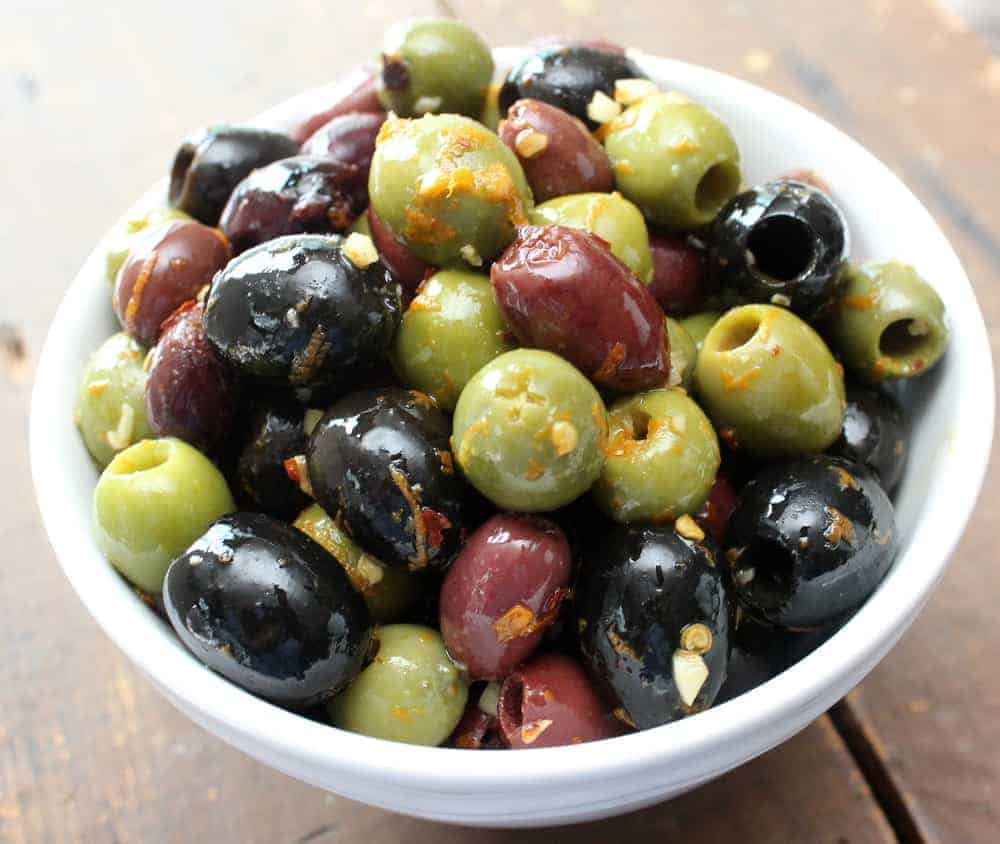 MARINATED OLIVES ARE ALWAYS A HIT WHEN ENTERTAINING
Another amazing olive recipe is our Classic Tapenade.
These are always a hit at parties!  135% Loon Approved!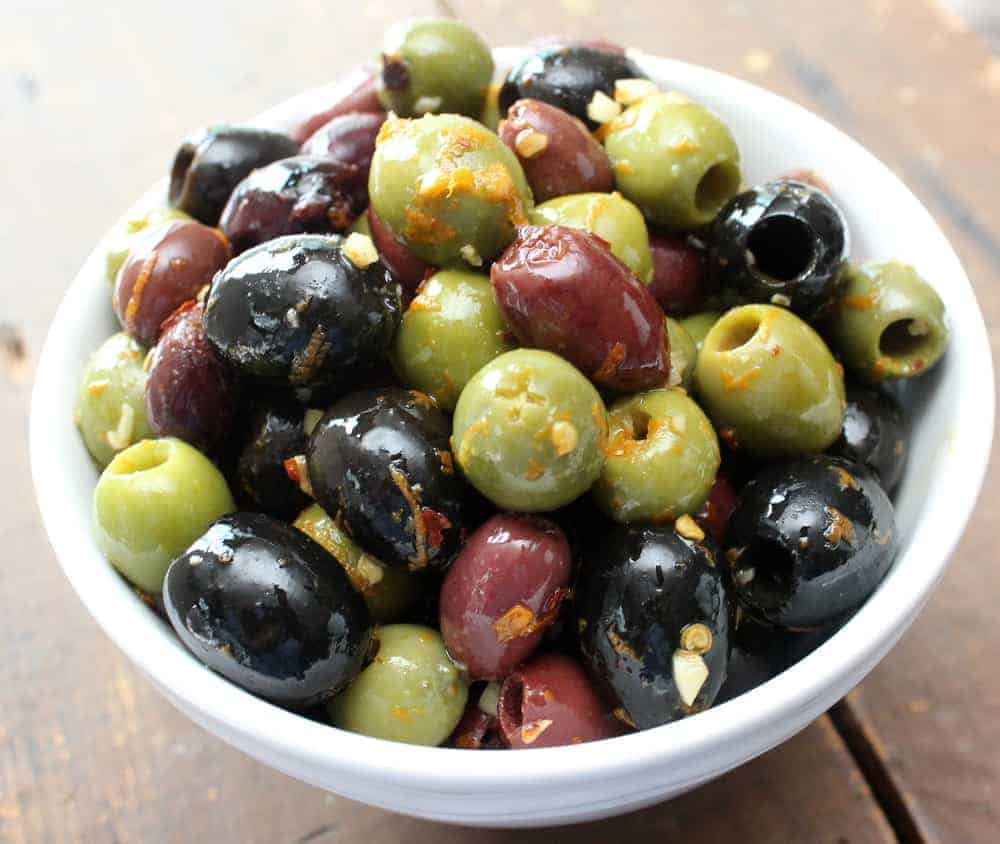 Marinated Olives
These Marinated Olives are easy to put together and yet it takes simple olives to the next level, and beyond. Be sure to get pitted olives, and not already marinated in seasoned oil. You can make these up to 24 hours in advance, and they keep nicely in an airtight container in the fridge for up to 2 weeks!
Print
Pin
Rate
Servings: 8 people
Calories: 167kcal
Ingredients
2 cups mixed pitted olives
2 garlic cloves minced
1/2 tsp red pepper flakes
Zest of 1 orange
1/4 cup good-quality extra-virgin olive oil
Instructions
If the olives are in a brine, drain them.

In a large bowl, combine the olives, garlic, red pepper flakes, orange zest, and olive oil and toss well.

Cover the bowl with plastic wrap and let the olives marinate at room temp for at least 2 hours, or for up to 24 hours before serving.
Nutrition
Calories: 167kcal