This tantalizing appetizer is so wonderful in its simplicity, yet so elegant in its presentation.
We love everything about these amazing bites of deliciousness. Perfect for entertaining for a fun pool party in the summer or for a gathering of loved ones during the holidays. And they can easily be prepared up to a day in advance. Olive perfection!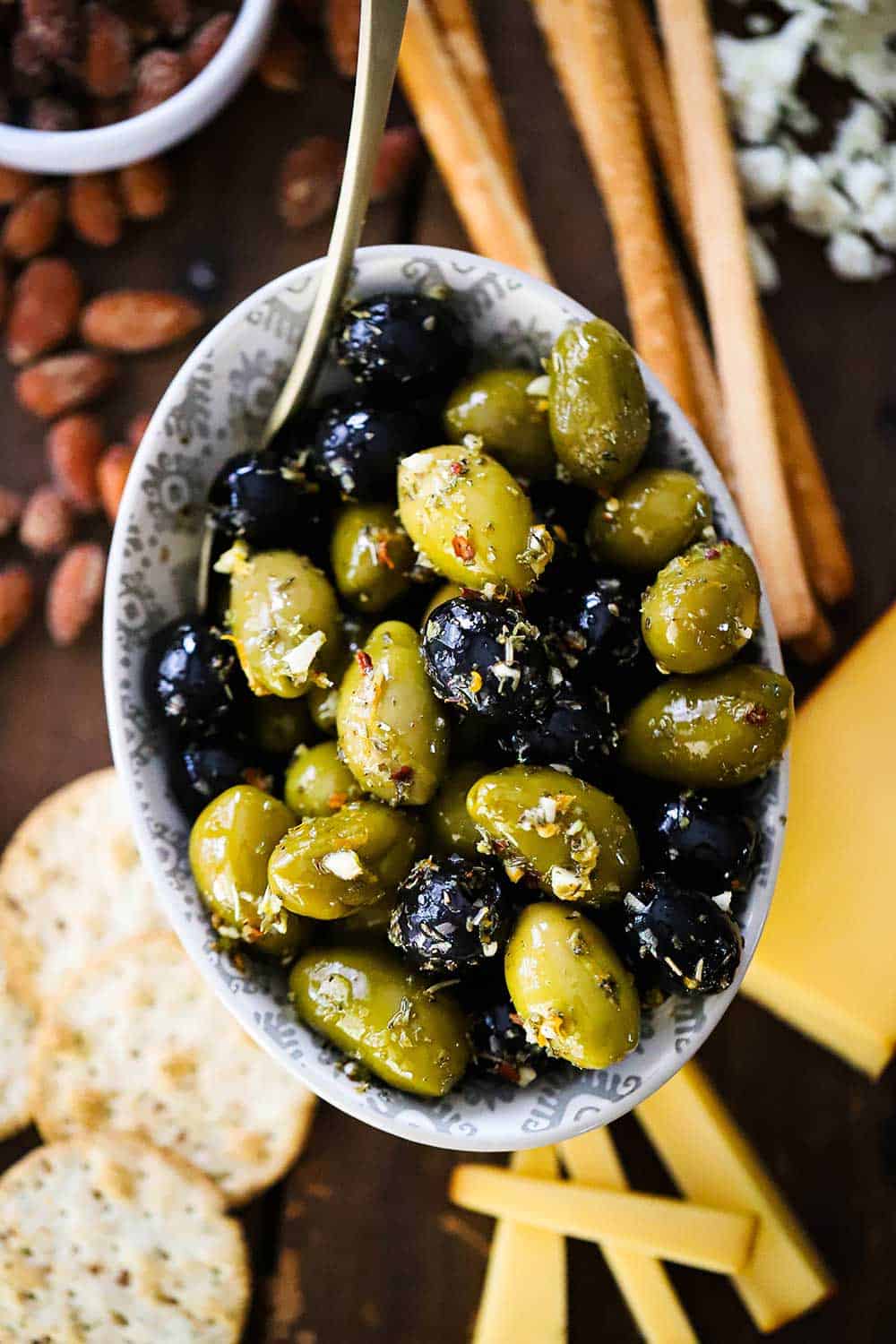 How To Make Marinated Olives
This wonderful appetizer couldn't be easier to prepare.
Just make sure to get started at least 24 hours in advance of serving!
So delicious, so festive, and so classy! Sounds good, right?
Selecting the Best Olives
If you've seen an olive bar at most major supermarkets and gourmet food markets, you are aware of the vast variety of olives that are available.
For this recipe, be sure to choose a mixture of colors and textures when selecting olives. You can go pitted or whole, or a combination of the two.
Varieties such as Green Castelvetrano, Black Nicoise Olives, and Green Cerignola are meaty and delicious and can usually be found at most well-stocked supermarkets. Sometimes they are over by the gourmet cheese area.
EXPERT TIP: You will want to be sure to not get pre-marinated olives, look for ones that are in water or brine. Drain the brine from the olives before you get started.
Dried herbs, fresh citrus zest, minced garlic, and red pepper flakes add a depth of flavor that is distinct but not overpowering.
A secret to deepening the flavor profile is to add fresh citrus zest.
We love to use a combination of orange and lemon. But you could use all orange or all lemon. Lime zest is delicious, too.
EXPERT TIP: When using your zester, or the side of a box grater, don't press down too hard. You want the top layer of the citrus. If you press too hard you'll reach the white pithy part of the peel which is a bit bitter in taste.
At this point, you'll want to add just enough good-quality extra-virgin olive oil to coat the olives.
Gently toss everything until the olives are well-coated and the aromatics have been evenly distributed.
EXPERT TIP: Some brines are very salty and some aren't. Taste each type of olive that you are using to gauge the salt level. In most cases, salt will need to be added to the mixture. We love to use coarse sea salt. It seasons the olives but also provides a nice texture.
How Long to Marinate Olives
At this point, you'll need to add just enough more of the olive oil to barely cover the top of the olives.
We often transfer the olives to a jar with a tight-fitting lid before adding the oil.
EXPERT TIP: To allow the marinade to really do its work, it needs some time in the fridge. We recommend allowing the olives to marinate for 24 hours, but 8 to 12 hours will work in a pinch. You can even make these up to a month in advance! The flavor gets deeper and deeper the longer they sit in the marinade!
When To Serve Marinated Olives
These really are a wonderful appetizer to serve guests before a wonderful meal.
It's also a spectacular addition to a charcuterie board. Or at a party!
Another amazing olive recipe is our Classic Tapenade.
In the meantime, just look at these gems!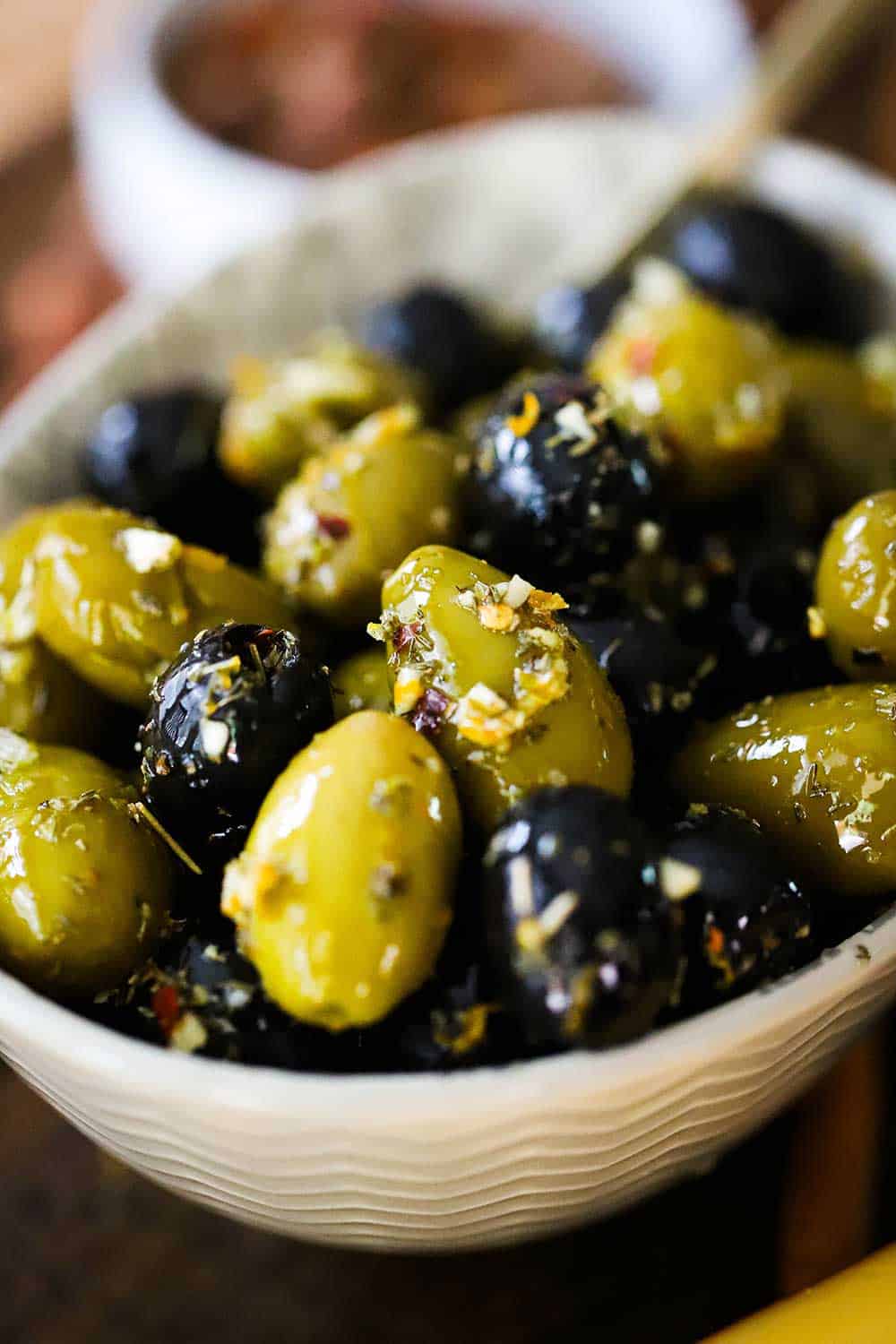 There really is something special about this tantalizing appetizer.
Be sure to get good quality olives and top-notch olive oil, and your guests will be very impressed.
Beautiful. Delicious. And not too filling. The perfect appetizer!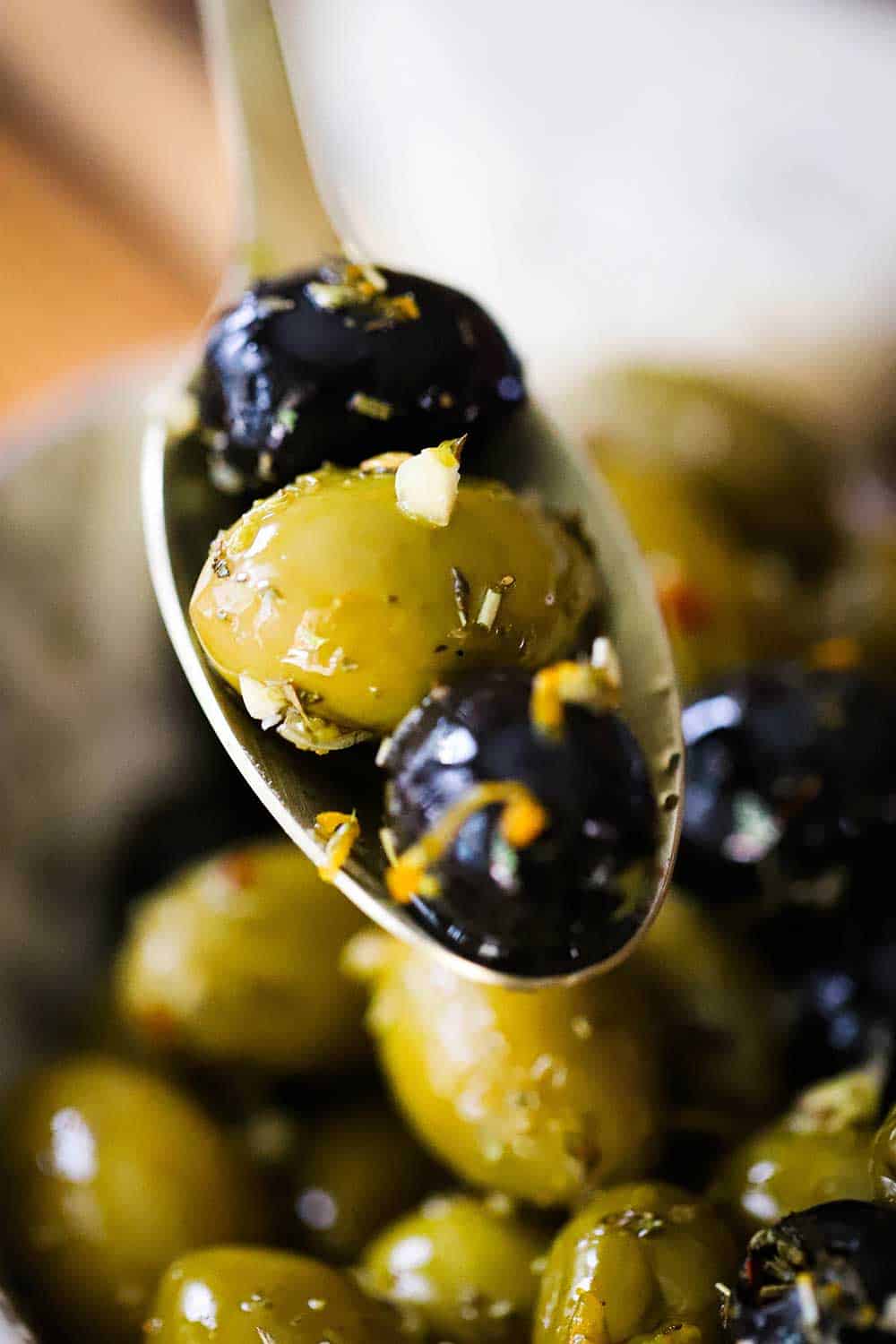 Ready to make one of the easiest yet most addictively delicious appetizers of all time? Go for it!
And when you do, be sure to take a photo of them, post it on Instagram, and tag @HowToFeedaLoon and hashtag #HowToFeedaLoon!
Marinated Olives
Marinated olives are sophisticated yet approachable and delicious appetizers that are always a hit when served to guests. Be sure to put them together at least 24 hours in advance, and don't forget to let them come to room temperature before serving. These are wonderful by themselves, or as part of a full charcuterie board.
Print
Pin
Rate
Servings: 8 people
Calories: 168kcal
Equipment
Jar with lid or medium-sized glass bowl
Ingredients
3 cups olives large, in brine, See NOTES
1 tbsp oregano dried
1 tsp rosemary dried
1 tsp thyme dried
3 cloves garlic minced
½ tsp red pepper flakes
1 tbsp orange zest
1 tbsp lemon zest
sea salt coarse, as needed
⅔ cup extra-virgin olive oil
Instructions
Drain olives and place them in a large bowl.

To the olives, add the oregano, rosemary, thyme, garlic, red pepper flakes, orange zest, and lemon zest. Add salt, as needed (See NOTES).

Add enough oil to coat the olives, about ½ cup. Gently stir the olives with the aromatics until they are fully coated. If possible, transfer the olives to a large jar with a lid, or a couple of smaller jars with lids. Add more oil to just cover the tops of the olives. If keeping in the bowl, cover with plastic wrap, if using jars, screw on the lids.

Place in the refrigerator for 12 hours, or preferably 24 hours, or up to 1 month. Before serving, allow the olives to come to room temperature, a couple of hours.

To serve, pour the olives with the oil into a large bowl. Use a slotted spoon to place the olives in a serving bowl. Scoop out some of the herbs, zest, and garlic from the oil and drizzle over the olives. If serving whole olives, be sure to include a bowl for guests to place the pits.
Notes
Be sure to find olives that are in brine, not any kind of oil. You can use whole, pitted, or a combination of both. Our favorite types of olives to use include: Black Nyon and Manzanilla. We also LOVE Cerignola and Castelvetrano. Kalamata and Nicoise are delicious, too. Be sure to taste test each type of olive you'll be using. Some brines are saltier than others. In most cases, you'll want to add some coarse sea salt to the marinade and then another sprinkling on top just before serving. But again, make sure you've taste-tested first. Don't over-salt! The olives can be prepared up to 1 month before serving. We highly recommend letting them sit in the marinade for at least 24 hours. Save the marinade oil and pour back over any olives that might be leftover (unlikely, but just in case).
Nutrition
Calories: 168kcal | Carbohydrates: 3g | Protein: 1g | Fat: 8g | Saturated Fat: 1g | Sodium: 791mg | Potassium: 41mg | Fiber: 2g | Sugar: 1g | Vitamin A: 263IU | Vitamin C: 3mg | Calcium: 42mg | Iron: 1mg
POST UPDATE: This recipe was originally published in July 2017, but was updated with improved tweaks to the recipe with new tips and photography and a fabulous new video in May 2021!