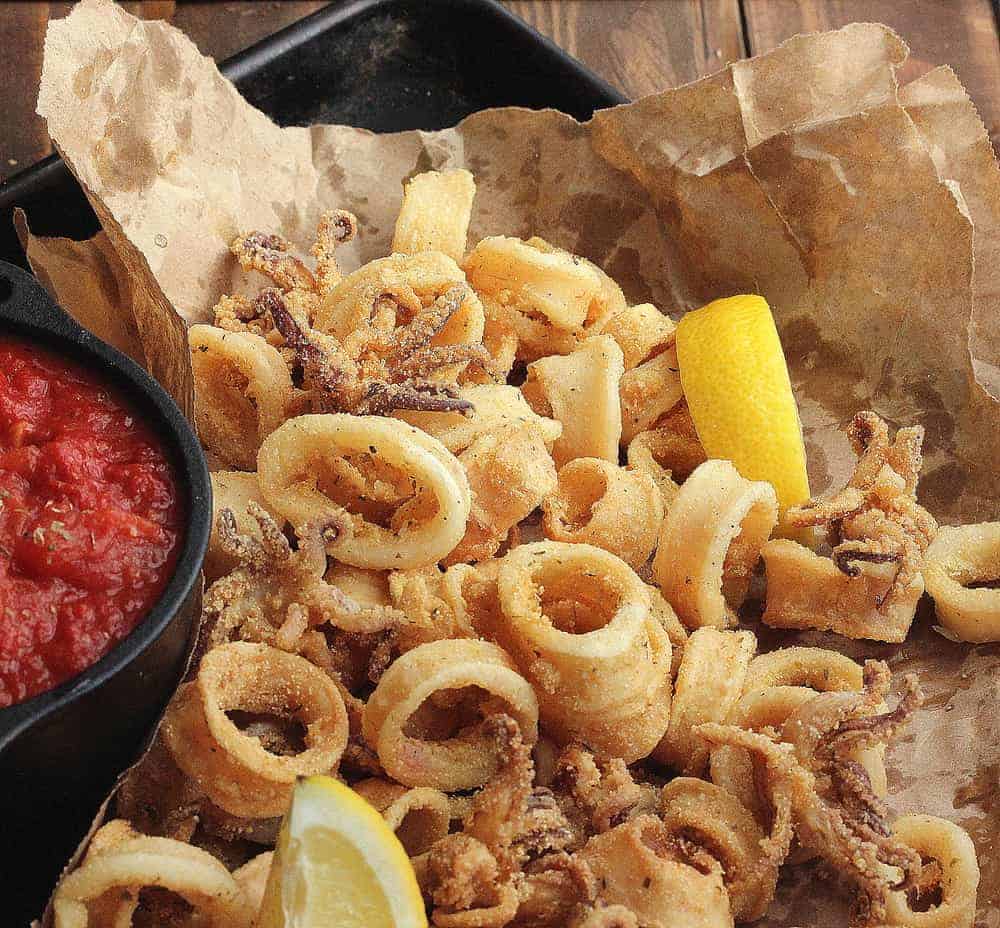 Fried Calamari with Marinara has always been a favorite of The Loon and me.  I've noticed that even people who say they absolutely don't like seafood (a notion I can't comprehend), still seem to love fried calamari with marinara.  The squid, with tentacles attached are kind of, well, I don't know, weird, if you're making this for the first time…but add the seasoned coating, toss in hot oil for a quick fry, and serve with easy-to-make marina, you'll be so happy.  These are as good as you'll get in your favorite restaurant.   Totally Loon Approved!
Fried Calamari With Marinara
Don't you just love fried calamari with marinara? So do we. Get some squid from your seafood shop, and quickly fry these gems up. The marina sauce is simple to make, and serve with lemon wedges...and boy, oh boy, you've got amazing fried calamari with marinara
Author: Kris Longwell
Recipe type: Appetizer
Cuisine: Italian
Serves: 4 - 6
Ingredients
FOR THE MARINARA:
2 tablespoons good-quality olive oil
3 cloves garlic, minced
1 & ½ cups crushed plum tomatoes (canned are fine)
3 teaspoons dried oregano
¼ teaspoon (or more, to taste) red pepper flakes
Vegetable oil for frying
½ cup all-purpose flour
½ cup yellow corn meal (medium stone ground works very well)
¾ teaspoon sea salt (or Kosher, if you can't find sea salt)
¼ teaspoon cayenne pepper
1 teaspoon garlic powder
1 lb squid (calamari), cleaned
Lemon wedges, for serving
Instructions
MAKE THE MARINARA:
In a saucepan, heat the olive oil and then add the garlic over medium-low heat until the garlic softens and is fragrant but not browned, about 3 minutes.
Stir in the tomatoes, 1 teaspoon of the oregano, and the red pepper flakes.
Increase the heat to medium, and bring to a simmer.
Return the heat to medium-low and simmer, uncovered, until slightly thickened, about 10 minutes.
Remove from the heat and set aside (still covered).
MAKE THE CALAMARI:
Heat your deep fryer to 350 F, or pour vegetable oil to a depth of 3 inches into a large skillet. Heat to 350 F.
Pre-heat the oven to 200 F.
In a large bowl, whisk together the flour, corn meal, salt, cayenne pepper, and garlic powder.
Cut the squid bodies crosswise into ¼-inch wide rings and leave the tentacles whole (you may need to cut off extra long tentacles).
Toss ⅓ of the calamari in the flour mixture to coat evenly, shaking off the excess.
In 3 batches, carefully add the coated squid to the hot oil and deep-fry until golden brown, about 3 minutes.
Transfer the cooked calamari to a wire rack on top of baking sheet and keep warm in the oven while you coat and fry the remaining squid.
Once all calamari is cooked, spoon the marinara into individual dipping bowls.
Transfer the fried calamari to a platter with lemon wedges, and marinara on the side.
Serve and enjoy!