There are quintessential appetizers that practically everyone you know loves. This is one of them.
This dish is popular across the world and for good reason. Even non-seafood lovers seem to find a love for this iconic appetizer. Be sure to serve with our Fresh Marinara Sauce or Homemade Cocktail Sauce, and you will be in calamari heaven!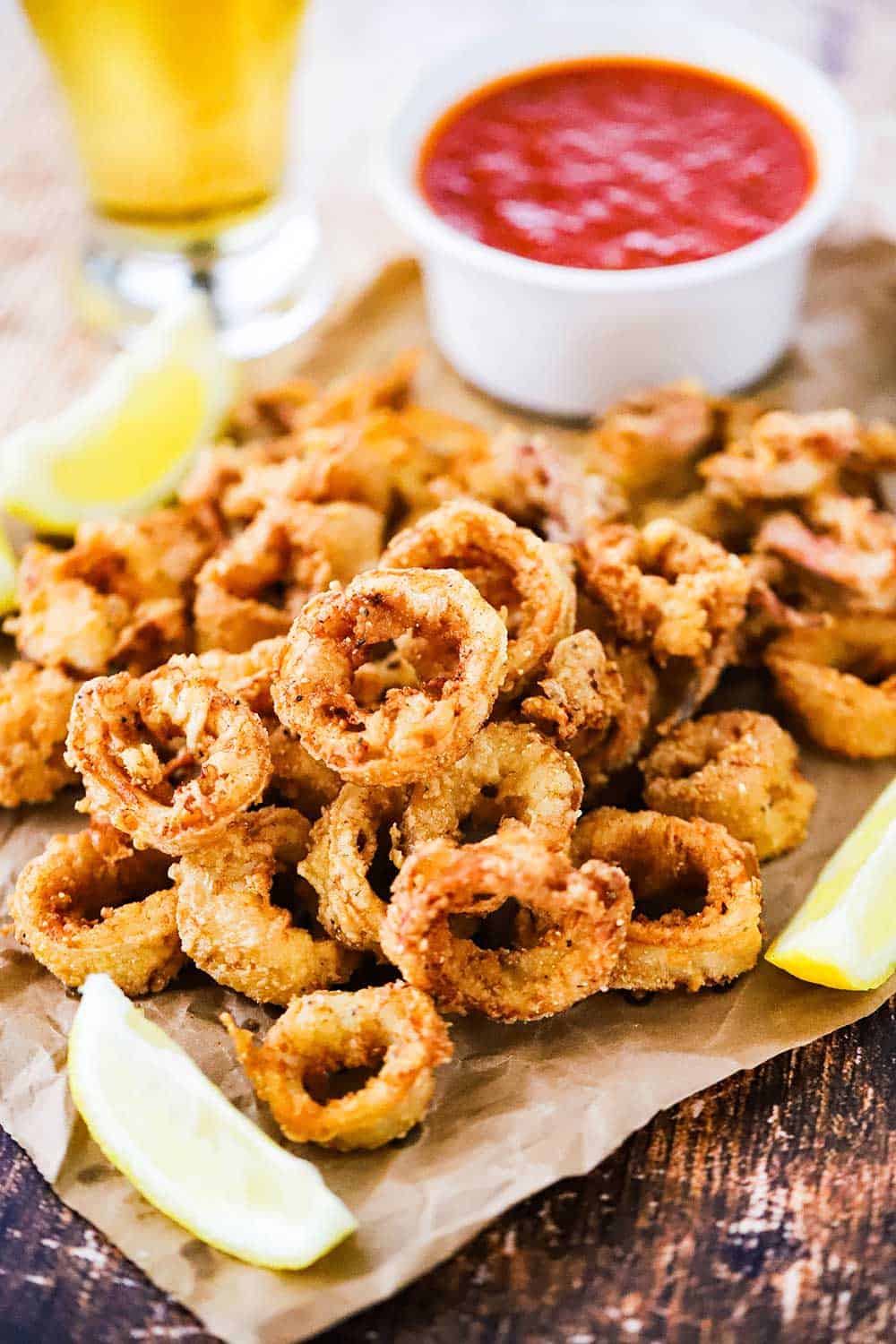 How To Make Fried Calamari
This popular appetizer is actually so much easier to prepare than you might think.
Allow yourself enough time to let the calamari (squid) rings and tentacles marinate in the buttermilk for at least 4 hours, or overnight.
Then everything comes together very quickly and easily!
What Is Calamari?
You may be wondering what calamari actually is. It's squid and includes rings that are cut from the tubular section, as well as the tentacles.
It is delicious in a salad with a simple sauté, but we think it's best when lightly breaded and deep-fried.
EXPERT TIP: Fresh squid can be found in the seafood section of many well-stocked supermarkets. We get ours at Whole Foods market. If you can't find them, you can usually find at least the rings in the frozen section. Use a sharp knife to cut the tubes into ½-inch to 1-inch rings.
Don't be scared of the tentacles. They are really delicious, and did you know that squid, including the tentacles, is good for you? Read more here.
After slicing the tubes into rings, place them along with the tentacles in a bowl.
Pour enough buttermilk over the calamari to cover.
EXPERT TIP: The slight acidity of the buttermilk will help to tenderize the calamari and make it not rubbery tasting. If also helps to eliminate any extra "fishy" taste. Allow the calamari to marinate for at least 4 hours or, even better, overnight.
A Light and Crunchy Breading
Once you're ready to fry the calamari up, all you need to do is drain the buttermilk and place the pieces back into the bowl. It's okay that there is still a little buttermilk left in the bowl. This will help the breading to adhere to the calamari.
In a bowl, plate, or pan, add the flour, cornmeal, salt, pepper, and baking powder. A simple dredge of the rings and tentacles in the flour mixture is all that's needed.
EXPERT TIP: The baking powder will help the batter to get extra crisp and a little puffy as the calamari fries. Add a little garlic powder to the flour mixture, if you prefer.
While you are breading the calamari, start heating up your oil. If using a deep-fryer, set the temperature to 350°F. If using a skillet, such as a cast-iron skillet, fill about a 1 to 2-inch depth of oil and use a candy thermometer to get to 350°F.
Place the breaded calamari on a large platter.
EXPERT TIP: Once the oil is at 350°F, you'll want to work in batches. If you add too much calamari to the oil, it will drastically decrease the temperature and the end result will be greasy and soggy.
How To Serve Fried Calamari
Once beautifully fried, the calamari is ready to be served!
We love placing them on a nice large platter or cutting board and serve with lemon wedges and a bowl or two of homemade marinara sauce!
EXPERT TIP: The marinara sauce can be made several days in advance. In a pinch, good-quality purchased marinara will work, too. Cocktail sauce is another great option for dipping the crispy calamari into!
This appetizer is always a huge hit every time we serve it, and when you make it, trust us, your family and friends will flip for it, too.
And you won't believe how easy it is to make this restaurant-quality dish in your very home.
We promise it's as good as you'll find anywhere!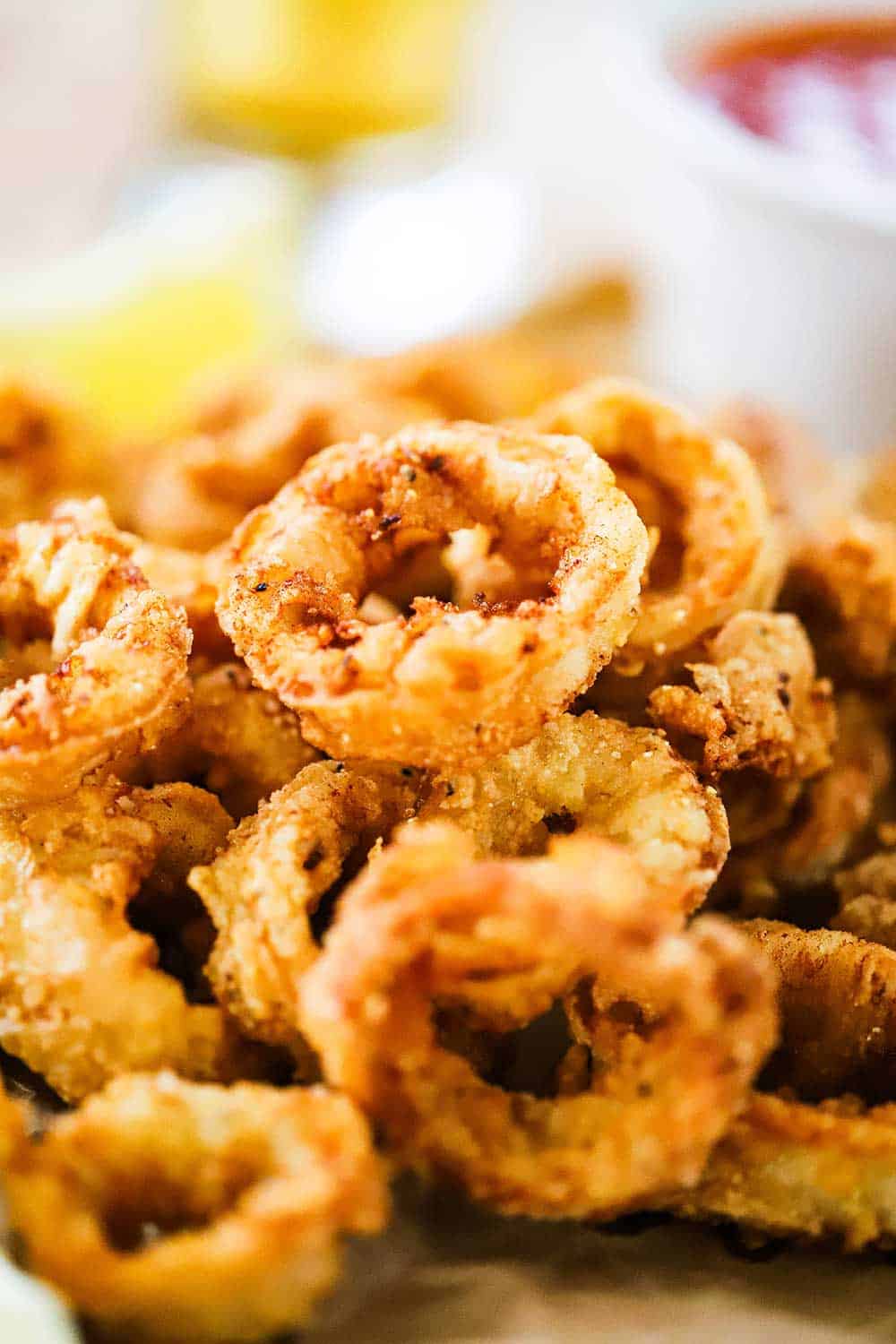 Ready to make the best, crunchiest, and most yummy appetizer in town? Go for it!
And when you do, be sure to take a photo, post it on Instagram, and tag @HowToFeedaLoon and hashtag #HowToFeedaFoon!
Fried Calamari
Don't you just love fried calamari with marinara? So do we. Get some squid from your seafood shop, and quickly fry these gems up. Let the calamari marinate in the buttermilk for 4 hours or overnight to create the perfect texture and taste!
Print
Pin
Rate
Servings: 6 people
Calories: 386kcal
Equipment
Deep fryer, or sturdy skillet and a candy thermometer
Ingredients
1 lb squid tubes and tentacles, or frozen rings (thawed)
2 cups buttermilk
¾ cup all-purpose flour
1 tbsp cornmeal yellow, finely ground
1 tsp Kosher salt
½ tsp black pepper freshly ground
½ tsp baking powder
½ tsp garlic powder optional
Vegetable oil for frying
Lemon wedges for serving
Marinara sauce warmed, for serving
Instructions
Cut the squid bodies (tubes) crosswise into ½-inch wide rings and leave the tentacles whole. Place them in a glass bowl and cover with buttermilk. Place in the refrigerate to marinate for at least 4 hours, or up to overnight.

Heat your deep fryer to 350°F, or pour vegetable oil to a depth of 1 to 2 inches into a large skillet. Heat to 350°F.

On a platter, shallow bowl, or pan, whisk together the flour, cornmeal, salt, pepper, baking powder, and garlic powder (if using).

Drain the buttermilk from the calamari. Place the calamari back in the bowl. It's okay if some of the buttermilk remains. Dredge the pieces (rings and tentacles) through the flour, shaking off excess, and place them on a large platter or cutting board. Do this in batches and clean your fingers (or fork) from time to time if becoming clumpy.

Working in batches, carefully add the coated calamari to the hot oil and deep-fry until golden brown, about 2 to 3 minutes. Use a basket or slotted spoon to remove them and place them on a platter lined with paper towels. If desired, keep the fried calamari in a low-temp oven to keep them warm while you continue frying.

Serve at once with warmed marinara sauce and lemon wedges.
Notes
Fresh squid can be found in the seafood section of many well-stocked supermarkets. We get ours at Whole Foods. You can also find frozen squid rings in the seafood frozen area of most markets. Be sure to allow the rings to thaw first. This can be done quickly by running cool water over them in a colander in your sink. The fried calamari is great served piping hot, but also good served warmed, and even still addictively delicious once it has cooled off. It can sit out at room temperature for a couple of hours. The marinara sauce can be made several days in advance. It also freezes wonderfully and can be frozen for up to 2 months.
Nutrition
Calories: 386kcal | Carbohydrates: 20g | Protein: 16g | Fat: 18g | Saturated Fat: 4g | Cholesterol: 185mg | Sodium: 506mg | Potassium: 355mg | Fiber: 1g | Sugar: 4g | Vitamin A: 158IU | Vitamin C: 4mg | Calcium: 134mg | Iron: 1mg
POST UPDATE: This recipe was originally published in April 2015, but was updated with improved tweaks to the recipe with new tips and photography, and a fabulous new video in May 2020!