There are quintessential appetizers that practically everyone you know loves. This is one of them.
This dish is popular across the world and for good reason. Even non-seafood lovers seem to find a love for this iconic appetizer. Be sure to serve with our Fresh Marinara Sauce or Homemade Cocktail Sauce, and you will be in calamari heaven!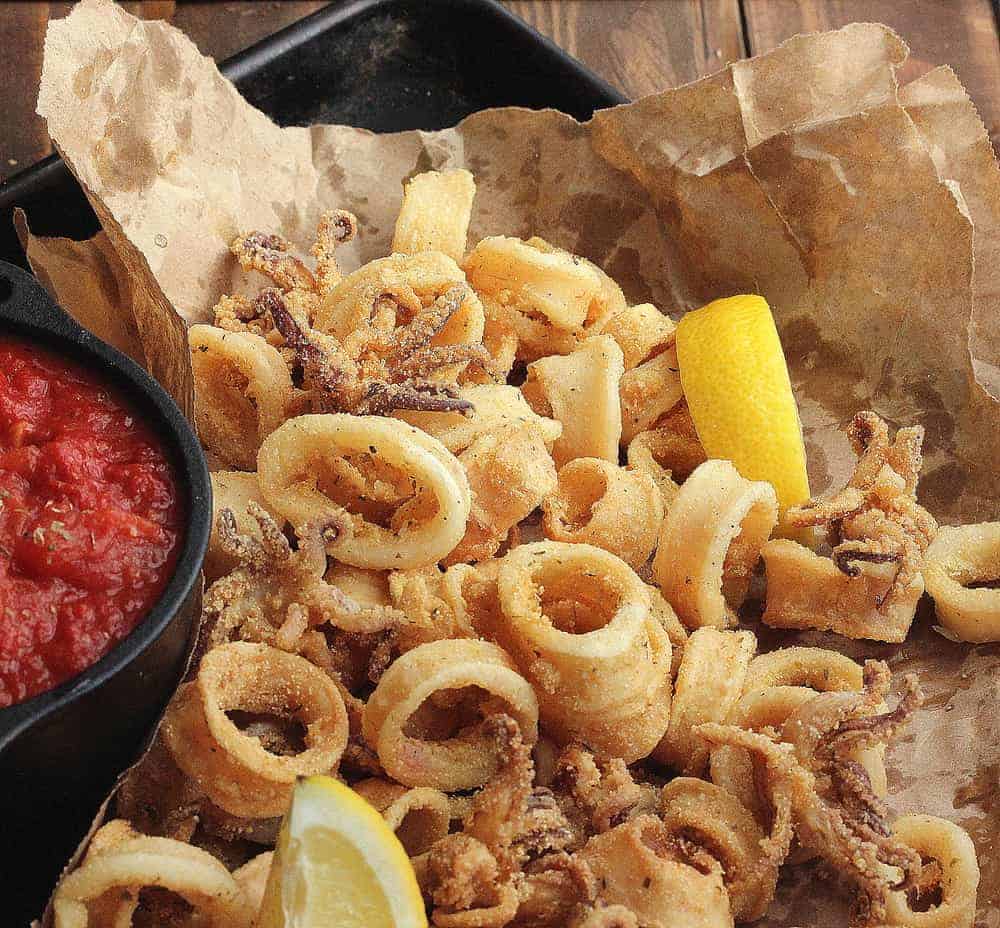 HOW TO MAKE FRIED CALAMARI
This popular appetizer is actually so much easier to prepare than you might think.
Whole squid can be found in the seafood section of most well-stocked supermarkets. If not, you can certainly find them in specialty food stores such as Whole Foods.
They may seem rubbery and a little unsettling at first, but that's why we bread them and deep fry them to golden perfection!
CUTTING THE SQUID FOR HOMEMADE CALAMARI
Now, all you have to do is slice the squid into small rings.
Don't be scared of the tentacles. They are really delicious, and did you know that squid, including the tentacles, is good for you? Read more here.
We're getting close to having amazing Fried Calamari!
Now, we just need to bread them in a simple seasoned bread crumb breading.
The breading will adhere perfectly to the squid pieces.
Serve with Homemade Marinara!
And you have just made one of the most-loved appetizers of all time!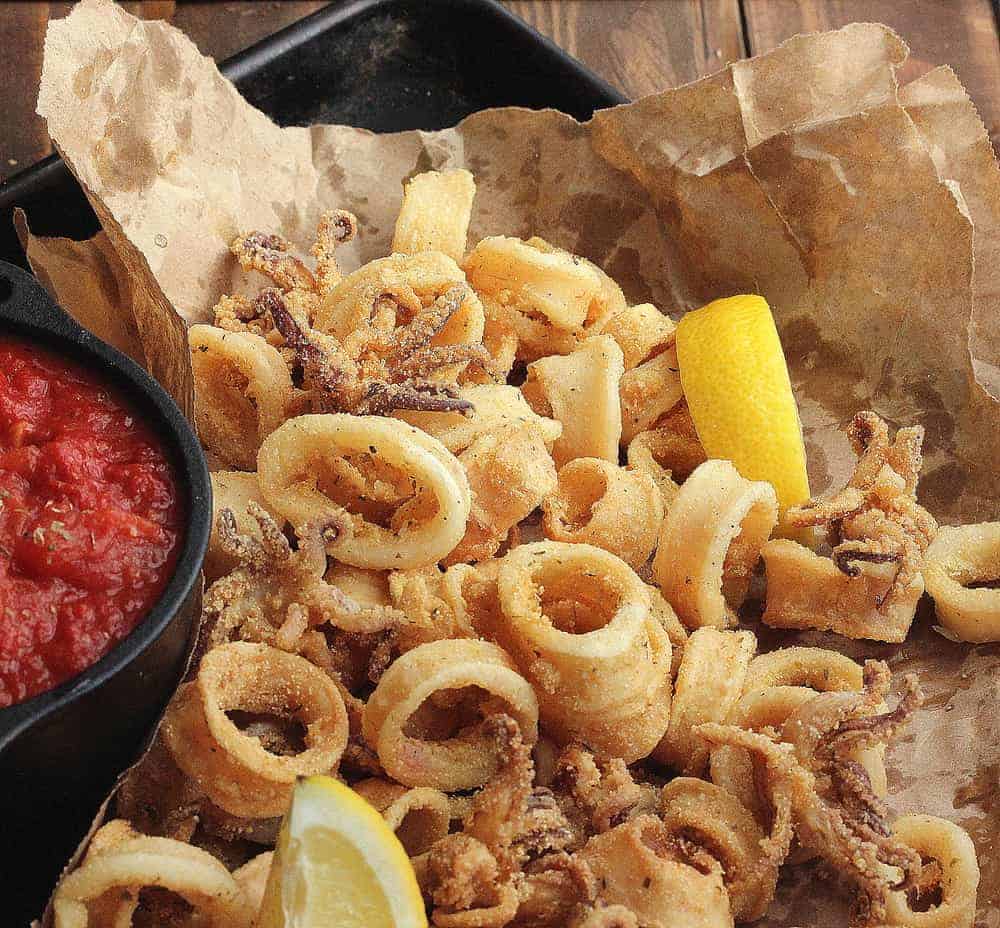 Ready to make the best homemade fried calamari in town? Go for it!
And when you do, be sure to take a photo, post it on Instagram, and tag @howtofeedaloon and hashtag #howtofeedaloon!
Fried Calamari With Marinara
Don't you just love fried calamari with marinara? So do we. Get some squid from your seafood shop, and quickly fry these gems up. The marina sauce is simple to make, and serve with lemon wedges...and boy, oh boy, you've got amazing fried calamari with marinara
Print
Pin
Rate
Servings: 6 people
Calories: 170kcal
Ingredients
FOR THE MARINARA
2 tbsp good-quality olive oil
3 cloves garlic minced
1½ tomatoes crushed, canned are fine
3 tsp oregano dried
¼ tsp red pepper flakes or more, to taste
FOR THE CALAMARI
Vegetable oil for frying
½ cup all-purpose flour
½ cup yellow corn meal medium stone ground works very well
¾ tsp sea salt or Kosher, if you can't find sea salt
¼ tsp cayenne pepper
1 tsp garlic powder
1 lb squid calamari, cleaned
Lemon wedges for serving
Instructions
MAKE THE MARINARA:

In a saucepan, heat the olive oil and then add the garlic over medium-low heat until the garlic softens and is fragrant but not browned, about 3 minutes.

Stir in the tomatoes, 1 teaspoon of the oregano, and the red pepper flakes.

Increase the heat to medium, and bring to a simmer.

Return the heat to medium-low and simmer, uncovered, until slightly thickened, about 10 minutes.

Remove from the heat and set aside (still covered).

MAKE THE CALAMARI:

Heat your deep fryer to 350 F, or pour vegetable oil to a depth of 3 inches into a large skillet. Heat to 350 F.

Pre-heat the oven to 200 F.

In a large bowl, whisk together the flour, corn meal, salt, cayenne pepper, and garlic powder.

Cut the squid bodies crosswise into 1/4-inch wide rings and leave the tentacles whole (you may need to cut off extra long tentacles).

Toss 1/3 of the calamari in the flour mixture to coat evenly, shaking off the excess.

In 3 batches, carefully add the coated squid to the hot oil and deep-fry until golden brown, about 3 minutes.

Transfer the cooked calamari to a wire rack on top of baking sheet and keep warm in the oven while you coat and fry the remaining squid.

Once all calamari is cooked, spoon the marinara into individual dipping bowls.

Transfer the fried calamari to a platter with lemon wedges, and marinara on the side.
Nutrition
Calories: 170kcal | Carbohydrates: 22g | Protein: 15g | Fat: -25g | Saturated Fat: 4g | Cholesterol: 176mg | Sodium: 328mg | Potassium: 331mg | Fiber: 2g | Sugar: 1g | Vitamin A: 346IU | Vitamin C: 8mg | Calcium: 38mg | Iron: 2mg