This cake is honestly as delicious as it is beautiful. It really does take the cake for cakes.
It is so moist and just so flavorful. We love a cake with multiple layers, but you could easily do this in 2 pans (instead of 3). Toasting sweetened coconut flakes for topping the cake is a beautiful (and delicious) addition! This is one of those "special occasion" cakes, but isn't hard to make!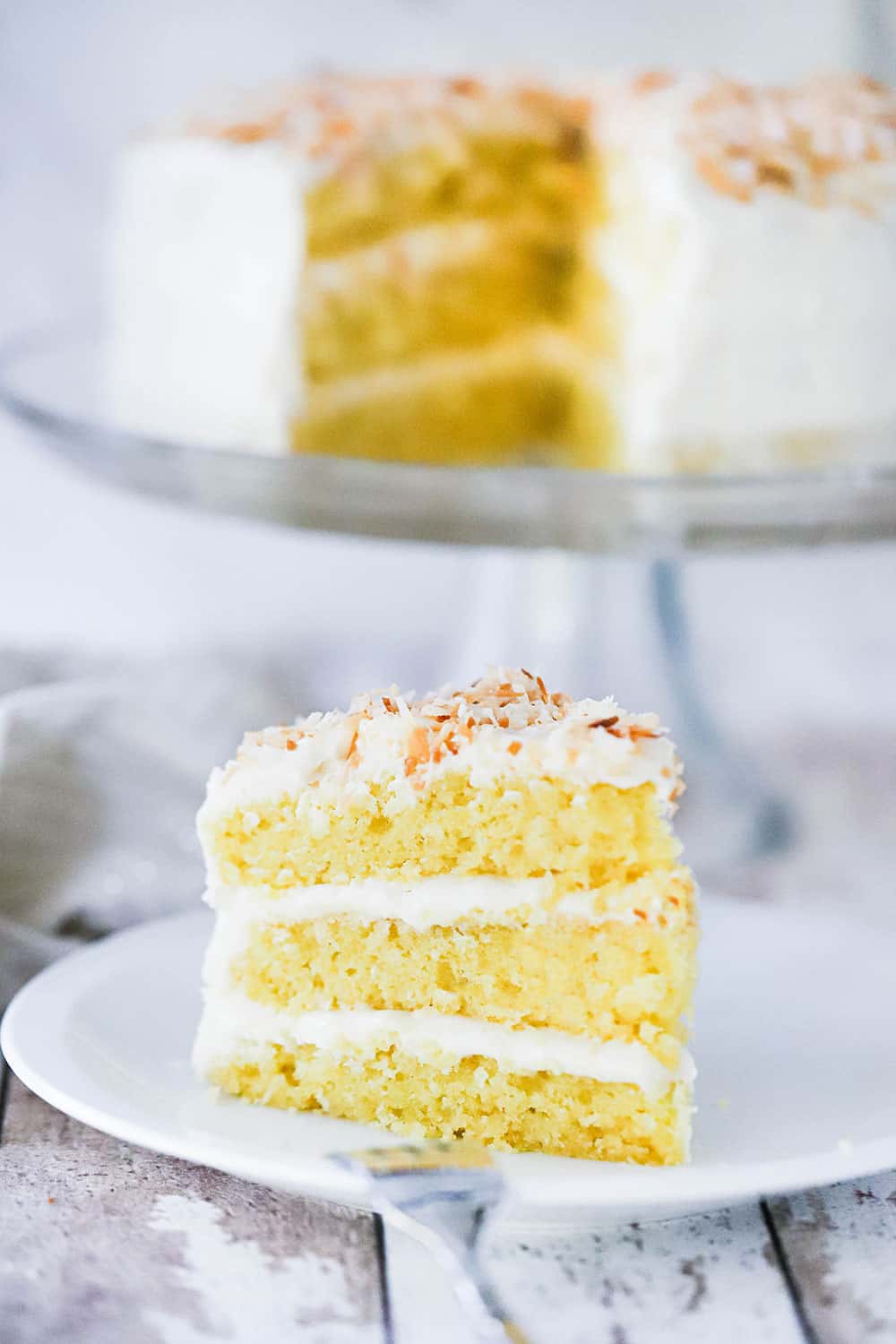 How To Make Coconut Cream Cake
This cake is always a hit whenever we serve it and it's easier to prepare than you might think!
And the cake can easily be prepared a day or two in advance of serving.
How To Make a Moist Cake
No one likes a dry cake and this cake is far from that.
Buttermilk adds a creaminess to the batter that translates into an extra moist cake.
EXPERT TIP: Rather than creaming butter with sugar, as is often done with a standard cake recipe, we melt the butter and then add it to the buttermilk mixture. This also helps to make for an extra moist cake.
Gradually add in the dry combined dry ingredients with the mixer on low. The batter will be somewhat thick.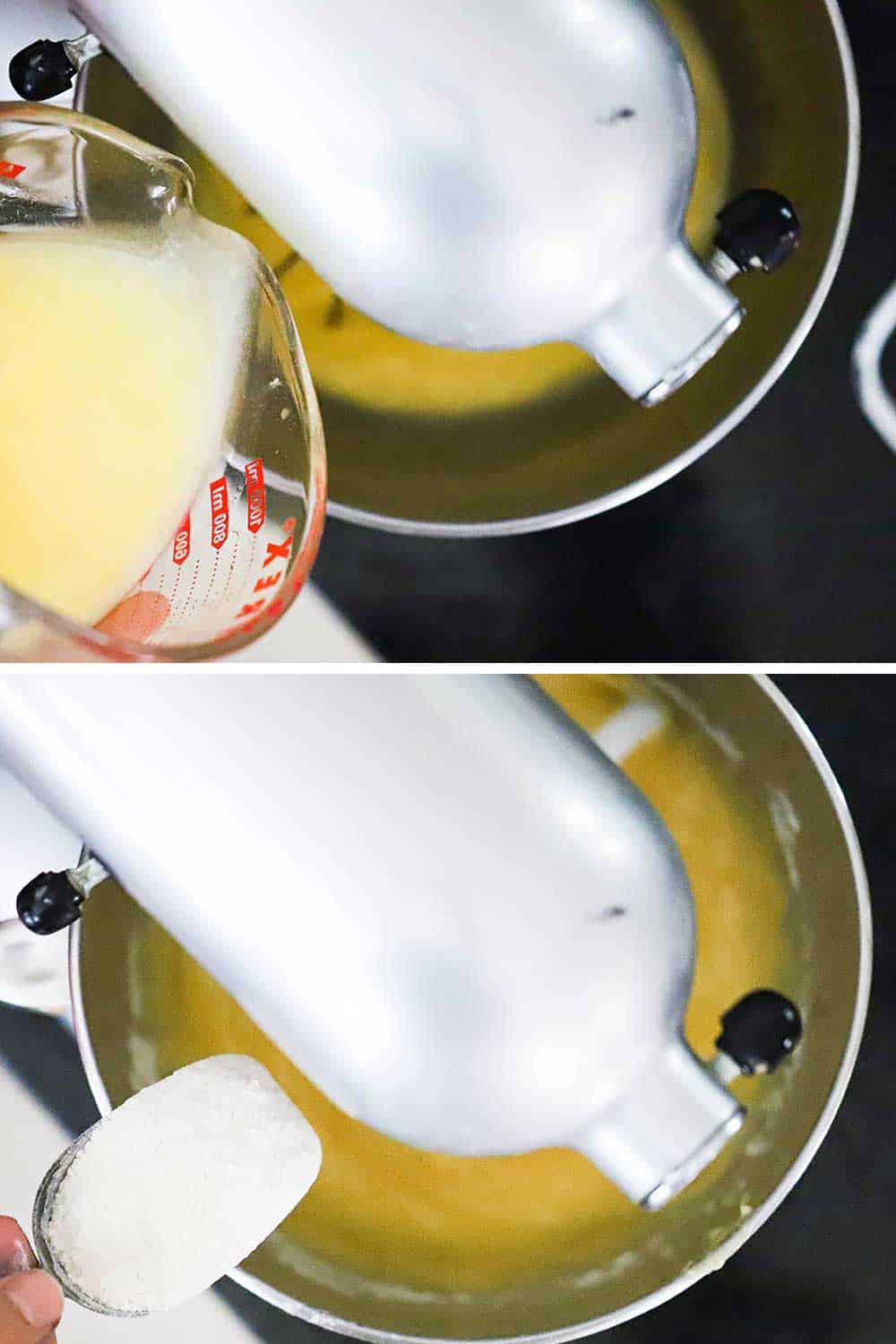 The next key step to making a light yet moist (yes, that is possible) cake is the incorporation of fluffy egg whites, or meringue.
After you have separated your eggs for the batter, be sure to hold onto the egg whites.
EXPERT TIP: You'll only need ⅓ a cup of egg whites, which means you'll most likely have some extra egg whites. We use a hand mixer to whip the egg whites (and a ¼ cup of sugar) into soft peaks. Gently fold the soft peaks into the batter until fully incorporated.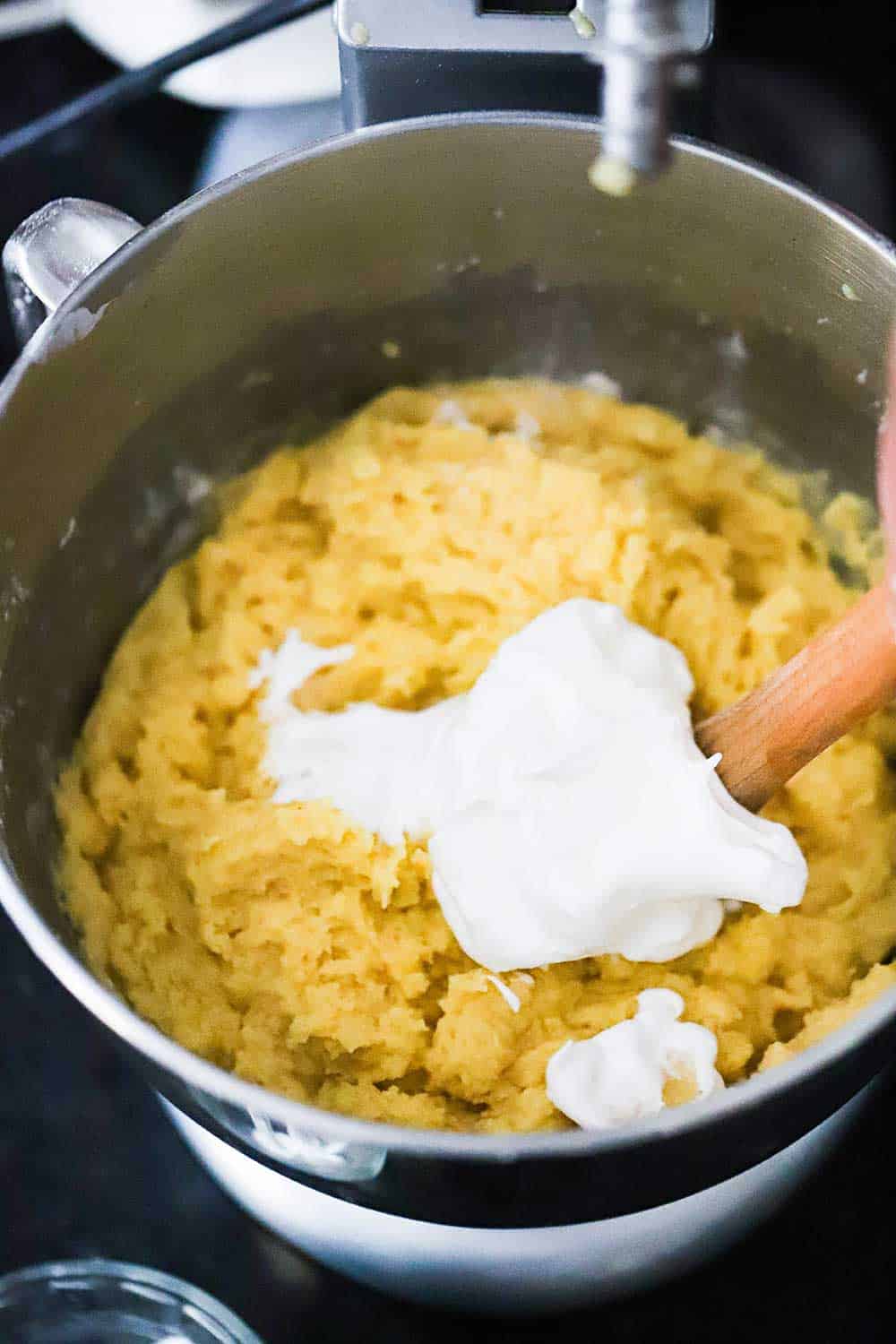 Baking at a Low Oven Temperature
The oven temp may seem low, but don't worry, it helps produce a cake that is moist and super delicious.
To ensure easy removal of the cake from the pan, we lightly grease each cake pan, add a piece of parchment paper that we have cut to fit into the pan, another layer of cooking spray, and then a light dusting of flour.
EXPERT TIP: We love using 3 9-inch straight-edge cake pans for this coconut cream cake. However, you can really use whatever cake pans you have. If going with 2 pans, you'll need to increase the bake time by about 10 minutes. As always, you'll know the cake is ready when an inserted toothpick (or sharp knife) comes out clean. Also, remember that pans with a slightly beveled side will not allow for a perfectly straight-edge cake, but that's not really the end of the world.
The batter may seem a little on the thick side. This is normal. You can use a spatula to help spread it out in the pan, but don't worry, it will fill the pan as it bakes.
When we originally published this recipe, we used a simple, but sweet frosting.
We tried other frostings and decided we love a cream cheese tropical frosting complemented the cake best.
If you prefer the simpler frosting, the recipe is in the NOTES.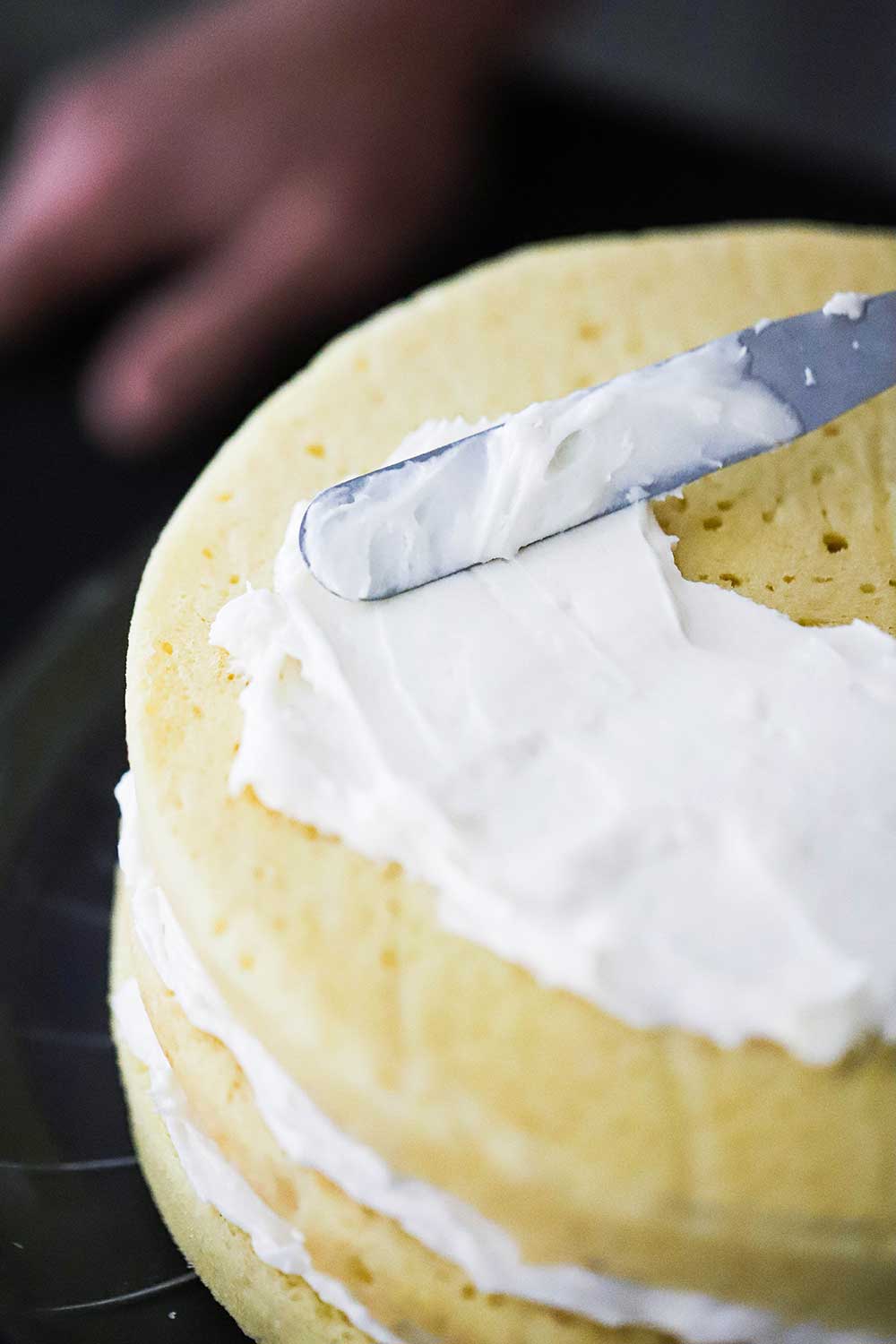 Finishing Off the Cake
For a beautiful (and delicious) touch, we recommend toasting the sweetened coconut flakes.
Toasting the coconut brings out even more of the coconut flavor and makes for a gorgeous topping to the cake.
EXPERT TIP: Be sure to keep an eye on the coconut as you toast it! It will burn quickly. You may notice a little smoke coming from the oven as you are toasting the flakes. This is normal and is just the sugar smoking. To ensure even toasting, move the coconut around in the pan a time or two during the toasting process.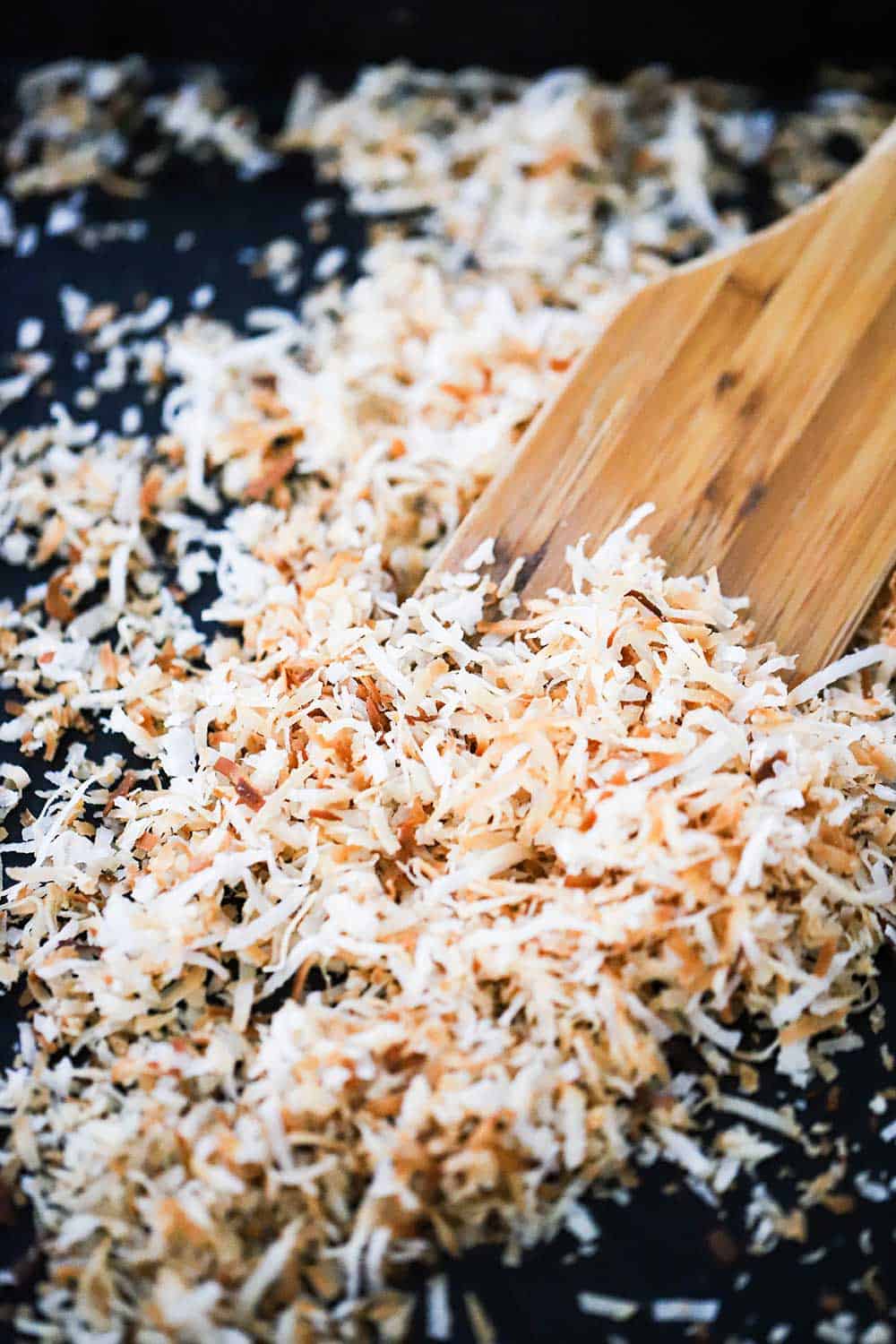 After the cake has cooled in the pans for at least 10 minutes, invert each pan over a large baking rack.
You'll want to allow each cake layer to cool completely before applying the frosting.
EXPERT TIP: The cakes layers are fairly sturdy after they have cooled, however, to prevent any breakage when assembling, we use a large spatula (or a couple of small spatulas) to help transfer the bottom cake layer to the cake stand and then again when adding the additional layers to the cake.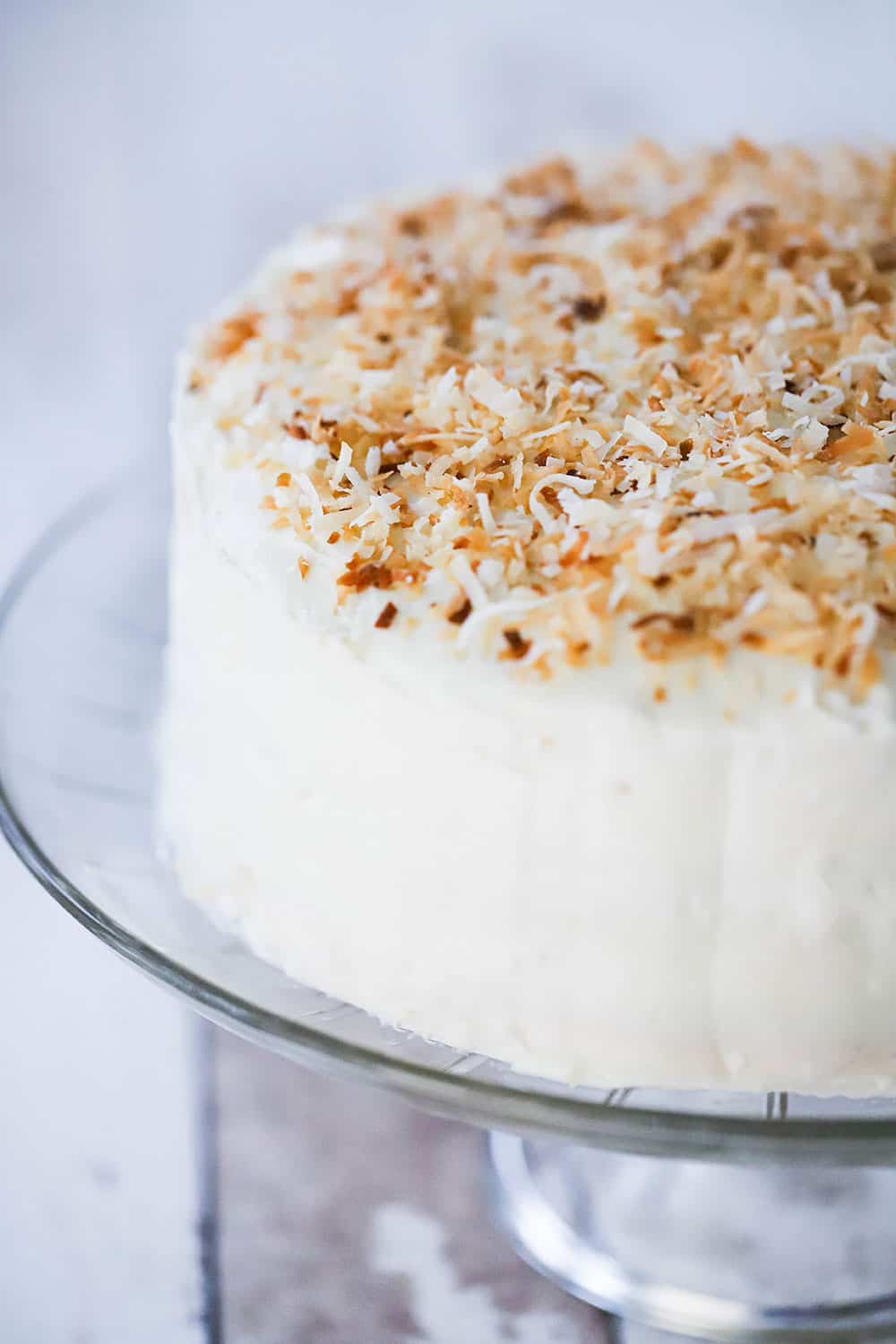 When to Serve Coconut Cream Cake
Folks, this cake is so spectacular, it's great for any occasion, or even for no occasion at all.
It is especially nice for holidays such as Easter, Mother's Day, or Valentine's Day.
We love coconut so much. The distinct taste and texture work perfectly in a savory dish, such as Curry Chicken, as well as sweet dishes, as well.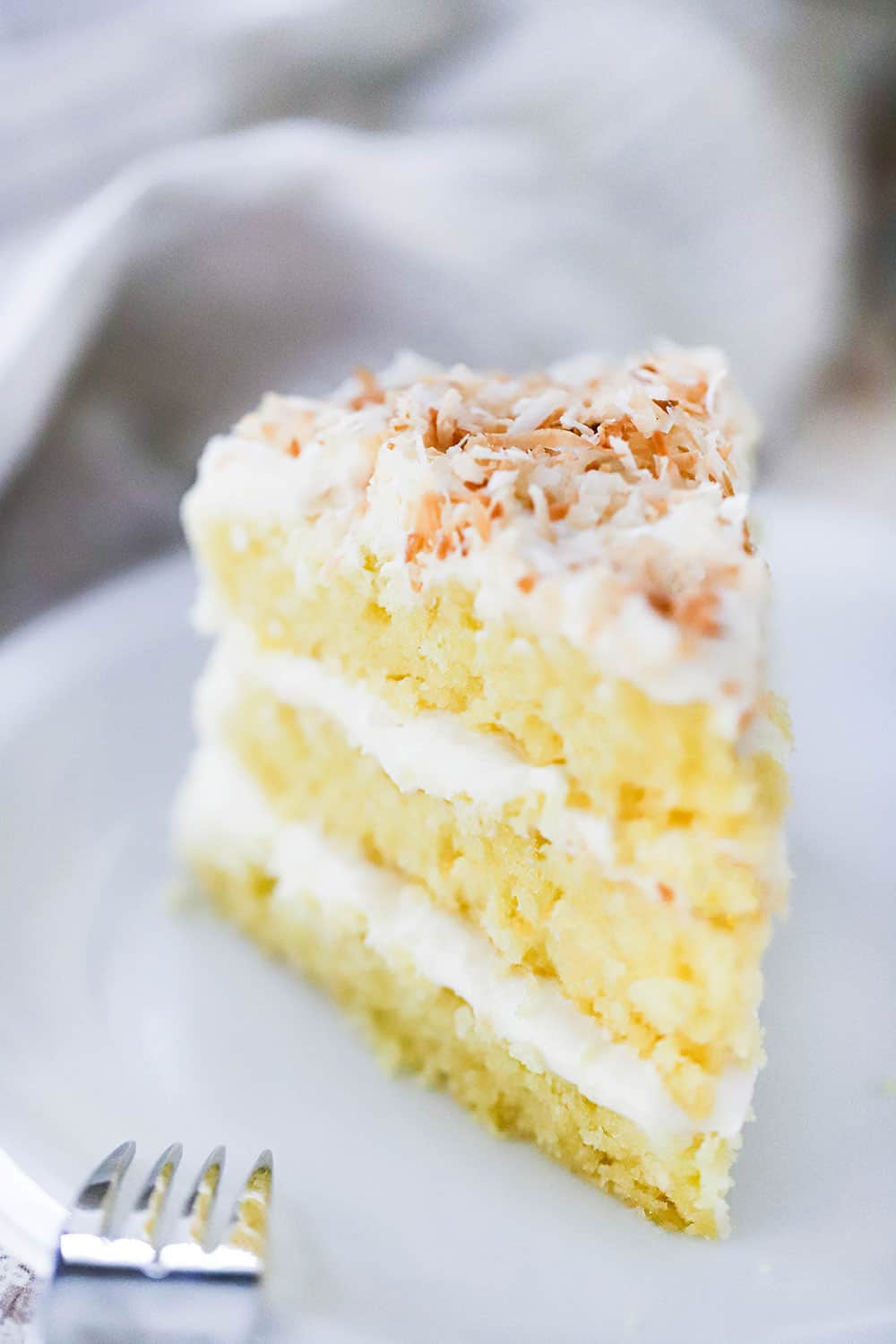 If you love this Coconut Cream Cake, you should check out these amazing cake recipes:
Classic Carrot Cake
Pineapple Upside Down Cake
German Chocolate Cake
Extreme Chocolate Layer Cake
Red Velvet Cake (Cupcakes)
In the meantime, don't you just want to sink your teeth into this glorious cake?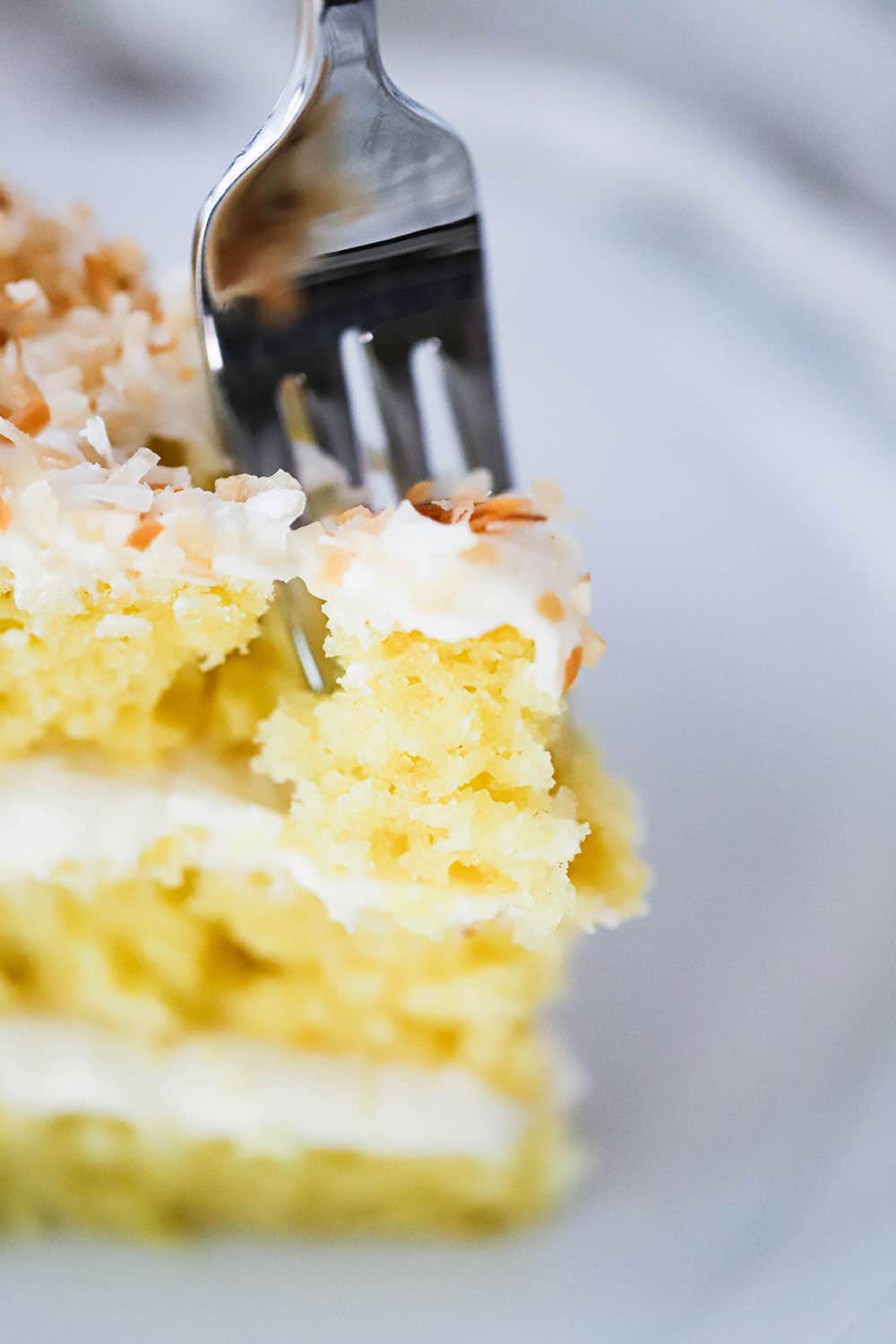 Ready to make the best cake in town? Go for it!
And when you do, be sure to take a photo of it, post it on Instagram, and tag @HowToFeedaLoon and hashtag #HowToFeedaLoon!
Coconut Cream Cake
This Coconut Cream Cake is gorgeous and super delicious. Perfect when planning a special meal. So moist and so flavorful. Delicious.
Print
Pin
Rate
Servings: 12 people
Calories: 779kcal
Equipment
3 9-inch straight edge cake pans (See NOTES)

Parchment paper
Ingredients
FOR THE CAKE
Cooking spray, or butter for greasing the pans
3¼ cups all-purpose flour plus extra for dusting the greased pans
1½ cup granulated sugar separated (1¼ for the cake, ¼ cup for the meringue)
1 tsp salt
¼ tsp baking soda
1 tbsp baking powder
1 cup buttermilk room temperature
5 large egg yolks save the egg whites
¼ cup canola oil
1 tbsp vanilla extract
1 tbsp coconut extract
1½ cup unsalted butter 3 sticks, melted
⅓ cup egg whites from the saved egg white
FOR THE COCONUT BUTTERCREAM FROSTING
24 oz cream cheese room temperature, 3 8 oz. packages
¾ cup unsalted butter
2½ cups confectioners' sugar aka: powdered sugar
½ cup sweetened cream of coconut
1 tsp vanilla extract
½ tsp coconut extract
½ cup sweetened coconut flakes divided, 3 tbsp for the icing, the rest toasted for topping
Instructions
Preheat oven to 275°F. Cut parchment paper into circles to fit each pan. Grease the pans (and parchment paper) with cooking spray or butter, and then lightly dust with flour.

In a large bowl, combine the flour, 1¼ cups sugar, salt, baking soda, and baking powder. Set aside.

In the bowl of a stand mixer fitted with whisk attachment, whisk together buttermilk, yolks, oil, and both extracts. With the mixer running on low, slowly add in the melted butter.

Switch the whisk attachment to the paddle attachment and gradually add the dry ingredients into the butter mixture and mix on low until combined. Set aside.

In a large bowl, whisk egg whites (preferably with an electric hand mixer), slowly incorporating the remaining ¼ cup granulated sugar until soft peaks form, about 4 to 5 minutes.

Fold peaked whites into the batter until just incorporated.

Pour batter evenly into greased cake pans.

Bake for 35 minutes, or until an inserted toothpick comes out clean.

Transfer each pan to a baking rack and let sit for 10 minutes. Carefully invert the pans to remove each cake layer. Discard the parchment paper. Allow the cake layers to completely cool before adding the frosting.

While the cake is baking make the frosting: In a stand mixer (or mixing bowl), mix together the room-temp cream cheese and butter until light and fluffy. Mix in the other ingredients (with 3 tbsp coconut flakes) until fully incorporated. Allow it to chill in the refrigerator for at least 30 minutes.

Toast ⅓ cup of the coconut flakes until lightly browned.

Place one cake on a cake platter. Add a layer of frosting, and continue with the remaining layers. Frost the top and sides of the cake. Sprinkle the toasted coconut flakes on the top of the cake.
Notes
We love using 3 9-inch straight-edge cake pans for this cake, however, you can also use whatever you have on hand if you prefer. We originally baked this cake in 4 pans, but that makes for very thin layers. We've revised the recipe to just 3 layers. If you prefer 4, no problem! You'll most likely need to bake the layers for less time, about 25 minutes. If you are using 8-inch pans or going with just 2 pans, you will probably need to increase the bake time to about 40 minutes. Keep an eye on them, and don't forget about the inserted toothpick test.
275°F may seem too low - but trust us...it cooks the cake perfectly!
Sweetened cream of coconut can often be found in the 'Juices/Mixers' area of most well-stocked supermarkets.
We recommend using a spatula (or 2) to help transfer the cooked and cooled cake layers to the cake stand and for assembling the cake.
The cake will keep (covered) for up to 1 week.
The original sugar icing:
Ingredients
1¾ cups softened butter
8 cups powdered sugar
1 15 oz. can sweetened cream of coconut
2 tbsp sweetened coconut flakes
Instructions:
Beat the butter until fluffy.
Incorporate the powdered sugar until combines.
Add the cream of coconut and flakes and mix for a few minutes.
Nutrition
Calories: 779kcal | Carbohydrates: 72g | Protein: 10g | Fat: 51g | Saturated Fat: 28g | Trans Fat: 1g | Cholesterol: 202mg | Sodium: 450mg | Potassium: 285mg | Fiber: 1g | Sugar: 44g | Vitamin A: 1606IU | Calcium: 145mg | Iron: 2mg
POST UPDATE: This recipe was originally published in March 2016, but was updated with improved tweaks to the recipe with new tips and photography, and a fabulous new video in May 2021!