Coconut Cream Cake is divine.
This cake is so moist and just so flavorful.  We just love a cake with multiple layers, but you could easily do this in 2 pans (instead of 4), or even in a cake sheet.
Toasting coconut for topping the cake is a beautiful (and delicious) addition to this cake!
The oven temp may seem low, but don't worry, it helps produce a cake that is moist and super delicious.
If you go with 2 pans (instead of 4), increase the cook time to 45 minutes (or until an inserted toothpick comes out clean).
OTHER FAVORITE CAKE RECIPES
If you love this Coconut Cream Cake, you should check out these amazing cake recipes:
Classic Carrot Cake
Pineapple Upside Down Cake
German Chocolate Cake
Extreme Chocolate Layer Cake
Red Velvet Cake (Cupcakes)
Toast the coconut (for the topping) to bring out even more of the amazing coconut flavor.  This Coconut Cream Cakes is a dessert you'll want to make when you are ready to impress. So good!  125% Loon Approved.
We love coconut so much. The distinct taste and texture works perfectly in savory dish and sweet dishes, as well. Not to mention beverages! Speaking of which…have you tried our Coconut Iced Coffee Cocktail?
THE BEST PANS FOR MAKING COCONUT CREAM CAKE
Be sure your 8-inch cake pans are straight-edge for best results.   These are the cake pans I use, and I absolutely love them.
Now, let's make this Coconut Cream Cake recipe!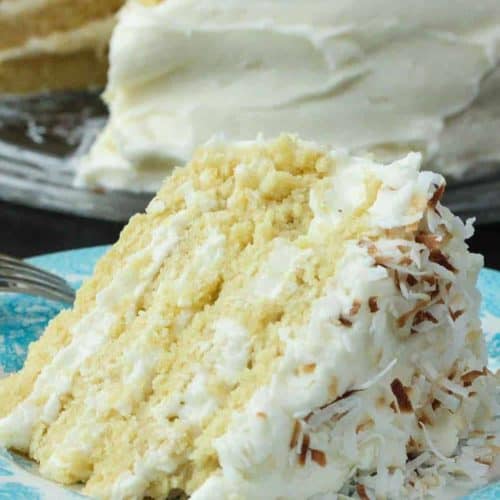 Coconut Cream Cake
This Coconut Cream Cake is gorgeous and super delicious. Perfect when planning a special meal. So moist and so flavorful. Delicious.
Print
Pin
Rate
Servings: 12 people
Calories: 1109kcal
Ingredients
FOR THE CAKE
3 ¼ cups all-purpose flour
1 ½ cup granulated sugar separated (1 1/4 for the cake, 1/4 cup for the meringue)
1 tsp salt
¼ tsp baking soda
1 tbsp baking powder
1 cup buttermilk room temperature
5 large egg yolks save the egg whites
¼ cup canola oil
2 tbsp vanilla extract
1 ½ cup unsalted butter 3 sticks, melted
⅓ cup egg whites
FOR THE COCONUT BUTTERCREAM FROSTING
1 ¾ cups unsalted butter room temperature
9 cups confectioners' sugar
15 oz can sweetened cream of coconut
2 tbsp sweetened coconut flakes plus another tablespoon - toasted
Instructions
Pre-heat oven to 275° F and grease 4 8-inch straight-edge cake pans.

In large bowl, combine the flour, 1 ¼ cups sugar, salt, baking soda, and baking powder. Set aside.

In bowl of stand mixer fitted with whisk attachment, whisk together buttermilk, yolks, oil, and vanilla.

Slowly incorporate melted butter.

Pour dry ingredients into creamed butter mixture and mix on low until combined. Set aside.

In large bowl, whisk egg whites (preferbaly with an electric hand mixer), slowly incorporating remaining ¼ cup granulated sugar until egg whites peak.

Fold peaked whites into batter and mix on low until mixture comes together.

Pour batter evenly into greased cake pans.

Bake for 25 - 30 minutes, or until toothpick comes out clean when inserted.

Cool completely on wire rack.

Once cooled, wrap in plastic and refrigerate until ready to frost.

While cake is cooking, make the frosting by beating butter in large bowl until smooth.

Slowly incorporate confectioners' sugar.

Add cream of coconut and coconut flakes to mixture and beat for 3 minutes or until fluffy.

Invert cakes from the pans.

Place one cake on serving dish. Use cake leveler to create even layers (optional).

Frost top layer, and then repeat with remaining cakes.

Frost sides of cake and top with toasted coconut.
Notes
Cake batter can also be baked in a 18x13-inch sheet pan. 
Nutrition
Calories: 1109kcal | Carbohydrates: 144g | Protein: 7g | Fat: 58g | Saturated Fat: 34g | Cholesterol: 211mg | Sodium: 273mg | Potassium: 210mg | Fiber: 1g | Sugar: 115g | Vitamin A: 1672IU | Calcium: 96mg | Iron: 2mg