This Carrot Cake with Coconut, Ginger and Macadamia Nuts recipe has been Wesley's favorite cake of all time ever since I first made it back in the early 2000's.
It has truly stood the test of time. Every time I make it, it gets rave reviews…and not just from The Loon! It's really a show-stopper and just incredibly delicious!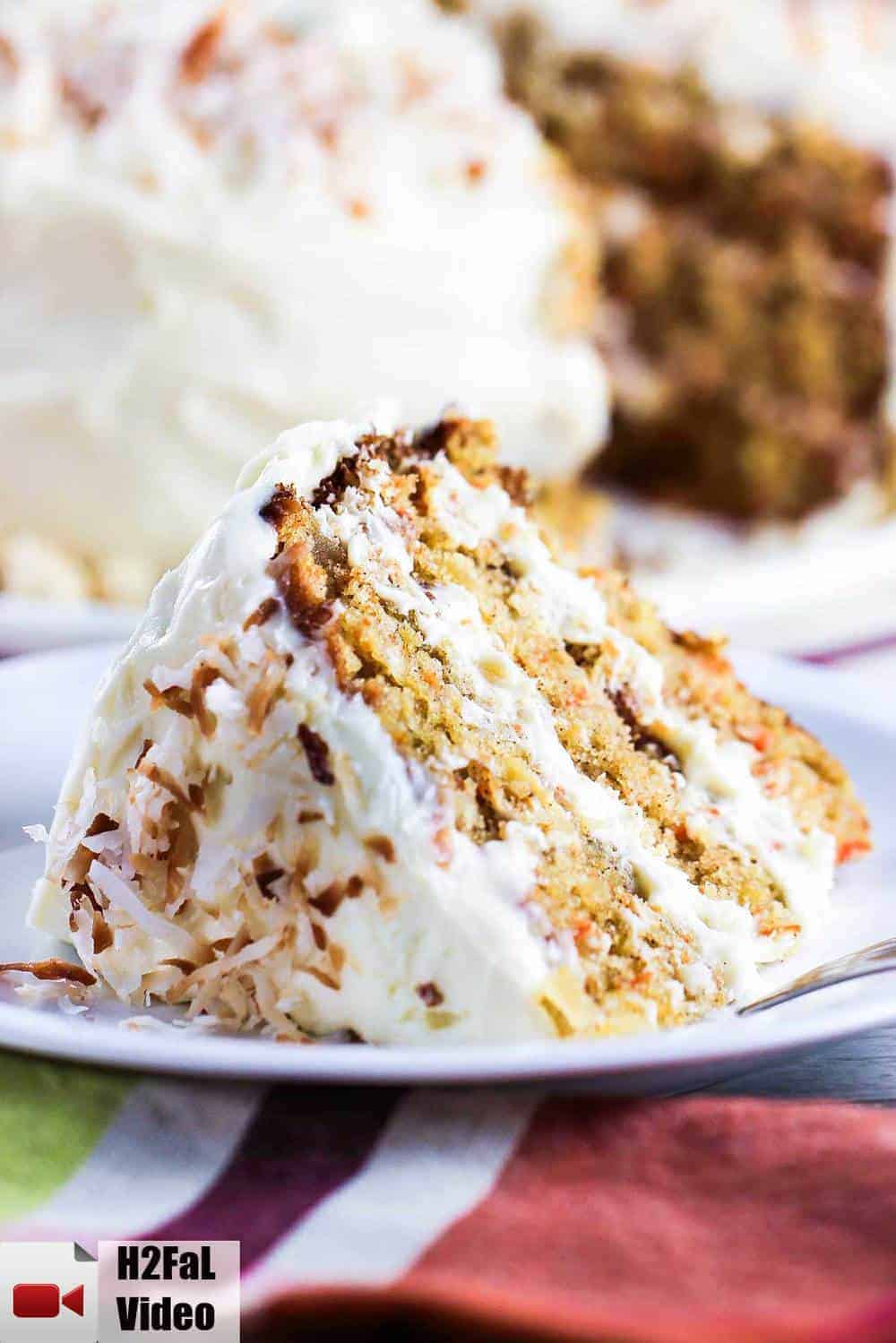 HOW TO MAKE THE BEST-EVER CARROT CAKE
Watch us make this amazing cake (but we decided to make it into cupcakes). Watch, laugh…and then make this amazing Carrot Cake!
The ingredients in the cake are classic carrot cake, with some wonderful tropical components added in, too.
So many layers of flavor in this incredible layered cake!
So good!
There is nothing much more comforting than the smell of this incredible cake as it bakes in the oven.
We love a good layered cake! Dividing the batter amongst 3 baking pans is just perfect, but, of course, it would work in just two pans, too. Or…as cupcakes!! (Bake time for cupcakes: Approx. 15 to 20 minutes, until an inserted toothpick comes out clean).
And let me tell you about the butter-cream icing with a touch of coconut milk. Oh, it is truly the icing on the cake. The best icing on the cake.
This is about as good as it gets. The Loon could (and practically does) sit and eat the entire bowl of icing by itself. I have to remind him that it needs to go on the cake!
It's really that good.
This is a beautiful cake. It's perfect for spring and any kind of special occasion.
It's beautiful when it's whole, and it's gorgeous when sliced.
You can't go wrong with this cake.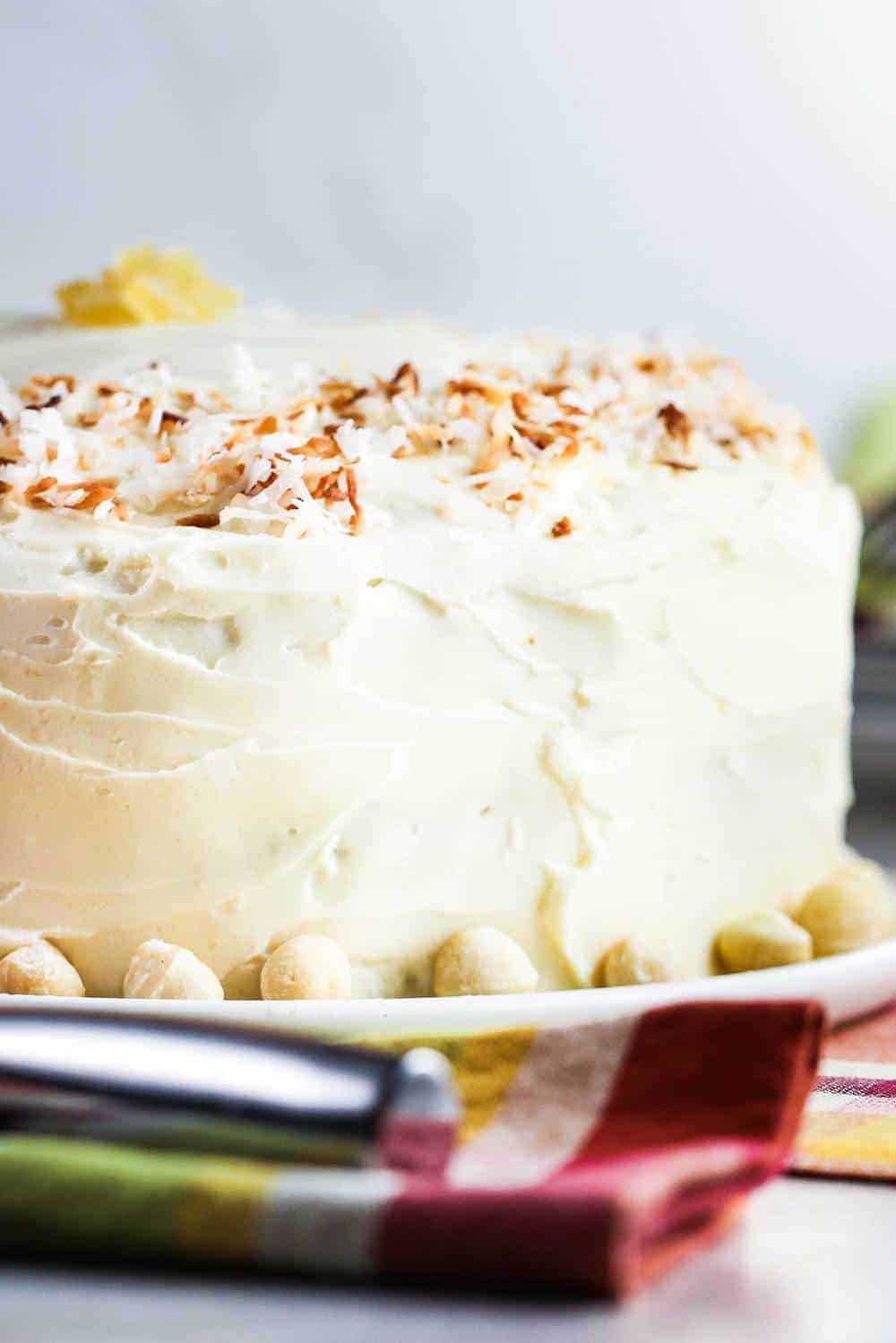 The Loon (as do I) loves this cake more than any other cake he's ever tried…and he's tried a lot of cake in his time.
It's moist and layered with flavor and beautiful in appearance.
We just can't rave enough about this incredible Carrot Cake with Coconut, Ginger and Macadamia Nuts recipe!
Who wants a slice?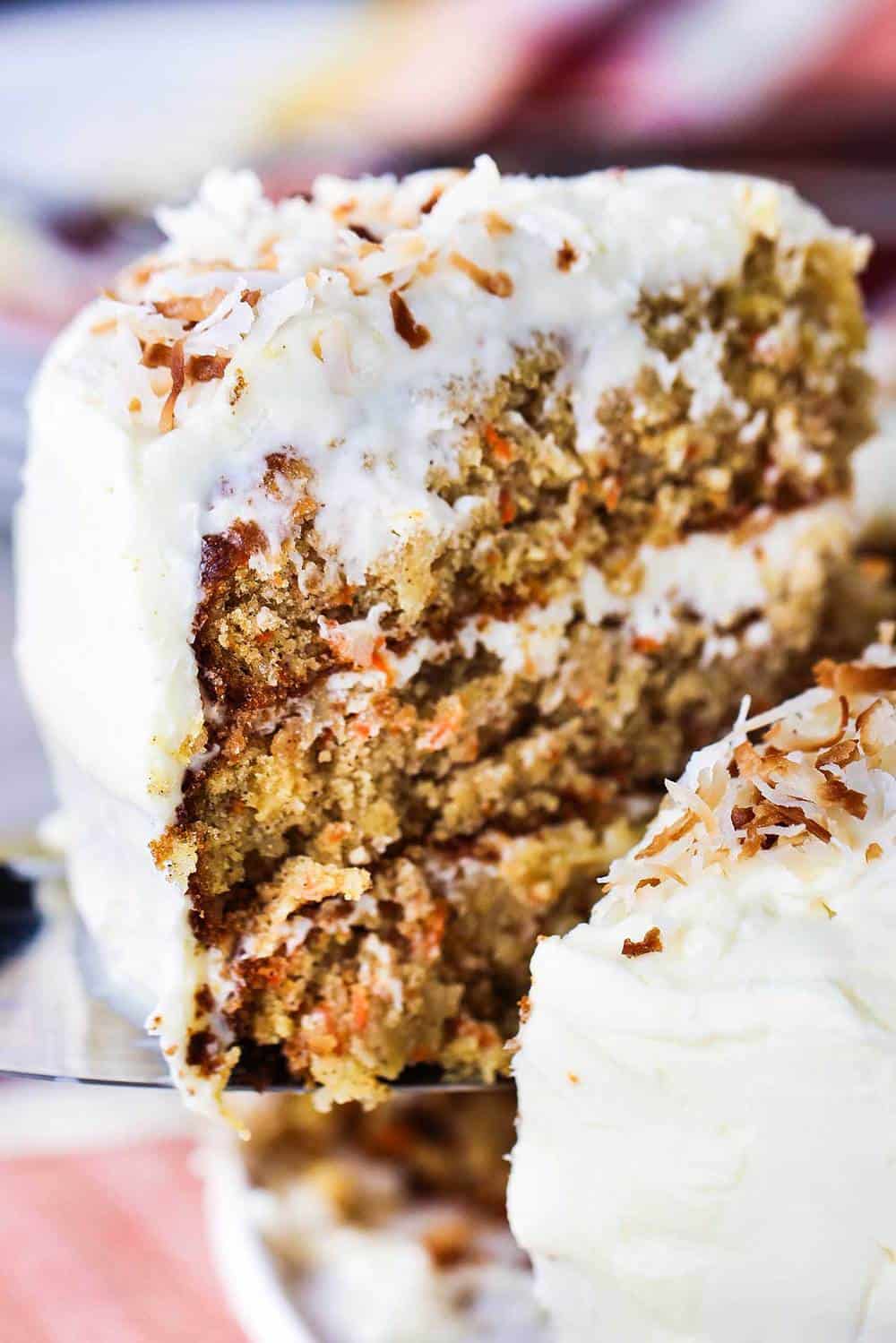 OTHER AMAZING CAKES, OR CUPCAKES RECIPES
Pineapple Upside Down Cake
Red Velvet Cupcakes
Chocolate Fudge Cupcakes with Marshmallow Filling
Coconut and Lemon Curd Cupcakes
German Chocolate Cake
Coconut Cream Cake
But for now, go and make this super delicious Carrot Cake with Coconut, Ginger and Macadamia Nuts!
If you're a fan of carrot cake, you are going to love this cake!! We promise!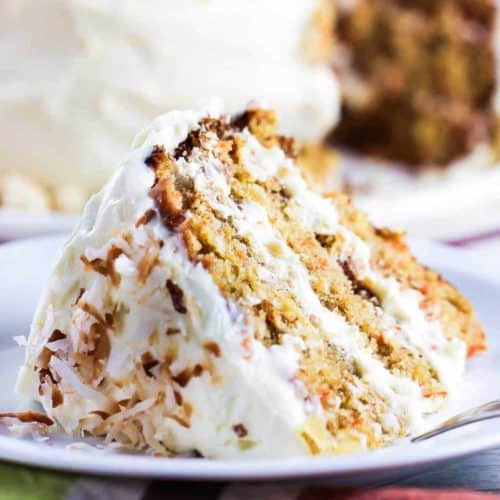 Carrot Cake with Coconut, Ginger and Macadamia Nuts
This Carrot Cake with Coconut, Ginger and Macadamia Nuts has been an all-time favorite recipe of Wesley's since I made it back in the early 2000s. It's really that good. So moist and layered with lots of classic carrot cake taste, plus a little tropical thrown in for an even bigger flavor boost. This is the good stuff.
Print
Pin
Rate
Servings: 8
Calories: 836kcal
Ingredients
FOR THE CAKE
2½ cups all-purpose flour sifted, then measured
1 cup sweetened flake coconut
1 cup dry-roasted macadamia nuts
¾ cup chopped crystallized ginger
3½ tsp ground cinnamon
2½ tsp baking powder
1 tsp salt
½ tsp baking soda
2 cups sugar
1 cup vegetable oil
4 large eggs
2 tsp vanilla extract
2 cups carrots finely grated
2 8 oz. cans crushed pineapple undrained
FOR THE FROSTING
3 8 oz. packages of cream cheese - room temp
¾ cup unsalted butter, room temp 1 & 1/2 sticks
2½ cups powdered sugar
½ cup sweetened cream of coconut such as Coco Lopez
1 tsp vanilla extract
½ tsp coconut extract
1 cup sweetened coconut flakes lightly toasted
Instructions
MAKE THE CAKE
Pre-heat of to 350°F.

Butter three 9-inch cake pans with 1 1/2 inch high sides.

Line bottom of pans with parchment paper.

Combine 1/3 cup of flour and then next 3 ingredients in your food processor, process until nuts are finely chopped

Whisk remaining 2 cups flour, cinnamon, baking powder, salt, and baking soda in a separate bowl

Using an electric mixer, beat sugar and oil in a large bowl to blend.

Add eggs 1 at a time, beating well after each addition.

Beat in vanilla.

Beat in the spice mixture, then carrots and crushed pineapple (with juice).

Pour into prepared pans.

Bake until a toothpick inserted comes out clean, about 35 minutes.

Cool in pans on a rack for about an hour.

Run a knife around the edge of pans to loosen cakes.

Turn cakes out onto racks and cool completely.
MAKE THE FROSTING
Beat cream cheese and butter in large bowl until smooth and creamy.

Beat in powdered sugar, the cream of coconut, and both extracts.

Chill until firm enough to spread...at least 30 minutes.
PUTTING IT ALL TOGETHER
Place 1 cake layer, flat side up, on a nice looking cake platter.

Spread about 1 cup of frosting over the top.

Top with the next cake and repeat with another cup of icing.

Top with third cake and press lightly to adhere, and go ahead a push the layers to make sure they are aligned evenly (you can even insert long wooden skewers throughout the cakes at this point, to hold the cake in place, while you continue icing).

Top with toasted coconut flakes and a few pieces of crystallized ginger.

Chill the cake for another 30 minutes, then ice the rest of the cake.
Nutrition
Calories: 836kcal | Carbohydrates: 133g | Protein: 5g | Fat: 26g | Saturated Fat: 12g | Sodium: 456mg | Potassium: 384mg | Fiber: 5g | Sugar: 96g | Vitamin A: 5346IU | Vitamin C: 2mg | Calcium: 96mg | Iron: 2mg