This Classic Pineapple Upside-Down Cake is inspired from my mom, Maudell Longwell.  It really is the classic "make 'em smile" cake.
Both Wesley and I feel this is one of the most comforting and delicious cakes there ever was. It is a bit nostalgic, which in our books, makes it that much more inviting to eat.
Just one bite, and we're pretty sure you'll feel the same way.
HOW TO MAKE A CLASSIC PINEAPPLE UPSIDE-DOWN CAKE
You know me, I always encourage you to use the freshest ingredients, and by all-means, using fresh pineapple is great.  But, I've tried it both ways, and fresh can be a bit problematic…there is a lot of water that is released that compromises the cake.
There are adjustments that can be made if you decide to cut up a fresh pineapple, but honestly, getting good quality, canned sliced pineapple, in pineapple juice, yields a wonderful cake, too.  (Shhh..maybe even better!).
The brown sugar and butter mixture smells heavenly as it bakes with the delicious pineapple.
PINEAPPLE UPSIDE-DOWN CAKE IS DELICIOUS AND IS BEAUTIFUL IN PRESENTATION
Of course, the addition of maraschino cherries is not only traditional, but also adds to the delectable combination of tastes in this iconic cake.
And the colors of this pineapple upside-down cake are just gorgeous.
Oh, how we love cherries!
The batter for this produces the most moist and flavorful cake for this amazing dessert.
Be sure to use a nice high (2″) pie plate or round cake pan.
Of course, you can really get nostalgic, and use your large cast iron skillet.  No matter what the vessel is, the end result is spectacular. 
PINEAPPLE UPSIDE-DOWN CAKE IS A CLASSIC AMERICAN DESSERT
The pineapple upside-down cake was extremely popular back in the 50s and 60s, and has seen a major comeback in recent years.
But actually, the cake dates all the way back to the 1800s and the pineapple upside-down cake is just one of numerous classic American cakes that made their place in so many homes across the country. Learn about more about American Cakes Throughout History from PBS.
If you're interested in making another incredible American classic dessert, go with one of our favorites: Carrot Cake.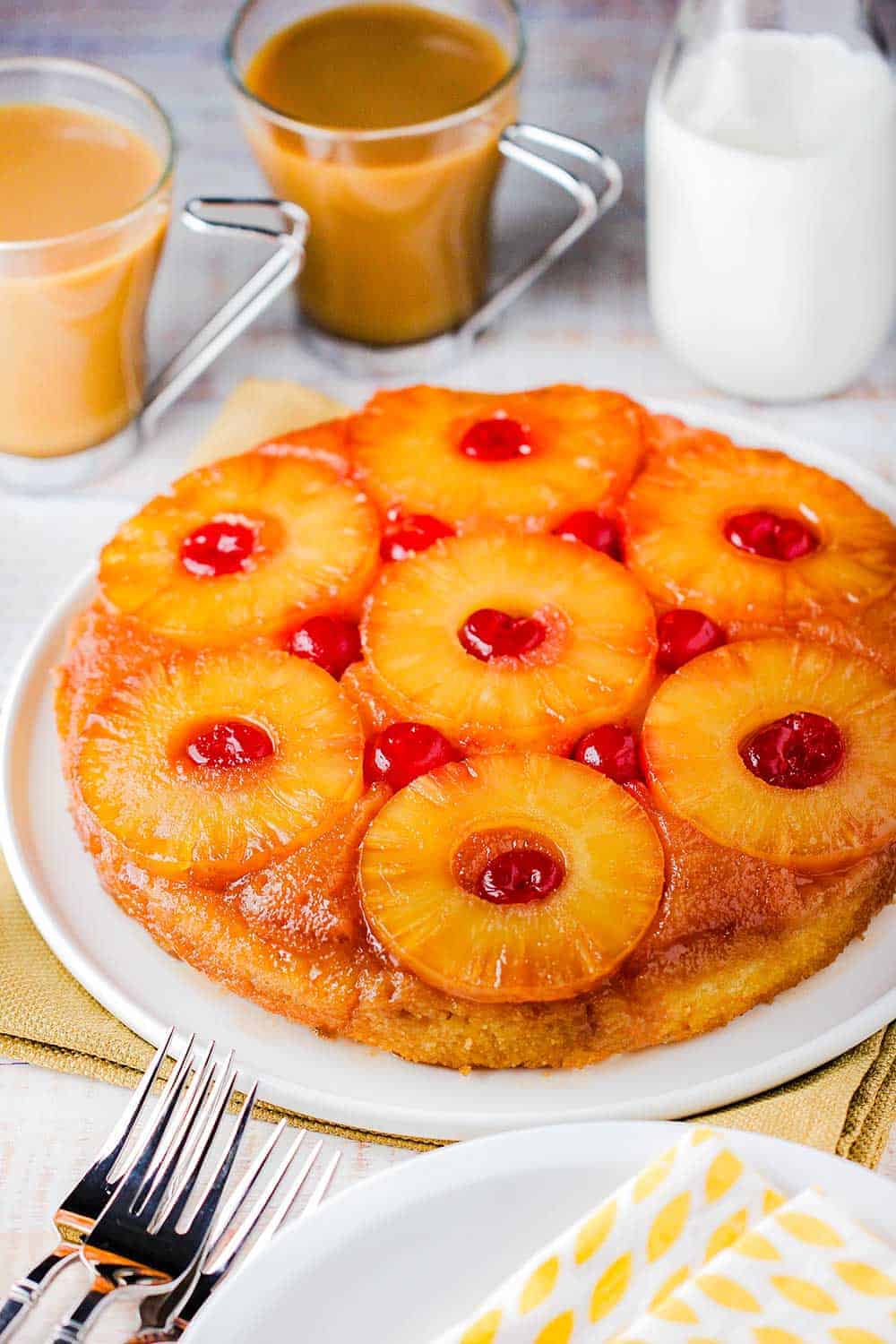 THIS PINEAPPLE UPSIDE-DOWN CAKE IS NOT DIFFICULT TO PREPARE
You will be surprised at how easy it is to make this incredible Classic Pineapple Upside Down Cake from scratch.
Of course, you could go with a box variety…but why no go a little extra distance, and make it completely homemade?
You and your loved ones will enjoy this so much, it will probably become part of your regular dessert recipe rotation. It's that good!
Classic Pineapple Upside-Down Cake
This Classic Pineapple Upside-Down Cake was extremely popular in the 1950s and 1960 and has made a huge resurgence in the past few years. And no wonder, it's so delicious! You can use a 9, 10 or 12-inch cast iron skillet, or a cake pan with 2-inch sides. This cake is as beautiful in presentation as it is in taste!
Print
Pin
Rate
Prep Time: 20 minutes
Cook Time: 50 minutes
Total Time: 1 hour 10 minutes
Servings: 8 people
Calories: 366kcal
Ingredients
FOR THE PINEAPPLE TOPPING
6 tbsp unsalted butter
2/3 cup light brown sugar
10 pineapple rings, sliced (canned or fresh) (If using fresh, you'll need to purchase pineapple juice, too)
Maraschino cherries
FOR THE CAKE
1 & 2/3 cups sifted all-purpose flour
1/2 tsp baking powder
1/4 tsp baking soda
1/2 tsp Kosher salt
1/2 cup unsalted butter
3/4 cup light brown sugar
1/4 cup granulated sugar
1 large egg, room temperature
3/4 cup whole milk
1/4 cup pineapple juice
1 tbsp vanilla extract
Instructions
MAKE THE TOPPING
Melt the 6 tbsp of butter in a microwave-safe bowl in the microwave.

Pour the melted butter into a 9-inch cake pan (must be 2-inches tall). Can also use a cast-iron skillet.

Sprinkle the brown sugar (2/3 cup) over the melted butter and then top with the pineapple slices, then place cherries in the centers of the rings and in the open space.
MAKE THE CAKE
Pre-heat the oven to 350°F

Melt the 1/2 cup butter and then add to a large mixing bowl.

Using your stand mixer, or a hand mixer, or a whisk, mix both sugars into the butter until well incorporated.

Whisk in the egg, milk, pineapple juice, and vanilla extract.

Slowly mix the dry ingredients into the butter/sugar mixture until smooth.

Pour the batter into the prepared pan over the pineapples and cherries.

Bake for 50 minutes, or until a toothpick comes out clean when stuck into the center of the cake.

Let rest for 15 to 20 minutes, and then invert the cake on top of a cake stand or serving plate.

Serve warm or at room temperature. Great with ice cream or whipped cream!
Nutrition
Serving: 1slice | Calories: 366kcal