These nachos are based off one of the greatest Tex-Mex restaurants in the world: Joe T. Garcia's!
These are so delicious and are classic no-frills nachos. Perfectly fried corn tortillas. Lots of good-quality cheddar cheese. Baked to perfection with a jalapeno relish on top! They go perfectly with our Restaurant-Quality Salsa, Steak Fajitas, Guacamole, and of course, our Classic Margarita!
HOW TO MAKE BEST-EVER CLASSIC NACHOS
These nachos are surprisingly easy to prepare. It really comes down to going with quality ingredients.
We use our deep fryer, but they can certainly be fried in a cast-iron skillet or a sturdy pot, such as a Dutch oven.
THE INGREDIENTS YOU WILL NEED
As mentioned, these nachos are really only as good as the ingredients you choose.
Seek out a good-quality mild cheddar cheese.
EXPERT TIP: We recommend going with 16 oz. block of top-notch cheddar cheese and then shredding it yourself. The pre-shredded bagged variety tends to be a drier cheese, and you won't get the creamy melting like you would with freshly shredded cheese. For the jalapenos, we just get our favorite pickled variety and then dice them finely with a knife. Be sure to use thin, yellow corn tortillas.
Since cheese is the only main ingredient on top of the fried tortillas, we love to pile them high.
These classic nachos are meant to be really cheesy.
EXPERT TIP: Cooking the nachos in the oven will melt the cheese beautifully. Make sure to spread the cheese as evenly as possible over the fried tortilla to ensure even melting. Roasting the nachos with the diced jalapenos on the cheese mellows the peppers slightly and infuses them into the cheese.
THE PERFECT TEX-MEX APPETIZER
These nachos are so delicious in their simplicity.
We love serving them as an appetizer to a fabulous Tex-Mex feast, or for a gathering of friends and family, or just for a fun snack on a Sunday afternoon!
EXPERT TIP: We like to hit the tortillas with just a sprinkling of salt right after they come out of the fryer. Coarse sea salt is great, but don't overdo it! Just a small pinch is all that's needed. The cheese has salt as well, so just a light sprinkle on the hot tortillas is all that's needed.
HOW TO MAKE TORTILLAS WITHOUT A FRYER
These classic nachos are super crispy and which comes from them being quickly fried in oil.
Frying the tortillas will give them that authentic taste and texture, but there is another way of achieving crispy tortillas.
EXPERT TIP: If you want to crisp up the tortillas in the oven, no problem. They won't have the same texture as the fried variety, but they will still be delicious. Simply preheat your oven to 350°F, brush oil over both sides of the tortillas, and then bake them on your baking sheet until crisp, about 15 to 20 minutes. Remove from oven, and load them up, and then proceed with the recipe as written.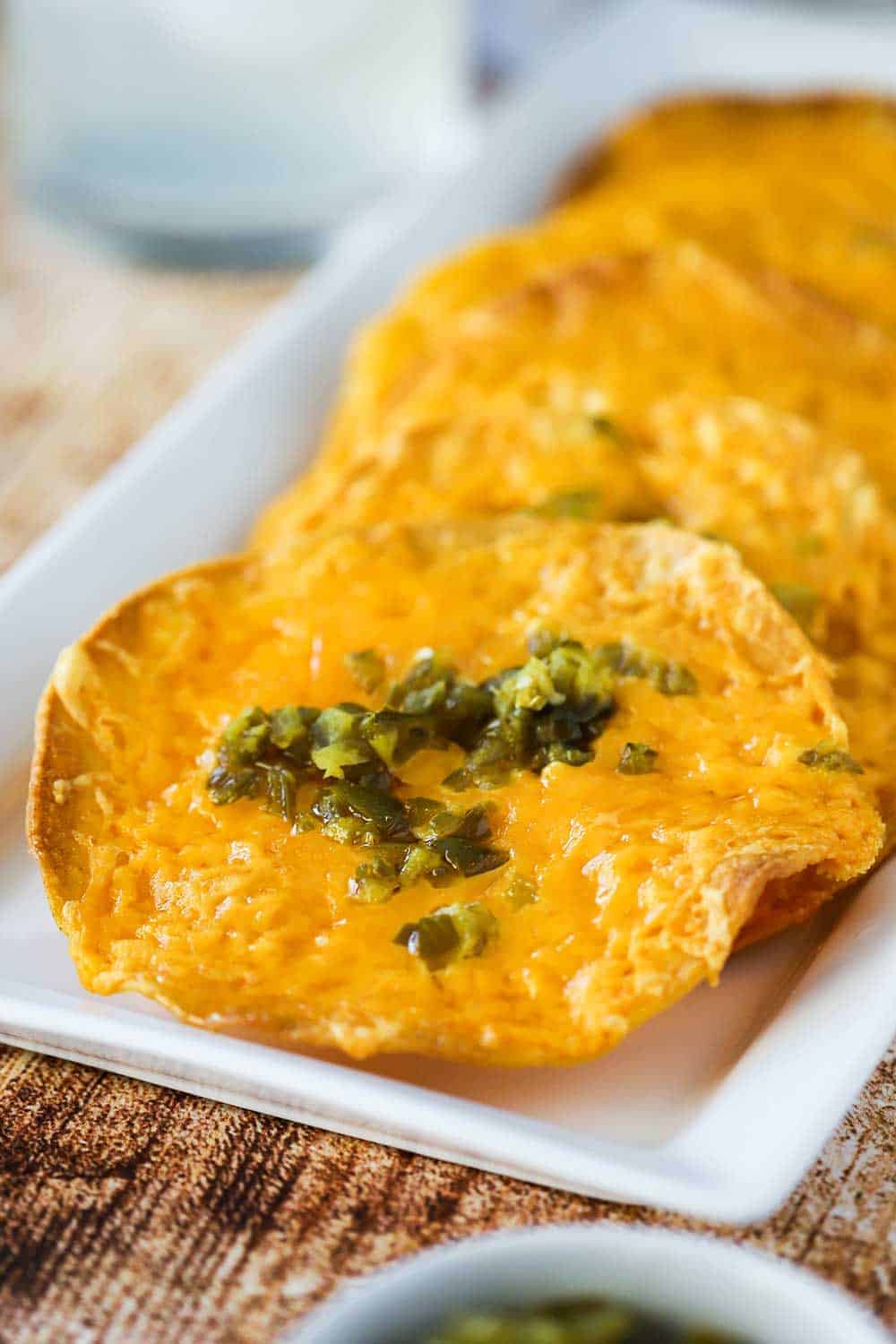 As mentioned, we think the finely diced pickled jalapenos round out the classic cheese nacho taste.
Even those who don't like any spice level at all still find them delicious.
We keep additional diced peppers on hand for those of us who do prefer a little extra heat!
CLASSIC NACHOS ARE ALWAYS A HIT
Every time we serve these nachos, they get rave reviews.
Even more than the main course, they're that good.
Crunchy, cheesy, with a little kick. The best!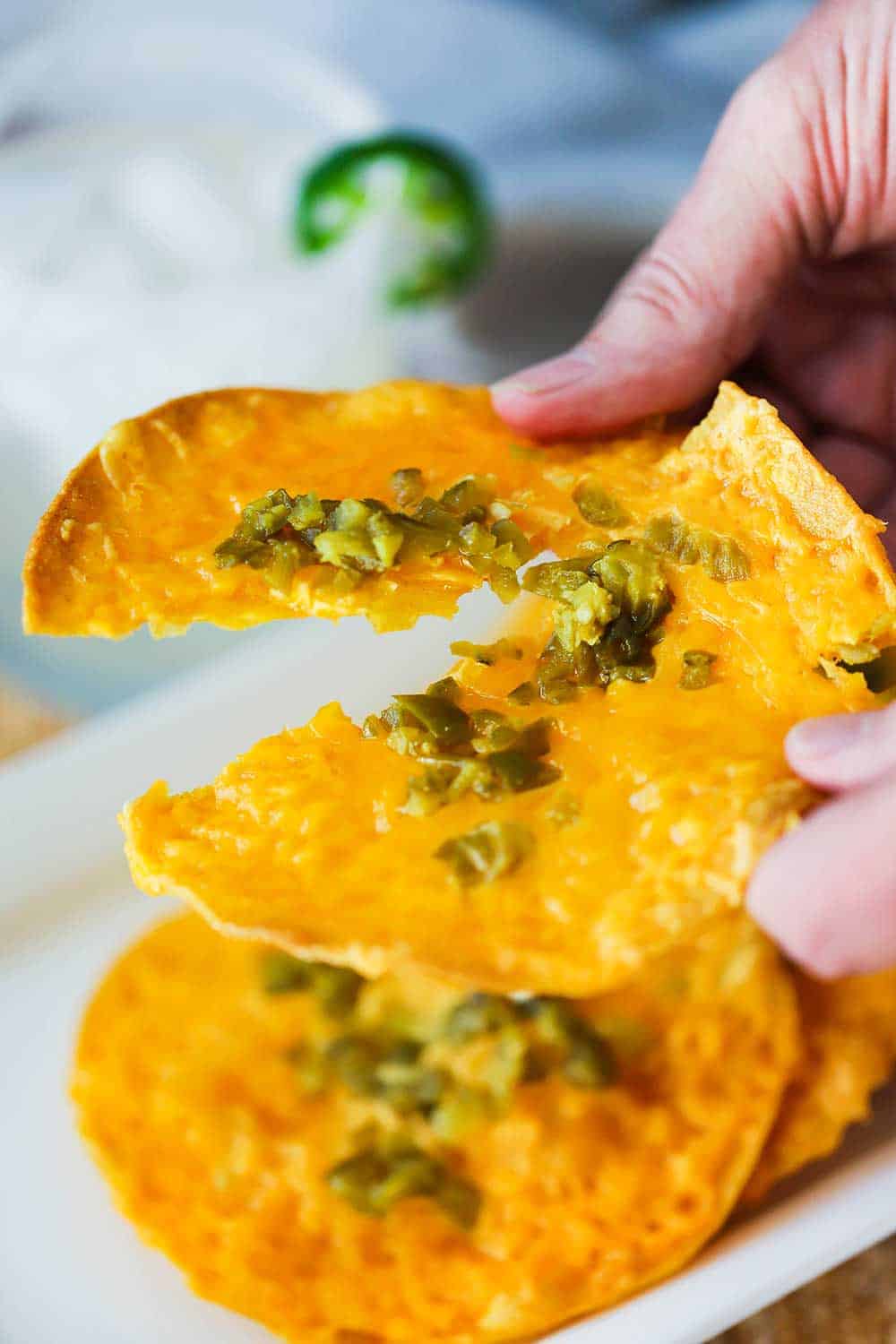 Ready to make the best nachos this side of the Rio Grande? Go for it!
And when you do, be sure to take a picture, post it on Instagram, and tag @howtofeedaloon and hashtag #howtofeedaloon!
Best-Ever Classic Nachos
These nachos are based on the iconic Tex-Mex restaurant Joe T. Garcia's in Fort Worth, TX. and their amazing nachos. Tortillas fried to crispy perfection, lightly salted, and then layers of creamy melted cheddar cheese topped with finely diced jalapeno relish! The BEST!
Print
Pin
Rate
Servings: 6
Calories: 364kcal
Equipment
Deep fryer, or sturdy skillet with a couple of inches of vegetable oil
Ingredients
Vegetable oil for frying
6 corn tortillas yellow
Kosher salt or coarse sea salt, for sprinkling the tortillas
1 lb mild cheddar cheese shredded
½ cup jalapeno peppers pickled, finely minced
Instructions
Heat oil to 365°F and preheat oven to 400°F.

Working in batches, place the tortillas in the hot oil, flipping occasionally with metal tongs, or a couple of forks, until golden and crispy, about 2 minutes per side.

Remove the fried tortillas to a plate lined with paper towels and immediately sprinkle them with a small amount of salt. Continue this process until all tortillas are fried and lightly salted.

Place the fried tortillas on a baking sheet. Top each tortilla with anywhere from ¼ to ½ cup of the shredded cheese. Be sure to spread the cheese evenly across all the tortillas.

Top each nacho with approximately 1 tbsp of the diced peppers.

Place in the oven and bake until the cheese has fully melted. About 3 to 5 minutes. Keep an eye on them, don't let them burn! Remove from the oven and serve at once, with extra diced peppers on the side.
Notes
We recommend using a good quality block cheddar cheese for these nachos. Shred the cheese just before preparing the nachos with a shredding attachment on your food processor, or with a box grater. Distribute the entire 1 lb of cheese over the 6 fried tortillas. This may seem like an excessive amount of cheese, but once melted, we think it's absolutely perfect. The nachos are meant to be really cheesy! If you don't have a deep fryer, the tortillas can easily be fried in a sturdy skillet or pot, such as a cast-iron skillet or a Dutch oven filled with a couple of inches of oil. Fry the tortillas in batches. Although we think frying the tortillas delivers that authentic Tex-Mex nachos taste, you can also bake them to crisp them up for building the nachos. Preheat the oven to 350°F and then brush oil over both sides of the tortillas, place on a baking sheet, and bake until crisp, about 15 to 20 minutes, flipping halfway through. Keep an eye on them to prevent burning. Then proceed with the recipe as written. This recipe can easily be doubled when feeding a crowd.
Nutrition
Calories: 364kcal | Carbohydrates: 13g | Protein: 20g | Fat: 17g | Saturated Fat: 12g | Cholesterol: 79mg | Sodium: 481mg | Potassium: 141mg | Fiber: 2g | Sugar: 1g | Vitamin A: 838IU | Vitamin C: 9mg | Calcium: 566mg | Iron: 1mg