We love entertaining and serving a delicious appetizer to get the party going is essential.
This dish is one of the easiest recipes we have on the blog with regards to preparation. But folks, don't let that fool you into thinking it's also not one of the most delicious recipes on the blog. The sauce can even be made a day or two in advance! A true show-stopper of a dish!
How To Make Baked Brie with Praline Sauce
As mentioned, preparing this stellar dish couldn't be easier.
We serve the dish right in the baking dish that we heated the brie in.
Choosing the Right Kind of Brie
Brie is a soft cow's-milk cheese named after Brie, the French region from which it originated.
It is commonly found in the gourmet cheese section of most well-stocked supermarkets or at gourmet food stores.
EXPERT TIP: This recipe calls for a 16 oz. wheel, which will feed 6 to 8 people. We've also used a 13.2 oz. wheel with great results. If you go with larger than 16 oz, you'll need to bake the cheese longer, typically 30 to 40 minutes for a 24 oz or 32 oz wheel. Although the rind is completely edible, we like to remove the top layer. Place the brie in the freezer for about 15 to 20 minutes which will make slicing the top layer off easier.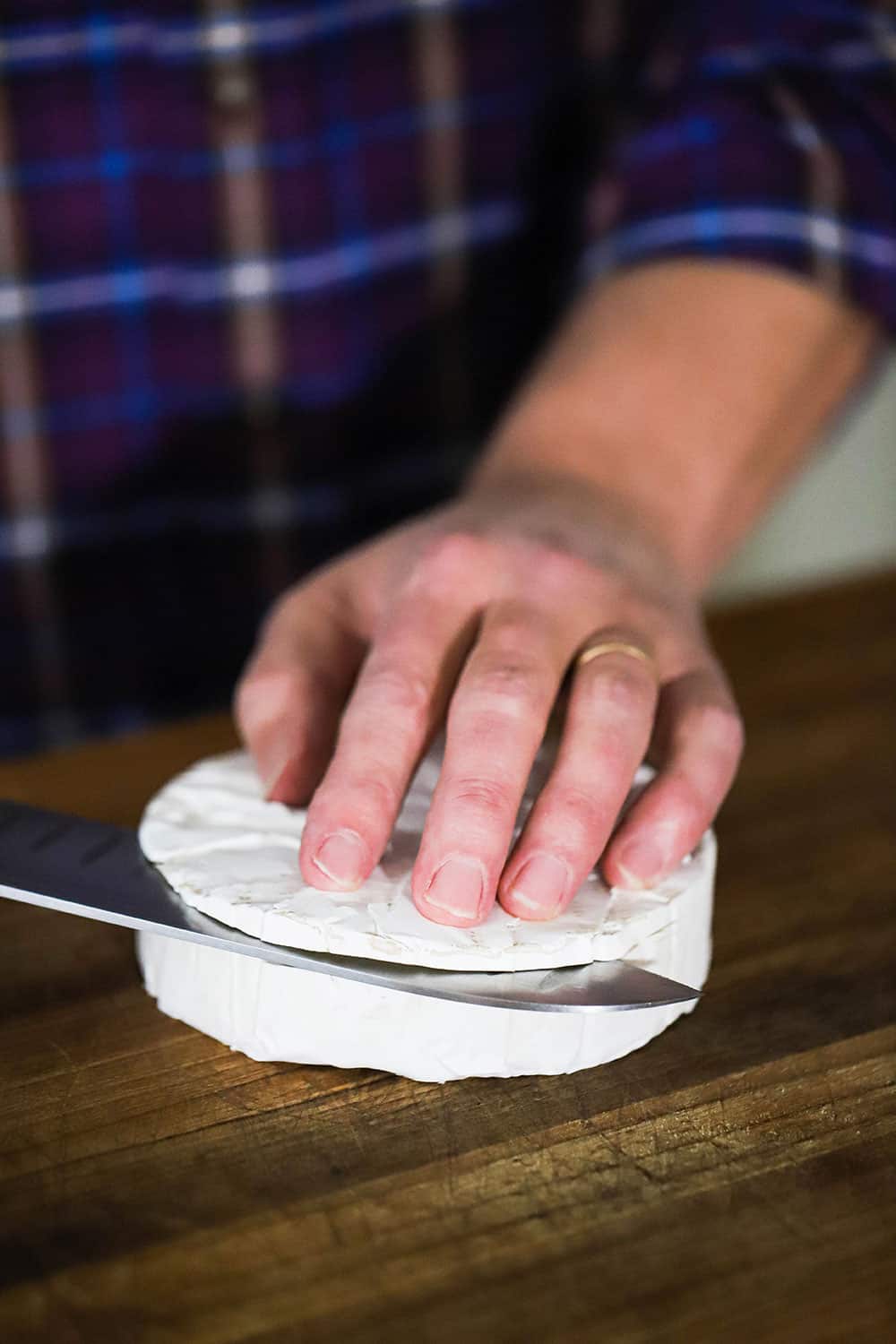 We love placing the wheel of brie in a baking dish and then serve it while still in the dish.
You can certainly bake it and then carefully transfer it to a serving dish.
EXPERT TIP: It's really important to allow the brie to rest for about 15 minutes after it bakes. Right out of the oven, the cheese will be very melty, and we find after it has a little time to firm up again, it reaches the perfect consistency for dipping a cracker into! If transferring to a serving platter, let it rest on the baking pan first. It may take 2 spatulas to transfer the cheese. It's okay if some of the cheese flows over the side of the rind.
How To Make Pecan Praline Sauce
The sauce for this dish is to die for.
We find that toasting the pecans deepens the flavor and adds to the classic praline taste. Give them a rough chop in your food processor or with a sharp knife.
EXPERT TIP: We strongly recommend you NOT skipping the coarsely ground black pepper. It is an amazing match to the sweetness of the maple sauce and it just works perfectly, without making the sauce spicy. The sauce can be made up to 2 days in advance. Simply reheat over medium heat in a medium saucepan. As with the brie, allowing the sauce to rest for about 5 to 10 minutes allows it to thicken slightly and reach the ideal consistency.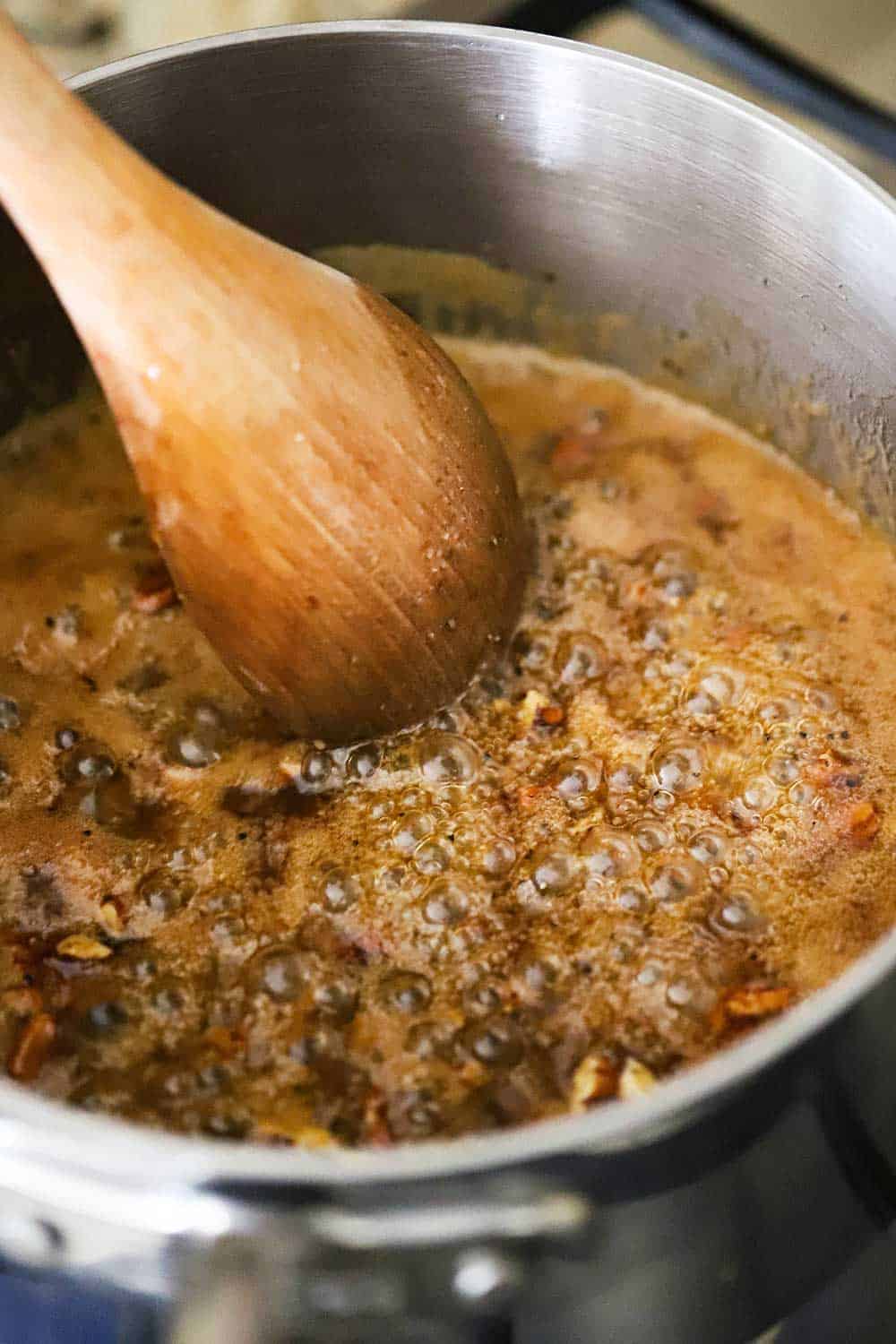 When it's time to pour that praline sauce over the baked brie, make sure your guests are watching.
It's a gorgeous presentation as that glorious sauce pours all over the melty wheel of brie.
You'll get plenty of ooh's and ah's!
When to Serve Baked Brie with Praline Sauce
This dish is so spectacular, we love serving it during the holidays.
But honestly, it's so amazingly delicious and so simple to prepare, it's great for any type of occasion. Even a lazy Sunday afternoon at home watching the big game!
EXPERT TIP: Be sure to have plenty of crackers on hand. We love going with water crackers or buttery club crackers. Sliced apples and/or celery are great for scooping, too.
Folks, this is, without doubt, our favorite appetizer to serve for that special occasion, especially during the holidays.
It's amazing to see guests devour it right up.
It truly sets the stage for a magical evening (or afternoon) of culinary deliciousness.
Yum!
Ready to make an awe-inspiring appetizer that will have your guests begging for more? Go for it!
And when you do, be sure to take a photo of it, post it on Instagram, and tag @HowToFeedaLoon and hashtag #HowToFeedaLoon!
Baked Brie with Praline Sauce
This Baked Brie with Praline Sauce really is the perfect holiday appetizer. So easy to prepare and the taste and texture are out of this world. And the sauce can be made up to 2 days in advance.
Print
Pin
Rate
Servings: 8
Calories: 236kcal
Equipment
Baking dish or rimmed baking sheet
Ingredients
1 16 oz brie
8 tbsp unsalted butter 1 stick
2 tbsp brown sugar dark
⅓ cup maple syrup pure
1 cup pecans chopped and lightly toasted
1 tsp black pepper coarsely ground
Crackers for serving
Instructions
Place brie in the freezer for 15 minutes (this makes slicing easier). Remove any packaging and use a large sharp knife to carefully cut away the top rind off of the wheel of cheese.

Preheat oven to 350°F.

Place brie in a baking dish or a rimmed baking sheet. Bake in the oven for 15 to 20 minutes, or until the top is slightly bubbly. It's okay if some of the cheese melts over the sides. Remove from oven and let rest for 15 minutes.

While the cheese is cooling slightly, melt the butter in a medium saucepan over medium heat. Once melted, add the brown sugar, maple syrup, pecans, and black pepper. Cook, stirring frequently, for 5 minutes. Remove from heat and let cool for another 5 to 10 minutes.

If leaving in the baking dish, pour the sauce all over the baked brie. If using a serving platter, use a large spatula (or two smaller ones) and carefully transfer the brie to the dish and then pour the sauce. Serve at once with crackers and sliced fruit (if desired).
Notes
The sauce can be made up to days in advance. Keep in the fridge in an air-tight container. After the brie has baked, reheat the sauce over medium heat. If you can't find a 16 oz. wheel of brie, you can use a 13 oz, or two 8 oz wheels. If you go larger than 16 oz, you'll need to increase the bake time, usually to 30 or 40 minutes. Once the top of the brie is starting bubble slightly, the cheese is ready. We recommend allowing the brie to cool for about 15 to 20 minutes after baking. You can serve it immediately, but the cheese will be very melty and not as easy to use a cracker to scoop up all the goodness. The dish can be reheated in a microwave on HIGH in 30-second intervals until warmed through.
Nutrition
Calories: 236kcal | Carbohydrates: 14g | Protein: 1g | Fat: 18g | Saturated Fat: 8g | Cholesterol: 31mg | Sodium: 4mg | Potassium: 81mg | Fiber: 1g | Sugar: 11g | Vitamin A: 362IU | Vitamin C: 1mg | Calcium: 29mg | Iron: 1mg
This recipe is adapted from Nealy Dozier from the Cooking Channel.