Looking for an amazing appetizer dish using wonderful mushrooms and Italian sausage? Look no further!
These babies are so delicious, it's impossible to not keep going back for more! And they are so easy to prepare and very adaptable to whatever ingredients you have in your pantry!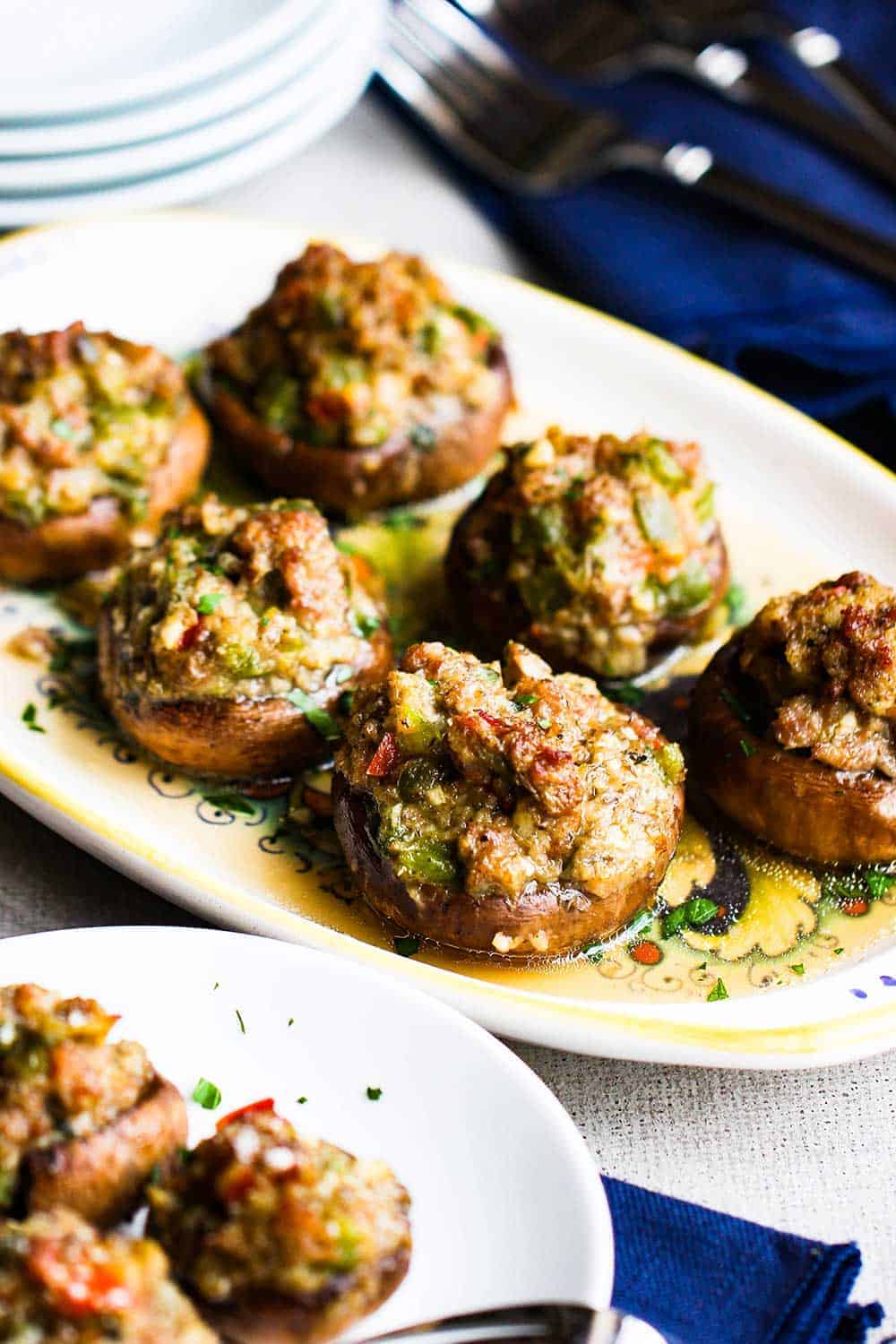 HOW TO MAKE SAUSAGE-STUFFED MUSHROOMS
This recipe is easily adaptable to your own tastes and what you have in your pantry.
We love making our own seasoned bread crumbs, but store-bought will work just fine, too. We add pickled sweet cherry peppers for a little extra kick, but you could also use pickled banana peppers or even jalapenos!
CHOOSING THE RIGHT MUSHROOM
We truly love mushrooms of all varieties, but just your basic white button mushroom works perfectly for this recipe.
Try and choose larger-sized mushrooms, they hold more of the amazing filling and work perfectly.
But, you can use smaller ones, as well. You'll just have more (but smaller) stuffed mushies for serving!
The ingredients for the sausage filling are Italian perfection. We love the addition of some vinegary cherry peppers. The tang and the touch of heat is the perfect complement to the sausage.
Everything comes together in such a delicious way!
The cooked filling is so good, you could almost sit down with the plate and just eat it as is!
But, try and resist.
This filling is perfectly constructed to bake inside a mushroom cap with a little olive oil!
MOUTH-WATERINGLY DELICIOUS
Take a look at this sausage-stuffed mushroom, and tell us you don't want to immediately pop that into your mouth!
Mouth-watering delicious!
And while we're talking about mushrooms, you'll just love our Polenta with Sautéed Mushrooms and Caramelized Onions and Seared Haddock with Mushroom Agrodolce Sauce and our Wild Mushrooms with Shallots and Garlic!
As soon as you pull these out of the oven, you will see that they simply make the best-stuffed mushrooms you'll ever try. The flavor is so comforting and perfectly balanced.
You can't get much better of a yummy appetizer than this dish!
Mmmmmmm.
Okay, I think we've hopefully got you convinced. But, just in case…take one more close look at these Sausage-Stuffed Mushrooms.
You gotta make these!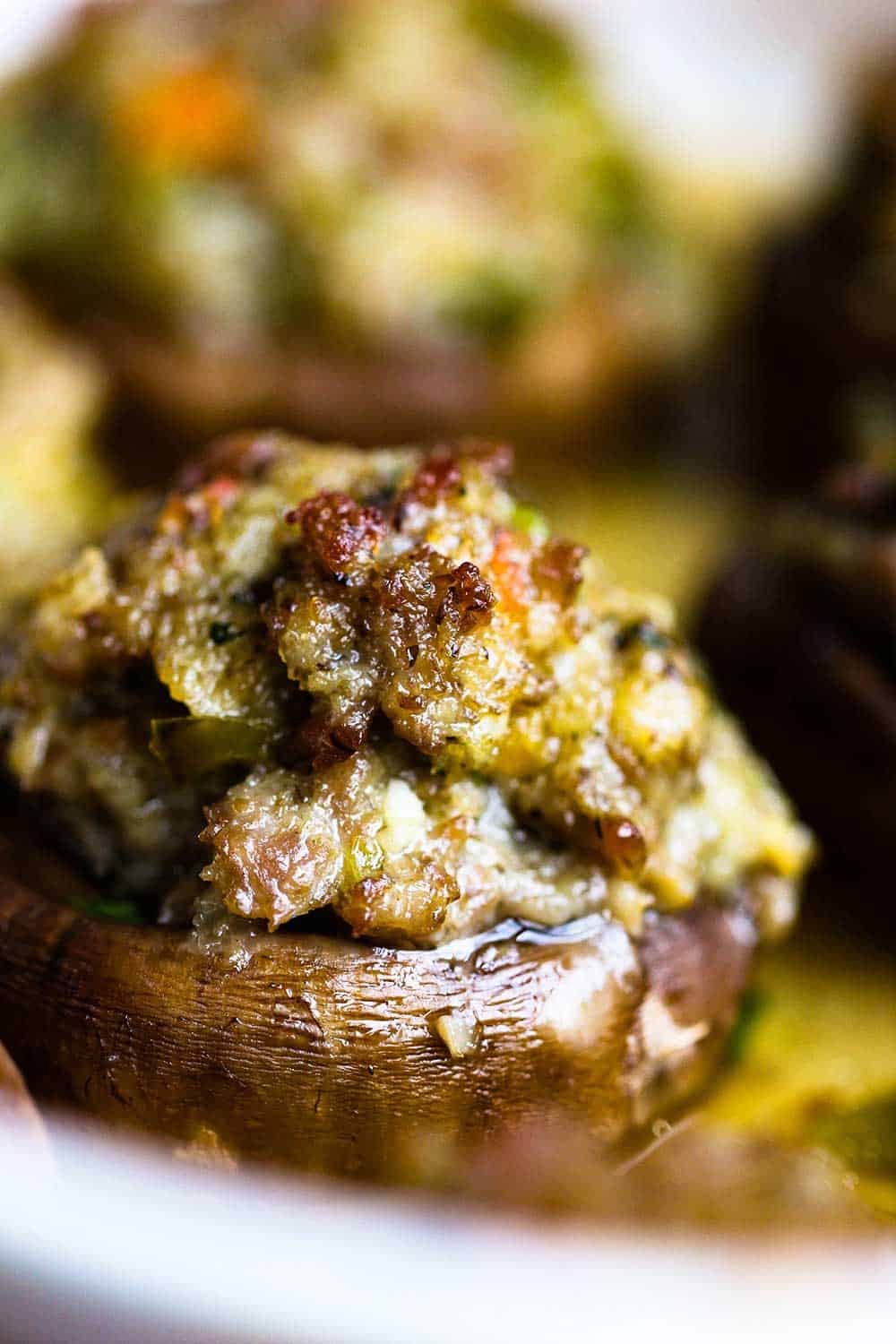 Another amazing Italian starter is our Spiendini alla Romana (Italian Stuffed Bread) and our Italian-Style Baked Clams!
But in the meantime, let's make this amazing Sausage-Stuffed Mushrooms recipe!
Sausage-Stuffed Mushrooms
This Sausage-Stuffed Mushrooms recipe always gets rave reviews every time we serve them. They are honestly always one of the very first apps to go. The flavors match perfectly together. Just a little zip from the cherry peppers are wonderful alongside the sausage, cheese and seasoned bread crumbs. Amazing!
Print
Pin
Rate
Servings: 6
Calories: 306kcal
Ingredients
FOR THE SEASONED BREADCRUMBS
3 slices white bread crusts removed, torn into large pieces
¼ cup Romano cheese grated
1 tbsp garlic minced
1 tbsp parsley fresh, chopped
1 tsp oregano dried
½ tsp Kosher salt
¼ tsp black pepper
FOR THE MUSHROOMS
16 large mushrooms white button are best
2 tbsp olive oil plus more for drizzling
6 oz Italian sausage casings removed, 2 or 3 links
1 cup green bell pepper finely chopped
1 tbsp garlic minced
1 cup seasoned bread crumbs
¾ cup chicken stock plus 2 more tablespoons (for baking)
2 tbsp Romano cheese grated
¼ cup cherry peppers stems and seeds removed, chopped
1 tbsp parsley fresh, chopped, for garnish
Instructions
MAKE THE SEASONED BREADCRUMBS
In a food processor, pulse the bread until coarsely ground.

Add the cheese, garlic, parsley, oregano, salt, and pepper. Pulse again until crumbs are finely ground. Set aside.
PREPARE THE STUFFED MUSHROOMS
Preheat the oven to 400°F.

Wipe the mushrooms clean and remove the stems (don't discard the stems). Pick out the 12 best and largest caps, and set them aside.

Finely chop the remaining 4 mushroom caps and all of the stems (you can use your food processor for this). Set aside.

In a large pan, heat 2 tbsp of the oil over medium-high heat.

When the oil is hot, add the sausage and cook for 4 to 5 minutes, or until browned. Break the sausage apart with a wooden spoon as it cooks.

Add the green peppers, garlic, and chopped mushrooms and raise the heat to high and cook, stirring occasionally, for about 10 minutes, or until it is starting to brown and most of the liquid from the mushrooms has evaporated.

Reduce the heat to medium and stir in the bread crumbs and chicken stock (¾ cup). Cook for 2 minutes.

Turn off the heat and stir in the cheese and pickled cherry peppers.

Spread the mixture onto a platter and let cool for a bit.

Stuff each of the reserved mushrooms caps with 1½ tablespoons of the sausage mixture.

Place the stuffed mushrooms in a casserole dish and drizzle them with the remaining 2 tablespoons of oil. Add 2 tablespoons chicken stock into the dish.

Bake for 20 minutes.

Transfer mushrooms to a platter and spoon juices over the top.

Sprinkle with chopped parsley and a dusting of Romano cheese. Serve at once.
Notes
Large white button mushrooms work best, but portobello would to well, too. Any shroom that has a cap large enough to hold the filling. Sweet cherry peppers are found bottled in the condiments section of most well-stocked supermarkets. They are a little spicy, especially if you don't remove the seeds. Mild banana peppers are a great substitute. If not using cherry peppers or any kind of pickled substitute, then add 1 tbsp of red wine vinegar to the mixture. We love using sweet Italian sausage, but choose whatever is your favorite. Depending on the size of the mushroom caps, you might not use all the sausage filling. We love it on grilled mushrooms, on pizza, or even mixed into scramble eggs. The mushrooms are best when served soon after baking.
Nutrition
Calories: 306kcal | Carbohydrates: 26g | Protein: 13g | Fat: 12g | Saturated Fat: 2g | Cholesterol: 29mg | Sodium: 848mg | Potassium: 402mg | Fiber: 2g | Sugar: 4g | Vitamin A: 254IU | Vitamin C: 25mg | Calcium: 148mg | Iron: 2mg
POST UPDATE: The recipe was originally published in April 2017, but was updated with improved tweaks to the recipe, tips, new photography, and a fabulous new video in March 2020!