This recipe was created in a paid partnership with Erath Wines.
This is one seafood dish that is, quite honestly, nothing short of perfection. Made only better when it's paired with a bottle of amazing wine.
Agrodolce is an Italian sauce that combines sweetness with a subtle tartness. Pearl onions and mushrooms are reduced in this amazing sauce and then baked over flaky, tender, seared fillets of haddock. Pair this stunning dish with the warm tones of a refined Erath Oregon Pinto Noir for a meal you and your loved ones will not soon forget!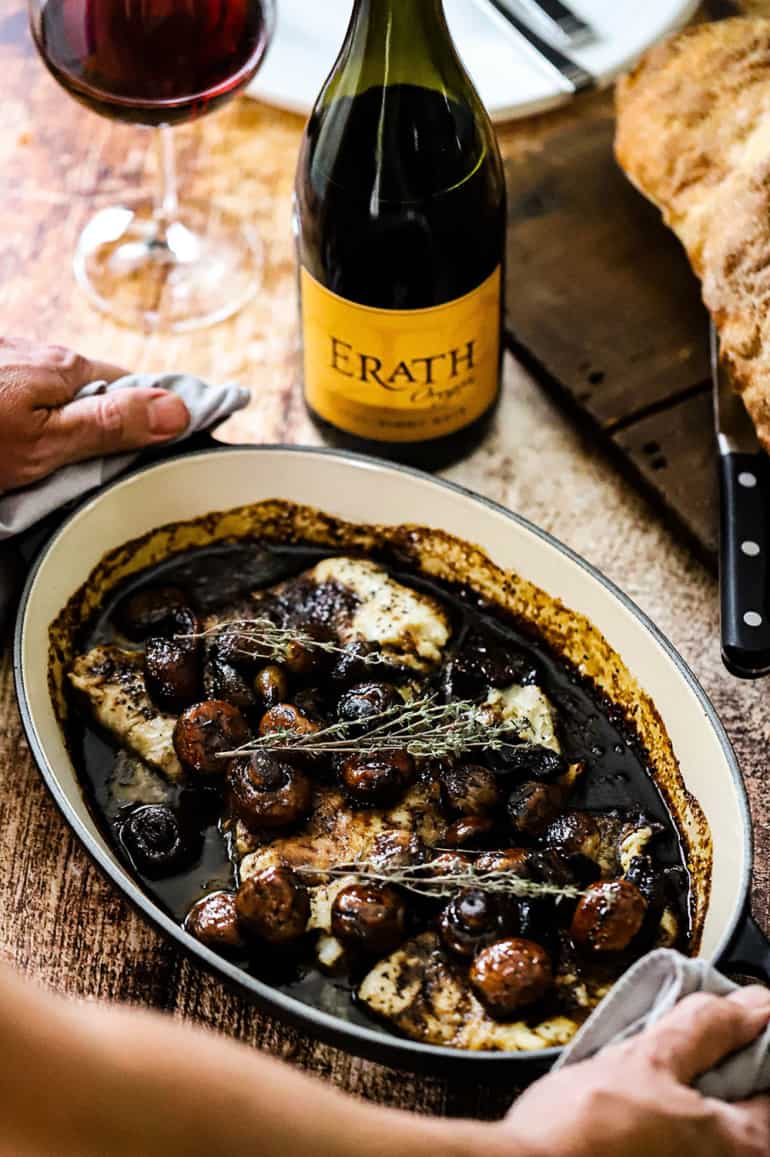 How to Make Seared Haddock with Mushroom Agrodolce
This is one of those dishes that is so deep in flavor that it feels as though it must have taken hours to achieve such a robust sauce.
But in reality, it only takes about 30 minutes from start to finish.
Sear up the haddock, place the fillets in a baking dish, and pour that incredible sauce over the top. Bake for just 10 minutes, until cooked through! That's it!
EXPERT TIP: For the onions, we use pearl, boiler, or cipollini which can be found in the produce section of most well-stocked supermarkets. To peel the skin from the onions, simply drop them into a small pot of boiling water for 1 minute. Drain them and then snip the ends off on both sides, then simply use your fingers to squeeze the onion out.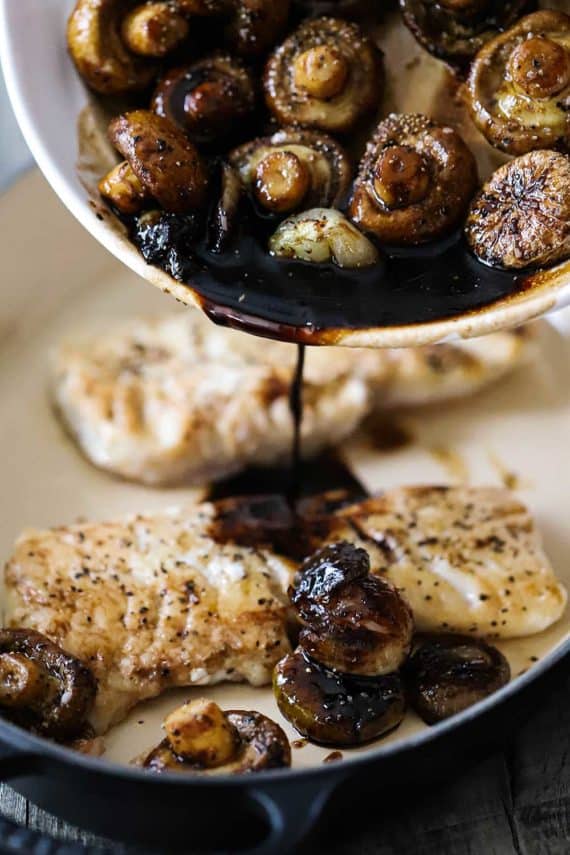 How To Serve Seared Haddock with Mushroom Agrodolce
Agrodolce is great with all kinds of proteins, and over pasta, but we think it pairs beautifully with a flaky white fish, such as haddock.
The mushroom agrodolce serves as a wonderful side to the fish. We recommend serving it with Maple-Glazed Brussels Sprouts or Best Mashed Potatoes.
And, as mentioned, a dish of this caliber deserves a wine pairing that is truly something special. That's where Erath wines come in.
Because the dish and the wine both have an approachable, yet, refined feel to them, it's ideal for serving guests for a special occasion or dinner party. The ease of putting it together is a bonus when entertaining.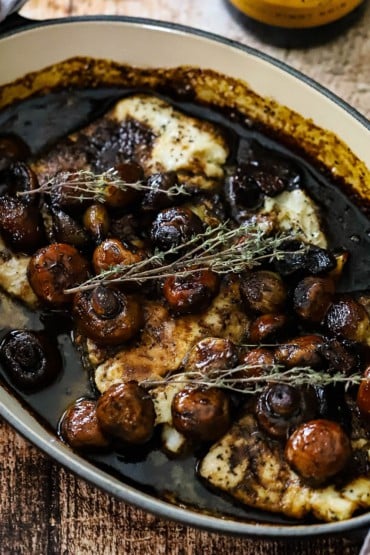 The Phenomenal Art of Pinot
It bears repeating that a dish this incredible deserves a wine that pairs with it on every level.
Erath winery produces World Class Oregon Wines and with every satisfying sip, you'll understand why it is first in its class. The winery is an expression of the land that Erath has cultivated for more than 40 years. That's longer than any other winery in the Dundee
Hills of Oregon.
Just like a good agrodolce sauce, Erath's 2020 Oregon Pinot Noir is polished and sophisticated, but with a comfortable, approachable vibe.
As the winery enters its fourth decade of winemaking, Erath embraces its leadership role in producing World Class Oregon Wines.
We can't recommend this amazing wine enough. It's truly that wonderful. Whether you're pouring a glass of 2020 Oregon Pinot Noir or a refreshing 2020 Oregon Pinot Noir Rosé, you will not be disappointed.
Tips for a Perfect Dish
Quality Matters – There are just a handful of ingredients in this dish. Therefore, just like in wine pairing, quality really does matter. Seek out a nice balsamic vinegar, preferably one that is aged from Modena, Italy. If you can't find haddock, you could substitute cod, flounder, sole, or halibut. Fresh is always best but frozen will work without a problem.
Mise En Place – There is not of prep work for this dish, however, it does come together quickly. Be sure to have all of your ingredients measured out and ready to go to ensure perfect cooking times and presentation.
Rounding Out the Meal – A simple side dish, such as Brussels sprouts, is all that's really needed as a side. You will definitely want some crusty, warm, fresh bread to soak up that amazing sauce. And, of course, you'll want to pair the dish with amazing wine. Erath 2020 Oregon Pinot Noir is perfection.
This is a true show-stopper of a dish. You won't believe something this delicious can be so simple to prepare! Perfect for an easy weeknight dinner at home, but special enough, for an amazing dinner party.
For the wine, Erath combines the red, iron-rich Jory soils of Oregon with the gentle breezes and warming sunshine of a marine climate to handcraft a Pinot like none other.
It's all spectacular in so many ways, and yet, so easy and effortless to prepare! Who could ask for more than that?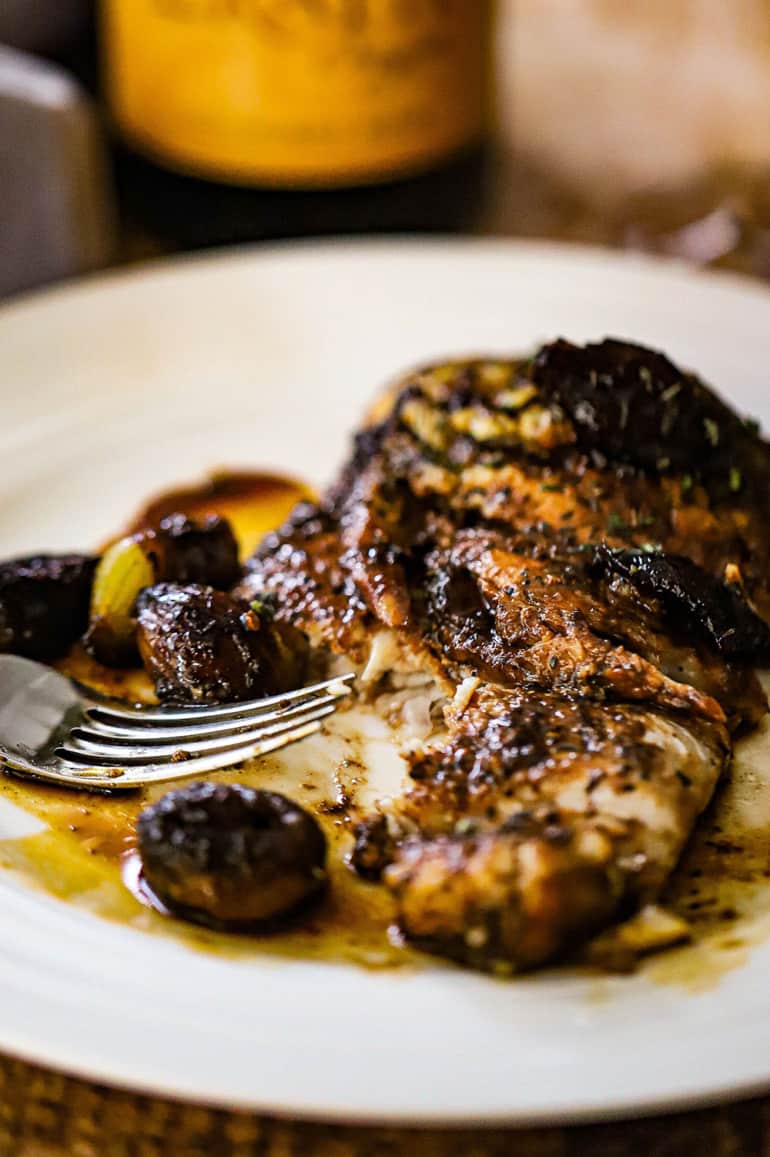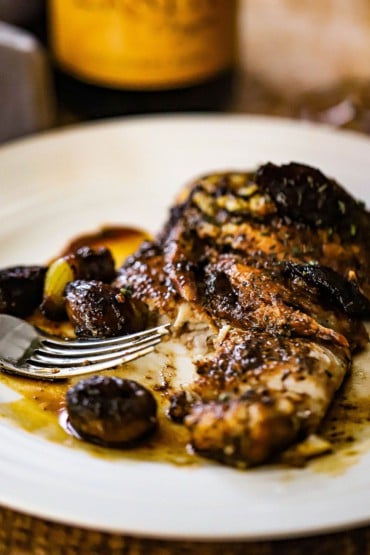 Ready to make the best seafood dish this side of Portofino? Go for it!
And when you do, be sure to take a photo of it, post it on Instagram, tag @HowToFeedaLoon and @erathwines, and use the hashtags #HowToFeedaLoon and #ErathWines!
Seared Haddock with Mushroom Agrodolce
This Seared Haddock with Mushroom Agrodolce is divine. The slightly sweet, slightly tart sauce compliments the creaminess of the haddock perfectly. Don't worry, this isn't a 'fishy' tasting dish at all. Simply amazing, and comes together in about 30 minutes. Perfection!
Print
Pin
Rate
Servings: 4
Calories: 315kcal
Equipment
Skillet and baking dish (or cast-iron skillet)
Ingredients
5 tbsp extra-virgin olive oil divided
6 boiler onions about 1 cup, or pearl onions
8 oz mushrooms white button, stems trimmed
½ Kosher salt
¼ black pepper freshly ground
½ cup balsamic vinegar
1½ tbsp sugar
1 lb haddock cut into 4 individual fillets
6 sprigs thyme fresh, plus more for garnish, chopped
Instructions
Heat oven to 400°F.

Bring 2 cups of water in a medium pan to a boil over high heat. Add the onions and cook for 1 minute. Drain. When cool enough to handle, use a knife to snip off the ends of the onions. Use your fingers to gently squeeze the onion out of the skin. Set aside.

Heat 3 tablespoons of oil in a large saucepan/skillet over medium-high heat. Add onions and mushrooms and a good pinch of salt and pepper and sauté, stirring occasionally, until nicely browned and soft, about 10 to 12 minutes.

Add vinegar and sugar to the skillet and simmer. Stir frequently with a wooden spoon to scrape any browned bits stuck to the bottom of the skillet. Cook until sauce thickens slightly and comes almost like syrup, just a few minutes.

Rub haddock fillets with the remaining 2 tablespoons of oil, then season with salt and pepper. In a non-stick skillet, heat a little oil over medium heat.

When the skillet is hot, add fillets, skin side up, and sear until lightly browned on the bottom, about 4 minutes. Remove from heat and place the fish, seared side up, in a baking dish. Pour the mushroom agrodolce sauce all over the fish and top with the sprigs of thyme.

Place in oven and roast until fish is cooked through, about 10 minutes. Remove from oven and discard the thyme sprigs on top. Plate and garnish with a pinch of chopped fresh thyme. Serve at once.
Notes
Frozen pearl onions can be used in a pinch. Let thaw before adding them to the skillet. We love leaving the mushrooms whole, but they can be quartered or sliced, if desired. Any variety of mushroom will work for this dish but we think good ole white button work wonderfully. Substitutions for haddock are cod, grouper, halibut, or sole. Any kind of white, flakey fish will do great. We find haddock in the frozen seafood section at Whole Foods. Fresh is always best, but the frozen filets from Whole Foods are still delicious. The sauce can be made up to 24 hours in advance. The sauce can also be frozen for up to 1 month. The finished dish will keep in the refrigerator for a couple of days, although, fresh will always be best. This is great served with braised Brussel sprouts or mashed potatoes. It's also excellent over risotto.
Nutrition
Calories: 315kcal | Carbohydrates: 16g | Protein: 21g | Fat: 12g | Saturated Fat: 3g | Cholesterol: 61mg | Sodium: 254mg | Potassium: 606mg | Fiber: 1g | Sugar: 12g | Vitamin A: 65IU | Vitamin C: 5mg | Calcium: 31mg | Iron: 1mg