If there was ever an ingredient that has made a come back in a big way in recent years, it has to be Brussels sprouts.
This dish is literally exploding with flavor. The combination of pure maple and apples adds a touch of sweet to the savory bacon, balsamic vinegar, and Brussels sprouts. The toasted pecans add just the right crunch. This is a dish that is an ideal side dish all year round.
HOW TO MAKE MAPLE ROASTED BRUSSELS SPROUTS WITH BACON
So much of this incredible dish can be made in advance.
From toasting the pecans, cooking the bacon, prepping the sprouts and apples can all done hours before roasting.
Watch us show you how to make these Brussels Sprouts with Maple Syrup and Bacon!
TOASTING THE PECANS ADDS MORE FLAVOR
As these Brussels sprouts with balsamic and bacon roast, they become beautifully tender.
This is why adding a little crunch to the dish is such a perfect complement to the vegetables. Toasted pecans are the ticket.
EXPERT TIP: We like to give the pecans a rough chop before baking them. Toasting the pecans brings out their oils and increases the wonderful nutty aromatic pecan flavor. Simply place on a baking sheet that's lined with foil and roast in a 350°F oven for about 5 minutes. Be sure to set a timer and keep an eye on them. Don't let them burn!
Next, it's time to cook up the bacon.
Use the same foil-lined baking sheet. Simply set the pecans aside and lay the bacon slices flat on the foil.
Bake for 20 minutes, or until crisp. No need to flip the bacon while baking!
EXPERT TIP: Pour the rendered bacon grease into a small bowl and reserve for coating the Brussels sprouts (if desired, but it adds a ton of flavor!).
HOW TO TRIM BRUSSELS SPROUTS
Brussels sprouts are part of the cabbage family. Actually, they are miniature cabbages.
And as you might expect, they originated near Brussels centuries ago. Learn more about that here.
To trim them, simply peel away any loose leaves, then trim off the end, and then slice them in half, lengthwise.
EXPERT TIP: We love to hold on to the loose leaves and either give them a quick fry in some oil or in an air fryer or roast them in the oven They transform in delicious sprouts chips with just coating of olive oil and a light sprinkling of salt. They are wonderful on their own or added to salads. They're also great tossed with the Maple-Roasted Brussels Sprouts!
Roasting brings out the delicious taste of the Brussels sprouts and apples.
Toss them in a little oil (about 1 tbsp of olive oil and 1 tbsp of reserved bacon grease).
Crank your oven up to 400°F. You'll just need to give them a little toss halfway through the cooking. The total cooking time is 20 minutes.
A LITTLE CHAR IS PERFECT
Once the Brussels sprouts have finished cooking, they should be slightly charred.
The leaves will turn a darker color.
If they haven't browned or charred to your liking, add them back to the oven for another 5 minutes, or until they are nicely roasted and slightly charred.
Now, it's time to truly elevate the flavor profile to incredible heights.
We add 2 tbsp of good-quality balsamic vinegar and 2 tbsps of pure maple syrup. By the way, if you love balsamic vinegar as much as we do, you will probably absolutely love our Roasted Balsamic Potatoes with Herbs!
EXPERT TIP: We find that aged balsamic vinegar is best. In this case, spending a little more on quality really makes a big difference. And be sure to use pure maple syrup, not pancake syrup. Big difference!
MAPLE-ROASTED BRUSSELS SPROUTS FAQS
Can frozen Brussels sprouts be used? Yes. They can. Fresh can usually be found year-round in most well-stocked markets, but if you only have access to frozen, then let them completely thaw, and proceed with the recipe as written. Fresh will ALWAYS produce a better dish, but frozen will work in a pinch.
Are the excess leaves edible? Yes! And they are loaded with nutrition, too! You can lightly oil them and a sprinkle of salt and then roast them in the oven until nice and crisp, about 15 to 20 minutes at 300°F, checking every 5 minutes, or so. Remove any leaves that are browning too quickly. Flash frying them in hot oil is not as nutritious, but addictively delicious. They can be tossed in the dish just before serving or served separately.
How much of the dish can be made in advance? Toasting the pecans, cooking and crumbling the bacon, and prepping the sprouts and apples can all be done up to 12 hours in advance. Just toss the peeled apples with a little lemon juice to keep them from oxidizing (turning brownish).
THE PERFECT SIDE DISH
As mentioned, we serve this dish year-round. It's wonderful alongside grilled meats and fish, or a winter roast.
And, of course, it's a gorgeous addition to your holiday feast.
No matter how or when you serve it, your friends and family will flip for it. It's really that good.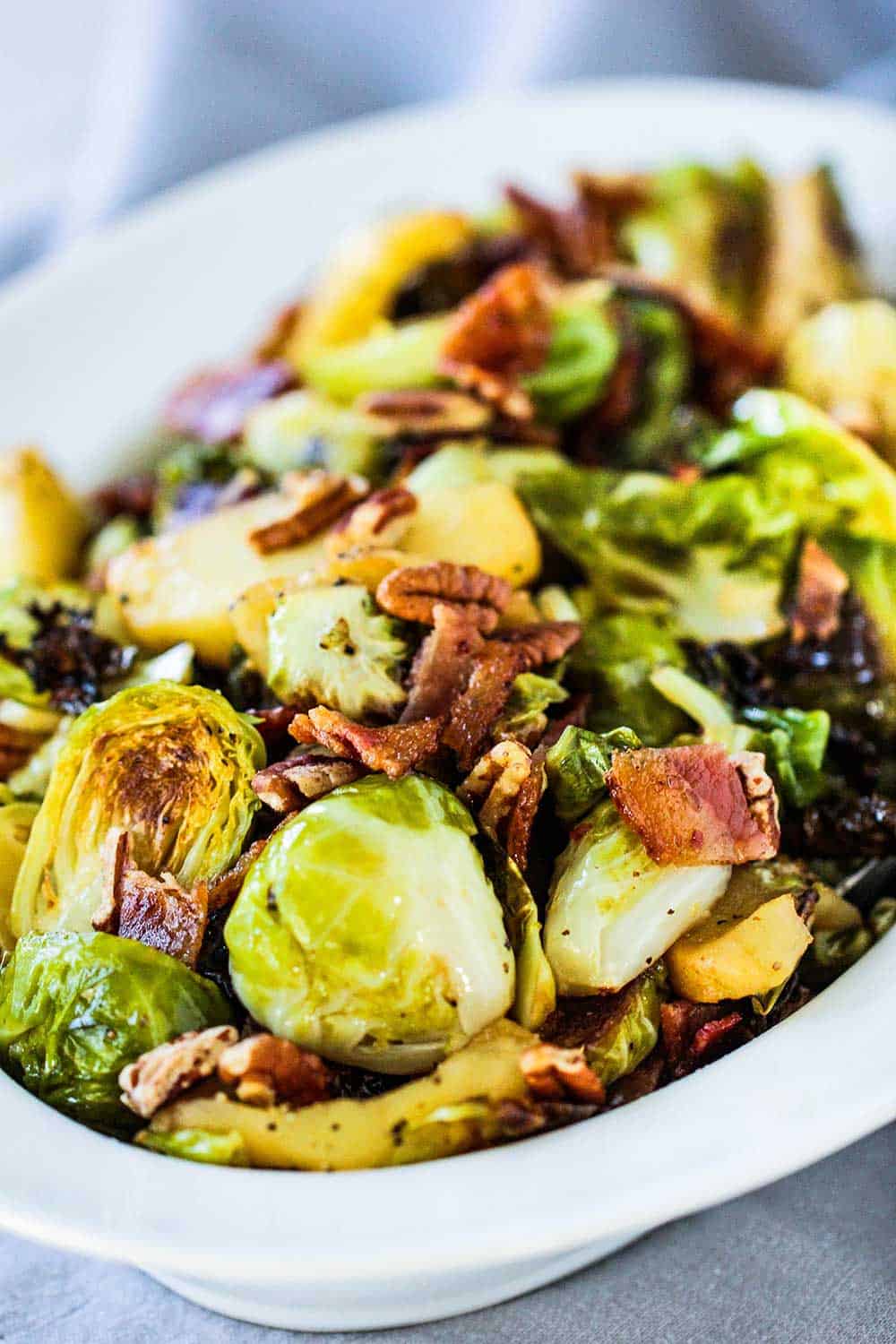 Ready to make a side dish that's so good, it could be the star of the meal? Go for it!
And when you do, be sure to take a photo, post it on Instagram, and tag @howtofeedaloon and #howtofeedaloon!
Maple-Roasted Brussels Sprouts with Bacon and Pecans
Maple-Roasted Brussels Sprouts are loaded with incredible flavor and texture. Slightly sweet and slightly savory with a nice crunch from the toasted pecans. All the components can be made up to 1 day in advance. Be served soon after roasting.
Print
Pin
Rate
Servings: 6
Calories: 209kcal
Ingredients
½ cup pecans roughly chopped
4 strips bacon thick slice
2 lb Brussels sprouts trimmed, ends snipped, and cut in half, lengthwise
1 fuji apple peeled, cored and thinly sliced
¾ tsp Kosher salt
½ tsp ground black pepper
3 tbsp balsamic vinegar
2 tbsp pure maple syrup
Instructions
Preheat oven to 350°F.

Line a baking sheet with foil and place the pecan on the pan. Toast for about 4 to 5 minutes, turning the pan once. Keep an eye on them, don't let them burn! Set aside.

On the same baking sheet (with pecans removed), add the strips of bacon and place in the oven and bake until crisp, about 20 minutes. Use tongs to transfer cooked bacon to a plate lined with paper towels. If desired, transfer the rendered bacon grease to a small bowl and set aside.

Increase oven temperature to 400°F.

Place the trimmed and halved Brussels sprouts and sliced apples in a large bowl and toss with 1 tbsp olive oil and 1 tbsp reserved bacon grease. (Or 2 tbsp olive oil, if not using bacon grease). Gently mix with the salt and pepper.

Remove the foil from the pan and spread the Brussels sprouts and apples onto it.

Bake for 20 minutes, re-distributing the sprouts and apple on the pan halfway through the roasting.

Remove from the oven and return to the large bowl. Slowly add the balsamic vinegar, maple syrup, and half of the crumbled bacon and half of the toasted pecans. Gently mix until well-coated.

Transfer to a serving dish and garnish with the remaining bacon and pecans. Serve at once.
Notes
Toasting the pecans, cooking and crumbling the bacon, and prepping the sprouts and apples call all be done up to 1 day in advance. Toss the sliced apples with a tbsp. of lemon juice to prevent them from oxidizing (turning brown). Frozen sprouts can be used in place of fresh, but we strongly recommend going with fresh, if possible. If you prefer the sprouts with a darker char, leave them in the oven for an additional 5 to 10 minutes. This dish is best served warm soon after baking. For a complete vegetarian version, omit the bacon and increase the olive oil to 2 tbsp (for tossing the apples and sprouts with). Taste before serving. We like to sprinkle coarse sea salt over the prepared dish, but that's a matter of taste. Leftovers will keep for several days in the refrigerator. This dish doesn't freeze very well. But, usually, there are very few leftovers to figure out what to do with!
Nutrition
Calories: 209kcal | Carbohydrates: 21g | Protein: 8g | Fat: 8g | Saturated Fat: 3g | Cholesterol: 10mg | Sodium: 428mg | Potassium: 675mg | Fiber: 7g | Sugar: 9g | Vitamin A: 1140IU | Vitamin C: 129mg | Calcium: 79mg | Iron: 2mg